Top Tastes is my usual run-down of tastes over the past two weeks. Rather than a list of all-time favorites (another thing altogether), it's highlights since my last newsletter, often from new openings. Many don't make the cut, being a revisit written about before or simply not as stand-out as dishes mentioned.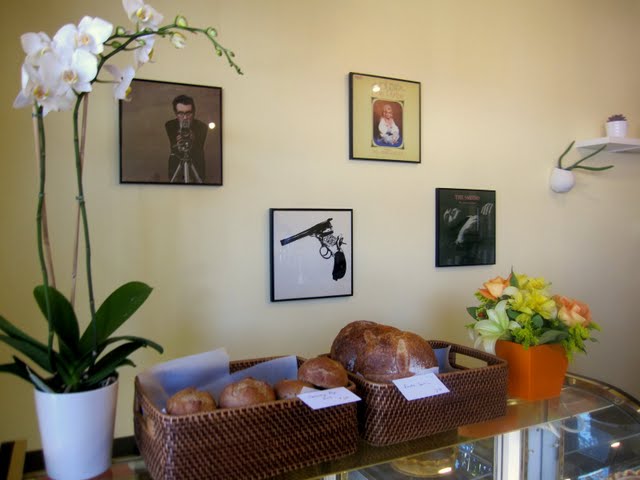 SAVORY – SEAFOOD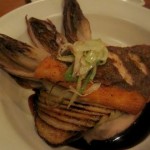 • I've long been a fan of Mission Beach Cafe's Pot Pie Tuesdays (rabbit pot pie, look out!) Since they've recently resumed, it's a good a time as any to say the Seafood Pot Pie ($26) is killer. Yes, pricey, but rich and filled with, as the Renaissance Man said, no throw-away seafood: fresh chunks of lobster, crab and shrimp fill the flaky shell, with wok-fried sugar snap peas, cherry tomatoes and julienned leeks on the side.
Entrees are equally fine, like a brilliant Pan-seared Thai Snapper ($24) with crispy edges and purest white, flaky body. If it wasn't already a perfectly seared fish, accents send it over the top: caramelized pears, grilled red endive, baby leeks, and best of all, a cardamom-chestnut soubise. Mission Beach is easily one of the better neighborhood dinner spots around, with service and setting emitting as warm a glow as the food. It's amazing their dinners stay ever-so-slightly under-the-radar. More for you, then… go!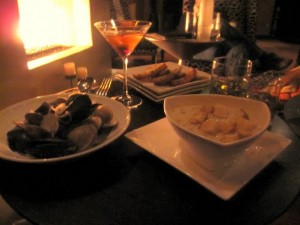 • Though my opening week visit highlighted a few service kinks to work out, Mayes Oyster House remains a stirking space, even in its latest incarnation: pressed tin ceilings, leather booths and animal print armchairs by the fireplace intimate its 1867 glory days as a seafood house, now serving the likes of Hamachi Tartare ($9) and Kamikaze Oyster Shooters (2 for $5). Despite a decent Seafood Louie ($13) with crab, prawns and Canadian lobster, and ok bowl of P.E.I. mussels & clams ($11) with addictive garlic cheese bread ($3), my hands down favorite was creamy, clam-laden New England Clam Chowder ($7) with crispy sourdough croutons. I'd go back for a bowl of that by the fire.
SAVORY – MEAT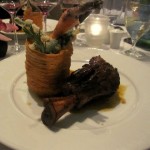 • Let's throw in the entire Inspirations of Tuscany meal at Luce on 11/11 as a "Top Taste". Not only was there a special 6-course menu (plus amuse bouche & palate cleansers – loved Sorrel Snow, a wheatgrass-like sorbet!) from SF's charming Chef Dominique Crenn, who cooked with adorable Donatella Zampoli, exec chef of Marchesi de' Frescobaldi wine estates in Tuscany. They alternated cooking each course, with dishes like Eggplant Timbale, Parmesan Risotto with duck breast, Tuscan-style Lamb Shank. The chefs chatted with us, joking about historic competitiveness between France and Italy, while exhibiting nothing but camaraderie. With the amount of food we feasted on, $75 could actually be called a deal. And then there were Frescobaldi wine pairings… (see Imbiber).
SWEET
• Brenda's, how I adore you! Though I miss the quiet of the first year Brenda's opened, long waits are worth it for the best New Orleans food in SF (and my favorite Shrimp & Grits dish ever, even of all the ones I've had in the South!) I love most every dish here over the years, but this week's special of giant Pumpkin Pancakes ($9.50) crusted with gingersnap pecan streusel plus a side of vanilla cream cheese, was woefully delicious.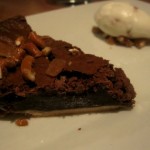 • Working my way through Wexler's desserts has been a pleasurable experience (see July Top Tastes). A recent visit yielded more, though I felt Sugar Pie Pumpkin Pie ($6) needed more of the barely-there Mexican Hot Chocolate Sauce as an accent. My favorite new dessert is Chocolate-Chili Fudge Pie ($6) with merely a whiff of chili, enough to add intrigue, and the salty joy of pretzels and toffee crumbled underneath.