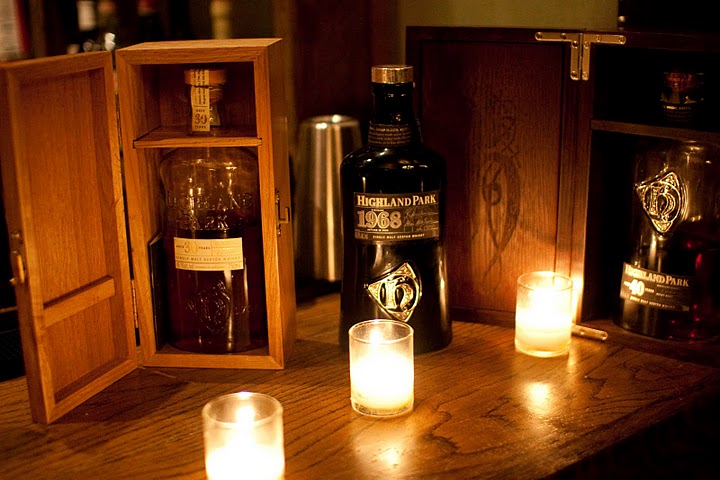 SPIRITS
• For someone who's every day is a taste adventure, I will say a private Russell's Room tasting at Bourbon & Branch of Highland Park scotches was one of the most memorable I've ever been privileged to be a part of. There are only two such tastings going on in the country: here and in New York. I felt lucky to be one of 9 around the table (and only 2 women – scotch remains predominantly a man's world?) tasting HP's awesome 18, 25, 30 and 40 year scotches. But the centerpiece was a just-released, $3999 per bottle, limited-edition 1968 vintage. At Whiskyfest last year, HP's 30 year was among my favorites. To take it two steps further (the 40 year alone is a special, $2000 per bottle imbibement), was my Scotch dream come true.
HP brand ambassador, Martin Daraz, is a charming, hilarious host. With pairings from cheese guru, Wil Edwards, of SF Cheese School, it was unforgettable. Each whisky grew lighter in color the greater the age. The '68 vintage defined "smooth", with a gentle sweetness, refined toasted oak notes, and hints of spice. I don't know how else to describe the finish other than that it keeps going. One layer unfolds after the other… as I was in conversation after our last glass, wave after wave of flavor continued to roll over my tongue. Sigh.
COCKTAILS
• Thanks in large part to Drink PR pro, Debbie Rizzo, a 2/21 Leblon Carnaval Masquerade Ball at Rickhouse was one awesome party. Intimate, festive but not overcrowded, we took over the bar with carnaval masks, live music from local Diego's Umbrella, and guest bartenders the likes of Philip Ward (of Death & Co. and Mayahuel in NYC) and Misty Kalkofen from Boston's Drink). Rickhouse staff were holding their own with lovely Leblon cocktails, like Kelli Bratvold's Leblon & Prosper: Leblon cachaca, lime, grapefruit, maraschino, allspice dram. Ward hit both sides of the spectrum with a smoky, mezcal-based Leblonmonaut, and a sweeter Leblon James with pomegranate molasses, mint and lime.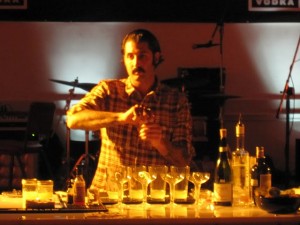 • On 2/22, 42 Below Cocktail Competition at the Regency Center was nicely spread out in two large rooms, plenty of space to taste and view bartenders make New Zealand vodka creations. It takes talent to bring layers of flavor out of vodka and this group delivered. Certainly, there were other spirits mixed in and some real creativity going on set to a rowdy, live rockabilly/punk band. Congrats to Michael Callahan of Gitane, who created a fresh, aperitif-like concoction using, among other things, lemon and fennel root, and to Josh Harris, of 15 Romolo, for once again pulling a win with his nuanced Bridge to Terabithia (loved that book as a kid), which contains everything from his own fennel syrup to 42 Below's Kiwi Vodka, dusted with masala chai.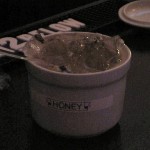 I loved straight-from-the-orchard apple freshness of Spruce's Brandon Clements' cocktail – his answer (or welcome antidote?) to Apple-tini requests. I commend the use of cherry jalapenos in Chase Williamson's (of 21st Amendment) Wha Rua ("42" in Maori). My favorite was also the biggest adventure: Tavern at Lark Creek's Joseph Parrilli's Waggle Dance (name inspired by bee action) is a floral/sweet creation of vodka, Fever Tree ginger beer, wildflower bitters, Wedderspoon Manuka raw honey, topped with sugar-crusted, gold-dusted bees. Yes, bumble bees (stinger removed). I dove right in an ate one. Cute, crunchy, without much flavor, it's kind of like eating a grasshopper, like I've had in Southeast Asia.
WINE
•  A 2/25 event accurately named Around the World in 80 Sips, doubled as a last hurrah for Crushpad before it leaves SF, moving north to Wine Country. There was a nice, international representation here, in a reasonable, well-paced format of 80: more than enough to try but not so many as to make it overwhelming. Though quite sweet, it was fascinating trying dessert wines from Israel (Rimon) and Thailand (Radee). As ever, Italian wines were a pleasure, particularly the reasonably priced ($19 a bottle) Moziese, a Nero d'Avola from Sicily, and a lovely Prosecco, La Tordera (also $19).