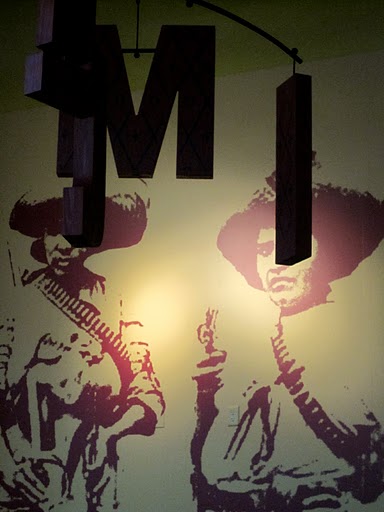 Top Tastes, rather than a list of all-time favorites (another thing altogether), are among the best eats since my last newsletter, often from new openings. Many don't make the cut, being a revisit previously written about or simply not as stand-out as dishes mentioned.
MID-RANGE RESTAURANTS
BARBACCO – This is one of those special places that reminds me of great enotecas or trattorias I've eaten in throughout Italian cities: delicious food, excellent wines, chic, bustling, gracious staff. I prefer it to its famed next door parent, the quality but slightly stiff (and pricier), Perbacco. Barbacco is ridiculously crowded at lunch but there's take-out options and an efficient order line. At this quality and taste level, an incredibly reasonable price range ($3-14) makes it a must for SF foodies and the urban trattoria I long to have on my street.
The warm restaurant manager is also adept at choosing wines, gracing my lunch with an ideal choice of three Italian sparklers: first, a light, dry Di Faveri Prosecco (there's no meal a Prosecco can't make brighter, as far as I'm concerned). Then, two lovely, effervescent wines from Camillo Donati winery: a honey-toned, nuanced, 2008 Il Mio Malvasia and a 2008 berry-red Lambrusco.
As for food, there was not a 'miss' in the entire spread. Fried Brussels Sprouts ($4) are done expertly (and fabulously fried) all around this town, but the unique slant here is the tang of anchovy, capers, red wine vinaigrette. Addictive.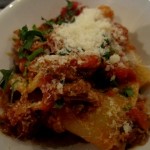 Pork Meatballs ($12) are divine rounds of pork with raisins, pine nuts, braised chard in a tomato sugo. A favorite. Pasta transports to Italy: a rustic Spinach Lasagna ($12), satisfyingly slathered in ragu Bolognese, or Paccheri ($11) in a dreamy ragu, redolent of tomato and pork, covered in shaved Parmigiano Reggiano.
Another top menu choice when traveling through Italy (especially on the coast), is treated well here: house-cured sardines come on top of Bruschetta ($3 each or 3 for $8), or on a Sandwich ($11) with squid, roasted tomato and arugula. My beloved Burrata cheese ($6/12) rests atop arugula salad with toast (I truly appreciate when a restaurant offers smaller sizing options on dishes). House gelato ($2 a generous scoop) isn't as much a high point for me, except for Butterscotch Chocolate Crunch, but espressos ($2) are done properly and are the ideal finish.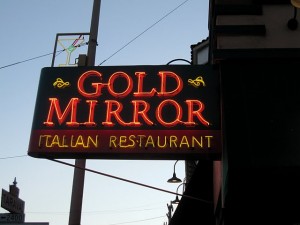 THE GOLD MIRROR – It's "old school" classy, though the dining room has a Medieval Times touch with medieval chandeliers and castle window views painted on the walls. It reminds me of another nearby spot I occasionally hit when craving American Italian of days past: Ristorante Marcello (though Gold Mirror is slightly 'fancier' with tuxedoed waiters).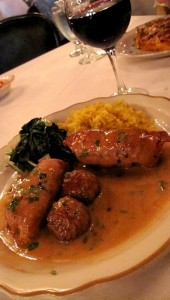 Those of you who know of my Jersey days know I have a (big) soft spot for not only hearty, red sauce, NY/Jersey-style Italian, but also the kind of place that caters to a sweet, elderly clientele. Gold Mirror doesn't hang heavily on the red sauce dishes I love so, but it does serve heaping slices of Lasgana Bolognese ($16), Veal Parmagiana ($18.50) and Homemade Cannellonni ($16). Add in a couple dry martinis ($8) and starters and it adds up. But you don't always get this kind of menu so it's fun to splurge while smiling at darling elderly couples on date night and families celebrating birthdays at surrounding tables.
A 1950's-reminiscent Bay Shrimp Avocado Salad ($9) and Grilled Artichoke with Sicilian salsa ($9.50?) were surprisingly fresh, while glasses of cheap, Italian wine hit the spot. I actually choked up at one point reminiscing about my Sicilian grandfather and German/Swedish grandparents with The Renaissance Man. Somehow this dinner became a remembrance of those I love who are now gone.
CHEAP EATS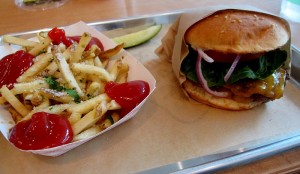 SUPER DUPER opened last Saturday from the uber-successful crew at Beretta/Starbelly/Delarosa. In a stark, simple interior with faint retro nods, order a basic burger, cheeseburger, shakes (I like the one with fresh strawberries), and Strauss organic frozen yogurt.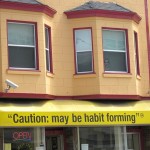 I'm not sure this will be a burger destination as the fries are OK and a Super Duper Burger ($4.75) just means it has lettuce, tomato and a little red onion on it, but what stands out is how tender and juicy the organic meat is. Nestled inside a soft bun, the entire burger almost dissolves in your mouth. I found the simplicity welcome to fully appreciate the diffusing of fresh meat and bread.
I'm into Phat Philly and Jake's Steaks but dive-y CHEESESTEAK SHOP (a Bay Area chain with only one heartwarmingly blue collar locale in SF) takes me to the next level: yes, there's Philly's Amoroso rolls and prints of Philly all over the walls. But the cheap ($4-11 for 7 to 15 inchers) cheesesteaks taste like they do in Philadelphia: melting, warm, satisfying in all the right ways.