It is a joy when our city's food/drink greats team up to form something unique. Such was Zare at Fly Trap's three nights of Persian Pub Grub, running June 3-5, as envisioned by Zare's chef/owner, Hoss Zare, and Monk's Kettle's Sayre Piotrkowski and Ryan Corbett.
The exuberant, hospitable Hoss created a menu lovingly melding traditional elements of his home country of Iran with creative expressions. Though Hoss admits that "Pub Grub doesn't really exist in Iran" (nor would the alcohol pairings), he dreams up a Persian dinner as it might look in a modern, hypothetical Iranian Gastropub. Each course was happily far from typical, and most were downright heartwarming. My two favorites ended up being Caspian Seafood Stew, a smoky, saffron-heavy broth (enhanced by black garlic aioli and sour, pickled grapes) loaded with plump calamari, octopus, mussels and smoked sturgeon with a dollop of caviar. The other? A brilliant take on traditional Ghormeh Sabzi, an Iranian herb stew and national dish, one Hoss says would win your sweetheart's affection if you perfect in Iran. This Persian Chili was redolent of herbs, paprika, harissa, and a spicy, crumbled lamb sausage mixed with organic kidney beans. I could not get enough.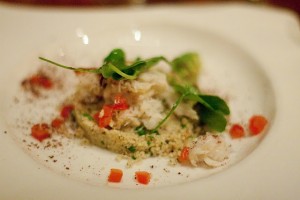 Certified Cicerone, Piotrkowski, and his equally passionate-about-beer co-worker, Corbett, paired a stellar list of beers with Hoss' food, facing off directly with wine pairings from Zare's Wine Director, Mario Nocifera. At two convivial communal tables, we debated which paired best with any given course, and I can honestly say there no afterthoughts on either side. But the final score? In my book, it's two for two.

My two favorite wines were the impressively elegant, layered acidity of Niepoort Codega's 2006 "Tiara" white from Branco, Portugal, and an earthy, dark berry/pepper, mineral, but balanced, 2008 Borsao Garnacha, "Tres Picos", from Campo de Borja, Spain (quite a value at $14.99 a bottle at K&L ).
On the beer front, though I was delighted to see Hitachino's "XH" and Midas Touch for dessert, I was blown away by grapefruit brightness in Stone Brewing Co.'s dark, bitter Sublimely Self-Righteous, and the Belgian-style, caramel-y but bone dry Goose Island "Pere Jacques".
Hoss has hosted other special Persian dinners and I hope will throw plenty more. Bookmark their website's event page to be prepared for the next one. Or go for dinner or lunch to sample Hoss' heartwarming cooking paired with Reza Esmali's Middle Eastern-influenced cocktail menu (there's a classic cocktail list, too) or Nocifera's wine list. Monk's Kettle is thankfully always ready to pour one of these fine or other equally exciting, and often, rare, beers.
Here is the Persian Pub Grub menu ($75 per person, including all pairings):
Sumac Couscous Salad with Dungeness Crab
Victory, "Prima" Pilsner, US| Yarden, Brut Traditional, Galilee Israel
Caspian Seafood Stew with Mussels, Cod, Sturgeon and Black Garlic aioli
Hitachino "XH" Ibaraki Japan | Niepoort Codega "Tiara", Blanco, Portugal

Chicken Wings "Fessenjoon" with Pomegranate Walnut Sauce
Stone, "Sublimely self-righteous" Ale, US | Coroa Godello, Valdeorras, Spain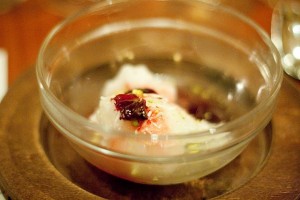 Persian Chili "Ghormeh Sabzi" with Spicy Lamb Sausage
Goose Island, "Pere Jacques" Belgian Style Ale, US | Borsao Garnacha "Tres Picos", Campo de Borja, Spain

"Faloodeh" Lime Sorbet with Rice Noodles and Pistachios
Dog Fish Head, "Midas Touch" Ancient Ale, Milton US