HEALDSBURG
SPOONBAR – I could write a piece on the cocktails alone at brand new Spoonbar in the h2hotel off of Healdsburg's town square. You've already heard me mention Scott Beattie many times over the years.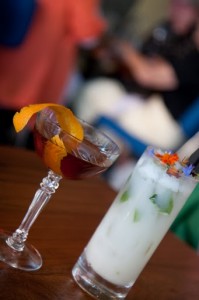 He truly is one of our country's great bartenders and his cocktail menu at Spoonbar is a revelation. Yes, you'll get waylaid by the initial menu, but don't let that stop you from asking for the additional one. It's a glory of new creations, featuring edible flowers and the herbal, produce-driven beauties Beattie has perfected since his Cyrus days. But there's the added bonus of classics done with a Beattie sensibility.
I delight at the site of three versions each of Old-Fashioneds, Negronis, Manhattans and Sazeracs, the holy foursome of cocktails. I sampled five, each exquisite. Stay tuned for next issue's Imbiber for details on these cocktails – it feels right seeing Beattie behind the bar again.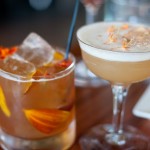 But the joys at Spoonbar are many as the food and wine list are likewise robust, the space open and airy (playful with hints of mid-century modern), the price point a nice mid-range. In early opening weeks, this has automatically become my # 1 Healdsburg spot for drink or food (since I can only afford Cyrus for a special occasion), and one of my tops in all of Wine Country.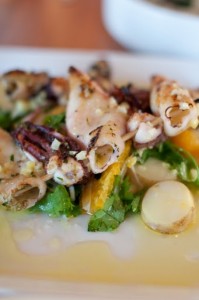 Where to start? There's wines on tap, a trend I am happy to see growing from an environmental and casual accessibility standpoint. Let Wine Director, Ross Hallett, choose and you'll likely get a nice range of local and international wines. With dinner, he paired a dry 2000 Villa Claudia Gattinara and a full '05 Savuto Odoardi that yielded spice notes when paired with the Spoonbar Burger. For dessert, he poured thoughtful choices like Rare Wine Co.'s New York Malmsey Special Reserve Madeira, rich with earthy, coffee notes, and Ratafia de Bourgogne, a sweet but balanced liqueur.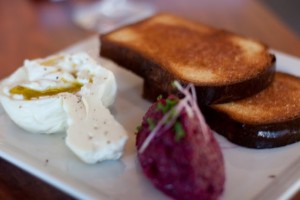 The food? With Moroccan and Mediterranean influences, Chef Rudy Mihal's menu shines as fine bar food with cocktails or as multi-course dinner. Appetizers offer all kinds of goodness, like addictive little Fried Smelt Fish ($8) dipped in a caper aioli. Or how about skewers of plump, grilled Calamari ($12) in a preserved lemon vinaigrette? You'll find me equally hyped over imported Burrata ($13), creamy heaven in a pool of fine olive oil with melting, soft brioche and finely diced beet tartare.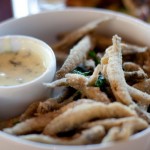 On the entree front, the lamb/beef mix is right in the Spoonbar Burger ($15), albeit small, on a house-sesame bun with a mini-bucket of fries. Kudos for a restrained but permeating burger topping of sweet tomato confit, cucumber chutney and spiced yogurt.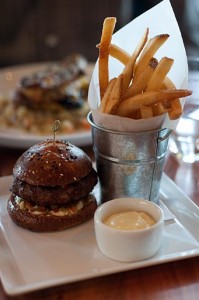 Though I am easily bored with chicken, their signature Moorish-style Brick Chicken ($24) is rife with flavor from herbs and spices, tender over grilled lemon couscous. Definitely a highlight.
Restaurant Manager, Darren Abel, runs a relaxed, festive restaurant that truly is the whole package. I'll be plotting my next chance to get to Spoonbar when up that way – at the very least for cocktails and apps. If only this place was in the city…
SIMI WINERY – Simi is one of those venerable wineries rich with colorful history.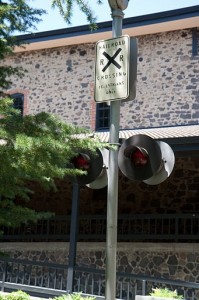 Founded by Italian brothers, Giuseppe and Pietro Simi, in 1876, their cellars date from 1890 on one half to 1904 once they doubled in size. When both brothers died within four months of each other, Giuseppe's daughter, Isabelle, a savvy eighteen year old, took over the winery, making and storing wine even during Prohibition.
I'm fascinated by this young girl's ingenuity, which eventually led to a successful winery she first popularized by giving away free samples on the side of the road pre-tasting room days. Isabelle planted a grove of redwood trees around the grounds and a tribute rose garden with bushes for each president during the days she ran the winery (except for one… take their interesting tour to hear the whole story. I'll give you a hint: he was the one who helped usher in Prohibition).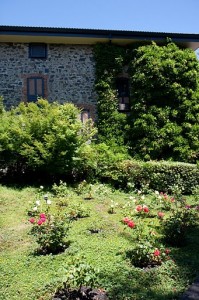 Their pizza cafe is a lovely idea: held on Friday (2-6pm) and Saturday (11am-4pm) afternoons, it's a welcome Summer respite on their shaded back patio under giant umbrellas where wood-fired oven shells out satisfying pizzas (wine is included). While I loved the concept, presentation and taste of their special Red, White & Blue Pizza (red – bacon, lettuce, tomato; blue – purple yam, blue cheese, red onion; white – corn, zucchini, onions, ricotta), my heart belonged first to their House Sausage Pizza with baked fennel bulbs.
They have a balanced (read: not jammy, punch-you-in-the-face) Zinfandel available only at the winery, a Landslide Cabernet and the mineral citrus of Sauvignon Blanc and Chardonnay, creamy with hints of hazelnut, lemon and oak.
On August 28 (12-3pm), they're having a party to celebrate the latest 2007 Landslide Cabernet release with dancing to New Orleans jazz on the Terrace ($20 per person, or $10 for wine club members). You know I'd be there if I could.
NAPA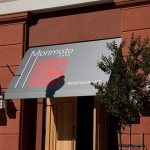 MORIMOTO NAPA – Despite the celebrity chef status of the one and only Masaharu Morimoto (yes, I love the original Iron Chef), and the high price tag, his brand new Morimoto Napa restaurant is an experience and a welcome addition to Wine Country.
The space is huge, with a sea of greys enlivened by bright, yellow chairs. There's patio waterfront seating and an ultra-cool touch of grape vines dramatically running the wall over the bar and in the lobby, as if to say, "Morimoto is now in Wine Country."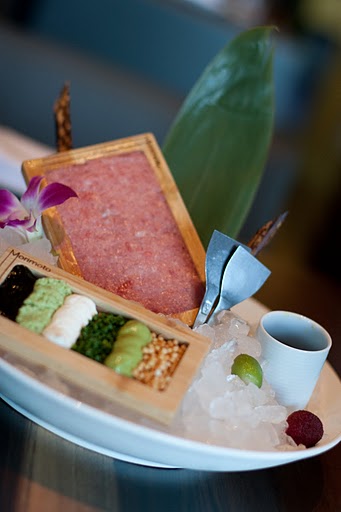 As for the food, it adds up fast, but thankfully there's beyond-the-norm presentations lending excitement to the expensive meal.
Like me, you may have eaten a thousand tartares, but you haven't had one quite like this: Toro Tartare ($25) comes on a little wood tray you scrape with a mini paddle, then dip in nori paste, wasabi, sour cream, chives, or a house dashi soy, smoky with a hint of bonito. Finish with a bright palate cleanser of Japanese plum.
Green Fig Tempura ($16) is a playful change of pace on the tempura front, but the real clincher is a creamy peanut butter foie gras sauce underneath, dotted with pomegranate reduction. Again, as a big beef tartare fan, I've had many a version. This one stands out.
Beef Tartare ($18) Morimoto-style comes with asparagus flan hiding an egg in the center. As you slice through it, it oozes over the beef, asparagus slivers, lotus chips and teriyaki sauce.
Morimoto Bone Marrow ($16) is an intriguing version: one giant bone loaded with gloppy, warm marrow, perked up with caramelized onions, teriyaki and spices on top.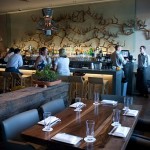 Entrees continued in this creative vein, though Whole Roasted Lobster "Espice" ($35) had its flaws. It's a generous portion but the lobster meat is lost in too much garam masala spice, coriander, peppercorn, and cayenne, even though that was what sold me on the dish initially. It was over-spiced but the saving grace was a divine, whipped lemon creme fraiche, contrasting the blackened spice aspect with airy tart.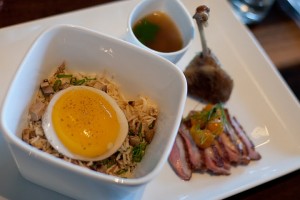 Duck Duck Goose ($36) was my preferred entree – essentially duck in four parts, from a bowl of duck confit fried rice with frozen foie gras shavings topped with duck egg, to duck soup, duck confit leg, and slices of duck meat with gooseberries. Tofu Cheesecake ($12) in coffee maple syrup with maple ice cream is a signature dish for Morimoto, but though I liked the light texture of the tofu cheesecake, it was overwhelmed by thick maple syrup. A Raspberry Wasabi Sorbet was a better finish for me, hitting strong on both key ingredients.
Morimoto sat at the table next to us with friends, surveying the expansion of his growing restaurant empire. The GM stopped by our table to see how things were going and mentioned that Morimoto loved it so much here he was staying for a couple months. Even when the novelty of his first West Coast venture wears off (he's opening in LA next), my initial visit, merely a week after opening, suggests that this restaurant will long remain one of downtown Napa's destinations.
SONOMA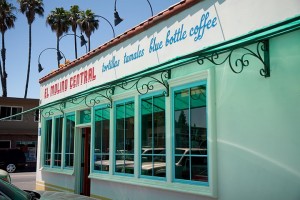 EL MOLINO CENTRAL – In a sea of taquerias lining Sonoma's Highway 12, there's a new addition I've been excited to tell you about that opened early Summer: El Molino Central. I pulled over after doing a double take: it looks like a charming taqueria, but reads hand-painted "tortillas… tamales… blue bottle coffee" on the side of the building. "Wait… what?"
With no dining space inside, there's a leisurely patio out back. Inside, it's an open kitchen where you survey self-proclaimed "Mexican street food" prepared with a high level of care and quality ingredients. They hand-grind corn masa and press tortillas in wood presses. There's even fresh tortillas and pre-prepared dishes to heat up at home. The menu offers merely a handful of items: chilaquiles, tostadas, enchiladas and delightful tamales (I like the white corn and cheese version).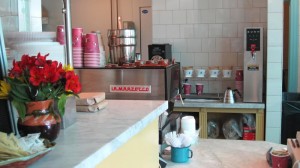 What surprises is the Blue Bottle Coffee menu straight down to New Orleans' Iced Coffee (perfect on a hot Wine Country Summer day). You can get your individual drip or a cappuccino, happily savored with a tamale made from local ingredients.
The place looks plucked out of LA with palm trees and all, but exemplifying Slow Food sensibilities. The shock is the quality level (which costs a little more than an average taqueria, though still under $10)… and the Blue Bottle. You, too, can have your Blue Bottle and homemade tamales in a Mexican food joint. Sonoma is lucky to get this lovably quirky new addition.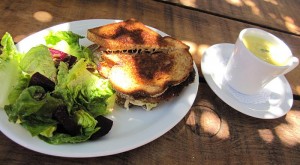 LOKAL – Just off the Sonoma square, Lokal has been getting some love lately from SF folk like Michael Bauer. I'm in when you say Eastern European/Hungarian food, difficult to find done well anywhere, much less in Wine Country.
They won me over with shelves full of records/LPs in the dining room, then with sunny, back patio picnic tables. There's a fine selection of beers making the patio beer garden-reminiscent. Service has it's kinks, including a pricing discrepancy on their menu it took awhile to work out on my bill, but the food is a pleasure and is now a favored stop in downtown Sonoma.
They make a mean German Potato Salad ($5), sweetened by grilled red onions, punchy with mustard, maintaining a fresh profile despite starchiness. A Summer special of White Corn Puree Soup ($3.50 a cup) is sweet and bright. Count me in on the Eva Gabor's Pork Schnitzel Sandwich/"Rueben" ($12). You almost forget there's no pastrami in there with a breaded pork cutlet layered with mustard and sauerkraut. There's a satisfying savoriness here reminiscent of a great Rueben. Lightly crunchy brown bread and house pickles seal the deal.
MONDO – Mondo, a short drive from downtown Sonoma, has the largest beer selection in the area: 23 on tap and more by the bottle, with a little beer garden courtyard through the restaurant. A couple years ago, this was a sausage and burger joint.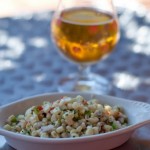 The burgers remain but there's also the kind of bar food that puts a grin on my face: plump Jalapeno Poppers ($7.50) oozing with cheese and shreds of carnitas (pork). There's fatty Braised Beef Brisket Sandwich ($9.50) piled with crumbly blue cheese and shaved red onion. For a little healthy balance, try specials like Sweet White Corn Salad ($5) tossed in lime, cilantro, red peppers and red onion.
This is a welcome Wine Country respite where you can break from excess wine for beer and cheap, gourmet bar fare.
GEYSERVILLE
DIAVOLA PIZZERIA – Though these gourmet charcuterie/pizza/rustic Italian spots are a 'dime a dozen' in SF, it still helps that in a town as tiny as Geyserville there's one dining destination like Diavola. In a high-ceilinged, century-old storefront, brick walls, wood-burning oven and wood floors lend it a country kitchen feel by way of Italy.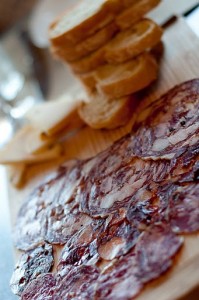 Kudos for being open seven days a week for lunch and dinner. There's nothing that I haven't seen here before but it's all done well. Grilled Asparagus Salad ($13.75) is a Cali-farm type dish we often see done superbly in the Bay Area. Here it's asparagus and arugula topped with pancetta, truffled Pecorino cheese and a fried egg. It's a fine Salami & Cheese Platter ($13.75), reflecting meats they've been making in-house with select cheeses.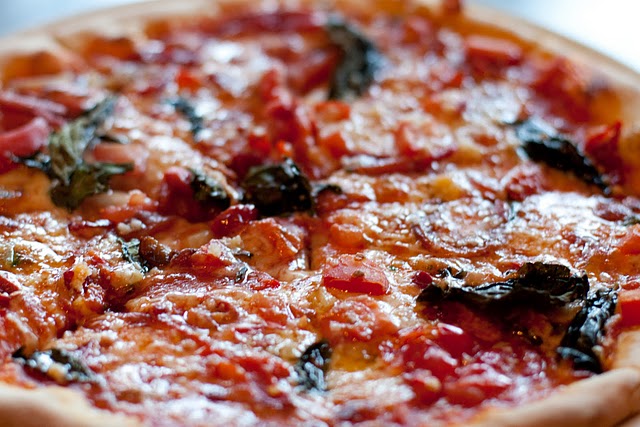 Pizzas shine, and while the Sonja ($16) isn't the best version of a fresh prosciutto, mascarpone and arugula pizza I've had, the Inferno ($15), on the other hand, is one of the best spicy pizzas ever, balanced with the sweet of roasted red peppers and tomato against hot Italian peppers.
Don't go out of your way if you live in SF near many similar restaurants, but on your way up in this northernmost stretch of Sonoma County, it's a worthy stop.
Save