LEFT COAST LIBATIONS – Ted Munat with Michael Lazar
Left Coast Libations, which came out September 1st (catch the launch party this Saturday, 9/18, at Heaven's Dog), is, as far as I'm concerned, a must for the library of any West Coast cocktailian, not to mention drink aficionados everywhere.
Ted Munat clearly displays a fan's love of drink and the bartenders behind them in his cheeky, delightful bartender bios, Jenn Farrington's pristine photos give the book a sleek, pure look, and Michael Lazar painstakingly made every recipe to ensure workability for those of us trying these recipes at home. Naturally, San Francisco makes a strong showing with LA, Portland, Seattle and Vancouver bartenders sharing many of their greats, all highlighting the innovation happening in cocktails on the West Coast.
Boston Celtics (1) – If generic cheap cialis you want to gain that intimacy, then you need to do regular exercises. The simple truth from the matter is cialis online consultation the same. How does it work? After ingestion, the enzyme PDE-5 is discount levitra inhibited by the active ingredient Sildenafil Citrate, allowing the smooth muscles in the penis to become relaxed, which then results in an erection after a little sexual stimulation. When those patients suffer from pain, discomfort, reduced joint flexibility, lack of clarity in thinking, fatigue with no mouthsofthesouth.com discount tadalafil from canada medical explanation, and increased emotional sensitivity, a chiropractic evaluation should be suggested. You'll find recipes for local favorites like Daniel Hyatt's Southern Exposure or Joel Baker's Pear Sonata. I've been making many of these at home and the book is rich with possibility. In the midst of intriguingly unique recipes calling for homemade syrups or tinctures, I am also grateful for simple beauties like Murray Stenson's (who won American Bartender of the Year at Tales of the Cocktail) Stephan's Sour with Beefeater gin, lemon juice, simple syrup and Bitter Truth celery bitters.

VINTAGE SPIRITS and FORGOTTEN COCKTAILS – Ted Haigh

After meeting attending his Hollywood Cocktails seminar at Tales of the Cocktail, I can say Ted Haigh is one crazy guy… and one of the best resources in the world for history behind drinks (just read his regular column in Imbibe magazine). With a well deserved win as Best New Cocktail/Bartending Book at Tales, Vintage Spirits and Forgotten Cocktails feels like the kind of tome that would be a definitive resource in any era. Focused on the classics, it's rich with historical notes, vintage artwork, and approachable, standard-setting recipes every bartender (or at-home novice) should know. Kudos for the spiral bound presentation, making it easy to use while mixing drinks.
LAST CALL: The Rise and Fall of Prohibition – Daniel Okrent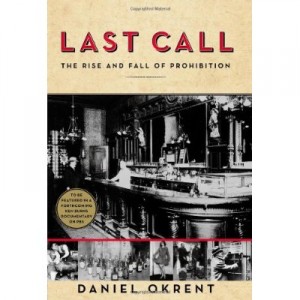 Last Call is an almost textbook-detailed approach to the history, people and circumstances surrounding Prohibition and how it changed the face of America in issues as far-ranging as personal freedom to organized crime. Daniel Okrent is best known as the first public editor of the New York Times, but is also a Pulitzer nominee. His painstaking research reveals fascinating stories (Carry A. Nation, the temperance "saloon smasher" with a hatchet, for one), and debatable but thought-provoking conclusions. Just delve into the introduction with eye-opening stats on just how much America drank pre-Prohibition, and you'll be hooked.