Daniel Patterson is one of our city's true visionary chefs, willing to push the envelope, gifted with technique, but, yes, able to make it taste damn good. I'm a big fan of Coi, delight in Il Cane Rosso and try not to resent Oakland for getting both Bracina and Plum, his upcoming ventures.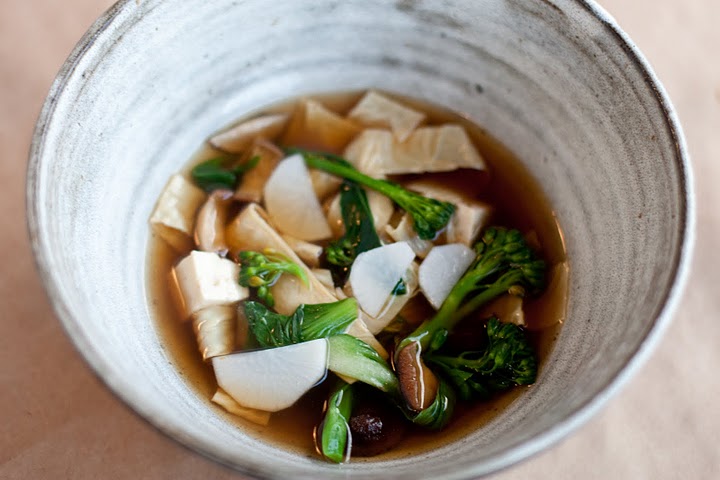 Thankfully, Plum sneak preview dinners were held here in SF at Il Cane Rosso, every Monday during August. A simple, four-course menu was presented at $45 per person, representing what might be on offer once Plum rolls out. It's a smart idea: try things out, get diner's feedback, hone the menu… all before the restaurant opens.
Of course, I am eagerly anticipating the bar menu from none other than Scott Beattie with bar manager Michael Lazar, co-author of Left Coast Libations. This is going to be a good one, folks.
Patterson, Il Cane Rosso chef Lauren Kiino and pastry chef Bill Corbett are behind the food. From the preview dinner perspective, I first noticed the menu's straightforwardness: lamb stew, roasted beets, and the like. But the food belies a brazen spirit you won't catch reading the menu, one married to understatement. Ask questions and you'll find there's much more to a dish than meets the eye.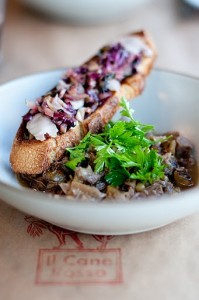 What is labeled "potato chips" are russet potato strips and skins prepared like chicharrones: crispy, dusted with cayenne and fennel pollen. These would make incredible bar snacks. Roasted beets display radiant hues of gold and red, accented with onions, sorrel and the crunch of pistachio.
A pure, seemingly simple mushroom dashi/broth with yuba, tofu and greens, is contrasted by pickled radish. This dish is an excellent example of what I've seen from Patterson before: balanced flavors, impeccable technique but approachable, not playing any games.
Lamb stew with sunchokes and wheatberries deserves applause. When I found out what was in the dish, it seemed a shame not to list it on the menu, but it's smart on the Plum crew's part to encourage the average diner to order something they are comfortable with (lamb, for example), while gently expanding their horizons.
The stew is tender chunks of lamb neck, shoulder and head, while accompanying grilled toast is covered in "brainnaise", Patterson's term for brain mayonnaise. Never fear, it tastes delicious with radicchio. You'd never know that mayo was creamy with lamb brain.
Dessert is fresh huckleberries accented with airy goat cheese foam on a 'liquid' graham cracker, followed by a grapefruit and wild fennel pate de fruit: a bright, tart finish.
The marriage is right: the food is straightforward and comforting, accessible to your general Bay Area diner, but simultaneously bold, unapologetic and lovingly prepared. This bodes well for Plum.