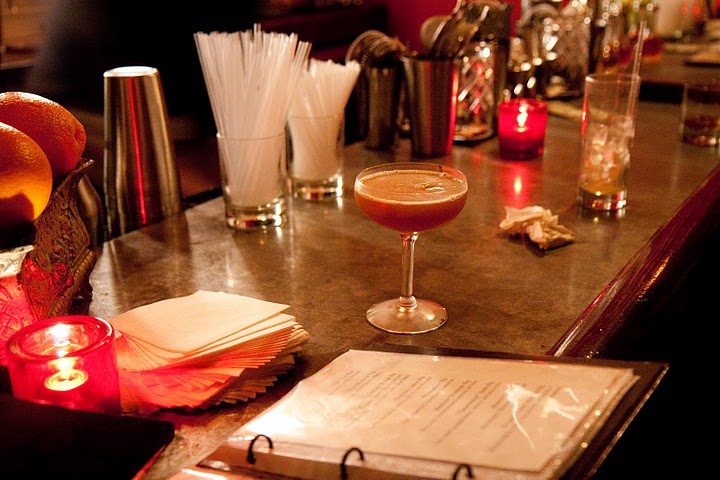 There continues to be a proliferation of memorable cocktails around town this Winter…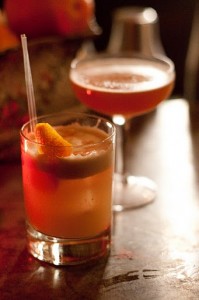 THE HIDEOUT, Mission – I regretfully write about The Hideout at all – though it has been written up a couple times, it has, by-and-large, remained well under the radar. I hate to contribute to any increase of crowds but wanted to share of its joys.
Open for awhile now and tucked in the back of comfortable, slightly divey Dalva, it has remained truly that: a hideout for cocktail aficionados. A small, but well-curated spirits selection, skilled bartenders (not to mention guest bartending from some of our city's greats who are now brand ambassadors or run their own companies), and cheesy-fabulous '70's tunes ("Midnight at the Oasis", anyone?) make sipping a cocktail here downright fun.
Drinks are simple, pure, like a House Sour ($9) of armagnac, Bonal, lemon and egg white. Or there's the bitter, appetite-stirring Nobody's Dirty Business ($9): Batavia Arrack, Cynar artichoke liqueur, Bonal, Maraschino liqueur, lime, Prosecco. Slightly different depending on the bartender of the night, they stir a mean Old Fashioned.
The Hideout reminds me of the spirit of NY's Milk & Honey in the early days: divey charm, superb drinks, groovy, kitschy tunes, mellow. Here's hoping it stays that way with its handful of tables, tiny bar, and red, warm glow.
BERETTA, Mission – Beretta has long been a key stop for tequila cocktails. Bar manager Ryan Fitzgerald recently made me an off-menu cocktail using Fortaleza Blanco (he uses other blancos for the drink as well) with David Roark Ruiz' (bartender at Mr. Smith's) "That's My Jamm" raspberry habanero jam creating a bright burn. Lime and zest enliven it further, while an egg white layer adds silkiness. One of the best tequila cocktails I've had in awhile. It's not on the menu, but ask for it.
GITANE, Financial District/Downtown – Gitane's Bar Manager Alex Smith, is deservedly getting increasing attention around town since I wrote about him two weeks ago. As I continue to work my way through his cocktail menu, there's more to love and share with you.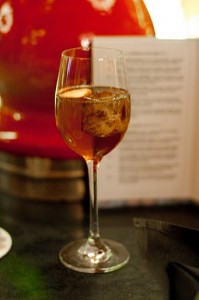 Martyr of Cordoba ($14) may be for the refined palate, layered with the bitter, savory, sweet, aromatic, unfolding as you sip. It's a mix even the experienced palate would have difficulty calling out: Copper Fox' white rye, Dry Sack sherry, Dimmi, absinthe, apricot liqueur, sweet vermouth, Peychaud's bitters. There's just a hint of each element, so that when you think you are about to call out what's in there, it slips away, elusive and intriguing.

Make dessert the elegant Cóctel Ibérico ($12), served in a delicate, long stem glass. Sweet with Dos Maderas rum, Amantillado sherry, bitter with Ramazzotti amaro, coffee notes of Fair Cafe, spice of Licor 43, and chocolate mole bitters, the drink epitomizes layering. The genius is in it's complexity, how one element does not overwhelm the other, yet each plays its part. A flamed orange zest is the final accent in this cool, after-dinner imbibement.
JONES, TenderNob/Union Square – Simple and light, Jones' Breakfast Martini ($10) becomes something more in that awesome patio, tucked off of Jones Street, with subterranean, industrial interior, and spacious openness.
Plymouth gin, Combier, orange marmalade mix with a bit of egg white for subtle creamsicle properties, reminiscent of Orange Julius with booze. Sip it at brunch or during happy hour in a setting like a (rich) friend's private city rooftop.
FIFTH FLOOR, Downtown – At Fifth Floor, Jacques Bezuidenhout's beautiful McEwan cocktail (a pricey $16) exemplifies balance. It's named after Bruichladdich's distiller, the drink's scotch base. St. George's Pear eau de vie and clove syrup add fruity, spicy sexiness, while lemon, grated nutmeg, and a frothy egg white layer round it out. Sweet, gently peaty, refreshing.
Bar manager Morgan Young takes on scotch with the richer, darker Sweet Peat Bowmore ($14) with Bowmore 12yr single malt and port. Black pepper syrup adds spice, cassis delivers sweetness, while lemon and a layer of egg white deepen the cocktail's bold, peaty punch.
BURRITT ROOM, Union Square – Much as I am finding it harder to have a quiet hour at Burritt Room (one I loved for that very reason when it opened last year), bar manager Kevin Deidrich continues to pull out nuances with each seasonal menu.
He takes peaty, Islay scotch a couple directions with Turn of the Century. Scotch becomes apple sweet with bonded applejack, creme de cacao adds chocolate notes, Lillet Rouge and lime brighten the Fall-like smoke of the drink. The Christopher Lambert takes Islay scotch a simpler route with honey, lemon and Angostura bitters.
Genever isn't always as satisfying for me as some spirits but his Dutch Blood does it right with Agricole rhum, Benedictine, cherry heering, blood orange, lemon and a hint of absinthe that lingers like an afterglow.