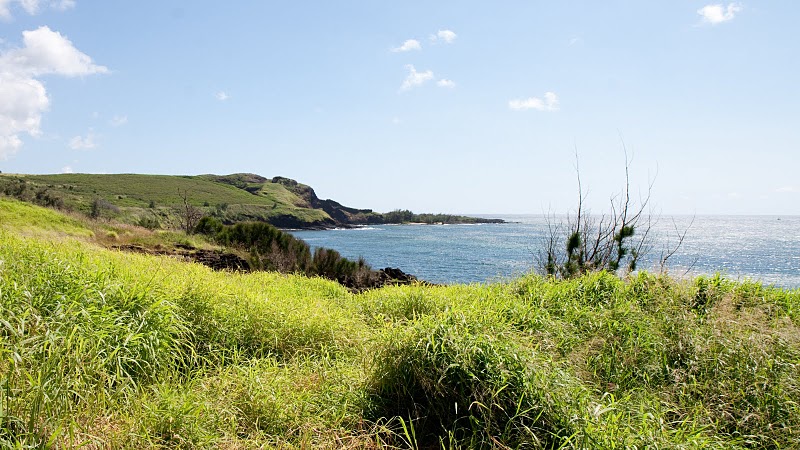 Article and photos by Virginia Miller
Kauai… dreamy island respite, painfully beautiful, truly relaxing (other than East side traffic!) Last issue, I covered restaurants and cheap eats on the island. This time it's best places to stay and drink (read the 5/15 issue for best cocktails on Kauai).
HOTELS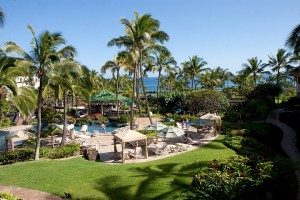 GRAND HYATT KAUAI, Poipu Beach – Do yourself a favor and stay at Grand Hyatt Kauai. A resort in the full sense of the word, it is its own escape and world unto itself. From lava rock waterways and multiple levels of pools (including a salt water/sand pool) to its world class spa, Anara (go for the open air couples cabanas), you leave here feeling as if you've truly had vacation.
Dinner at Tidepools, pina coladas sipped poolside, taking in the sunset from the deck of your room with a bottle of wine, conversing with the parrots in the massive open-air atrium, taking in live bands and a scotch in Stevenson's Library… its all unforgettable.
Yes, it will cost you, but service is impeccable and the experience ranks up there (or better) with the best I've had anywhere – that includes Ritz Carlton or Four Seasons. The unreal setting, balmy by day, lit by tiki torches at night, is unbeatable.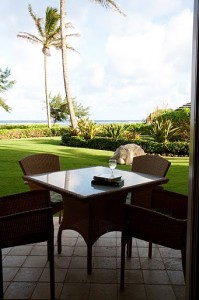 OUTRIGGER WAIPOLI, Kapaa – My initial take on Outrigger Waipouli Beach Resort wasn't strong. On a busy, strip mall-lined stretch of East Kauai in the town of Kapaa, its appears fairly generic from the outside, while kids swarm the lovely pool area (modeled loosely after Grand Hyatt's incredible pools and waterways – the one spa for adults was overtaken by 8 children).
Walking down a non-descript hallway to our 'room', the door opened into what felt like our own private beach house. Two bedrooms, three bathrooms, spacious living room and kitchen, each room had sliding doors opening up onto the lawn running to right to the beach.
Breezes flowed through the space, which felt private and removed from a hotel structure. Dishware, wine glasses, coffeemaker, everything we could need was in the kitchen, making it feel like a home away from home. It was the one part of the trip where we could cook and watch movies ("Blue Hawaii", thank you very much) on flat screens in each room.
Though the location is not near as idyllic or removed as Grand Hyatt on Poipu Beach (certainly more affordable), inside our room we felt secluded, rested and as if we could settle in for weeks.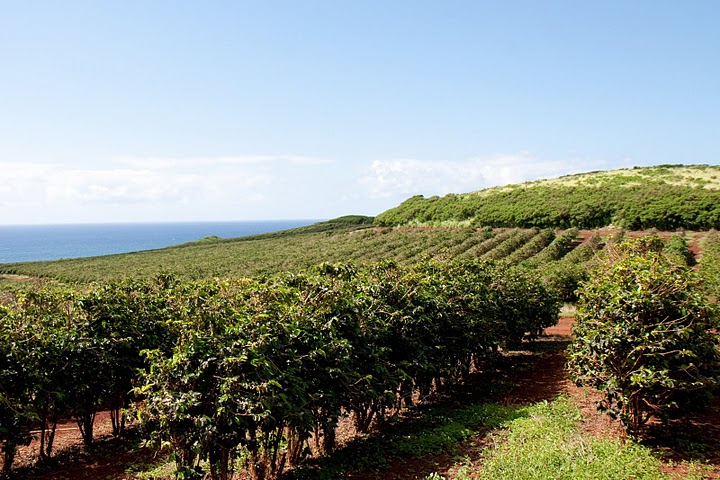 DRINK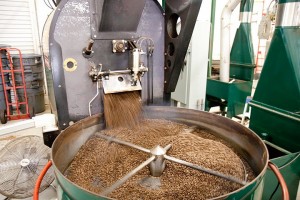 KAUAI COFFEE PLANTATION, Eleele – Originally McBryde Sugar Plantation back in the 1880's, Kauai Coffee is Kauai's one and only coffee plantation, encompassing over 3000 acres right up to the ocean. A more striking setting I could not envision. A half day personal tour with their amazing sales manager, Marty Amaro, was a highlight in Kauai. We off-roaded in his truck over red dirt roads, through coffee fields, next to ocean rocks where we watched sea turtles lolling.
They do everything locally themselves. I toured the factory, climbed atop a coffee harvesting tractor, witnessed bean roasting and bagging (on a vertical form, fill & seal machine), and, of course, sipped Kauai Coffee. Amaro makes a mean iced mocha, let me tell you what. I was envisioning a sweet, chocolate-ly drink but it's a bracing, coffee lovers delight, refreshing and cool on a hot, island day.
Kauai Coffee grows farm varietals of Arabic coffee: yellow catuai, red catuai (both high acidity for medium-bodied coffee), typica (medium acidity for medium-bodied coffee), Kauai Blue Mountain (medium acidity and full-bodied), and Mundo Novo (low acidity but full-bodied).
They run the largest drip-irrigated coffee estate in the world, sourcing waters from a nearby dam in the foothills, roasting over 600,000 lbs. of coffee a year: an amazing feat when you see the size of the room it all happens in. Similar to wine seasons, harvesting happens annually (around September through November) when staff double in size to get it all processed.
The coffee club is monthly cost of the beans, a reasonable $15.25 for one 10 oz. bag or $29 for two. Besides some of the elegant estate coffees, I find the newer Big Braddah a real representation of Kauai spirit: casual, familial, playful. Definitely NOT a flavored coffee type, I am pleasantly embarrassed to admit I was taken with their Hawaiian Coconut Caramel Crunch coffee. They painstakingly hand-flavor each batch and this one was not at all sweet, particularly integrated and nutty.
Kauai Coffee should be a stop on any visit to Kauai.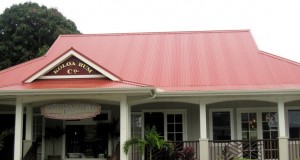 KOLOA RUM, Lihue – Koloa Rum is a bit of a 'mixed bag'. The setting is memorably Hawaiian: a traditional sugar plantation-style tasting room on the grounds of the delightful Kilohana Plantation (a former sugar plantation preserved as it was in its 1930's heyday). Their elegant packaging reflects the setting, making for a strong first impression.
Staff are gracious and aim to please. But complex Hawaii liquor laws are such that tastes remain exceptionally tiny, cannot be shared, and though they have created a mai tai mix, they cannot mix alcohol or make a cocktail of any kind.
Using a 1210 gallon copper pot still originally used for Kentucky bourbons post World War II, their white, gold and dark rums work best as entry points to rum. I know some who find it flat or not as nuanced as other rums, yet each one has won bronze or silver medals at esteemed rum tasting competitions like the Miami Rum Renaissance Festival.
I expected to find the Gold ($30.95) and Dark ($32.95) rums too sweet given their somewhat unnatural coloring, though they tell me this comes from crystallized sugar and molasses. They were more balanced than I expected. The one I'd be most inclined to drink is the White ($29.95): clean and light, appropriate for cocktails. They recently launched their Spiced Rum.
If in the area, it is a worthy stop as a local venture, using the last of the little sugarcane even left from the island and pure mountain rainwater of nearby Mt. Wai'ale'ale.
JAVA KAI, Kapaa – The best coffee I had in Kauai, the bracing coffee at Java Kai is a local favorite for a strong cappuccino or espresso. Java Kai doesn't have the friendliest staff (unusual for Hawaii in general), but it's no matter when coffee is prepared right. It was my regular morning stop on this side of the island (PS – it's ideal iced, too; next door to Mermaids Cafe).
KALAHEO CAFE, Kalaheo – On the South shore of Kauai, this casual cafe would be at home in any hip small town. Kalaheo Cafe has a healthy, locals vibe and is packed for breakfast. Eat in or take out, stand-outs include straight-from-the-oven baked goods (apple coffee cake, for one).
Using local coffees like Kauai Coffee, they serve robust espressos and cappuccinos. There may be no third wave, artful foam atop that capp, but rest assured it will wake you up. For one picky about coffee and how it is prepared, I didn't feel like I had to suffer for good coffee on the sleepy island of Kauai.