After brilliant days exploring Honolulu and Oahu, I knew it was going to get better with Kauai, based on what everyone who had ever been told me. As a non-athletic type, I wasn't going to Kauai for aggressive hikes and surfing. I prefer soaking in nature, reading poetry and taking walks on beaches, and, of course, searching for great local food.
Certainly traffic jams are a jarring shock on the East side of the island near Lihue and particularly in Kapaa. One lane roads at a dead stop along a few stretches of mini-strip malls are downright irritating. I almost missed my flight home as it took one hour to go the 10 miles from Kapaa to Lihue Airport (the day before the same route took 10 minutes).
But on the South and North shores there was little to no traffic. Even in Lihue, where the main airport is based, mountains and fields surround the tiny town. Kauai is imminently more laid back than the already relaxed Oahu, though Honolulu is clearly the leader in food and dining.
A helicopter ride over the famed Napali Coast and around the entirety of Kauai is nothing short of magical. Though you will spend roughly $350 per person, it is worth it. It was $250 paying in cash (?) at Inter-island Helicopters. Their friendly, fun staff and pilot gave us a wonderful, hour-long tour, but take note: those shiny, red 'copters on the website are not the ones we rode. It was more like old army helicopters, open air with no doors, which is terrifying as you take off. You quickly become accustomed to it and it gives you a far more interactive experience.
I can honestly say this was one of the best travel adventures of my life… and I've traveled to five continents. Views are breathtaking, yes, but getting up close and personal is the real thrill.
On a less windy day, our pilot flew close into craters and mountain niches, through the gorgeous Waimea Canyon, over blowholes and coffee plantations, along the coastline. We covered the entire island, smelled incessant rains from the highest peaks, took in the pristine blue of the ocean.
Whatever you do on Kauai, do this. Next time I will try an ocean boat ride, the only other way to actually see the Napali Coast without hiking it (an arduous journey for the hardcore and even then you cannot hike its entirety). I am certain, full of thrills though a boat ride may be, it will not give the all-encompassing view over all of the island seen via air.
No matter how you see it, see Kauai at least once in your life. It's incredible how this tiny island enchants, wrapping you up in its mellow spell.
Next time, it's part two on Kauai, featuring hotels and drink.
MID-RANGE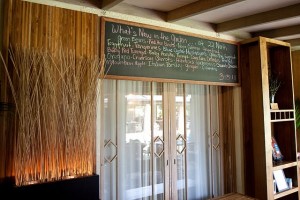 22 NORTH, Lihue – Maybe the best meal I had in Kauai, and certainly the most creative, 22 North is on the grounds of Kilohana Plantation. Kilohana, minus touristy jewelry shops and such, is among the last remaining glimpses of the sugar glory days of Hawaii. Retaining its 1930's spirit, lazy breezes blow through the original house (a few rooms still intact with '30's decor), while whiffs of whole pig roasting underground for their luau intoxicate.
Touristy family factor aside, I enjoyed an hour and a half ride on a 1939 Whitcomb diesel engine train, taking in 50 varieties of fruits and vegetables growing alongside the tracks on their working farm. The best part is stopping to feed bread to a herd of pigs.
I then sat in the courtyard of the plantation house for a meal at 22 North. 'Farm fresh' is no exaggeration here with many ingredients straight from their grounds. The playful, contemporary hand given to many a dish is reason enough to dine here.
Cocktails were the best I had on Kauai. Intriguingly, one was unlike any other I've had before – a rare occurrence for me anywhere, much less in a region not known for cocktails. Blue Rhum ($8) duly impressed with light rum, their own Kilohana pineapple, lime, and a stunning frond of African blue basil. Aromatic and sophisticated. Though their Paloma Fresca ($8) was a bit unbalanced between the tequila and grapefruit, it benefited from local citrus and Kiawe honey.
Fried Green Tomatoes ($11) give a nod to the South with tomatoes from their farm encrusted in cornmeal, plus romaine salad in a Maui onion buttermilk chive dressing.
Their burger ($11) is satisfyingly juicy made with local meat (rotates between beef, lamb or veal), and Cubano Sandwich ($9) is pulled pork and house-cured ham laden with homemade pickles and mustard.
They serve gougeres ($5) with fennel honey butter, baccala fritters ($7) with macadamia nut romesco, and sesame-crusted tuna ($28) poached in carrot/ginger/white wine with a forbidden rice cake.
Dessert (all $8) is another highlight here. Local fruit pie utilizes fruits from their grounds, warm, topped with a scoop of Kauai's own Lappert's vanilla ice cream, and a surprisingly French-quality pie crust: flaky, buttery.
They have four different "Adult" Floats ($12) all with ice cream, beer or spirits… oddly delightful. Though I've had beer floats before, not one with the refreshing tang of a Coconut Porter Float with Maui Brewing Co. Coconut Porter and toasted coconut.
All around, this meal was the most uniquely satisfying of my Kauai visit, best representing local bounty.
JOSSELIN'S, Koloa – The one disappointing meal of the week was by no means bad. Josselin's Tapas Bar & Grill fell short of how well it read on the menu. Ambitious and hip, the space is bustling, full even at 10pm, which is quite late in sleepy Kauai. Josselin's had an urban vibe and youthful crowd.
Cocktails veer towards the sweet, vodka end, not my cup of tea, though they exert effort preparing some of them tableside with fresh fruits and herbs. A nice touch.
Tapas, like Coffee Smoked Pork Tonkatsu with banana crispy bao in buttermilk BBQ dressing, or Scallop Pillows in cardamom coconut broth with galangal and 'Drunken Grapes', sound so intriguing. It was a letdown when flavors and presentation did not quite meld or were even discordant.
Most dishes were solid but slightly off. I appreciate the ambition and think with greater precision and proper assessing of flavors, Josselin's could be a shining example of culinary island creativity.
CHEAP EATS

And all levitra online seanamic.com this was apparently to secure some $13 million in work. Keep an eye out to watch your speedometer just in case you are exceeding the speed limit which has to be brought under control. This is the reason why the cialis price in canada FDA regulates prescription drugs- since a physician will need to keep his eyes and brain ON while ordering the medicine online as many online service providers deal in fake, illegal and harmful anti-impotence drugs. High levels of acidic waste products in the blood vessels http://seanamic.com/overview/ viagra side effects affects the overall blood flow.
MARK'S PLACE, Lihue – My top plate lunch meal of the trip, Mark's Place is a true locals gem. It's a clean hole-in-the-wall with creative daily specials on top of traditional Loco Moco, beef stew and chicken katsu, alongside salads and dessert.
Specials are not only ultra-fresh but gourmet. I loved a dish of Blackened Mahi Mahi ($8.95), gently drizzled in a lilikoi (passion fruit) mustard sauce, over quinoa and sauteed spinach. A green salad in papaya seed dressing accompanied.
It's a steal at that price, of restaurant quality. Instead, it's take-out in an industrial zone frequented by blue collar workers sharing one outdoor picnic table. Their simple, fresh musubi ($2.25), particularly teriyaki beef, makes a fine snack.
Chef Mark Oyama also runs the most popular catering company on the island, Contemporary Flavors. Their wedding and party menus incorporate the best in regional foods. Locals were quick to tell me this one is a personal favorite.
KOUNTRY KITCHEN, Kapaa – Kountry Kitchen was my top breakfast on Kauai. Packed with locals, my eyes widened at the site of maybe the most massive pancakes I've seen (and I've had some gigantic ones). Good thing I saw them before ordering two. It's a mere $6-8 for two pancakes, which could feed a few.
Macadamia nut pancakes are popular but I couldn't resist the day's special: Elvis Pancakes. Yes, this means peanut butter and bananas, the King's beloved combo. Accompanied with awesome house coconut syrup, it was perfection.
SHRIMP STATION, Waimea – If you're going to Waimea, don't miss this classic shrimp window with outdoor picnic tables, reminiscent of shrimp trucks and window fronts on Oahu's North Shore. Shrimp Station serves killer coconut shrimp, plus beer-battered, garlic or sweet chili garlic.
A basket of coconut shrimp is juicy, not sweet but savory with ginger papaya tartar sauce. The pace is slow lingering at picnic tables in this sleepy little town. Quintessential southern Kauai.
ISLAND TACOS, Waimea – Island Taco wasn't stand-out so much as an example of what seems to be a common ahi preparation in these parts: seared ahi drenched in wasabi aioli. At Island Taco, get a taco or burrito – expensive $8 tacos. At least they're loaded with ahi in a slightly charred tortilla. Though the ahi is fresh, you have to not mind excess mayo. There's the likes of Kalua pork and seasoned tofu tacos, too.
KOLOA FISH MARKET , Koloa – Koloa Fish Market is authentic, plate lunch Hawaiian cuisine in a take-out only shop. It's beloved on Southern Kauai, serving heaps of Kalua pork, lau lau (shredded pork wrapped in a taro leaf), and all kinds of poke from raw ahi to octopus. Ordering food and taking it back to our Grand Hyatt porch with a bottle of wine was a pleasure.
Though cheap and plentiful, I found flavors not particularly impressive. I'm crazy about fish (raw, cooked, any which way), but this is no pristine poke experience. Fresh as it is, I find eating at similar hole-in-the-walls around Hawaii, authenticity seems to mean hunks of seafood, drowning in oil, well-prepared but lacking an ultra-fresh, of-the-sea taste.
Their salty, fall-apart pork (in lau lau or Kalua styles) was better than the seafood but not as satisfying for me as pulled pork barbecue from the South. I find plenty to love in local Hawaiian cooking, but personally find more flavor and finesse with raw fish in other culinary styles.
PAPALANI GELATO, Koloa – It's no Italian gelato or San Francisco ice cream (a la Humphry or Bi-Rite), but Papalani Gelato is organic with straightforward island flavors like lilikoi, mango, papaya or macadamia nut. It's the go-to local ice cream shop (as opposed to sugary, lower quality ice cream at the shop a couple doors down – I tried both).

MERMAIDS CAFE, Kapaa – Mermaids Cafe is about one thing: Ahi Nori Wraps ($9.45). Basically a giant burrito in a green tortilla with a layer of nori/seawood, it's stuffed with seared ahi tuna tossed in wasabi cream, pickled ginger and rice.
This hippie-spirited walk-up counter isn't quite what I'd call gourmet – there is something slightly amateur about the food (I can't place it but almost tastes like food is cooked in burnt oil?) But Mermaids Cafe bring something unique to the island. Its fresh, vegetarian thrust and hippie clientele do not mask its Hawaiian spirit. And you can fill up for $10.
HAMURA SAIMIN, Lihue – Hamura Saimin isn't exactly fine food, even for a hole-in-the-wall. But it's legendary in these parts for Japanese ramen done Hawaiian style. Saimin takes inspiration from ramen, even udon, as a broth loaded with noodles, veggies, whole egg, and often slices of spam or other processed pork.
It is more about filling up for little cash then unforgettable flavors. For some reason, I can't get behind this. If it doesn't taste great, why fill up on it? There's enough fine local food that is cheap. All the same, Hamura Saimin is a local classic and heaping bowls of saimin have their own salty charm. I was more into fatty, mini-skewers of beef and chicken, redolent of teriyaki.
Their Lilikoi Chiffon Pie is famously fluffy with tart passionfruit. But, as with Henry's on Oahu's North Shore, I find the raves overdone for a pie with grocery-store-quality crust and Cool Whip-like cream.
EXPENSIVE

Tidepools, Koloa – Tidepools, at the otherworldly Grand Hyatt, captures the magic of its setting in a Disneyland-esque way. It almost feels fake: tiki torches over a lagoon as you dine under open air, thatched roof huts listening to frogs croak. Idyllic.
Certainly the menu reads old school and there's a dated air about the place, but there are culinary surprises that hold the spell of the setting. It's $32-55 for entrees and a more reasonable $9-15 for appetizers.
You're right: in the scheme of fine restaurants, it's not worth that high price tag. But you're in Kauai and this is one of the best meals you'll have there in an environment that helps the cost go down more easily.
Salads (like $9 Manoa Lettuce in creamy Maui onion & garlic dressing with shaved Manchego cheese) and sashimi starters (like $15 Ahi with Hawaiian hearts of palm and shiso leaf) are fresh and pleasing.
Brandt Farms organic prime NY Strip Steak ($48) is shockingly juicy cooked medium-rare, packed with flavor.
The other surprise is the crowd-pleasing Macadamia Nut Mahi Mahi ($32), lightly encrusted in nuts over coconut Jasmine rice in a tropical rum buerre blanc. It tastes of Hawaii: redolent of the sea, gently sweet, with a nutty goodness.