As we arrive at the end of 2011, here are a few dishes of soothing comfort for a winter's night from four under-the-radar places: two new, two established.
Egg noodles in a Japantown culinary respite
BUSHI-TEI, 1638 Post Street, 415-440-4959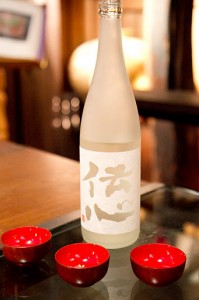 Bushi-Tei has long been one of my underrated restaurant picks. I've said as much (e.g. May 2011 article in 944 magazine), reveling in refined takes on Japanese French cuisine. There's much to love in the two-tiered space lined in rugged Japanese woods, with 18-foot communal table, and ever-sure conversation starter: Japanese toilets in the bathrooms (air dryers and seat warmers!)
When I heard new chef Michael Hung (of Jardiniere) and pastry chef Yuko Fujii (of Fifth Floor) were coming aboard, I hoped the intricacies I admired would remain intact. I was delighted after a couple visits to see Hung has married comfort and intricacy, inventiveness with tradition. Tasting menus are $55, or $8-18 starters, $17-27 main courses.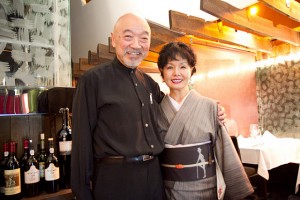 Tak and Keiko Matsuba thankfully still run the restaurant – among the most adorable husband/wife teams I've met. They bring a gentle passion to each aspect of the place, including Tak's thoughtful wine pairings (like an Alsace riesling with fish, or sake with noodles).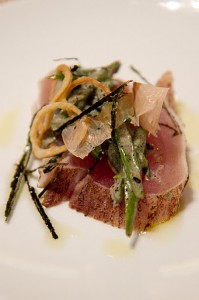 There's Sunday brunch offering elegant bowls of egg noodles in Sonoma duck ragout or Haiga rice porridge (reminiscent of Chinese congee) laced with salt-roasted albacore tuna and a poached farm egg. A small serving of grilled Monterey calamari ($8) in a ginger bourride (a stew made with egg yolk and garlic) impresses with nuanced sauce and juicy squid.
Memorable dinner dishes include tataki of Hawaiian albacore ($12), a delicate, sashimi-style starter over black sesame aioli. Handmade egg noodles ($17) steal the show from worthy entrees like roasted Kurobuta pork Nabemono (Japanese stew). Hung makes his egg noodles (the same ones at brunch) with egg and soda, and at a recent dinner, tossed them in brown butter cauliflower and hatcho miso (a miso from South Central Japan).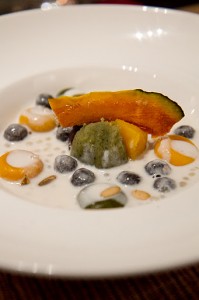 Fujii shows her skills in a unique dessert of Kabocha squash and matcha mochi dotting a coconut tapioca broth. Dense and warm, it is thankfully unsweet and richly satisfying, its three lush bean pastes (red bean, green tea, squash) the shining finish.
Post-dinner, Tak offers a pour of Denshin "Yuki" Junmai Ginjo sake brewed by Ippongi Kubohonten Co. He spoke of its cowboy boot, kimono-wearing sake maker who's area of Japan (Fukui) was hit hard by the recent earthquake. Matsuba loves to support such producers, welcoming them when they are in the States. We're lucky to have this haven of pristine East-West cuisine in our city.
Egg Yolk and Ricotta Ravioli in cozy Nob Hill restaurant
SEVEN HILLS, 1550 Hyde St. (between Jackson & Pacific), 415-775-1550
Seven Hills is one of those neighborhood favorites many outside the 'hood aren't aware of. An Italian spot run by French natives (?), it's a mellow respite for conversation with caring service. Pasta is where I most enjoyed myself, like their signature ravioli uovo ($9.50) filled with ricotta, spinach, and oozing Full Belly Farm egg yolk. In a light pool of brown butter and white truffle oil, it flirts with decadence. Spaghetti ($9.50/$19) is a heartwarming bowl (conveniently in two sizes) dotted with French Grandpa George's recipe of plump fennel sausage, caramelized onions, and bell peppers in tomato sauce.
Chestnut soup in a tiny French bistro
BOUCHE, 603 Bush St. (at Stockton), 415-956-0396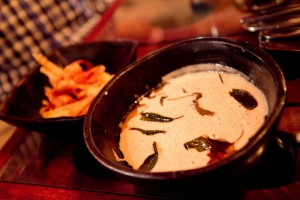 Bouche has only been open a couple weeks and thus is too new to comment in-depth on. Though I have pangs of nostalgia wishing Bar Crudo was still in this tiny, charming space, the one dish out of a number of small plates ($6-18) that began to assuage those pangs was a creamy chestnut soup ($6). It's aroma evokes winter, the soup dotted with sage leaves fried in butter (which I could smell downstairs before the dish arrived to my table upstairs), with a side of crispy root vegetable chips to place on top.

Healthy "Unfried" Chicken & Ancient Grains in Palo Alto
LYFE, 167 Hamilton Avenue, Palo Alto 94301, 650-325-5933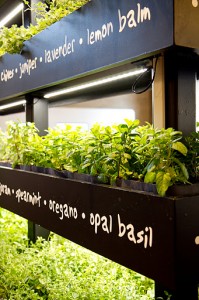 Call it healthy "fast food" for the Peninsula set: LYFE Kitchen is a bustling, new eatery in downtown Palo Alto. Draft beers and wines, smoothies and juices flow, while vegan, vegetarian and organic foods encourage guilt-free eating. This sort of place would take off in downtown SF as its healthful approach doesn't leave taste behind, while its connection to celebrity chef Art Smith is a point of interest for foodies.
Though not everything worked (I'm afraid fries are ultimately better – and less soggy – when actually fried), two stand-outs are Art's unfried chicken ($11.99) and roasted beets & farro salad ($7.79).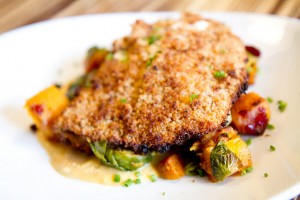 Chicken is a dish I often brush past for more enticing options, but their tender, "unfried" chicken is pounded flat, textural with breaded crust, on a heartwarming bed of roasted squash, brussels sprouts, dried cranberries, tied together by a drizzle of cashew cream and Dijon vinaigrette. The salad is loaded with roasted red beets over whole-grain farro and field greens, with a melange of fennel, walnuts, dried cranberries, oranges, red onion, and basil in maple-sherry vinaigrette. Every bite packs a flavor punch. Here one can fill up with a clear conscience.