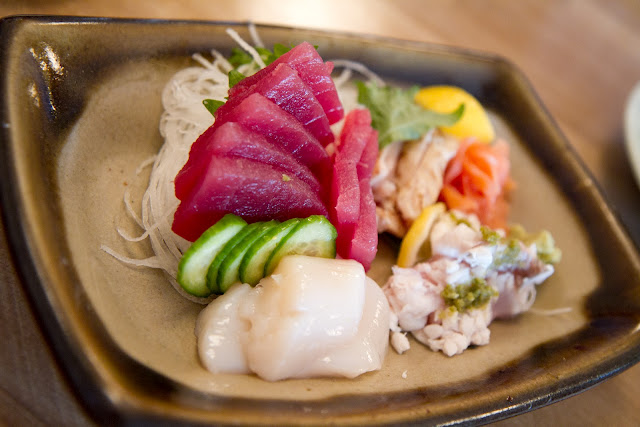 I'm constantly asked what my favorite restaurant is. It's an impossible question. Inquire about my favorite taqueria, German, tea house, French bistro, and I'm ready to talk. There's a favorite for every style and mood in a metropolitan, dense city such as ours. My current home is on the cusp of Haight-Ashbury and Cole Valley, which, like every neighborhood in our food-rich city, has its treasures. We'll explore it's best here.
I'm ever making a plea for quality spots to replace much of the touristy swill that lines Haight Street (FYI: the El Balazo space is up for grabs; Papazote will open in the former Eos space from the Mamacita folks). Funny enough, it's the expanded Haight Street Market, new Whole Foods and Off the Grid Upper Haight that have improved the food tenor of the 'hood. It's understandable why Upper Haight rarely places on budding restaurateurs' horizon: uber-high rents and less-than-food-saavy tourist crowds. But it only takes a few to turn a neighborhood's tide (note: Western Addition, Dogpatch, et. al.), and we already have pioneers like Dave McLean who've made this a better eating and drinking neighborhood for all.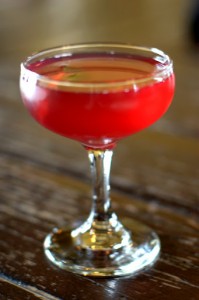 Thank God for The Alembic. The bar has been one of SF's best since it opened, thanks to bar manager Daniel Hyatt, whose expertise on American whiskey equates an ahead-of-the-curve selection. Alembic claims many gifted bartenders, like Danny Louie and Janiece Gonzalez, and I'm never disappointed when asking for an off-menu cocktail creation. The food is destination-worthy in its own right – maybe the best in the Haight. Whether at the bar with jerk-spiced duck hearts and a bowl of shishito peppers, or dining on caramelized scallops and sweetbreads over kabocha squash spaetzle, I continue to leave satisfied.
Owner/brewmaster Dave McLean opened Magnolia Brewery over 14 years ago, brewing the best beers in SF (in my humble opinion). Magnolia's space has old world, gastropub charm in black leather and wood booths and antique floor tiles. They serve the best brunch in the area (sorry, Zazie and Pork Store), like decadent BBQ belly over Anson Mills cheddar grits, or quinoa hash and eggs if you want to cut down the fat quotient. For lunch and dinner, house sausages delight (rabbit currywurst!) as does savory mushroom bread pudding or a near-perfect Magnolia pub burger.
3.

CLUB DELUXE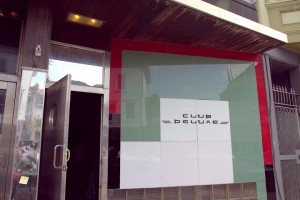 Upper Haight's best hidden gem is Giovanni's, a pizza kitchen in the back of (eat in the bar or take-out). Giovanni's pies aren't so much Neapolitan perfection as a mix between Italian and East Coast styles, with classic margherita and pesto pizzas. Diavola is spicy fun, laden with pepperoncino, salami, Parmigiano and a Belizean hot sauce, while Friggin' Meatball is dotted with meatballs, smoked provolone and caramelized onions. Save room for a West Coast rarity: a fresh cannoli, sweet ricotta stuffing brightened with orange blossom oil.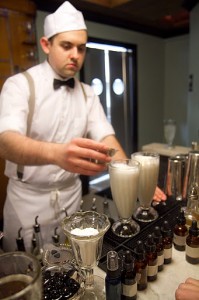 Club Deluxe's drinks are of the Mojito, Greyhound kind. Not exactly a cocktailians destination. What makes Deluxe special? Nightly live jazz in a well-loved bar that thankfully hasn't changed decor for decades, with 1950's, cozy bar feel. Bands rotate: trios, duos, quartets, even organ, providing some of the best jazz in the city – generally free. If only, like New Orleans, our neighborhoods were lined with such clubs.
I've written much of Ice Cream Bar here and in the Guardian, so I'll send you there for fascinating details of this truly unique, 1930's era soda fountain. It's my top pick for dessert.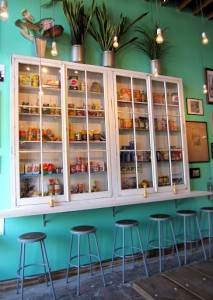 Parada 22 is a vibrant little space with aquamarine walls and vintage South American food products lining the shelves. The casual eatery feels vacation-like, offering Puerto Rican food. My favorite dish here is Camarones a la Criolla: sauteed shrimp, tomato and onions in a dreamy-light cream sauce. Sides like plantains and red or white beans in sofrito-based sauces, are fresh and appealing. They've recently joined forces with sister restaurant Boogaloos serving their brunch every weekend.
5. THAI DUO
PLOY II and SIAM LOTUS – While maybe not worth crossing town for, Haight-Ashbury has two unexpectedly strong Thai spots serving authentic dishes. Ploy II is upstairs in an old Victorian space, with dingy carpet and decor (elephants, tapestries) straight out of Chang Mai's Night Bazaar. They do standards well, while I crave their mango panang curry: spicy, creamy with coconut milk AND peanut sauce.

Siam Lotus also is reliable on Thai classics, though it's their daily changing chef's special board that sets them apart. Thankfully on the permanent menu, their Thai tacos are a must. Though the paper thin crepes fall apart to the touch, a filling of ground chicken, shredded coconut, mini-shrimp, peanuts and bean sprouts make for one of the more fun Thai dishes anywhere. When available, they rock a mango sticky rice.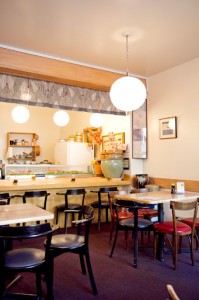 Hama-Ko husband-wife owners, Tetsuo and Junko Kashiyama, may open when they are ready to open (vs. dependable hours), they may treat regulars best, service is slow, and certainly there are no California rolls. It's straightforward sushi: silky scallops, bright-as-the-sea tai (red snapper), melt-in-your-mouth unagi and avocado maki.
This nearly 30 year classic is one of those neighborhood secrets that locals return to and fish devotees enjoy. You won't find the rare fish found at Zushi Puzzle, but you will find impeccable freshness (Tetsuo sources his fish from the same place The French Laundry and Chez Panisse gets theirs, he proudly tells me) from a couple who cares.
The Rest
COFFEE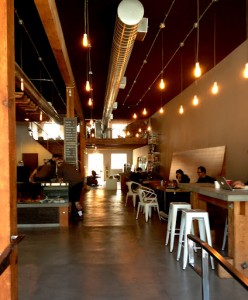 Coffee has long been rough in the Haight. Until Haight Street Market opened a Blue Bottle kiosk in their store, one couldn't get a proper cup. While appealing cafes like Reverie boast a welcome back patio, and the La Boulange chain on Cole serves substantial pastries, none offers a cappuccino or espresso to satisfy coffee snobs. But just in the last week or so, there's a quiet coffee revolution afoot with two new cafes. Flywheel Coffee Roasters looks like a hipster Mission coffee spot with a handful of laptops and industrial-stark interior.
Though they aren't going the foam art/microfoam route at this point and they have not begun roasting their own beans in-house as they plan to, initial cups are promising. The other new spot is Stanza in the Coco Luxe space. They'll be doing coffee cuppings on the first Thursday of each month (7pm) and have their coffee roasted by Augies in Southern California. They DO have foam art and proper cappuccinos. A welcome neighborhood addition.
BRUNCH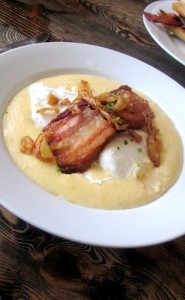 I've never gotten Zazie's endless brunch waits. Sure, it's a charming, little Parisian space, though I've had better luck with non-brunch meals. But for 1-2 hour waits (they do have a nice system now that alerts you when your table is ready), it's amazingly mediocre. Personally, I wouldn't wait any amount of time for mediocre. There are so many delicious brunches in the city, I am flummoxed as to why, after all these years, this remains many local's favorite. The original Pork Store Cafe likewise has waits (though not as painful as Zazie's) which I likewise don't find worth it. I once had a "sausage" scramble here that was hot dog slices. Yuck. What it does have is quirky, old school diner charm and clientele. My brunch recommend in the 'hood, though, is always Magnolia. Arriving before noon, I've never had a wait and the food is quality (plus there's Blue Bottle coffee and beers).
FOOD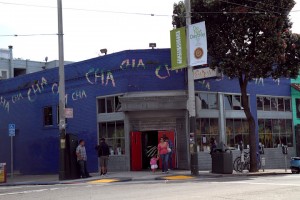 Kezar Bar (the one on Cole, not the pub on Stanyan) can occasionally surprise with above-average bar food, like giant potato pancakes with Andouille sausage, applesauce, sour cream – in a cozy, pub atmosphere. Despite the crowds and its faded glory, there's still something appealing about the original Cha Cha Cha. Maybe it's Mother Mary presiding over the bar, plants surrounding tables for that tropical effect, the festive atmosphere, plantains and black beans, or that damn tasty sangria. Citrus Club's food is pretty hit and miss – downright average, really (who has time for that in this city?) – but many adore it because it's cheap and easy Asian "fusion" (they mix and match Asian cuisines with abandon).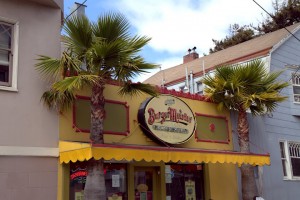 For burgers, if you're not eating Magnolia's fab burger, local chain Burgermeister is the best bet as Burger Urge just doesn't cut it. Since the '70's, Say Cheese is a tiny Cole Valley gem of a market. Their small selection of cheeses, meats, wines, chocolates, is well curated, the staff are responsive and they make worthy deli sandwiches (like Cajun turkey, creole mustard, pepperoncini, pepper havarti), ideal to take to nearby parks.
DRINK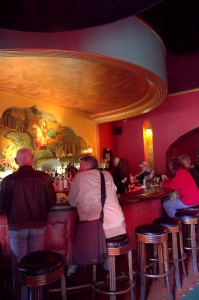 Us spirits and cocktail lovers have a soft spot for Aub Zam Zam. These are not cutting edge cocktails.
Rather, it's a slice of SF history, with a strong spirits selection and older, seasoned bartenders who are knowledgeable and sweet (since lovably cantankerous Bruno passed away, God rest his soul, there's no kicking people out on a whim anymore).
They make a mean gin martini, boozy and bright. The space evokes the Art Deco era with an exotic, Moroccan slant. Divey and dingy, it's a classic I hope we'll never lose.