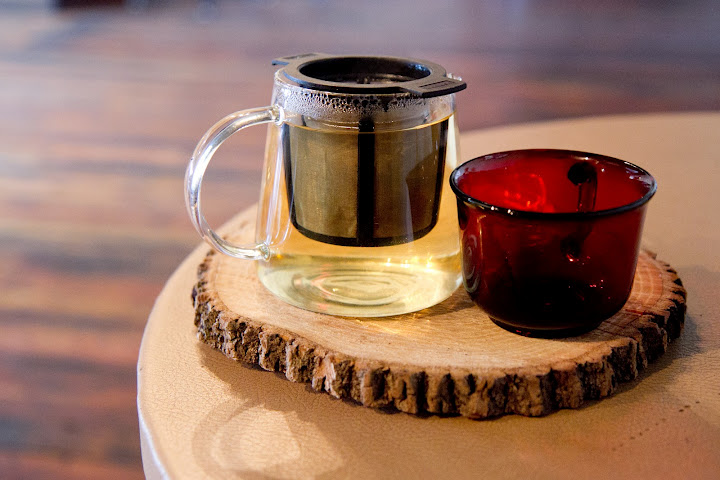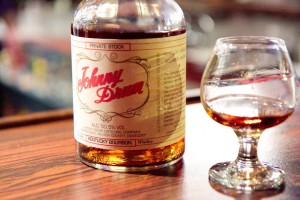 Kentucky: land of bourbon, the Derby and Mint Juleps. I'm ever delighted to return to the South, even as I'm connected to some areas more than others (ah, New Orleans, my love). I recently spent a week in Louisville, on the judging panel for ADI's (American Distilling Institute) annual awards. It was an honor to judge with key spirits and cocktail industry folk, spending days tasting (blind, of course) through the latest in a broad range of small US craft spirits – winners here.
In my off time, I roamed Louisville, from downtown to Bardstown Road. Louisville is a small city, not exactly visually beautiful or dense like ultimate US cities, but its distinctly Kentucky treasures do unfold. The historic Brown Hotel was my home base, its player piano welcoming me with strains of Gershwin and old world elegance in the beautiful lobby.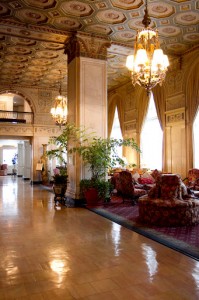 An American whiskey girl at heart (though I love all spirits), being in bourbon and rye's epicenter is invigorating, even if I can find the region's most rare, small batch spirits in my own city. A unique preview came in an early peek at Distilled Spirits Epicenter, shortly before it opened, essentially a distillery "for rent", where would-be distillers have their visions crafted, try out test batches or take classes to learn more about distilling. Founded by David Defoe of Flavorman, a scientific flavor lab that creates sodas, juices and beverage products for numerous companies, my favorite feature is their upstairs apartment which they offer to guests using their facilities as they create a product: an open, brick-walled apartment upstairs in the Flavorman building.
Here are highlights from my travels in food, cocktails, whiskey and unexpectedly the most incredible beer collection I've ever seen.
BEER
SERGIO's WORLD of BEER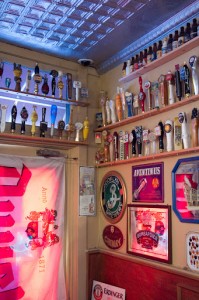 If you can find Sergio's World of Beers (no, it's not the dive bar next door), you walk into an unmarked space and could wait 10 minutes for someone to even come out. Immediately impressed by the selection of beers lining the dingy front room packed with boxes and glasses, beer aficionados will freak out over the options available on tap. Numerous rotating beers range from Italian sours to a bourbon barrel rarity made by a guy down the street.
Sergio Ribenboim himself is an avid beer collector (read Imbibe magazine's article about him last year). With one of the most exhaustive collections in the world, he leads tours of breweries around the globe. After the joys of the front room are uncovered, one realizes they haven't seen anything. .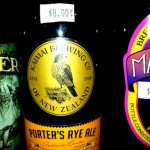 Stocking the halls and back rooms (not to mention Sergio's home) are over 1000 beers for purchase from every region of the globe, including first editions of cult favorites and rarities, such as a Belgian beer, Smisje Calva Reserva, aged in Calvados barrels.
The humble shop is a beer lovers paradise, every unassuming foot of it. The Renaissance man – the avid beer fan in my home – and I planned to stop in for 30 minutes but ended up staying over 3 hours.
We chatted with Sergio and obsessed beer lovers who dropped in from all over the country, those who, like us, will make Sergio's a must-stop whenever we're in Kentucky.
Restaurants, Cocktails, Whiskey & Wine
HARVEST
To date, Harvest is my favorite Louisville restaurant. It's the usual farm-to-table concept, long the standard where I live and more common in recent years around the country. The walls are covered with large black and white photos of Kentucky farmers who supply Harvest's ingredients.
Here the concept invigorates local classics like the Hot Brown (see Brown Hotel's English Grill below) in a Hot Brown pizza ($14), a brilliant twist on a local classic. Or burgoo ($16), a Southern stew laden with rabbit, pork and chicken, fresh with snow pea sprouts. Its one flaw was being far too salty so that the heartwarming bowl started to feel "one note" after a few bites.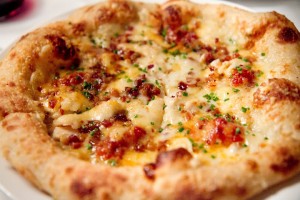 After a starter of a pretzel bun dipped in addictive amber ale beer cheese sauce ($7) and solid cocktails utilizing house bitters, syrups and tinctures, not to mention engaging service and a manager walking the floor ensuring all of us were satisfied, I found Harvest a "whole package" kind of dining destination. No wonder they were nominated for a James Beard award this year for Best New Restaurant.
BROWN HOTEL'S ENGLISH GRILL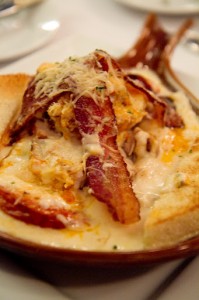 The Hot Brown ($22) is one of Kentucky's signature dishes, created in 1926 at the Brown Hotel's English Grill by chef Fred Schmidt. When bored with traditional ham and eggs, he opted for roasted turkey breast over toast points topped with bacon and tomatoes, then slathered it all in Mornay sauce (butter, milk, Parmesan, egg, cream). If that weren't enough, it's baked golden brown in Parmesan cheese. Brilliant. Eaten in its home base, the old world elegance of the English Grill, it's every bit as decadent, gooey, rich, meaty and fabulous as it sounds.
MEAT

Hands-down, the best bar of my visit to Louisville was Meat – and Jared Schubert was the best bartender. We lingered for hours, till 3am, watching thunderstorms pass, filling paper bags with their revolving turntable of free snacks, a genius addition of unending servings, including Trader Joe's favorites from mustard pretzels to peanut butter stuffed pretzels.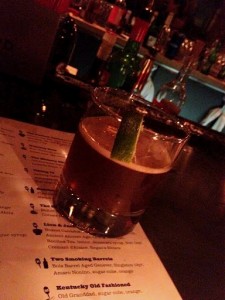 Jared joked and flirted with customers from the oval bar at the center of a brick-walled space tucked away upstairs in the back of a building that once housed a butchery in the trendy Butchertown neighborhood. Butcher tools and meats hang in the entrance, while the dim, glowing room is a romantic space filled with couches and comfy nooks.
Their menu states, "We love the Prohibition-era cocktail movement. We love Louisville." Instead of exactly copying big city bars, their mission is to "serve authentic and inventive beverages with a distinctly Louisvillian sense of place." They list recipes from favorite bartenders around the world alongside house creations (all $10), while Jared whips up some off-menu beauties, including an effervescent mix of Del Maguey mezcal with Moet Imperial champagne.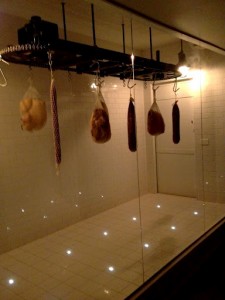 One of the most delightfully unique menu offerings is a Viking 75. The Nordic twist on a French 75 uses Taffel aquavit, Cynar, house sour mix, demarara syrup and lingonberry jam with Bott Geyl Cremant d'Alsace. Upscale tacky plays well in The Queen's Tea: Pimm's, Hendrick's gin, Campari, Dewar's Scotch, Chartreuse, lemon, and, yes, 7-Up.
Puerto Rican Wingman was another favorite: Ron Zacapa Solera and Bacardi rums blend with orange curacao and lime into a bright whole where house falernum adds nutty texture, coffee bitters an earthy kick, Abita root beer a punchy finish. Another winner? Hit the smoky side with The Smoke Monster: Ardbeg 10yr Scotch, Vya sweet vermouth, Grand Marnier, orange juice, grenadine, celery seed bitters.
Whatever you order, don't miss Meat.
HILLBILLY TEA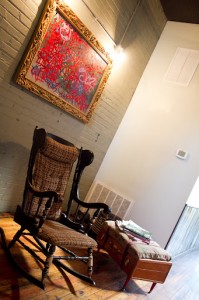 Hillbilly Tea is a funky, hipster version of Appalachia circa turn-of-the-century. In a gorgeous restored building, two levels of brick walls, rustic wood floors, 70's rocking chairs, 1800's sewing machines, picnic tables and quilts set a comfortable tone for rounds of tea served on slices of a tree trunk. We sipped aromatic, herbal, mint-inflected Snap green tea ($3.75) and Sweet Smokey Mountain chai boiled with milk and sugar ($4.75) – a little sweet for me (we're in the South, after all, where "sweet tea" means sweet). I found Twig ($3.75) most soothing: a nutty, toasted green tea.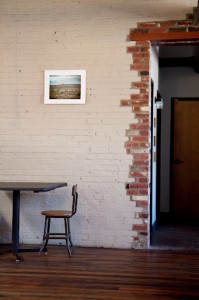 Brunch is a fun affair, whether a skillet pancake ($8) lathered in Smokey Mountain chai butter and sorghum syrup, or white bean and sage fritters ($5). I particularly enjoyed pork and pone ($8), a mound of BBQ pulled pork on corn pone with garlic mayo, red cabbage chow chow, and choice of side – I opted for healthy braised greens. They serve a tasty biscuit ($3), even better with local honey and a dreamy house-cured bacon ($5). In the locally sourced foods vein with young, hip servers, Hillbilly Tea delivers substance alongside style.
DOC CROW'S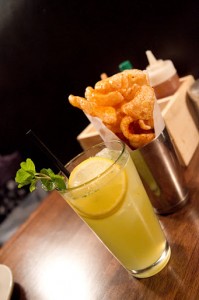 Spacious, extensive Doc Crow's is a historic, 1880's downtown Louisville space, particularly charming in the cozy, middle booth section or open back room with wood floors and fireplaces. The menu is a fun range of some of my Southern favorites, heavy on BBQ and oysters, also offering Po Boys, fried green tomatoes, mac n' cheese, fried catfish and gumbo. Not all of it is the best version possible, but cornmeal fried catfish with hush puppies ($9), for example is generously portioned and satisfying, as are slow-smoked, baby back ribs ($12 1/2 rib, $22 full rib).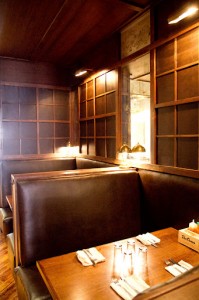 Key Lime Pie ($6) is not as tart as my favorite renditions (still remembering Uncle Bubba's outside Charleston), while seasoned pork rinds ($4) taste great with a boozy lemonade but aren't comparable to SF's own cult classic – the best chicharrones I've ever had from the South to Mexico – 4505 Meats' chicharrones. Overall, Doc Crow's is a fine downtown choice for value, with large portions, heartwarming food, and a welcoming, all-day space.

GARAGE ON MARKET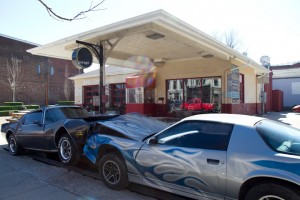 The building alone draws one into Garage on Market: a restored gas station with two cars melded together on the front drive, and a picnic table area with astro turf-covered seating under strung white lights. Serving brick oven-cooked pizzas, like the Monte Cristo ($14 – smoked chicken, gouda, egg, sorghum, preserves) or on the sweet side, Nutella Pie ($12 – nutella, banana, cinnamon sugar, butter, syrup), the Garage offers a playful, casual menu and regional country hams.
Brunch is the likes of beignets, poached eggs and ham, with drinks like a Red Hot Bitter ($7): local Red Hot Roasters espresso, chocolate milk, Kahlua, Bailey's, and chocolate bitters. The cocktail menu in general appeals to cocktail fans while keeping that same approachable, unfussy tone.
PROOF ON MAIN
When it comes to Louisville, the restaurant and bar that almost always comes up is Proof on Main. Inside the 21c Hotel one is immediately impressed by its modern art museum. The dining room makes a statement with dramatic artwork and upholstered seats. But despite how long I've heard raves, disappointment set in immediately at the bar with a diffident, seemingly bored bartender who stood off to the side of the bar mixing drinks, only talking to servers vs. interacting with customers – and this was at the mellow hour of 5:30pm with a half empty bar.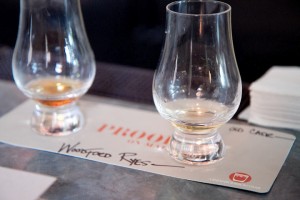 The bartender acted as if he was doing us a favor serving an ok round of cocktails from a menu that in the end felt typical. For those of us who travel the world in search of the best food and drink, cocktails should stand on their own, yes, but service sets apart a menu that reads well from a destination-worthy bar. Ordering whiskey pours was the best way to go (we opted for Woodford Reserve's rye duo), but in terms of the hundreds of top notch bars I've visited around the world, I wouldn't return to Proof.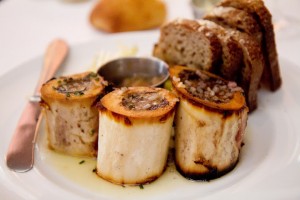 Once we moved to the dining room, service was friendly and gratifying, redeeming the experience. The food menu is a stimulating mix of modern creativity with Southern ingredients, but at high prices (starters are $8-21, entrees $18-34) I was disappointed in more than one dish, starting with a dry charred octopus ($15) with bagna cauda and lime.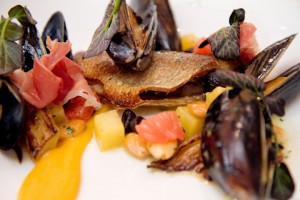 Striped mullet ($27) sounded like a fishy/meaty melange of mussels, fennel, country ham, rutabaga, almonds, and smoked grapefruit but ultimately felt disjointed. The beloved Proof bison burger ($17), which more than half the restaurant seemed to order, piled high with Tillamook cheddar, smoked bacon, Jezebel sauce (a wonderful Southern mix of pineapple preserves, apple jelly, horseradish, mustard, black pepper), was cooked more medium than my medium rare request. I couldn't help but recall the countless delectable gourmet burgers (whether bison or beef) I've had for under $15.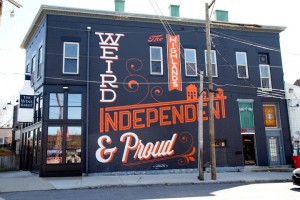 A standout dish was Bison marrow bones ($12), fatty and delectable, smartly paired with apple butter and frisee on toast. For cost to value/taste ratio, I'd recommend visiting the hotel's museum, then heading on to Harvest or another locale for dinner and drinks.
CELLAR DOOR CHOCOLATES
A local chocolatier, Cellar Door Chocolates, produces crave-worthy sea salt peanut butter dark chocolate cups available at shops like The Wine Market on Bardstown Road. Buying a four-pack to sample, I promptly finished each one.
RYE BAR
Rye had just opened in February when I was in Louisville on a hip stretch of Market Street. Young bartenders in a sleek space were looking up recipes in Jim Meehan's PDT Cocktail Book, slowly crafting drinks requested by guests or on menu. At the time, they seemed not quote yet ready for "prime time", but served decent standards like a Mezcal Mule or Dark & Stormy (with Ron Zacapa 23 rum), or tongue-in-cheek drinks like The Shit ($9): Plymouth gin, chile-lime syrup, Prosecco.
One of my drinking companions, a well-known distiller, requested a Whiskey Sour with egg white and Whistlepig 10 year Rye (which they pour at $19 a glass) – it was easily the best drink I had here, bright and refreshing. Just mentioned in Food & Wine, this bar should get progressively better as the staff gain a more seamless knowledge of the menu and what they want to offer to customers.
SEELBACH BAR at the Seelbach Hotel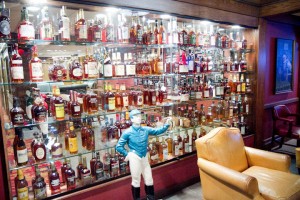 The Seelbach is a piece of Louisville history dating back nearly 100 years. A dated respite of a bar inside a hotel, it offers an impressive range of bourbons and ryes, including a couple you won't find outside of Kentucky, like a special Seelbach bottling from 1983 of Rathskeller Rye: a true treat, vibrant and boozy at cask strength.
JOCKEY SILKS in the Galt House
With over 120 whiskies, Jockey Silks is a hotel bar offering a quiet, dated bar (think lots of wood and red, circa 1970's) in which to sip a range of bourbons, from "deluxe" pours at $10, premium at $9, or most glasses at $8. It's affordable and relaxing, a classic Louisville bourbon respite.
THE WINE MARKET of Louisville and OLD TOWN WINE & SPIRITS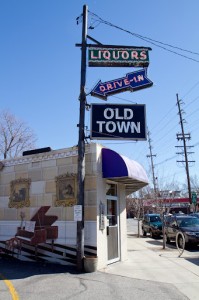 The Wine Market is a small but well-curated selection of wines from Alsace to Bordeaux with friendly staff in a funky, cool building with appealing wording ("weird, independent, proud") covering the exterior wall. It seems to be Bardstown Road's finest wine shop. Stronger on the spirits and beer front with a badass drive-through window is Old Town Wine & Spirits – they offer an affordable, wide-ranging selection.
COFFEE
I felt right back at home with third wave coffee, excellently roasted beans and proper foam on my cappuccino at Quills Coffee (with two Louisville locations), which appears to be Louisville's best artisan coffee.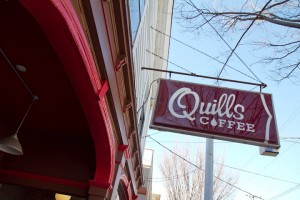 As has long been commonplace on the West Coast and only gained traction in recent years in NY and places East, this hipster coffee haven is full of artists and students on laptops, with chemex and locally roasted beans hailing from Africa to South America.