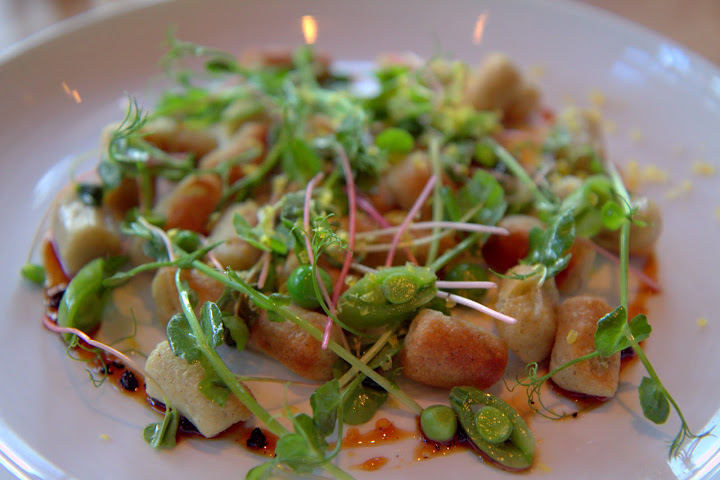 NAMU GAJI, Mission (499 Dolores St. at 18th, 415-431-6268)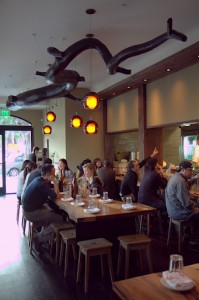 Though Namu Gaji is brand new, the presence of Namu and the Lee brothers, Dennis, David and Daniel, has been felt in San Francisco for years. Since 2006, the Lee Brothers have been weaving Korean, Japanese and a mixture of Asian cuisines with California spirit in the original, now shuttered Richmond restaurant and eventually Namu's Ferry Building farmers market stand where they serve food Tuesdays and Saturdays. In early April, they opened their Mission incarnation, Namu Gaji.
Its kitchen is in direct view of the small dining room, as Dennis Lee and Chef de Cuisine Michael Kim (Craft Los Angeles, SPQR) cook at a grill fired with binch?-tan, a low smoke, Japanese charcoal. The Lee brothers' aunt (direct from Korea) will oversee a house fermenting program, bringing with her bacteria strains from the family's Korean village. They do the usual sourcing from local farms, but in an unusual slant, have commissioned farmer Kristyn Leach to farm exclusively for them on a one acre plot at Baia Nicchia Farm in Sunol, where she's growing rare Korean chiles and herbs – quite a treat.
I already miss the chic, spare Richmond dining room compared to the cramped Mission space, despite its striking communal table and tree branch sculpture weaving dramatically from the ceiling. Granted, the Dolores Park location is prime real estate, particularly when it comes to daytime take-out, perfect for picnicking in the park, possibly my favorite way to enjoy Namu Gaji. But the Mission is saturated with hip dining destinations in a way the Richmond, one of our great underrated food neighborhoods, is not. This was an understandably strategic move, but the new space gets progressively warmer and noisier as an evening evolves. For those who don't enjoy yelling through dinner, I'd suggest dining early, although do note the actual dinner menu doesn't start till 6pm.
In multiple early visits, truly unique dishes flow from the kitchen. The menu is grouped in categories like raw, broth, salad, crispy, grill and comfort, with a handful of key choices under each heading. The "raw" section is pricey ($18), but raw King salmon, topped with pickled red onion, a dollop of whipped yuzu cream, and shiso (Japanese herb from the mint family) is generously portioned, bright sashimi. Uni sure is fantastic fried (what isn't?) as tempura ($14) alongside fried shiso leaf, lemon zest, and market veggies (which on a recent visit was fava bean and yellow onion), dipped in a ginger tsuyu sauce. Grilled octopus ($14) is a tad bland compared to other grilled octopus dishes around town, though pleasingly plated with English peas, spring onion, fried garlic, and that fabulously pungent Korean chili paste, gochujang.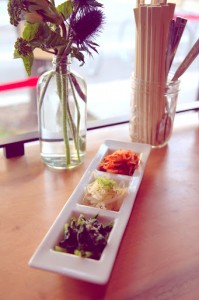 It gets exciting with an off-menu special of buckwheat gnocchi, pan seared in black garlic gastrique, with English peas and pea shoots (can you tell peas are in season?) This non-traditional gnocchi is earthy, lively, playful. "Fish parts" ($18) arrive on a wood slab, generously portioned and artfully arranged, more hearty than fussy. The fish parts change but one night dined on impeccable wild salmon belly and spine, with caramelized, crispy-sweet skin. Its partner requires a more adventurous palate: ahi tuna roe, cured and grilled. A dining companion bluntly called this large hunk of meat what it was: a giant fish egg sac. If you didn't know, however, you'd think the pink, meaty fish a more savory, funky cut of salmon. Either way, I was delighted to be served something I'd never had before – a rarity in any dining community.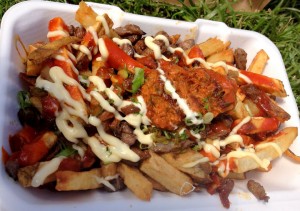 One evening after a 90 minute dinner, I waited nearly 30 minutes after all dishes had been served (and eaten) for a dessert which my sweet, adept server kept informing us was about to arrive. Though next time I'll skip dessert under those conditions, I was pleased with shaved ice ($8), or shave ice as it's known in Hawaii, which you can order doused in Four Barrel coffee and cocoa crumbles. My top choice is in coconut cream with coconut crumble and strawberries. The ice is creamy soft, feathery… and quickly devoured.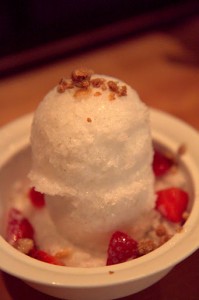 The brothers' Korean heritage shines best in their street food-style dishes, available at the Ferry Building Farmers Market as well as during the day at Namu Gaji, ideal taken across the street to Dolores Park. Their beloved nori "tacos" ($3) and okonomiyaki ($10 lunch, $16 dinner) still delight, while BBQ belly and Korean BBQ-style marinated chicken thigh ($10) are packed into pan de mie bun layered with Swiss cheese, soy glazed onions, pickled daikon, aioli, Dijon mustard – a buttery, fatty pleasure of a sandwich. Gamja fries ($10), essentially organic fried potatoes piled with short ribs, kimchee relish, gochujang, kewpie mayo and green onions, are the fast food of your dreams. KFC ($12) is a quarter of a Marin Sun Farms chicken tossed in sweet & tangy sauce with dashi gravy. Each of these heartwarmers not only satiate but illuminate best why the Lee brothers have become an SF staple.