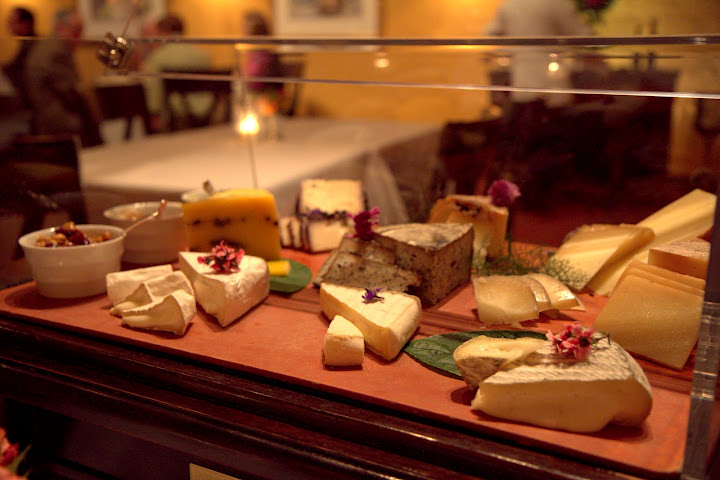 ACQUERELLO, Nob Hill
(1722 Sacramento St. between Van Ness & Polk, 415-567-5432)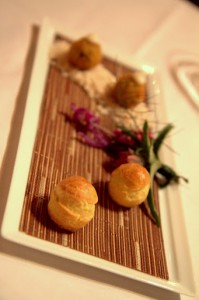 One doesn't often hear about Acquerello in dining circles these days. But we should. Not readily visible from the street, the restaurant's lobby opens into a glowing dining room that at first glance appears an older clientele's respite for an elegant meal. After a recent return to this classic since 1989, I'd venture to say it is that but much more. I'd call it San Francisco's great underrated fine dining destination, though it has received a coveted Michelin star for six years running.
Acquerello serves unexpectedly forward-thinking food alongside heartwarming classics, but it's the service that initially stands out. Upon arrival, one is ushered to one of a few thoughtfully spaced tables, intimate yet engaged in a room transplanted from Italy. In soft peach and beige, its subtly dated in a European way, inviting and quiet under striking wood rafters – but not so quiet as to be museum-like.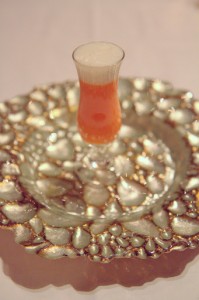 A team of waiters, three sommeliers and co-owner Giancarlo Paterlini, alternately attend to each table, the head waiter having been at the restaurant since the 1980's, along with Paterlini's son, Gianpaolo, who is also the Wine Director, and chef/co-owner Suzette Gresham-Tognetti. One of the more delightful chefs I've ever met, Suzette came out and greeted those of us that lingered into the evening, clearly still so passionate about what she does. She works closely with young chef de cuisine Mark Pensa on all menus (classic tasting menu: $95 + $75 wine pairing; seasonal tasting menu: $135 per person + $95 wine pairing; a la carte: three courses of your choosing $70, four for $82, five for $95).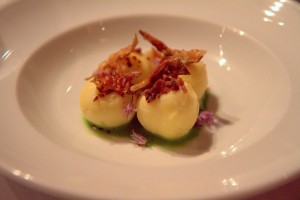 For an experience of Acquerello past and present, I recommend both the classic and seasonal menu (if a dining couple, each could order one), although a la carte is an excellent way to try exactly what you wish.
There is nothing "done" about Acquerello past. In fact, this classic, "greatest hits" menu through the decades still offers some of the best dishes on any menu. It will be a gourmand's loss when the ridged pasta in foie gras and Marsala wine sauce scented with black truffles goes away in a couple weeks. Ultimately the most ecstasy-inducing dish is this dreamy take on foie gras in sauce form over al dente pasta, long one of their most popular dishes. Another classic is juicy chicken breast decadently stuffed with black truffles over a leek custard and an artful mini-potato gratin, topped with shaved Cremini mushrooms.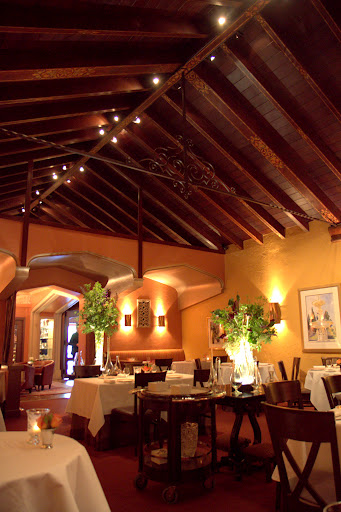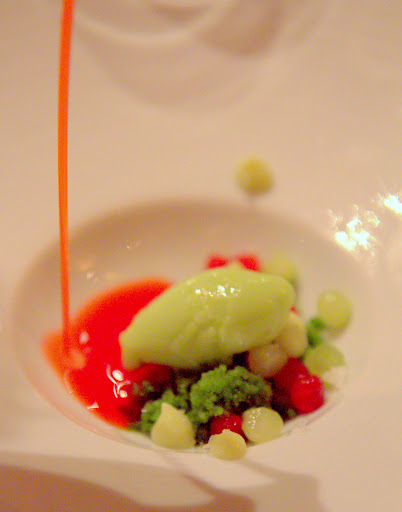 To start, "chef's surprises" are delicate hints of what is to come, like warm arancini of asparagus and Parmesan cream or profiteroles filled with lush herbed cream.
On the regular menu exist treasures like pear and foie gras "ravioli": the chefs slice dry-farmed, organic Comice pears into thin, pasta-like skin, filled with truffled foie torchon. Saikou, a New Zealand farm-raised salmon, is bright and clean from high, cold elevations. They poach it for seconds in a layer of horseradish, crusting it with chevril, pine nuts and parsley, an herb pesto of sorts. Each dish explodes with flavor yet corners refinement, maintaining a Cal-Italian ethos, while not playing safe.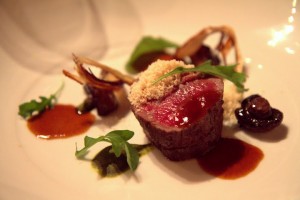 On the seasonal menu, Chefs Gresham-Tognetti and Pensa work closely together on inventive takes to rival the better fine dining meals I've had. An amuse of raw yellowtail is alive with seabeans and arugula blossoms, while red abalone pairs with cabbage "seaweed" in porcini broth. Snake River Kobe beef is tender pink, cooked sous vide under shaved hazelnuts. The cheese course is a warm, oozing round of Gorgonzola DOP (Denominazione di Origine Protella, or Protected Designation of Origin) beautifully co-mingles with potato, onion, mustard seeds and nasturtium. Probably the most delightful, unique dish is "baked potato" gnocchi, a playful take on a baked potato, starting with doughy gnocchi topped with chive crème fraiche, pancetta and paper thin, fried slivers of potato skins.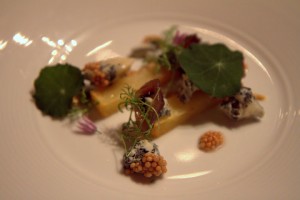 Palate cleansers include a shot of carrot-apple-ginger juice with vanilla foam, or a refreshing starter of orange juice, vermouth, and bitters. On the seasonal menu, a vivid dessert from pastry chef Theron Marrs marries cucumber sorbet with tart lime curd, sweet strawberry consommé, and herbaceous mint granita. As at Gary Danko, the cheese cart is one of Acquerello's shining glories. Covered to contain the stinkiest offerings, it is difficult choosing from unusual, mostly Italian cheeses. An impression was made with earthy Blu di Valchiusella from Piemonte wrapped in walnut leaves and an impeccable Beppino Occelli in Barolo wine leaves. On the cart, treasures await.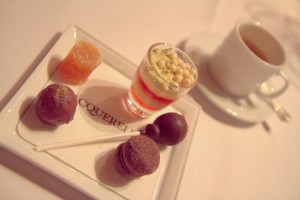 Last but not least, with no less than three sommeliers, Acquerello's extensive wine list is novel-thick, dense with Italian wines. There's an impressive range of varietals and vintages stored in their wine cellars.
Pairings melded seamlessly with each dish, whether a classic, lovely Nebbiolo d'Alba (2008 La Val Dei Preti), an unusual Langhe Rosso Burgundian-style Italian Pinot, or D'antiche Terre Taurasi Riserva, which transforms when sipped with fabulously rich veal and truffled mortadella tortellini Bolognesi.
For a special occasion, up against hot newcomers and pricey minimalist restaurants, I'd place Acquerello as one of the best fine dining experiences in San Francisco: a place with a sense of history and vision for the future.