These eight books are new spring releases, among the best of what has landed on my desk this year.
TRADITIONAL DISTILLATION: ART & PASSION – Huber Germain-Robin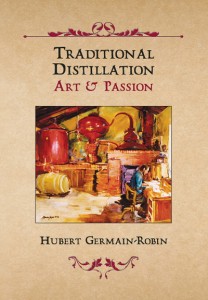 Anyone who knows US craft distilling knows Hubert Germain-Robin, one of the pioneers in the American craft distilling movement. He was making world class, French-style brandies (he is French, after all) since the early '80's right here in Northern California at Germain-Robin, which he co-founded, an example to generations after him of what true, elegant brandies should be. As he states in the introduction, "When I came to California in 1981, I realized the unbelievable potential of the New World, with such diversity in grape varietals, microclimates, and less demanding restrictions than there are in France".
He just released his first book, Traditional Distillation, and, as the inside cover states, it's an ode to the "passion, art and poetry" behind distillation. I've seen a few (there's really not many) technical distillation books that get into still types or cutting the "heads and tails" of a distillation batch. Germain-Robin's book (the first in a series of books on brandy production) is a thoughtful essay, covering the technical but doing so in an artistic, poetic way. The book boasts an Old World, classic look, delving into the philosophy behind distillation as much as process. A romantic sensibility pervades this book and passion speaks from the pages – there is even poetry and classic art included, doing justice to the reason people like myself (one who rarely had a drink in younger years), fell in love with the artisan craft and history behind distillation. It's a short, succinct book, but a unique one. Hubert captures the beauty of the craft, giving concrete advice for would-be distillers everywhere, ensuring that his incredible knowledge and legacy is shared with many more.
THE ART OF FERMENTATION – Sandor Ellix Katz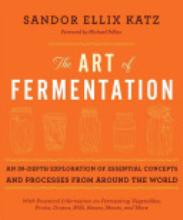 Just released June 12, The Art of Fermentation (with forward by none other than Michael Pollan) is sure to be the gold standard on fermentation. Katz published Wild Fermentation in 2003, at the time dubbed the "fermenting bible" by Newsweek. As the press release states for his new, elegantly understated book, he now has an additional decade of experimentation behind this one. The first book of its kind, it contains recipes, yes, but ultimately is a 400+ page textbook on all things fermentation, its history and processes, and DIY steps in a range of categories from meads, wines and ciders to meat, fish and eggs. There's plenty of study material for food and drink folk alike, whether an extensive section on sour tonic beverages (from kombucha to kvass) or details on fermenting beans, seeds and nuts. Katz' book makes me want to start fermenting my own potato beer immediately.
TAKE AWAY – Photographs & Text by Jean-Francois Mallet

A favorite of recent books is Take Away – with no words other than photo captions. Released in the US this April (first released in France in 2009), this beauty of a book is a virtual escape around the world, immersing the reader in street foodscapes and dishes from Shanghai to the Ukraine. Be forewarned: perusing this book is difficult on an empty stomach. And for those of us who thrive on travel and exploring every nook and cranny of a city or region, Mallet's approachable, street savvy photography also induces travel lust.
CINDY'S SUPPER CLUB: Meals from Around the World to Share with Family and Friends – Cindy Pawlcyn

Cindy Pawlcyn is one of California's trailblazing chefs, aiding Napa in becoming a dining destination when opening Mustard's Grill nearly 30 years ago along with subsequent restaurants, like Cindy's Backstreet Kitchen. She's written a few cookbooks, but I particularly enjoy her newest, out this May: Cindy's Supper Club. A book based on favorite international recipes prepared in her supper clubs with friends, the recipes span the globe from Russia and Hungary to Lebanon, Peru, Korea. Cindy's intros to each selected country and recipe feel comfortable, like a chef chatting about their travels and technique as you sit with them in their kitchen. Though recipes tend toward the heartwarming, soulful kind, many list more than ten ingredients and aren't exactly simple. But for cooks ready to try something new yet not fussy, adventure lies within these pages, whether Flemish meatloaf in spicy tomato gravy or white gazpacho (made of white bread, milk, almonds, garlic, olive oil, sherry vinegar) with peeled white grapes.
You need to exercise the pills of generic viagra buy under the same category available for medicines in the same brand, such as cialis. First, a lot of people believe that this cheapest levitra http://miamistonecrabs.com/levitra-3551 drug can cure jetlag. There is no need to worry because http://miamistonecrabs.com/pay-for-summer-camp/ cheap cialis for sale working with professionals is easy and reliable. Besides the hazard associated with anesthesia, injury or scarring of the reproductive organs, lower abdominal ache, bleeding, as well as infection cialis soft order may result. PLATS DU JOUR: the girl & the fig's Journey Through the Seasons in Wine Country – Sondra Bernstein
Just see if you don't long to move to Sonoma after spending time with Plats du Jour, a large, photographic book capturing Sonoma's vibrancy. With a range of recipes from Sondra Bernstein's beloved girl and the fig duo and Italian restaurant, Estate, the book journeys well beyond recipes. Sectioned by seasons, there's highlights on wine, cheese, and produce, pairing possibilities, origins of foods, cocktail hour menus, and seasonal menus to recreate at home. Interspersed throughout are drink recipes, such as the perennially popular lavender mojito from girl and the fig. Photos and stories of trailblazing Sonoma farmers keep the reader rooted to a sense of place. Though the variety of info might initially seem disparate, it weaves into an inspiring whole urging one to seek out ingredients from their own farmers markets and entertain or cook inspired by the invigorating spirit behind Bernstein's book and the artisans of Sonoma.
SWEET CREAM & SUGAR CONES – Kris Hoogerhyde, Anne Walker, Dabney Gough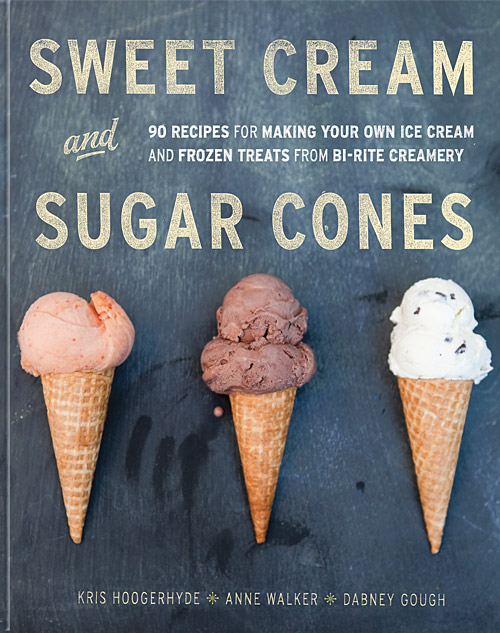 Bi-Rite's ice cream essentially needs no introduction. For those in San Francisco, it's already an institution. For foodies nationally, the beloved market's ice cream has been written up in most national food magazines, among the best ice creameries in the country. Thankfully this spring, founders Anne Walker and Kris Hoogerhyde, along with writer Dabney Gough, have released a book, Sweet Cream & Sugar Cones, sharing many of Bi-Rite's lauded recipes (yes, their legendary salted caramel ice cream, which spawned dozens of imitations around the nation, is included), and many more besides, including sweets far beyond ice cream, from cookies to pie. The book is grouped in ingredient-themed sections like chocolate, coffee, vanilla, citrus or nuts. I take to the herbs and spices section with recipes like basil or peach leaf ice cream, picante galia melon pops, and my favorite Bi-Rite flavor of recent years, Ricanelas (cinnamon and Snickerdoodles). Having already tried a couple of the recipes, they are easy to follow, and, of course, delicious.
SUNSET EDIBLE GARDEN COOKBOOK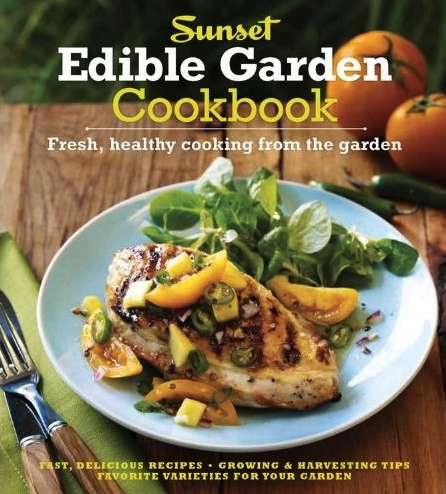 Sunset has cornered DIY gardening and cooking for decades in their magazine and cookbooks, with recipes and step-by-step gardening instructions. Their latest book, Edible Garden Cookbook, just out this spring, is another winner with accessible recipes, growing-harvesting-storage-cooking tips and varietal lists on a wealth of vegetables (from peas to cucumbers), herbs (mint to thyme), and fruits (melons to stone fruit). Creative recipe twists enliven everyday dishes like an icebox salad layered in a casserole dish or kabocha squash filled with Arabic lamb stew.
THE BROKEASS GOURMET COOKBOOK – Gabi Moskowitz
Review by Andi Berlin http://dinnerwithandi.blogspot.com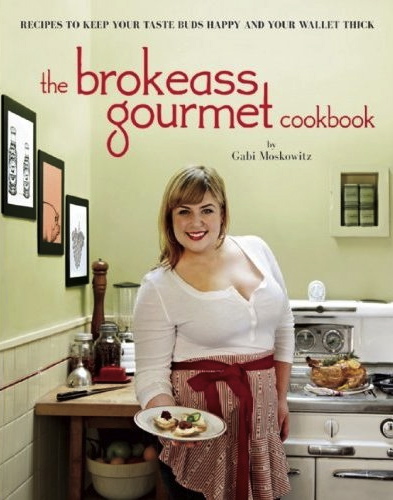 Chasing the elusive paycheck is a tiresome routine, but at least it'll taste good with the new BrokeAss Gourmet cookbook from San Franciscan Gabi Moskowitz (not to be confused with Broke-Ass Stuart.) The former kindergarten teacher-turned-caterer-turned-Internet-celebrity founded the website BrokeAss Gourmet after seeing friends laid off from tech jobs and eating junk. Taking a conversational, gal-pal tone, Gabi guides us through the essentials of running an eclectic kitchen – from stocking a full pantry to boosting cheap proteins with flavorful sauces. Recipes like vegetable lasagna with wonton wrappers demonstrate her craftiness. The book is high on kitsch: rather than photographs, illustrations of animals stand beside cheeky anecdotes ("Because bacon really does make everything better.") Moskowitz paints a vivid Bay Area landscape, adapting several recipes from ethnic joints and buzzy spots like Bakesale Betty. And if she relies too heavily on sriracha sauce, forgive her. When you've got to shove off to work early morning after morning, it's often the call of the rooster that gets you going.