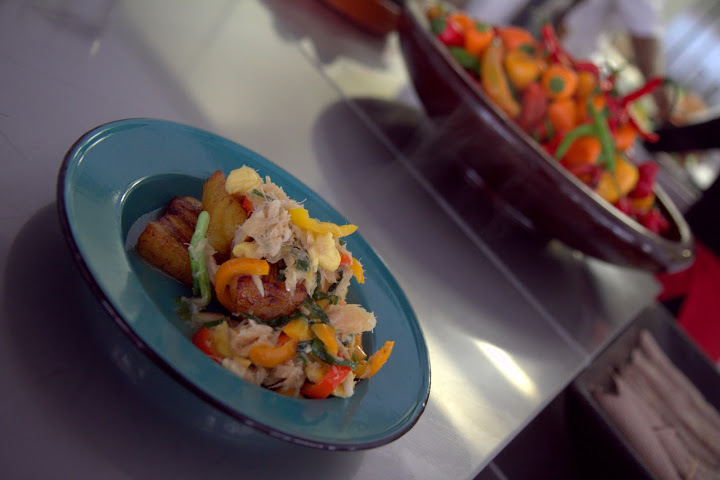 ISLAND BREEZES: Searching for Caribbean
Photos and article by Virginia Miller
Though not an island girl, I crave sorrel, that cinnamon-spiced, rosy-purple juice made from the petals of a sorrel plant, or multi-colored Scotch bonnet peppers, both common in the Caribbean and ideal together, sorrel cooling off the pepper's scorching heat. One of my closest friends is Jamaican and we've been exploring local Caribbean food for years, though lacking in abundant options.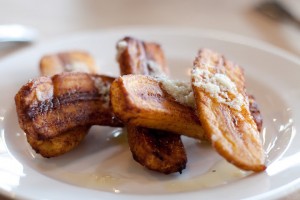 Saddened to lose Penny's Caribbean Cafe – a tiny Berkeley dive with excellent Trinidadian home cooking – when Penny moved back to Trinidad a few years ago, I've trekked to San Leandro for festivals (Jamaican cornbread fritters) and curry goat at Sweet Fingers, savored the sunny patio though more Americanized food at Primo Patio Cafe tucked away in SF's SoMa, dined at now defunct pop-up Kingston 11 in Berkeley, and appreciated Sarah Kirnon's inventive Caribbean fusion (Jerk Cornish hen!) from her days as chef at Oakland's Hibiscus.
Caribbean foods can also be found at Oakland grocers like Minto Jamaican Market and Man Must Wak where you can stock up on authentic ginger beers and Ting (beloved Jamaican grapefruit soda), to name a few items, and I'm curious about San Francisco-based caterer Lehi Cooks Jamaica. Thanks to my dear friend and her family who get their Jamaican food fix at this tiny haven, I've found my favorite Caribbean outpost in the most surprising of locales: Menlo Park.
BACK A YARD, 1189 Willow Road, Menlo Park, 650-323-4244 (also San Jose)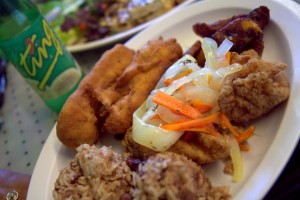 With squeaky front porch door and perpetual line out the door, closet-sized Back A Yard is clearly a locals' favorite in suburban Menlo Park. The term "back a yard" refers to the way things are done "back home", appropriate to this humble, comforting spot. Chef Robert Simpson began his cooking career in Jamaica, gained European perspective in Belgium, then cooked at various Caribbean resorts before coming to the Bay Area.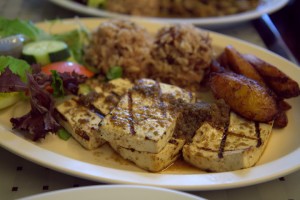 Under fluorescent lighting, crammed into a handful of tables, I down a Ting which cools off the Thursday-Saturday tender curry goat special ($12.75). Generous platters come with sides of sweet plantains, green salad, and coconut-laced rice 'n beans, different from New Orleans' version but equally heartwarming and moist. Another top side are warm, honey-sweet festivals, like a doughnut meets cornbread. Jerk chicken ($9.50) appropriately shines, though jerk tofu ($8.95) likewise exhibits meaty, grilled tones amidst silky texture. Friday's special is escoveitch: it was snapper on a Friday I visited. Choose a grilled filet ($12.75) or whole fish (market price), head and eyeballs intact, not so much an immaculate fish dish as Caribbean comfort food, recalling days I'd polish off a whole grilled fish in the countryside of Vietnam.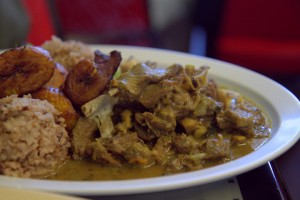 Jamaica's national dish, saltfish and ackee, is a must, served here only on Saturdays ($14.50). Salty cod is sautéed with Scotch bonnet peppers and subtly sweet, soft ackee, a fruit related to the lychee. This version shines compared to others I've had, confirmed by my friend as authentically reminiscent of saltfish and ackee she grew up with in Jamaica. Dessert ($3.25) is the one letdown, whether a blandly cold sweet potato pudding or a sliver of key lime pie lacking the tart oomph I crave in what is one of my favorite pies. Nonetheless, this hole-in-the-wall is a treasure bringing heartfelt Caribbean cooking to South Bay folk… and worth a trek for hardcore foodies.
MISS OLLIE'S, 901 Washington Street at Ninth St., Oakland, 510-285-6188
Chef Sarah Kirnon (formerly of the aforementioned Hibiscus) just opened Miss Ollie's at the beginning of December, currently only during Tuesday-Friday lunch in a corner location of Swan's Market in Old Oakland. Visiting opening week, lines were already long and waits for food even longer (30 minutes), not ideal for a low-key, eat-in or take-out lunch. Despite opening kinks, Oakland is clearly craving quality Caribbean, packing communal wooden tables in a spacious, spare dining room.
Named after, and in tribute to, Kirnon's grandmother, the food is decidedly more casual than in her Hibiscus days, modeled after the Caribbean one-stop shops she grew up with: affordable (under $10) daily changing dishes from curry goat to her popular fried chicken – grandma's recipe.
Initially, dishes were uneven, whether flavorless, cold Creole ham and sweet potato salad ($7.50), or a two-note (salty and HOT) saltfish and ackee ($8), begging for more plantains and ackee to contrast Scotch bonnet peppers and uber-salty cod. But Miss Ollie's sorrel is a superior, refreshing rendition, while lamb patties ($7) in a puff pastry evoke an Indian-Caribbean empanada, redolent of cardamom and allspice.
Daily specials are announced via Facebook, like fresh loaves of Jamaican hard dough bread or chicory coffee sweetened by condensed milk with Creole doughnuts. Miss Ollie's fills a needed void and is certainly one to watch.