During my fall return to New York City, which was my shining beacon across the Hudson during my teen years in New Jersey, I stayed with my lifelong best friend who lives on the Upper East Side/Yorkville and caught up on plenty of new – and a few older – bars, restaurants, coffee shops and food markets, like the new City Kitchen near Times Square (here is my article that ran in Food Republic on NYC cocktail bars). 25 years of exploring NY restaurants and here's what's exciting me this year:
Cheap Eats
EARL'S BEER & CHEESE, Yorkville/East Harlem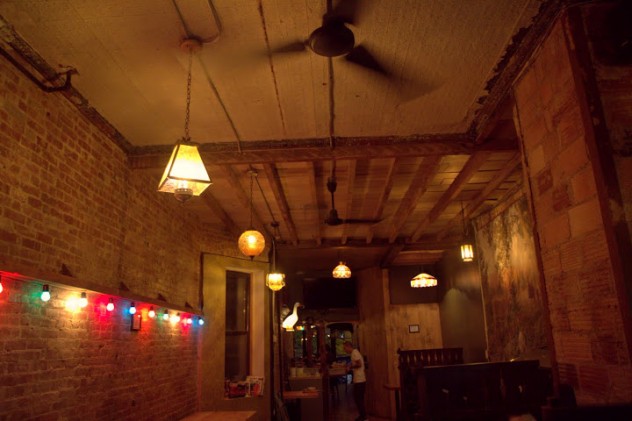 The find I was most excited about this visit was one I stumbled across in my research: Earl's Beer & Cheese, which opened in 2011 but given its East Harlem location of Park and 97th, remains known mostly by its surrounding neighborhood. This is just as well. It keeps the vibe friendly and the prices low (most food under $10, rare for good food in Manhattan) in a glowing, pub-like space focused around creative grilled cheese sandwiches and rotating craft beers (though few, here you'll find beer from the likes of Bell's from Michigan on draft).
While I enjoyed the sandwiches (like NY cheddar layered with pork belly, kimchi and fried egg on sourdough) and the Americanized Earl's taco ($11), a big tortilla packed with braised pork shoulder, queso fresco, shredded cabbage, radish and cilantro, it was a little dish of house beer cheese ($7/$12) and a basket of toasted sourdough that made me wish I'd ordered the larger serving. Made with NY state cheddar and lager beer, it recalled Southern pimento cheese with a NY twist. This is the kind of place where you can fill up deliciously with friends and good vibes.
SCHALLER'S STUBE SAUSAGE BAR, Upper East Side/Yorkville
Open just weeks before I arrived this fall in Yorkville/UES, Schaller's Stube Sausage Bar is a walk-up window with a couple seats in the back serving German sausages with creative toppings alongside fried chicken, potato salad, pretzels and Austria's ubiquitous elderflower soda, Almdudler.
On the menu there is proper Berliner currywurst and fun brats, my favorite being the banh mi-esque Saigon Special ($8), featuring a bauernwurst (onion, garlic, marjoram) sausage topped with daikon carrot slaw, cucumber, jalapeno, cilantro and Sriracha aioli. This is a delightful, new "cheap eats" option in Manhattan.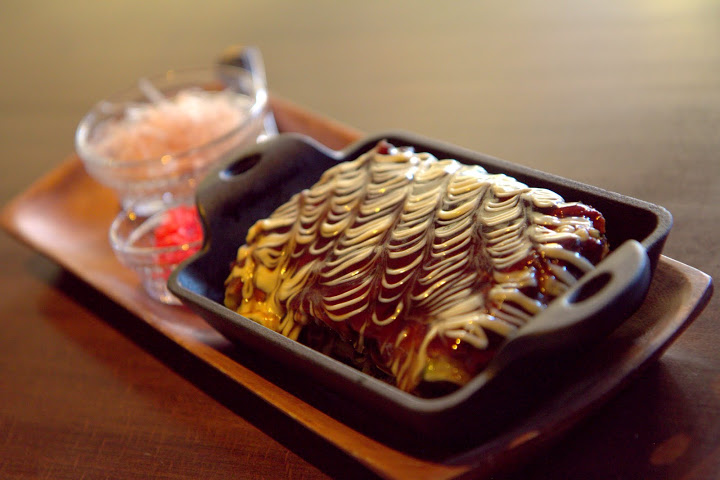 BAR GOTO, Lower East Side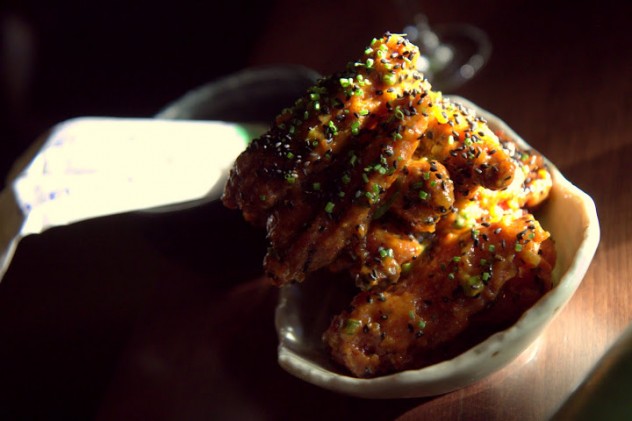 Just open since the end of July, Bar Goto is an oasis of Japan-level quality on the Lower East Side, thanks to Kenta Goto (formerly of Pegu Club). Goto recalls Japan with gracious, mannered service in an intimate space (though not as small as many of Tokyo's best cocktail bars), serving impeccable cocktails ($15 each — more on the drinks here).
But the food is equally a highlight. Ridiculously good miso wings ($10) play on NY-style Buffalo hot sauce with the addition of creamy miso, roasted black sesame and scallions. Five versions of okonomiyaki ($12) especially delight me, long being one of my favorite Japanese dishes, often called a Japanese "pancake", though much thicker with dough made of flour, egg, yam, cabbages and dashi stock. Grilled cheese okonomiyaki comforts with white cheddar, Parmesan, Gruyere, beech mushrooms and sun dried tomato — though it tastes closer to authentic okonomiyaki and less of the "fusion" dish it may sound like.
DOMINIQUE ANSEL KITCHEN, West Village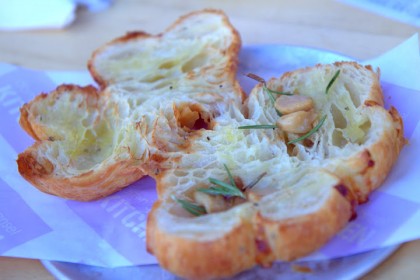 Not serving the heavily hyped cronut at this location, Dominique Ansel Kitchen opened in the West Village in spring 2015, thankfully, far more "chill" than the perpetual crowds at Dominque Ansel Bakery, lining up for the cronut.
In fact, the sidewalk seating at Kitchen is downright idyllic, a lovely way to spend a morning with coffee and decadent, creative baked goods like sage-smoked brownies, edamame avocado toast or the egg-clipse on black squid ink brioche layered with mashed potatoes, mushroom béchamel sauce and two confit egg yolks. Though its butter-heavy consistency is almost runny and therefore requires a spoon, I loved the sour-sweet liveliness of the lemon yuzu butter tart and also the garlicky intensity of flaky garlic bread croissants.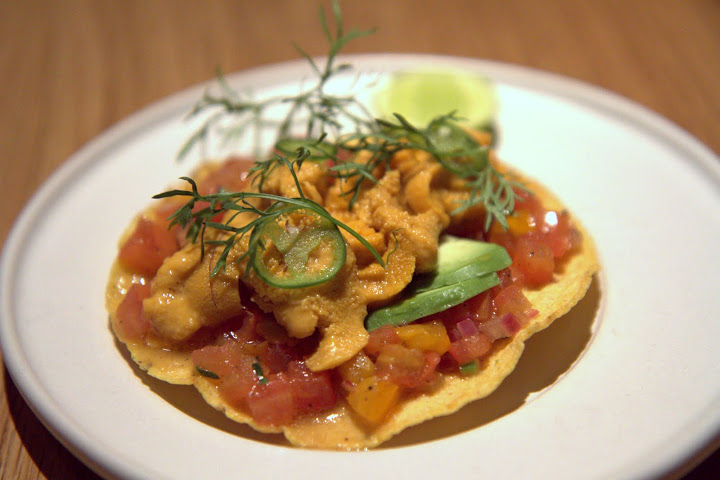 Dining
COSME, Flatiron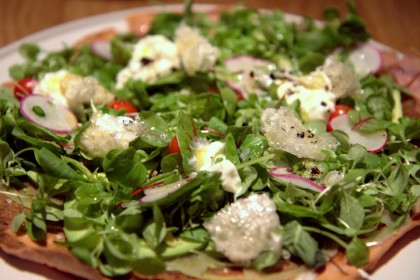 Opening at the end of 2014, it's hard to top Cosme among NY openings of the past couple years. Mexican food has long been a struggle in NY (though slowly improving, it's decades — and millions in Mexican population — behind California) but Cosme brings a true slice specifically of Mexico City to NYC through one of its most acclaimed chefs, Enrique Olvera. This is the upscale, creative side of Mexican cuisine, pulling from various regions and showing off the possibilities in one of the world's more complex cuisine categories.
That husk meringue and corn mousse dessert ($14) is as fantastic as you heard. But they also do right by a tlayuda ($22), a massive, crispy tortilla disc covered in black garbanzo beans, stracciatella cheese, avocado and crispy chicharrons. It's lighter than the traditional versions in Oaxaca (my favorite region in Mexico), packed with fresh greens, while not straying too far from its origins. Even roasted eggplant ($23) shines mixed with cauliflower and preserved lemon in a sesame seed salsa, scooped up in nixtamalized corn ash tortillas.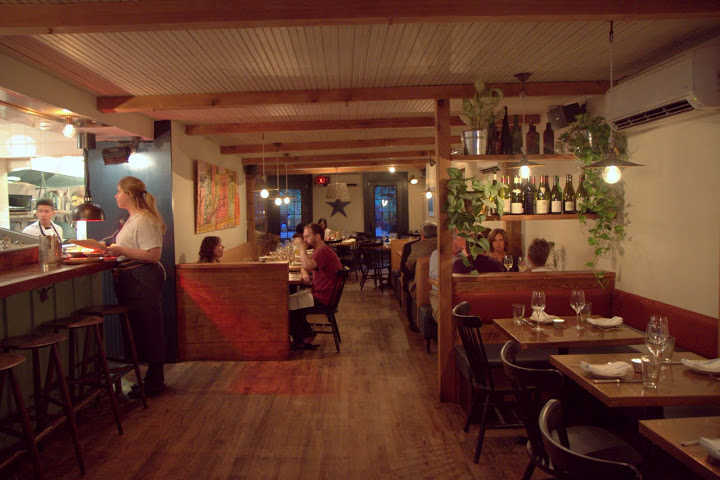 KING BEE, East Village
Open October 2014, King Bee — alongside Cosme — is the restaurant I loved most this visit to NY. Granted, it was imperfect. Dishes were uneven on both the entree and starter side. But the cozy, glowing space wrapped us up the moment we walked in, providing a warmth not often found in Manhattan. The wine selection was thoughtful and smart, as was the creative, above-average, low proof cocktail menu, thanks in no small part to co-owner Eben Klemm who comes from a strong cocktail (and molecular biology) background.
The cuisine is Acadian-influenced, essentially pulling from the French colony in Canada, which led to Cajun cuisine (what the word Acadia evolved to in Louisiana). Co-owner, Ken Jackson, was an original partner in the lovely Herbsaint in New Orleans so alongside chef Jeremie Tomczak (formerly cooking with Marcus Samuelsson at Aquavit and Red Rooster), expect Canadian Acadian roots alongside Cajun notes.
While I found the raved-about pork cracklings ($8) in cane caramel and malt vinegar powder surprisingly lackluster, the lobster roll-esque Louisiana crawfish on a mini-potato roll ($7) was sheer delight. I wish I could find this type of roll more as a less expensive, but still delicious, alternative to a lobster roll. Bruleed bread pudding ($17) was another standout. Essentially a slice of toast, sopping with maple syrup and smothered in foie gras, Quebec cheddar and fig, it's sweet, savory and luxurious — the ideal dessert. Salt pork confit lobster ($32) was a bit of a bland disappointment but sockeye salmon ($26) was a silky and pure as the best sockeye is, served in a sorrel broth with plenty of fresh nasturtium and beets.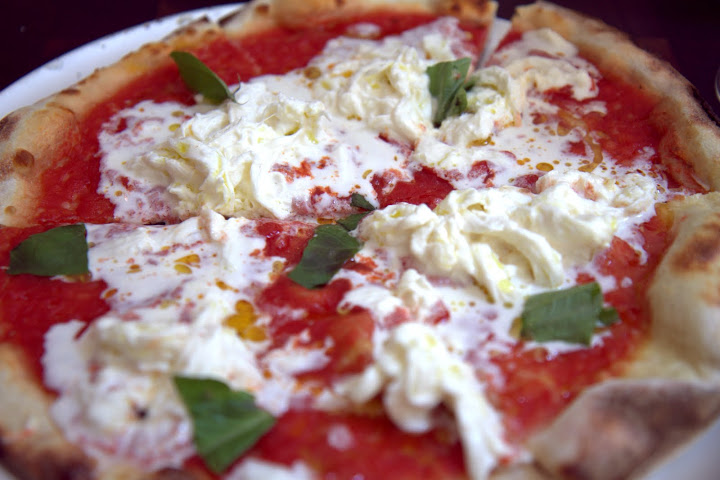 MARTA, Midtown East
Opened by Danny Meyer's Union Square Hospitality Group in 2014, Marta is, yes, yyet another pizza-centric restaurant in NYC… but this one is special. Two black wood-fired ovens make a stately centerpiece in the lofty dining room, while the pizzas recall Rome: very thin (but not quite cracker-like), springy and crispy simultaneously, thanks to chef Nick Anderer (also of Maialino).
The patate alla carbonara pizza ($19) is a rightfully popular tribute to the Roman pasta classic, recalling that dish with potatoes, guanciale, black pepper, egg and grated pecorino cheese. But I prefer a classic margherita ($15) or especially the Stracciatella ($24) for the best showcase of Marta's pies. Though an expensive pizza, the Stracciatella is laden with silky, house-made stracciatella cheese, basil and olive oil, all purity and supreme goodness. In addition to destination-worthy pizzas, there are Roman appetizers and wood-fired entrees alongside an acclaimed Champagne selection, including vintage bottlings, which seems incongruent regionally but goes beautifully with the gratifying pizzas. I love Marta especially for a leisurely, European-style lunch.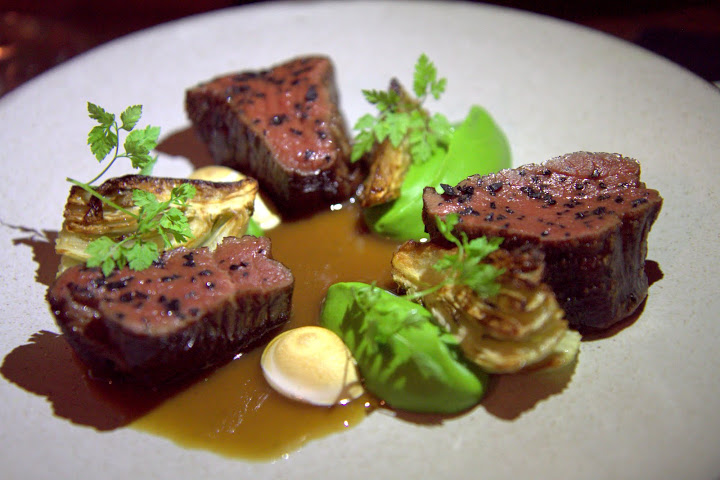 THE MUSKET ROOM, Nolita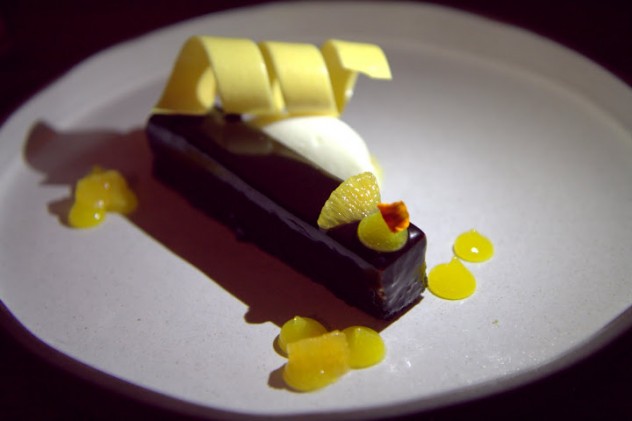 Receiving a Michelin star merely four months after opening is no small feat, although I must admit this was the restaurant that disappointed me most this visit to NY. With uneven service (including a good 10 minutes wait before we even got menus), lackluster — but expensive — cocktails and our server's shocking lack of knowledge of their wine list or wine in general (especially given that the list was compiled by a master sommelier), The Musket Room, feels out of step with countless Michelin-starred restaurants I've been to around the world… or even just the average SF restaurant where most servers have a basic somm level knowledge of wine and have been properly trained and tasted through the menus by management.
Opened in 2013, Musket Room's strong suit is Auckland-born chef Matt Lambert's modern New Zealand cooking. $145 or $75 tasting menus show off Lambert's range but there are a la carte offerings, too. His most celebrated dish is New Zealand red deer ($34), redolent with gin botanicals and generously portioned. But there are a number of highlights beyond this lovely dish, including fluffy tofu gnocchi ($29), which nearly dissolves on the tongue contrasted by macadamia nuts and spring onions. A minuscule portion of mackerel ($14) is still delightfully lush in miso and brown butter. If only "the whole package" kept up with the dishes.