This is a preview of a regular column that will be part of the national Table8 blog we are about to launch this Spring — I will cover the Bay Area and am national editor over all cities/writers.

The 10 top openings of February are: Starboard, Ijji, Mensho Tokyo, The Treasury, Antoinette in Berkeley, High Treason (more to come when they launch a full food menu), Alfred's, Wise Sons Bagel & Bakery, Ju-Ni, Brasserie Saint James. Here are my top 4 and why they stand out.
1. Ijji, SF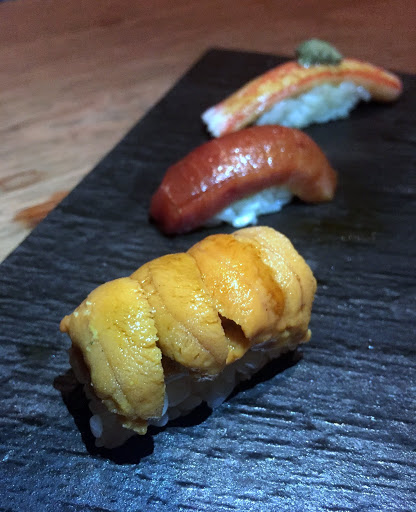 Quietly opened on February 2nd, Ijji is easily the sleeper (and my favorite) opening of the month, transporting me directly back to Japan. No website and SeatMe-only reservations via Yelp (highly recommended given the small space and 18 maximum seats) — not to mention the lack of signage — feels like stumbling into a sleek Tokyo sushi restaurant, opened by head chef and part owner Billy Kong, who is also behind Noe Valley's Saru, one of my top openings of 2012.
Why You Should Visit: The nigiri-centric menu offers a few small starters and individual nigiri sushi or an omakase (changing price) of a minimum of 8 pieces of nigiri and a couple small bites. Most of the fish is sourced from Japan and is silky perfection, whether kasugodai (wild young snapper) or kohada (wild gizzard shad). Chawanmushi ($8) and other small plates are exquisite and light, while everything from delicate glassware to hand-sewn coasters sing of Japan authenticity. Like upscale Tokyo sushi, it adds up quickly and isn't overly filling but for fans of authentic Japan sushi (in the edomae vein), it's another confirmation of how the sushi game has changed in this town.
On the Drink Side: Asahi is on draft ($5) and wines flow from Austria, Galicia and the Canary Islands in Spain. Sake offerings, served in wine glasses, are particularly exciting with a range of offerings from clean to full-bodied.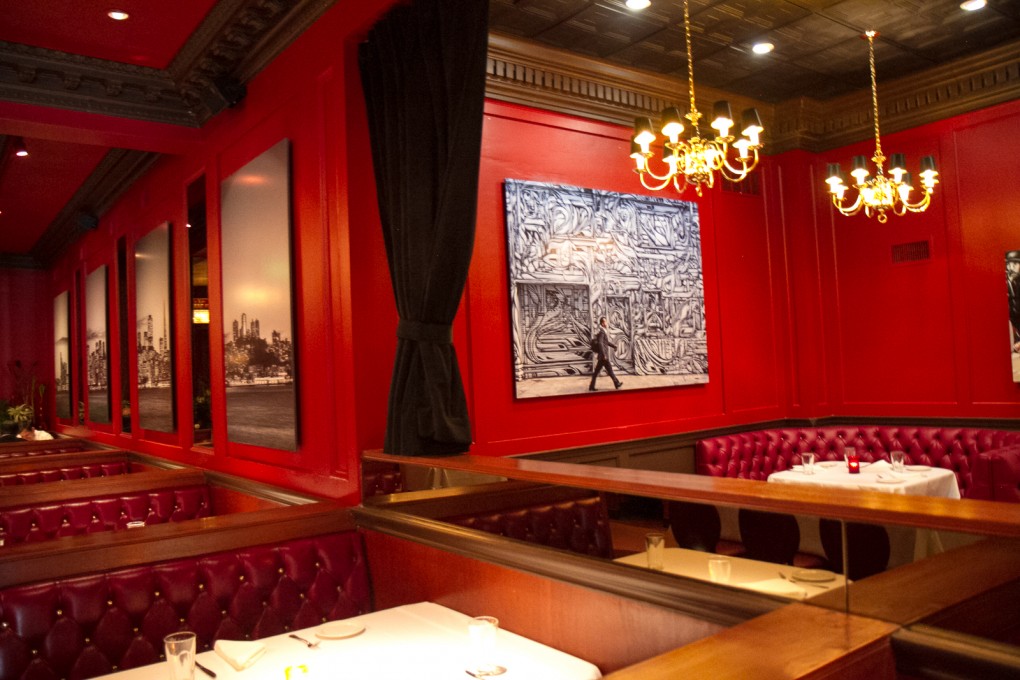 2. Alfred's, SF
Alfred's Steakhouse is a San Francisco legend, first opened in 1928. Though moving locations over the decades, it's been owned by the same family since the 1970's until last year when they sold it to none other than Daniel Patterson Group (DPG). Alfred's reopened February 18th, with DPG blessedly keeping its spirit and look down to those striking 1920's German chandeliers, red booths and stained glass signage. But fresh red paint, restored wood floors and striking art from John Ricca brings new spark to the space.
Why You Should Visit: Spark is also felt in the updated (but thankfully still classic) menu. Executive chef Charlie Parker ages Flannery Beef steaks ($30-80) for 15 or 30 days, before grilling with mesquite — my ribeye was a perfect medium-rare, accompanied by brown butter bearnaise and a lush Sciabica olive oil perked up with Meyer lemon.
The gourmet aspect is stepped up yet subtle, as with mascarpone mashed potatoes ($10) or a bit of chopped oyster and smoked egg yolk in the beef tartare ($16). King salmon ($28) is no slouch, over Swiss chard and cipollini onions, decadent in a drizzle of lobster bordelaise sauce. Even Alfred's salad ($14), prepared tableside for a proper old school touch, is fresh and gratifying,with a base of little gem lettuces tossed with rosemary croutons, parmesan and a vegetable escabeche.
On the Drink Side: The wine list is solid if not overwhelming for the wine geek — but there is plenty from the New and Old World to please a range of palates. Barrel aged cocktails are newcomers since the ownership change, while a classic gin martini still hits the spot.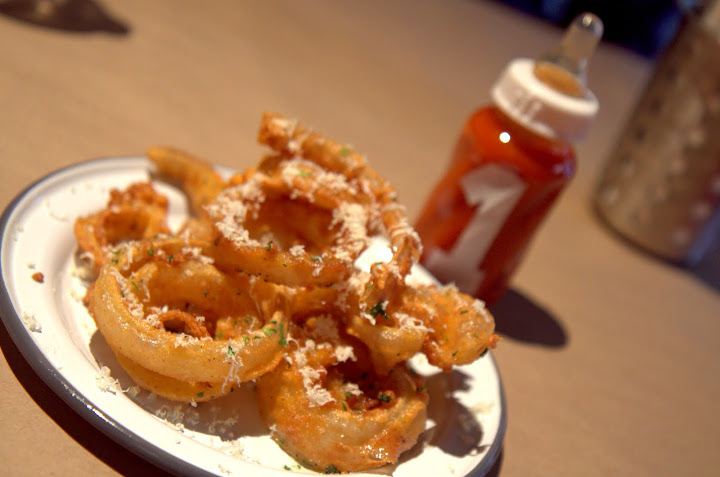 3. Starboard, SF
Though technically in soft opening mode in the last couple days of January, Starboard went full steam in February, a casual, comfortable, hip-but-not-hipster eatery with welcome late-night hours serving food till 3am, Thursday through Saturday.
Why You Should Visit: First off, Daniel Hyatt. The former bar manager at Alembic who put the venerable spot on the map for its first six years, now Starboard owner and bar manager of neighboring Slate, brings his thoughtful wines and style to 16th street in partnership with Slate owner Patty West and Starboard co-owner and general manager Suzi Ray (formerly of Alembic, Roka Akor). The focus is on comforting food — like a tasty jerk-blackened fish ($15) — available at all hours. Surprisingly, where the menu shines is dessert. Let's just say right now that pancakes for dinner are the height of comfort and I'd do the ridiculously good blueberry buttermilk short stack ($7) for dinner. Fruit turnovers ($7) with changing fruit fillings and a scoop of ice cream, are gourmet versions of what you remember childhood tasting like, exemplifying the overall ease and flow of a relaxed place where sauces are squeezed from baby bottles and onion rings are dusted in fresh horseradish.
On the Drink Side: There are a few beers and wines, the latter ranging from Spanish Txakolina to Alsatian Pinot Blanc, served in tumbler glasses filled to the brim. Quality roses taste great with just about every dish.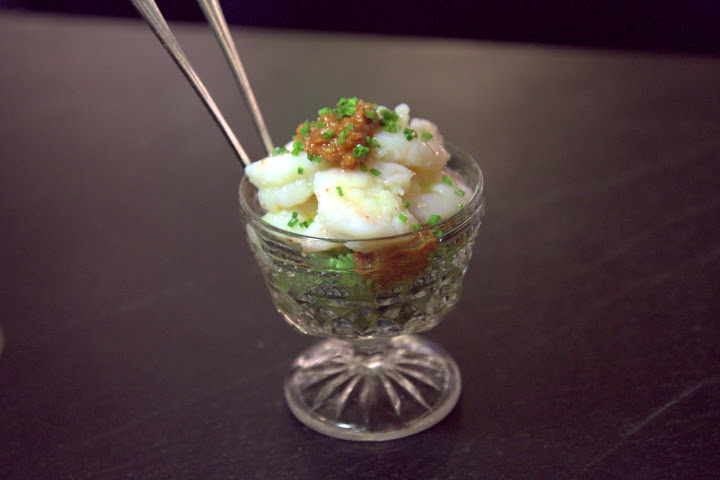 4. The Treasury, SF
Open February 3, The Treasury is already overrun with after-work FiDi crowds but thankfully hours are 3pm-12am, Monday-Saturday, so there are off times for those who'd like a seat and the ability to have a conversation without shouting. The dramatic space is small but lofty in a historic 1915 era Beaux Arts building marked by marble tables, mahogany furniture and stained glass globes.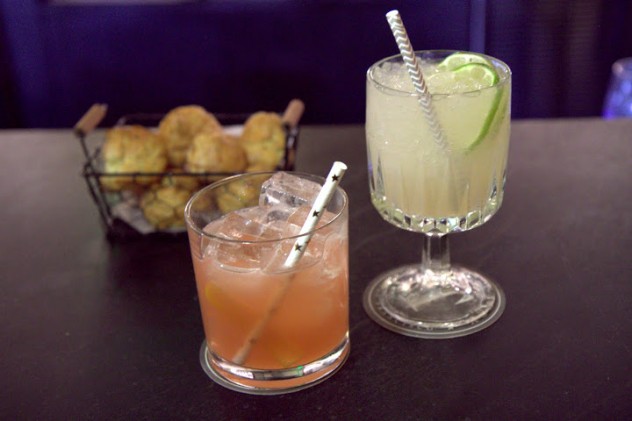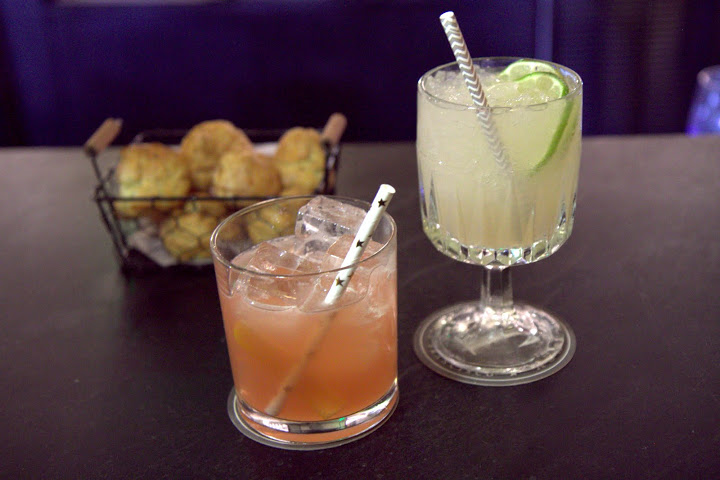 Why You Should Visit: The bar unites industry vets, many of whom were pioneering the SF cocktail scene even 15 years ago: owner/restaurateurs Arnold Eric Wong (Bacar, E&O) and Phil West (Range, Third Rail) and bar director/partner Carlos Yturria (Range, Lure + Till, Absinthe), alongside bartenders I'm delighted to see behind the bar, like Reza Esmaili and Tin Roof Drinking Community's Claire Sprouse (also running the bar at The Bywater). Quality bar bites include warm parmesan gougeres ($5), an elevated chilled white Gulf shrimp cocktail in house Bloody Mary cocktail sauce ($15) and irresistible Treasury pigs in a blanket ($12).

On the Drink Side: Yturria's cocktail menu walks the line of approachable but elegant, finely expressed in Bamboozled ($14), where essentially two ingredients Pommeau de Normandie and amontillado sherry, accented by bitters, showcase two spirits geeks' favorites: nutty sherry and French apple brandy (Calvados) with tannin-rich apple juice for added brightness and freshness. It's simultaneously simple and skillful. I also found Pajarito ($13) hard to resist: Por Siempre Sotol (sotol is an agave spirit from Mexico), fresh grapefruit, lime and a splash of Pompelmo Pellegrino, the zippy, grapefruit Pellegrino soda. It tastes like spring and summer combined, an elegant meeting of California and Mexico.