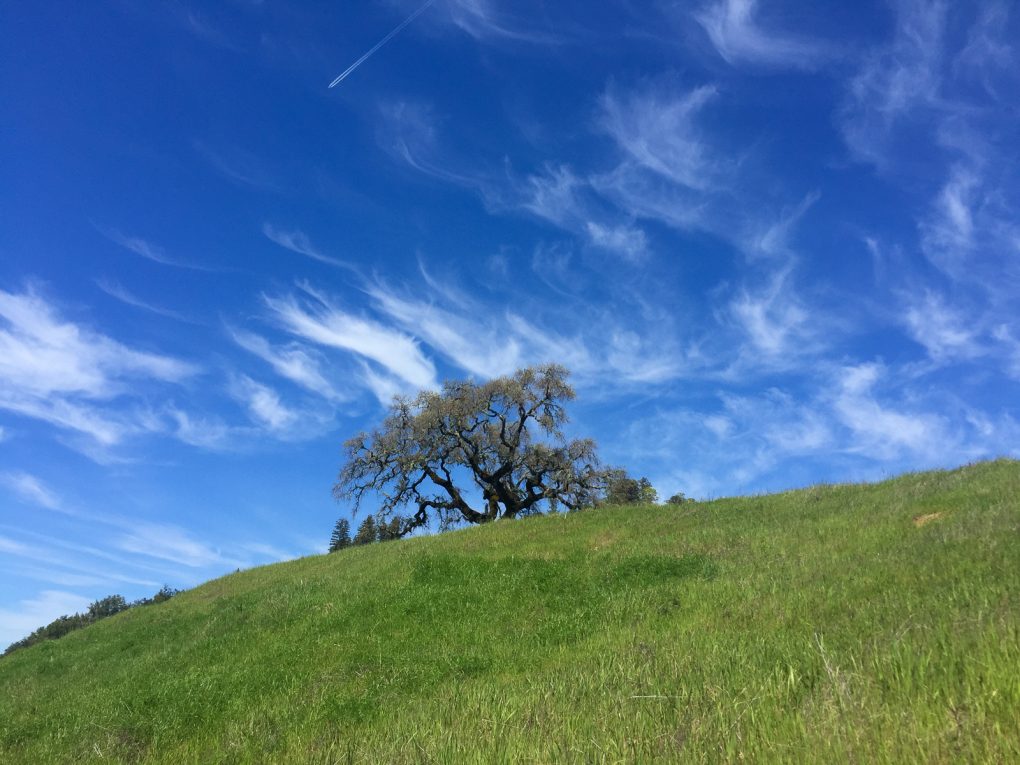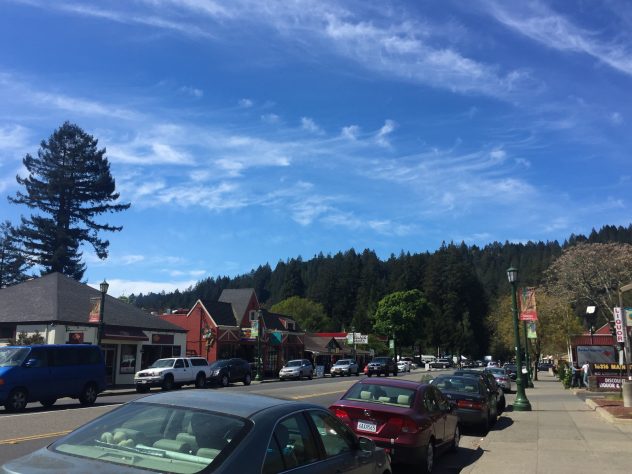 A weekend in Guerneville always feels like a real "escape", under towering redwoods, along the Russian River with the Pacific Ocean just over the mountain crest (more on past visits here). A leisurely stroll — or hardcore hike — through the stunning Armstrong Redwoods State Natural Reserve while in the area is a must. Driving the rough, single lane road through the reserve to various lookout points also delivers some breathtaking views over hills and mountains that recall Ireland, Scotland, England.
Then there is Guerneville's decades-established gay culture, the rough-and-tumble cowboy crowd and the families and friends who come to innertube down the river in the summer. It's an eclectic, small Sonoma town, to be sure, and despite there being just a couple blocks to the main street, Guerneville manages to be both lively and "chill", offering a dense array of quality tastes in one block.
Here are some of the best: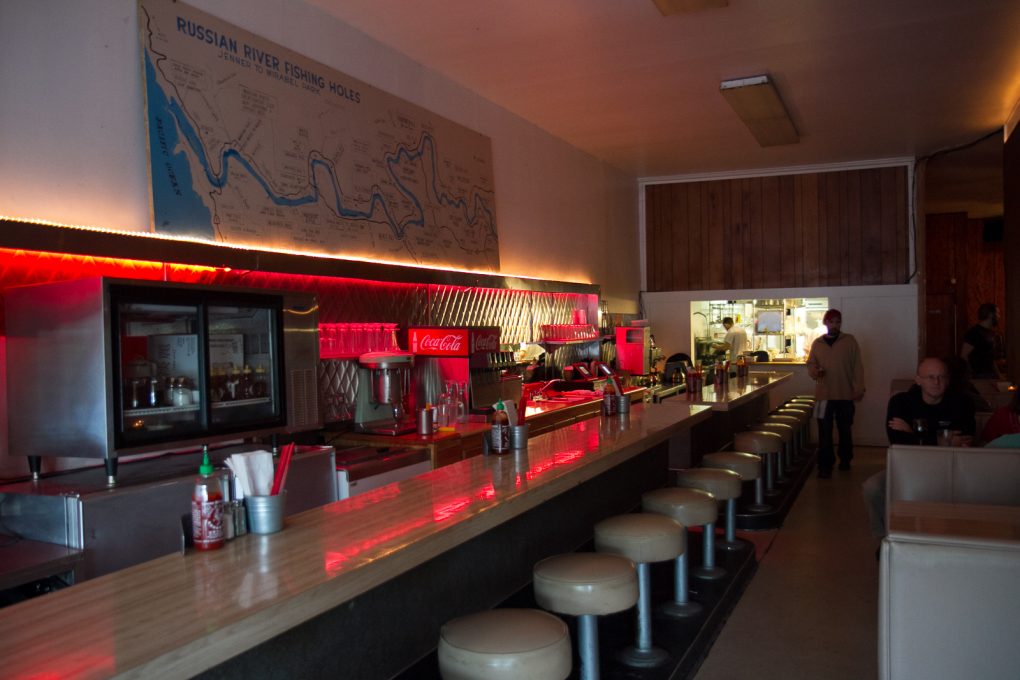 RESTAURANTS

DICK BLOMSTER'S KOREAN DINER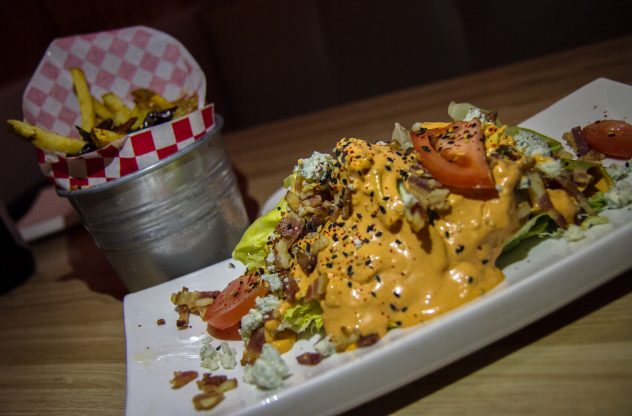 Your heard right: Dick Blomster's is a Korean-American diner in charmingly dated Pat's, a family-owned diner since 1945. It's still Pat's during the day, serving a couple of the Korean dishes with a smile from sweet staff, while at night, it's a dimly-lit, Korean-influenced menu serving sake from a box from friendly-cool staff.
Debuting late 2012 from owner David Blomster (with a Santa Rosa pop-up and second location opening at the end of 2015), popular dishes include the solid Korean Fried Crack ("the other KFC" – $15), essentially fried chicken in soy, chiles and ginger with a (rather dry) vanilla slaw and buttered white bread. This is Korean-American food rather than traditional Korean — like pork belly or beef short rib kalbi mac 'n' cheese with buttered Wonder Bread or an iceberg wedge salad smothered in gochujang blue cheese dressing. Though I enjoyed the Seoul fries ($5) and kimchi pancakes ($10), I couldn't help but feel it all sounds a bit better than it tastes, wishing for a little more of the flavor and gourmet flair found in many a great Korean-hip menu in big cities and food trucks around the country. Still, it's cheap, filling food and such a fun vibe in a diner I hope never changes its decor. And Blomster's is surprisingly mellow yet steady on a Saturday night (done well, this sort of thing would be mobbed in SF).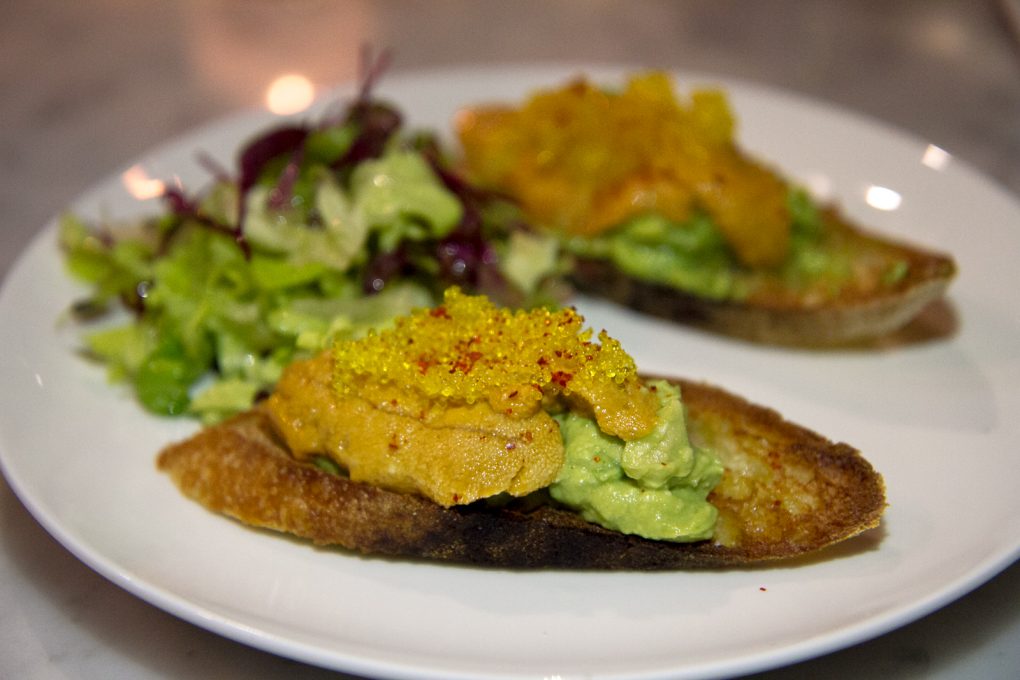 SEASIDE METAL OYSTER BAR

Seaside Metal Oyster Bar opened in the spring of 2014 from chef Mike Selvera (and his twin brother Tim Selvera) of San Francisco's Bar Crudo, which has been all-time favorite of mine since it opened on the original Bush Street location over a decade ago. Bar Crudo's pristine perfection and craft beer drafts are not quite equally matched in the intimate Seaside Metal but it still is a welcome choice in a small town.
You'll find a couple of Bar Crudo's iconic crudo dishes here (the arctic char and tombo tuna crudos) and a classic raw bar piled with oysters, crab, lobster and other seafood. Though tiny, sea urchin ($14) on avocado toast, accented by yuzu tobiko and lime, makes a perfect bite, while a Dungeness crab salad ($19) was light yet gratifying, tossed with beets, burrata, arugula and almonds in a Banyuls vinaigrette.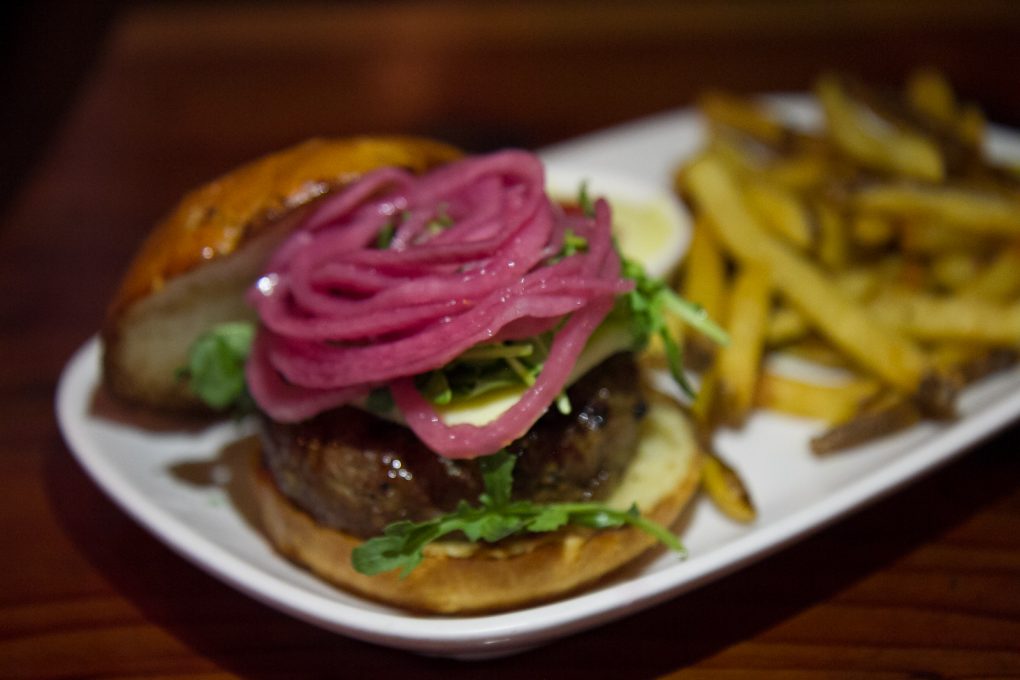 BOON Eat + Drink
Open since 2009 by owner/chef Crista Luedtke who has changed the face of Guerneville, Boon Eat + Drink (and the nearby hotel) marked the beginning of the change. The offerings aren't so much cutting edge as heartwarming but it's comfort food with gourmet edge, as with executive chef Sergio Guzman's Thai-style halibut ($26) over a hearty, crispy farro risotto cake in coconut red curry. It's hard to top the simple goodness of a glass of dry rosé — like a 2013 Moshin Vineyards Vin Gris Rose ($10 glass/40 bottle) — paired with the grass-fed beef Boon Burger ($16), which could have used a little more of the spare smattering of always-fantastic Fiscalini aged white cheddar and pickled onions. But the patty was the properly-requested medium rare, meltingly-good on a toasted brioche accompanied by Boon truffle fries dipped in garlic aioli and house ketchup.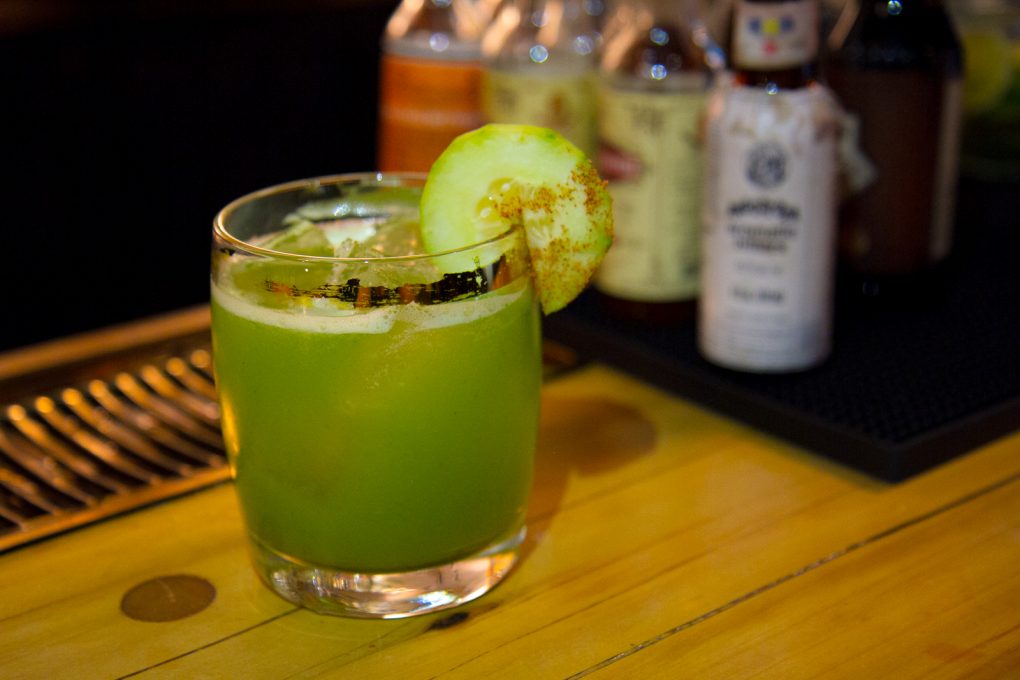 BARS
EL BARRIO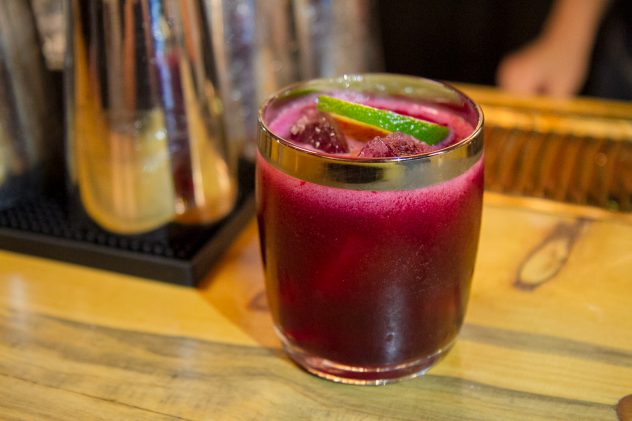 Yes, Crista Luedtke pretty much runs this Main Street block and El Barrio is another one of her spots, a quality tequila, mezcal and American whiskey bar that opened in the fall of 2014. Snacks include house fried chips and salsas, guacamole and queso, fine accompaniments to the star: Christina Cabrera's cocktails. The SF-based bartender who works at the brand new Wildhawk in the Mission and has created bar menus at Old Bus Tavern, Novela and Barbarossa.
Cabrera's drinks shine here and provide a welcome respite for those of us who seek out great spirits, cocktails and Negro Modelo on draft, as well as those who just want a relaxed space with friendly service (including gracious bartender, Caroline) and a good drink.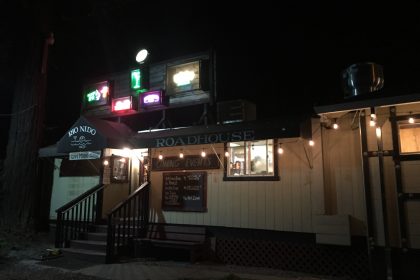 A couple standouts include the classic house margarita variation, El Barrio ($11), using Fidencio mezcal instead of tequila, balanced by agave and lime juice. I also like the vibrant La Adelita ($11) with Cabeza tequila, lime and Cointreau, tart, spiced and a rosy purple from house made Jamaica juice (a hibiscus tea infused with cinnamon, clove and spices).
RIO NIDO ROADHOUSE

End the night at Rio Nido Roadhouse dancing under the stars out back to live music (blues, classic rock, country and beyond). The eclectic crowd on nights when there is a live band, ranges from crusty cowboys to entire families. Were it not for the redwoods and that clean, crisp Sonoma air, the beer drinking, roadhouse dive bar setting feels like you're in a small Texas town or the deep South, embracing the starry night.
BREAKFAST/COFFEE/SNACKS
NIMBLE & FINN's Ice Cream in the GUERNEVILLE BANK CLUB

Built in 1921 but closed for over 30 years, the striking Guerneville Bank Club was restored to historic glory and reopened summer 2015 as a collective retail and art gallery. From a single center bar you can buy coffee, daily made pies from SF's Chile Pies Baking Co. or clothing and home accessories off to the side of the bar.
While I enjoy Chile Pies and it's a great source in a small town (their signature chile apple pie with cheddar crust is a standout), since Chile Pies exists and originated in SF where I live, it's Nimble & Finn's ice cream, from two Sonoma County-based sisters, that draws me in for something "local". The silky, dreamy ice cream is made with Straus Creamery's organic dairy in tempting flavors like bourbon toffee crunch and a spicy, gingery triple ginger. My favorites, however, were carrot cake with bits of cake and a tart cherry cheesecake.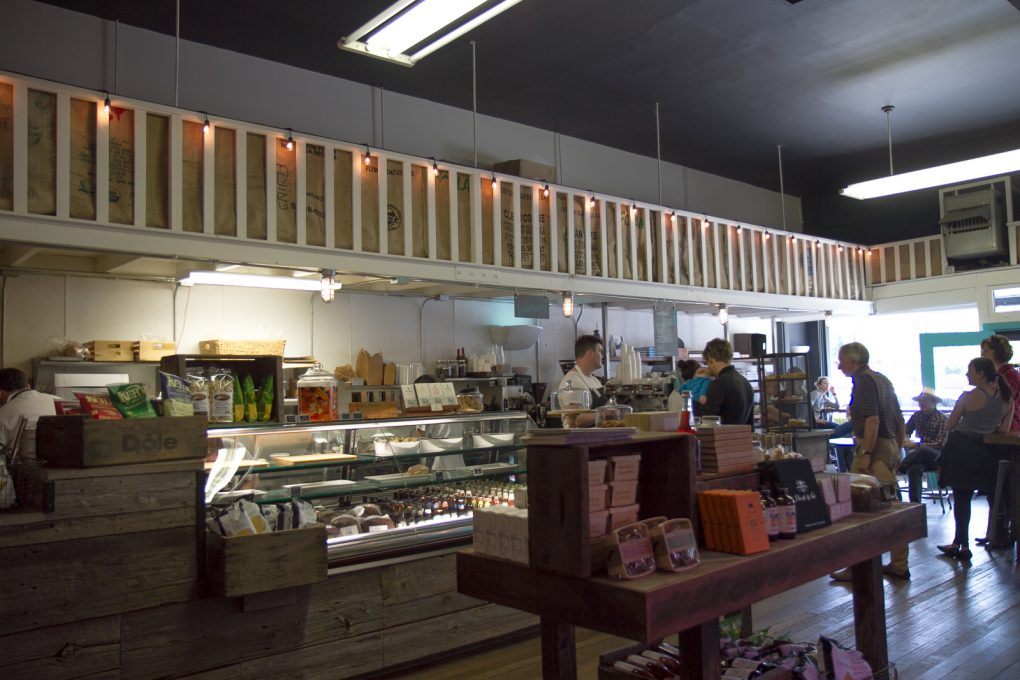 BIG BOTTOM MARKET
I wrote about Crista Luedtke's (of Boon Hotel + Spa, Boon Eat + Drink, El Barrio) Big Bottom Market when it first opened in 2013, and I was back in Guerneville the week its revamp was unveiled. In the same block as almost every place I've written about here, it's the one place for better coffee in for many miles (using Flying Goat Coffee and a proper espresso machine). They also sell quality selection of wines (chilled and ready to take on a picnic), gourmet groceries, sandwiches and changing pastries, including their popular breakfast biscuits.
BACKYARD, Forestville
Less than a 15 minute drive on the way back to the 101 freeway from Guerneville, Backyard is an ideal stop for a great meal and friendly service. Opened by Daniel Kedan and Marianna Gardenhire at the end of 2012, the wild, front brick courtyard and hacienda-style setting is a relaxed backdrop for the delicious, Southern-style brunch or Thursday's family-style fried chicken dinners. Their buttermilk fried chicken appears during brunch in chicken and waffles ($17) or a buttermilk fried chicken chop salad ($14) in piquillo pepper buttermilk dressing. A literal "bucket 'o doughnuts" ($6.50) veers away from being "tired" paired with irresistibly tart, perfect Damson plum house jam. And the house hot sauce likewise threatens to steal the show.