This article was first published here at Table8 where I am national editor.
Whether a wine shop serving food with areas to hang out and linger or a wine bar with food menus, these 4 spots, most of them brand new, have informed staff, serve quality wines and sometimes even good food.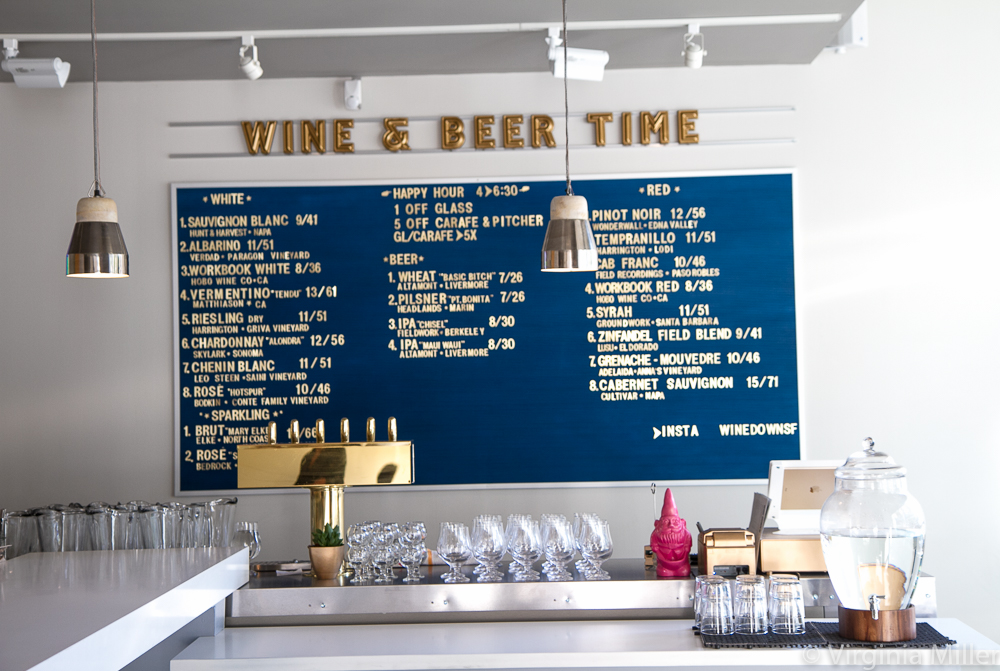 Wine Down, SoMa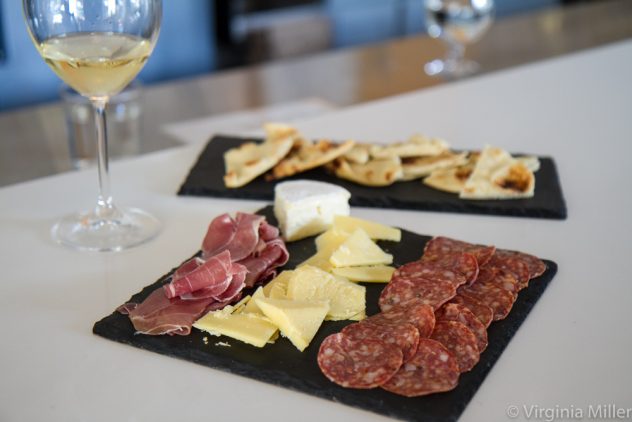 Gracious founders/co-owners Sarah Garand & Jaime Hiraishi opened Wine Down in SoMa in June, pulling from their great relationships with California winemakers and offering special barrels and pours exclusive to their bar. They are the only one of these four with a modern, minimalist, bright and sunny — in whites with touches of gold and blue — space that is both stylish and quirky (note their custom sign in the gold, glittery bathroom: "This wine is making me awesome.") Better yet, all glasses hover mostly in the $9-15 per glass range. Daily from 4-6:30 pm, there is a $1 off discount on all glasses of wine and beer (or $5 off carafes and pitchers).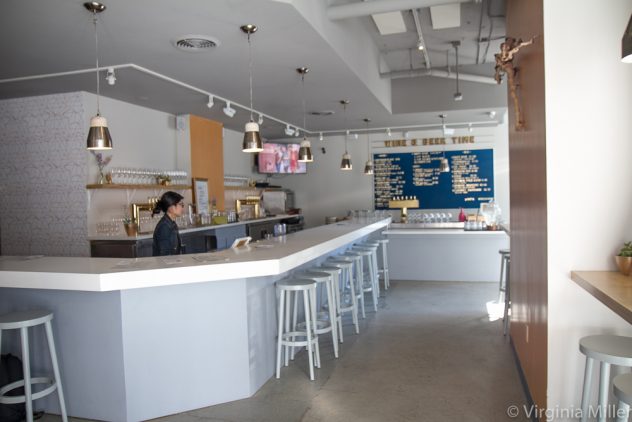 On the Wine Front: This is the one bar of the four fully focused on California wines on tap, many of them small, interesting producers covering a range of styles and varietals. You might sip a Hobo Wine Co. white wine blend from the Santa Lucia Highlands or a Cab Franc from Field Recordings in Paso Robles. There are also about 6 California craft beers on draft. I'm in love with a dry, mineral Riesling from Harrington Wines based right in SF's Dogpatch 'hood and kegged especially for Wine Down (they also pour Harrington's Tempranillo and will soon have their Mourvèdre).
To Eat: Food is straightforward here with a few options sourced from local relationships, including a meat and cheese plate ($19), empanadas from Nucha (1 for $5, 2 for $9), Salt Point pretzel twists, Haig's hummus and olives.
Bonus: Wine Down is about to throw their first winemaker event this Saturday, August 20 (6-9pm), with Bryan Harrington of the aforementioned Harrington Wines, Kenny Likitprakong of Hobo Wine Co. and Curt Schalchlin of Sans Liege Wines & Groundwork.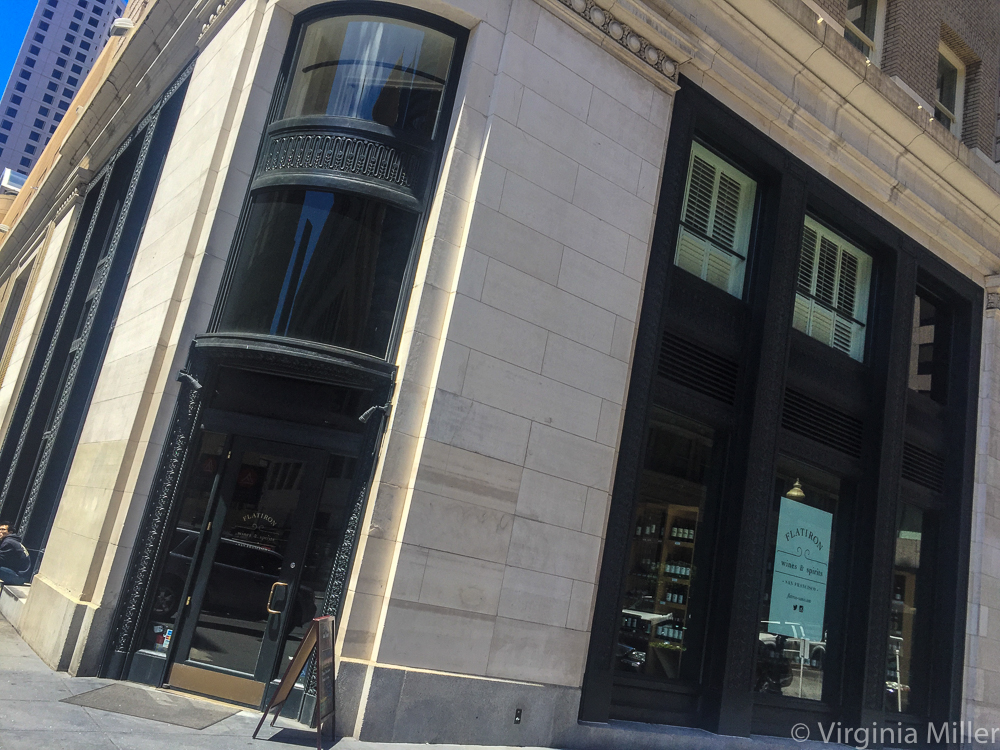 Flatiron Wine & Spirits, SoMa
Open in February 2016, Flatiron Wine & Spirits is the larger (3 times the size) location of the venerable New York shop known for stocking rare, cult wines alongside a broad representation of wine regions around the world. As neighbor to the stunning, historic Palace Hotel, the spacious, 3500 sq. ft. shop has rooms for parties and tastings and a cafe-like tasting room with a chalkboard of changing by-the-glass options and bites from the Palace Hotel's Pied Piper Bar & Grill on a menu especially designed for Flatiron.
On the Wine Front: The staff know their wines, with over 4000 SKUs to choose from. There is also a solid spirits collection, a range of sherries and other fortified wines and beyond. Depending on what you're looking for, they might recommend a unique grower Champagne, an undiscovered California producer or an affordable Portuguese bottling. They offer rotating tastings (free to $5) and seminars listed on their site if you want to get educated on a region or varietal.
To Eat: There is the usual cheese and charcuterie options, some small plates but also neighboring Pied Piper's beloved kobe beef burger layered with aged cheddar, vine-ripened tomatoes, applewood smoked bacon and a kosher dill pickle on a toasted brioche bun.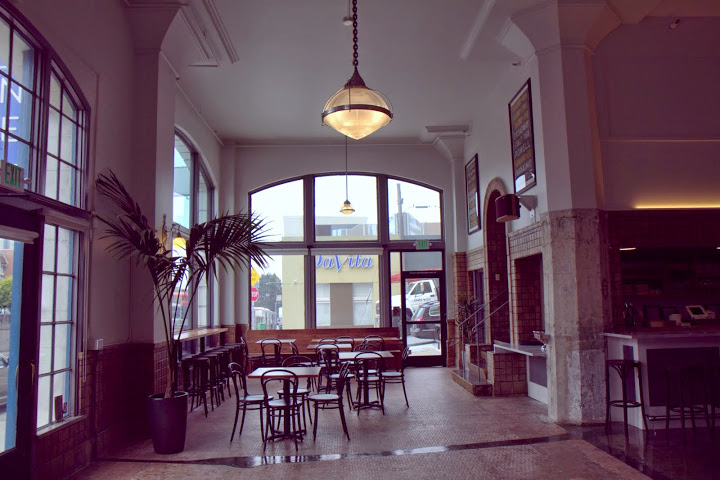 Tofino Wines, Inner Richmond
Partners Mark Nevin and April Sack opened Tofino Wines in Spring 2015, which I wrote about back then and included in Zagat's 10 Hottest Bars Now list for its spacious, lofty setting in a historic building, strong wine selection and notable emphasis as wine bar hangout as much as it is a retail wine merchant. The lofty space recalls a train station in Spain or France — complete with vintage French railway station lights. The clean lines of the wine shop face a cafe area with walnut tables, underscored by original 1920's terra cotta tile floors. A storage vault in the back is enclosed in glass, serving as a private tasting and storage room. They host weekly tastings and events with small wine importers and wineries.
On the Wine Front: With an ever-changing wine list of 30 by-the-glass wines and selection of over 700 bottles from France (with a heavy Champagne focus), Italy, Spain, Austria and the US, sherry lovers will delight in the sherry section and the fact that the shop was named after Admiral Vicente Tofiño de San Miguel y Wanderiales, a Spanish cartographer from Cádiz, Spain's center of sherry production.
To Eat: You'll find quality cheese and charcuterie plates as well as a short menu of the likes of crostinis, smoked trout chive pate and a grilled fontina cheese sandwich ($10), with all bread from Marla Bakery, a Richmond neighbor further west. It's prepared simply but with high quality, making for gratifying wine bar bites.
Scopo Divino, Pacific Heights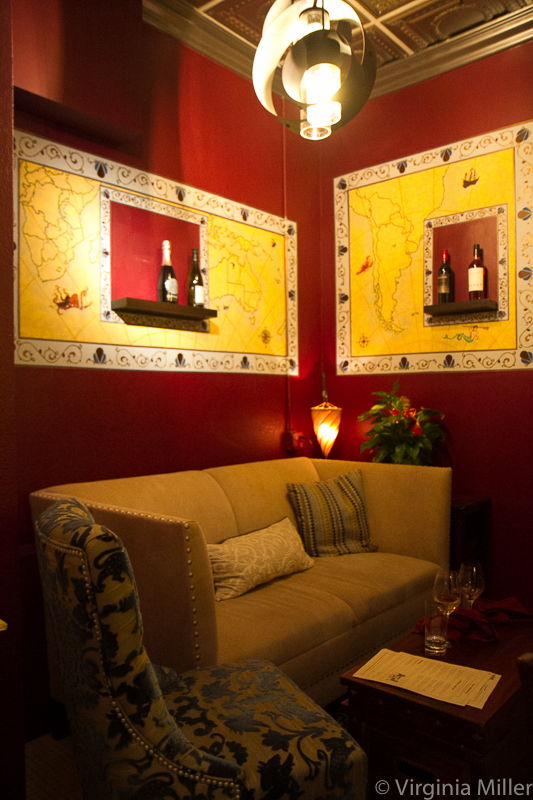 My initial experience at Scopo Divino, brand new to Pac Heights in July, was mixed. Kitchen grease aromas permeated the place and lingered in our hair and clothing as we left. Hard-working staff couldn't explain basic profiles of wines by the glass (clearly had not been trained and tasted on them) and there was about an hour wait in between initial bites and main dishes, though our server explained the kitchen was short-staffed after we asked.
Then there is the bizarre 10 percent added to the check for service — I am happy to have the full 18-20% added but somewhere in the middle makes patrons have to do weird math to try and round up tips when it would be easiest to let us tip the whole amount or to be charged a full service charge. But none of this seems to matter to the neighborhood, which is already coming out in droves even on weeknights.
Set to a somewhat typical wine bar decor of maroon red walls, wood chairs and pressed tin ceilings, it just may be the food that is the sleeper hit here.
On the Wine Front: Though not unusual in SF, a Burgundy focus is always welcome to wine lovers and there is a representation of Burgundian wines among the 1000+ bottle selection — and they are using the ever-popular Coravin system. I love seeing a great orange wine like the Italian 2014 Monastero Suore Cistercensi "Coenobium" on the menu but it's a pricey $20 a glass (it costs that per bottle at K&L) unless you're a member of the wine bar ($15 a month), allowing 20% off all wine/beer in-house — this obviously makes most sense for those in the neighborhood who have the time to frequent the place. There are some more affordable glasses, like a lovely 2014 Domaine Massiac Viognier from Minervois, France ($11/9 for members).
To Eat: Former Monsieur Benjamin and Benu chef Mark Cina goes beyond the typical cheese & charcuterie offerings (here $12-35 for platters), already winning fans for his housemade lobster cavatelli ($15), generously dotted with poached lobster, charred corn and fines herbs. Cauliflower grilled a la plancha ($8) is both sweet and savory in sherry golden raisin sauce with toasted pine nuts and preserved lemon gremolata (add on bay scallops for $8).
Save
Save
Save
Save
Save
Save
Save