This article was first published here at Table8 where I am national editor.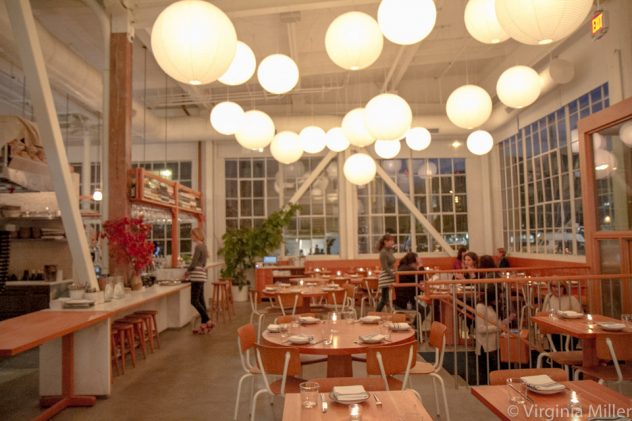 San Francisco/the Bay Area has long been a bread capitol, whether turn of the 19th century when SoMa was lined with bakeries on most blocks, to the trailblazing days of SF's "bread revolution" in the 1970s-80s when pioneers like Acme Bread in Berkeley led the nation's return to rustic, artisanal breads. Since opening the one-and-only Tartine in 2002, Chad Robertson has become bread evangelist to the world, inspiring and training the world's best bakers everywhere as he revives historic grains and bread recipes long forgotten.
In the US' bread capitol, a region that has pioneered food and drink movements in numerous categories — and with more world class bakeries than one can count — it makes sense that SF boasts hundreds of restaurants that bake their own exceptional bread.
Here are two: a newcomer from the great Tartine and a neighborhood favorite with some recent changes. Both marry a top-notch dinner with bread.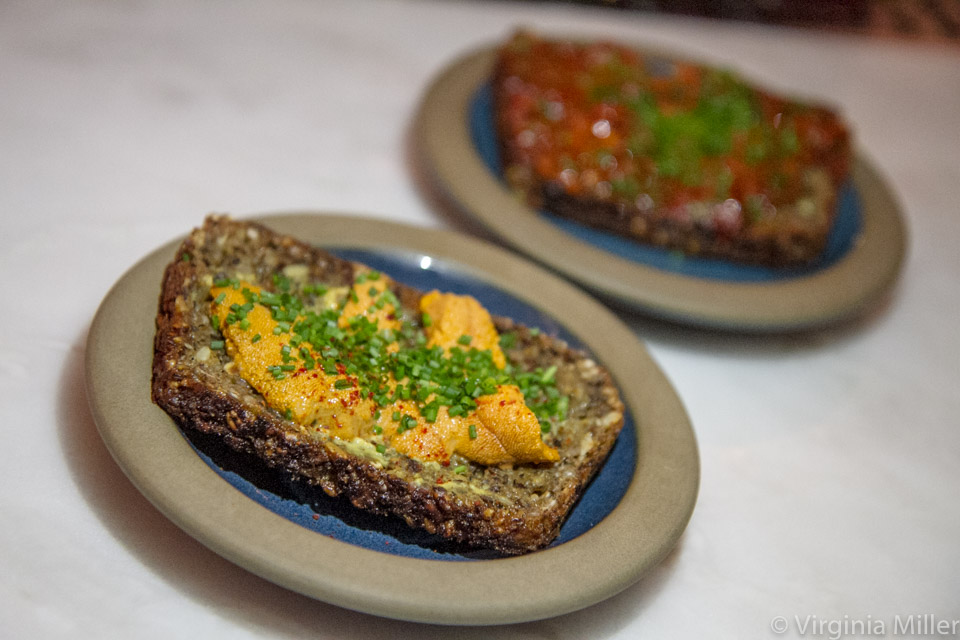 TARTINE MANUFACTORY, Mission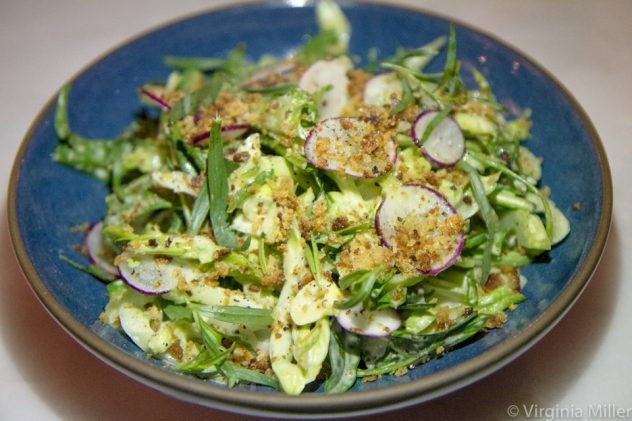 Husband-and-wife team Chad Robertson and Elisabeth Prueitt changed the baking world (and inspired countless knock-offs of their morning buns and other bread/pastry greats) when they opened Tartine Bakery in 2002. Tartine's infamous lines showed up immediately at the long-awaited Tartine Manufactory when it opened in August 2016.
THE WHY: In a 5,000-square-foot Mission space with a view into the neighboring Heath Ceramics studio, loaves of bread are turned out of massive ovens all day, filling the space with comforting aromas. The pastry room sports windows to watch the baking, there is a coffee bar with Tartine's own beans (a first) and their buffalo milk ice cream bar (using Double 8 Dairy's water buffalo milk) is a gelato/ice cream lovers' dream, with changing flavors like one made with Tartine bread. There is also breakfast, lunch, dinner and a low proof cocktail, wine and beer bar — in other words, something for everyone — with a host to guide you to the appropriate counters for take-out or a table if you are dining in.
EAT THIS: I'm delighted to say that savory chef Sam Goinsalvos (formerly of Il Buco in NYC) makes the Manufactory a draw for the food beyond the pastries and bread. Of course, the breads are utilized in dishes, like those excellent smørrebrød ("bread and butter" or open-faced, Danish sandwiches). One is layered with 'nduja and chive ($7), another with sea urchin and mustard ($14) or my favorite: dungeness crab salad ($16).
Small plate highlights include juicy lamb ribs ($18) with crispy skin, dipped in a yogurt laden with dukkah spices. Then there are delicately fried artichokes ($10) in lemon and olive oil that reach the level of artichoke worship one experiences in Italy (or NorCal farms). Skillet-roasted chicken ($32) in sherry vinegar with leeks and hazelnuts may not sound thrilling but the dish exudes impeccable comfort.
Save room for that lush ice cream or take some to go in pint or ice cream pie ($10 small, $18 large) form. One night we finished dinner with their Tahitian vanilla ice cream, luxuriously decadent in seasonal Alba truffles, olive oil and salt. Initial standouts of the changing flavors include key lime pie, matcha and peppermint patty.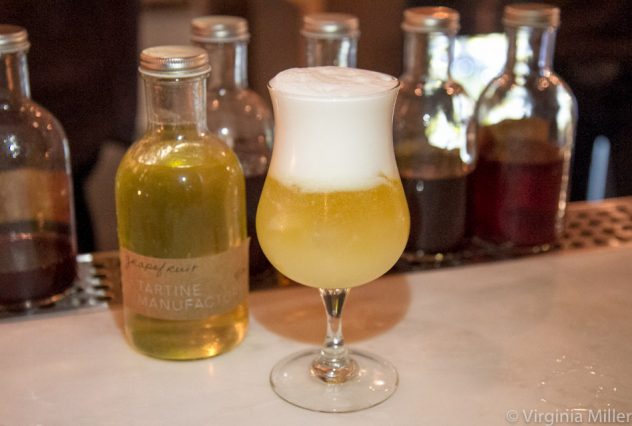 DRINK THIS: Ashley Miller (formerly of Daniel Patterson's restaurant group and Coqueta) is killing it with a low proof cocktail program and drinks in general, from a stellar draft birch sarsaparilla beer fermented in-house to vibrant house shrubs, bottled and utilizing seasonal and unusual ingredients. Beer plays in some cocktails, as with the utterly drinkable, frothy Sour Hops ($8 — lager beer, dry vermouth, lemon, egg white, grapefruit shrub), while other notable shrubs, like a Concord grape version, is showcased in the Purple Fizz ($12) with Tempus Fugit Quinquina, lemon, egg white and a blend of Dolin Dry vermouth and Bonal. Miller's fantastic root beer shrub enlivens Lower Manhattan ($12), a twist on a classic Manhattan, featuring Lo Fi Amaro, bitters and sweet vermouth.
The wine and beer list from Vinny Eng (formerly at Bar Tartine) features numerous female winemakers and delightful rarities from Europe to the US, like the saline yet honeyed notes of a 2014 Marie Thibault Chenin Blanc Premier Nez from France ($55 per bottle), or earthy, herbaceous notes of a 2012 White Rock Vineyards' Syrah, a small, higher elevation, family-run Napa winery ($15 per glass/$65 per bottle).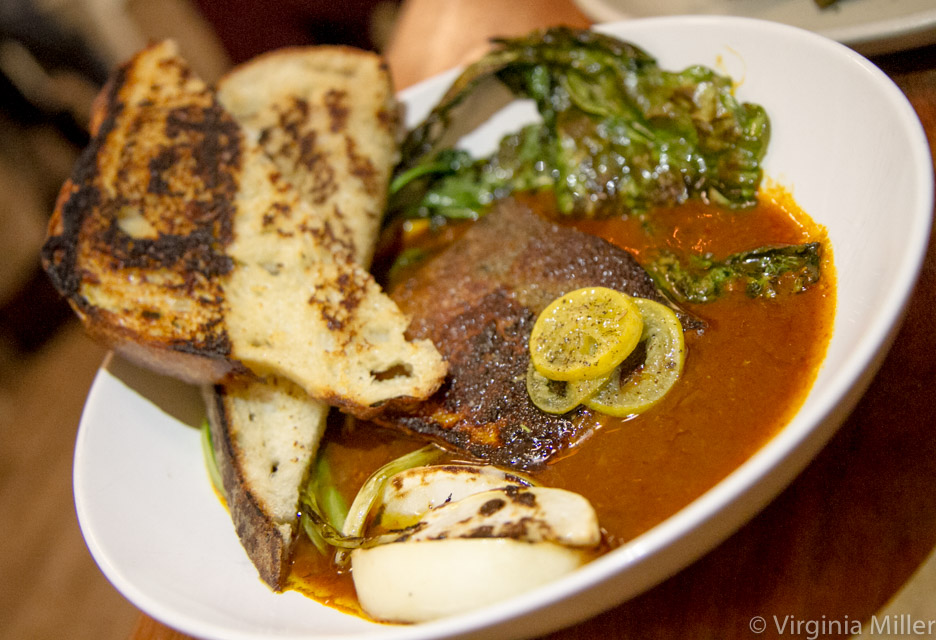 MARLA BAKERY, Outer Richmond
Covering Outer Richmond's cozy neighborhood gem, Marla Bakery, since it opened in 2014, I've visited a few times for dinner with a couple chef-changeovers since, appreciating their house bagels and pastries as well as sherry pours with quality, rustic dinners. Towards the end of 2016, Marla brought the dinner menu back under the care of baker Amy Brown (the other half of the husband-wife owner duo alongside husband Joe Wolf).
THE WHY: The menu remains comforting, seasonal and straightforward yet not lacking in gourmet touches, still a boon for this neighborhood. Portions are generous so I leave full (or with leftovers).
EAT THIS: With the menu changing at least weekly, winter sings in a winter wedge salad ($11) of griddled chicories, pomegranate seeds, toasted walnuts, spiced yogurt (spiced with cumin, coriander, etc.) and a house vinaigrette. A pan-seared trout ($26) comforts in gently-spiced harissa broth, dotted with confit sudachi limes, Tokyo turnips and greens, sopped up with grilled bread. A blessedly not sweet farmers cheesecake ($9) accented with Meyer lemon makes a fine finish.
DRINK THIS: Besides the aforementioned sherries and simple but gratifying aperitif cocktails like The Basque Separatist ($9), a blend of fino sherry and Atxa Bianco vermouth, there are a short but thoughtful few wines by the glass and bottle. On the pricey side but ideal for the wine fanatic, they feature different wineries and regions. Recently they offered wines from the St. Joseph region of France's Rhône: a rare white 2012 Pierre Gonan "Les Oliviers" Marsanne-Rousanne ($24 per glass/$90 per bottle), or a red I've loved for awhile, 2013 Francois Villard "Poivre et Sol" Syrah ($16/66).
Save
Save
Save
Save