"What is BevCon?" The question came again and again, even from industry folk.
After awhile, I felt like was a spokesperson for the event, proselytizing to the unconverted. So what is BevCon™?
Held August 22-24, 2017, in the always delightful town of Charleston (in spite of the sweltering heat of August), BevCon is a beverage industry conference that just completed its second year.
I decided to gamble and attend this year largely based on first year attendees' feedback. The conference was described to me as:
"Tales [Tales of the Cocktail] 10 years ago."
"A grown-ups' drink industry event."
"Intimate and engaging."
It was all of the above. Where grand, multi-thousand attendee Tales (though I've been going since 2010 when it was much smaller) is about the cocktail and distilling industry, what I loved most about BevCon — besides the refreshingly smaller, industry-only size — was the mix of spirits/cocktails, wine and beer industry folk. Though spirits and cocktails are my main expertise on the drink side, I am immersed in daily tastings and write about it all so found the mix of bartenders, winemakers, brewers, sommeliers, distillers, buyers, distributors, importers and media, like myself, a refreshing combination. Each drink category has plenty to learn from and to gain by networking with each other.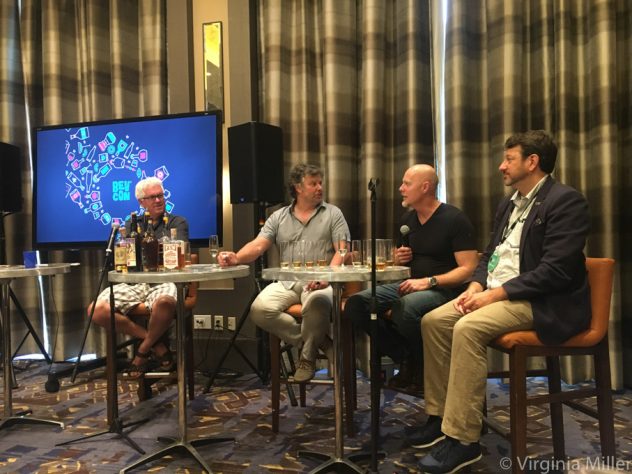 While all is not perfect in an event this young (or in any event, really), BevCon is well worth attending for the drink industry professional.
Here were just a few highlights of BevCon, year two:
Bar Pop-Ups — Bartenders and distillers from around the US popped up in some of Charleston's best bars and restaurants for nighttime crawls in concentrated areas. Being able to eat Lewis Barbecue's Texas brisket with shots of Detroit's Two James Spirits, for one, made for a good night. The pop-up winner in my book goes to Trick Dog/Bon Vivants' Scott Baird from my hometown, partnered with Green Briar Distillery (which produces Belle Meade Bourbon) at Bar Mash. Baird playfully mixed the bourbon in coconuts with Perfect Puree of Napa Valley coconut cream, creme de cacao, salt and lime, with Cheerwine, or he revived one his cocktail classics, the Spaghetti Western. In addition to the FUN, delicious cocktails, extra kudos for the "good time" yacht rock soundtrack and captain's hats.


Grand Tasting

— My one complaint was the time wasn't quite long enough to dig into all the spirits, beers and wines at "Small Batch, Large Time," the one real tasting event of the week. We sampled gorgeous wines as well as standout sour beers from New Belgium Brewery in Ft. Collins, plus rarities from Almanac Beer Co. in SF and Logsdon Farmhouse Ales in Hood River, OR. My favorite find was the line-up of Italian-style, made in Greenville, SC, liqueurs and amari, Vicario (as a spirits judge at Good Food Awards, we awarded their Dragoncello liqueur in our annual blind judging last year).
Seminars — While a couple seminars were a bit entry-level for pros (which was the majority of the crowd), most were fun and informative ("Trump's in the White House & We're Scoring Rum: Beverage Journalism in 2017," any seminar with the always sharply witty St. George Spirits' Lance Winters), important (the discussion on the burgeoning category of American Single Malt Whiskey) and helpful, digging into lesser explored categories (Sparklers on the Other Side of the Pond: A Blind Tasting of English sparkling wine; Sour Beer; or a spirits category I've been hailing for years: "Schnapps & Other Head-Scratching Spirits.") Speakers included pros in wine (winemakers/sommeliers like Rajat Parr and Patrick Cappiello) to beer (Lauren Woods Salazar of New Belgium Brewing).