Published by Where Traveler (my other Where articles here) in August 2019, my article on 6 San Francisco neighborhood gems, from modern Turkish/Middle Eastern or Indian food to classic French:
— Noosh (Mediterranean/Middle Eastern/Turkish)
— Cassava (New American)
— Besharam (Modern Indian)
— Presidio Social Club (American/Comfort Food)
— Cafe Boho (French/European Bistro)
— Cafe de la Presse (French Steakhouse)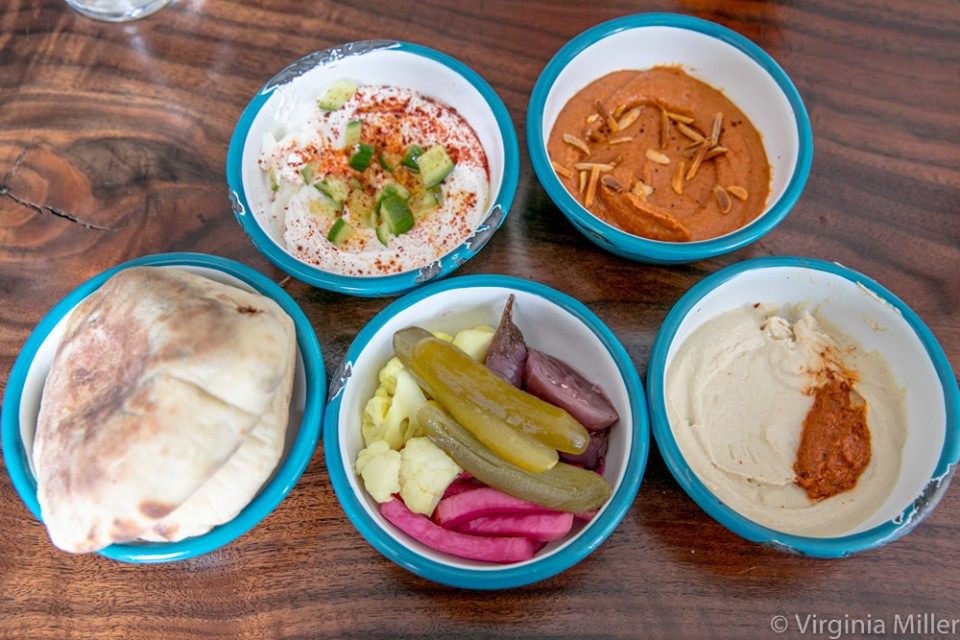 From a modern Middle Eastern escape to old school French, inspired Indian in an art gallery to retro American comfort and barbecue, these 6 restaurants are true neighborhood gems.
Since Noosh opened in March on Fillmore (our review here), chefs Laura & Sayat Ozyilmaz' modern Middle Eastern food is better than ever — and reasonably priced with most dishes ranging $6-14. Look for a heavy dose of Turkey with Israel, Greece and Armenian influence in delights like kale mushroom pide (a boat-shaped flatbread) dotted with feta and aijika (a Georgian hot red pepper, garlic & herbs spread) and new items like Istanbul wet burgers (if you're from Istanbul, you know). Andrew Meltzer's wine list shines, with specials like their summer-long extensive list of Georgian wines, but so do his cocktails and zero proof cocktails like Cherry Leaf Sour with its tart cherry kick.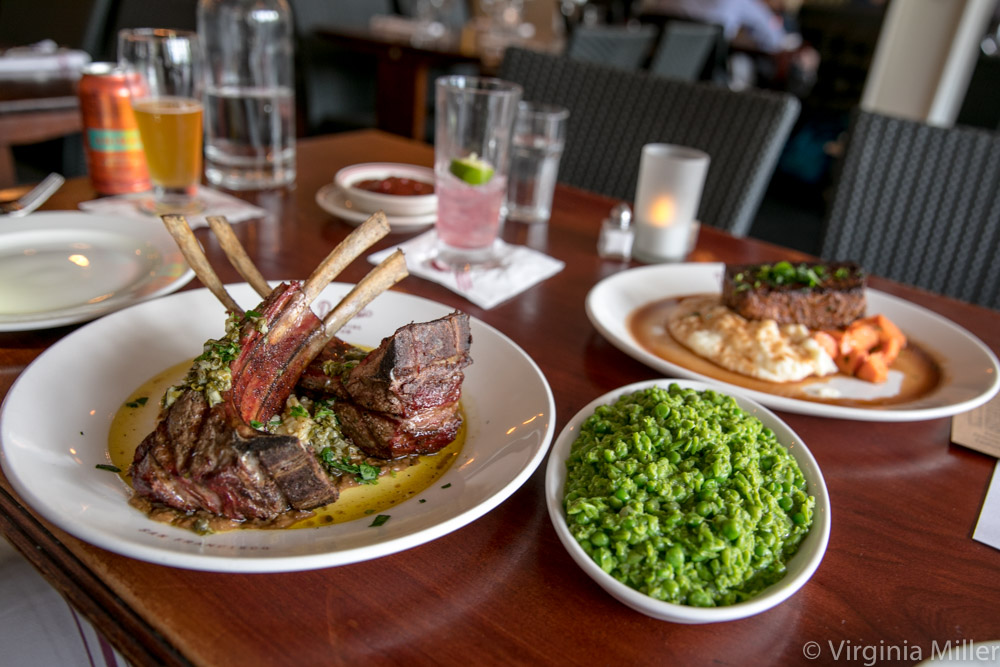 Neighborhood Treasure & Tasting Menu Steal: Cassava
Cassava — one of our great neighborhood treasures since 2012 — is also a tasting menu steal of $48 for four generously-portioned courses. Husband-wife owners, Kris Toliao (chef) and Yuka Ioroi (GM), ensure a warm welcome, Toliao's inspired dishes (and fine dining pedigree) and Ioroi's smart sake, wine, beer and low-proof cocktail pairings. Recent seasonal joys included a summery heirloom tomato-white peach salad creamy with buttermilk dressing and savory with mullet bottarga and fried garlic chips, or lush Florida little neck clams and braised pork jowl in a bright Early Girl tomato stew.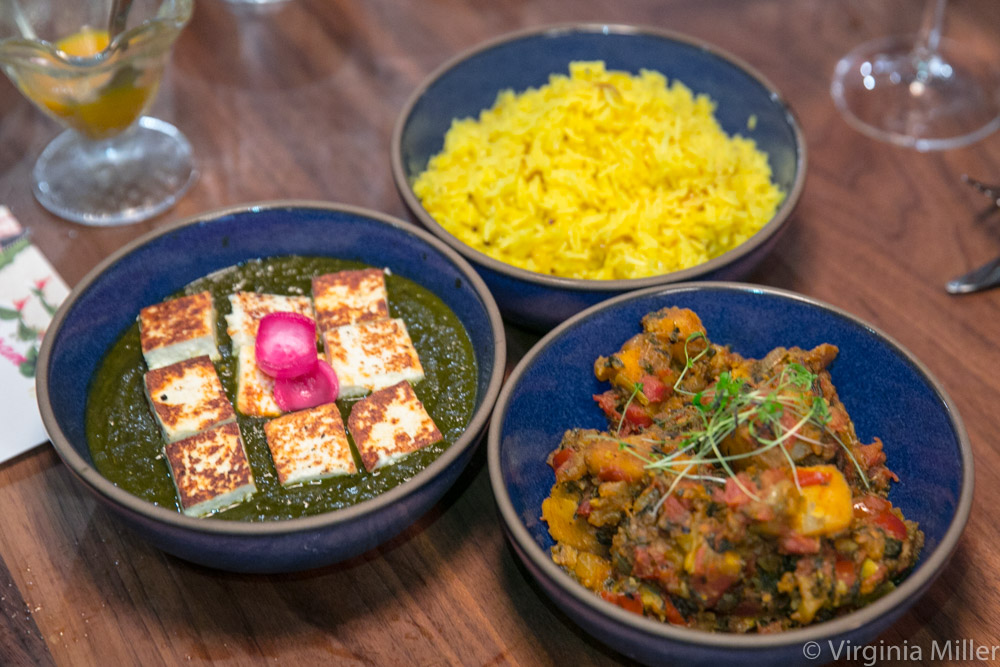 Modern Indian Comfort Food: Besharam
The gracious chef Heena Patel recently full took the reigns at Besharam, her restaurant originally opened with Daniel Patterson in the Minnesota Street Project art gallery building. This July, the restaurant reopened solely as her vision, retaining its lively plateware and mural from artist Maria Qamar. Patel's family roots from Gujarat, India, are infused with her sense of play in vibrant dishes like kachori dhokli (spring pea ginger dumplings in dal broth) or drunken pani puri: semolina puffs filled with curried peas, lemon tamarind water, mint and a splash of gin.
"Secret" Barbecue Menu: Presidio Social Club
A 1903 military barracks converted to breezy retro restaurant, Presidio Social Club has been an SF institution since 2006, opened by chef Ray Tang. Their meatloaf remains one of the best in town and their gourmet comfort food a welcome staple in the lush woods of the Presidio. But executive chef Wesley Shaw's Texas Hill Country roots have led to daily smoked barbecue specials worth going out for on their own. The meat on offer always changes, ranging from traditional Southern 'que (pulled pork to brisket) to international (smoked lamb chops to barbacoa). Expect meaty, smoky goodness.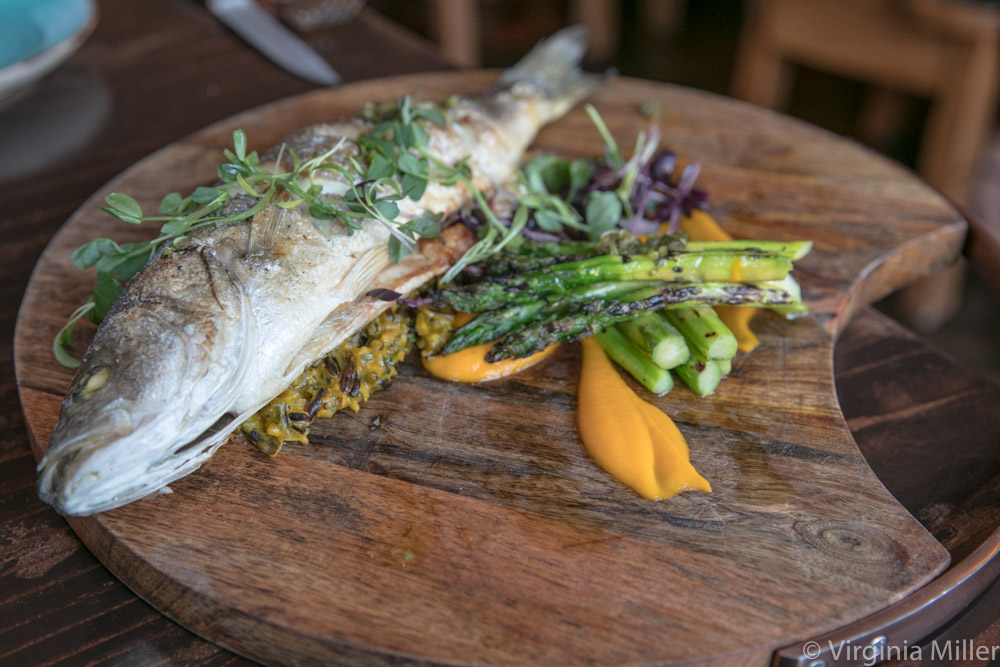 Eastern European/French neighborhood vibes: Cafe Boho
Open mid-2018, Cafe Boho exudes a strong Eastern European bistro feel in the Marina with whispers of France and Czech bohemia. Eileen Filmus and chef Andrei Bushuev welcome with "Charcuterie of the Sea" offerings like tuna "pastrami" or salmon rillette. Classics like duck liver mousse toast get a twist in accents of pickled Asian pear and pea shoots, while a French-style gnocchi is comfortingly rich with English peas, fava beans, pesto, pea shoots and a poached egg.
Unexpected French Steakhouse: Cafe de la Presse 
Café de la Presse's bistro and brasserie vibes have stood at the touristy gateway to Chinatown since 2005. Laurent Manrique, Jean Claude Persais and Steve Mayer's old world restaurant (fronted by their cafe where you can linger of European newspapers and periodicals) has evolved in recent years with a few surprises for locals. Dogpatch's quality French butcher, Olivier's Butchery, supplies all their meats for their French steakhouse menu that goes beyond steak frites with the likes of a heartwarming bouef bourguignon pot pie (red wine beef stew) or rib-eye in horseradish sauce with a side of creamed spinach. There's also a classic salade frisee aux lardons and a mostly organic, biodynamic, sustainable list of mostly California wines.