"The mind, once stretched by a new idea, never returns to its original dimensions." — Ralph Waldo Emerson
"Each that we lose takes part of us;
A crescent still abides,
Which like the moon, some turbid night,
Is summoned by the tides."
— Emily Dickinson
I hope you are holding on in these brutal times, dear friends. I know it's one day at a time and fighting for Congress to pass the Restaurant Stabilization Act  (contact your local reps here before they go on recess August 7th) is one of our last hopes for millions of our jobs, restaurants, bars and a big majority of jobs to survive.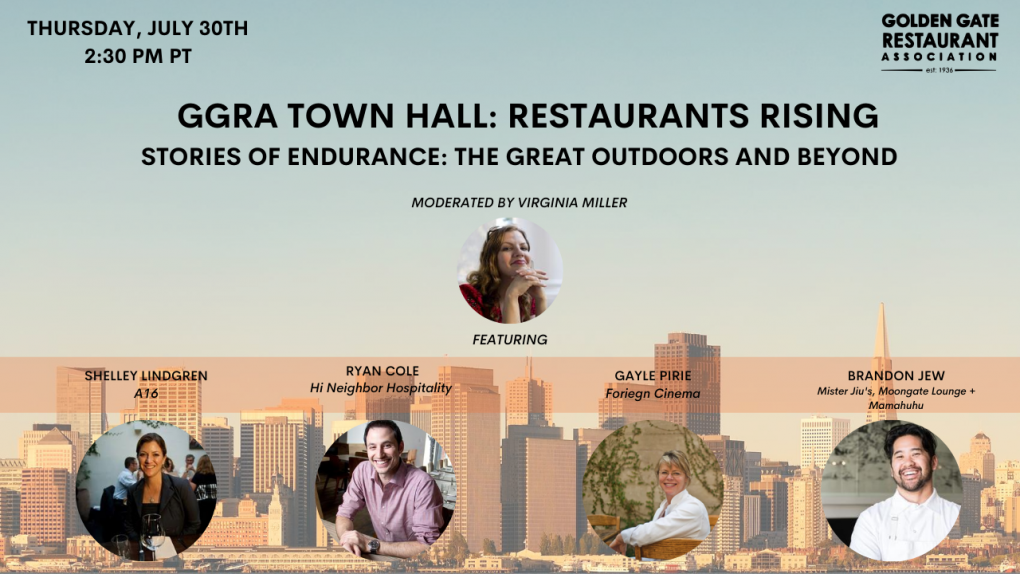 I continue the multi-weekly virtual industry panels, webinars and tastings. I am posting about all on Twitter, Facebook or Instagram @ThePerfectSpot.
Tomorrow, on our latest Golden Gate Restaurant Association (GGRA) Town Hall "Restaurants Rising" webinar at 2:30pm PST, I'll be in conversation with a national panel of food media from NYTimes to Eater (watch here), while this week's webinar I had a rousing discussion with Shelley Lindgren of A16 Restaurants; Ryan Cole of The Vault Garden/Hi Neighbor Hospitality Group; Brandon Jew of Mister Jiu's; Gayle Pirie of Foreign Cinema (watch here).
Our GGRA webinars so far with a range of chefs (fast casual to Michelin-starred), sommeliers, bartenders and food/drink industry on the navigating our post-pandemic reality, challenges, strategies and creative collaborations. Watch past episodes (beginning of May 2020) here: www.gotostage.com/channel/11d014b35f9b4e85bb9d8165e8f2109c.
THIS ISSUE:
Top Tastes — Spacious Outdoor Patios in San Francisco: Five standout restaurants doing right by outdoor dining, with longstanding patios and rooftops or new gardens, converted parking lots and beer gardens.
Top Tastes — July's 10 SF Bay Area Restaurants for Outdoor Dining, Takeout or Delivery: Covering a range of cuisines and fast casual to mid-range, as well as Oakland to Napa. Here you'll find my recommends for Jamaican, Vietnamese, Korean, Middle Eastern, New American and beyond.
As your personal concierge who tells it like a good friend would, I create personalized itineraries; provide food and drink consulting for restaurants and bars; and classes at companies for the layperson wanting to dig deeper in food and drink (more info at virginia-miller.com).
Virginia