My dining column at print and online magazine, Bob Cut — column details and my philosophy here; last month's column here — covers standout newcomers and longtimers we want to keep supporting. During pandemic, I'm covering outdoor dining, takeout and delivery restaurants, all of which I've vetted, visited or ordered from, choosing the standouts: www.bobcutmag.com/stories/2020/12/30/decembers-best-bay-area-restaurants-to-order-takeout-from
With the latest SF shutdown, our beloved dining and drink small businesses are in dire situations, especially with the lack of local and national government aid, unemployment running out for the thousands unemployed again, etc. So my dining column gives you monthly greats in takeout and delivery to help support (please pick up, if you can!), with outdoor dining (hopefully) returning January 4th.
Please join me in helping to keep our best alive, celebrating what has long been one of the world's best dining cities and regions, in danger of losing what has long made us great without local and national government aid. As always, I have vetted, visited and/or ordered from each place personally: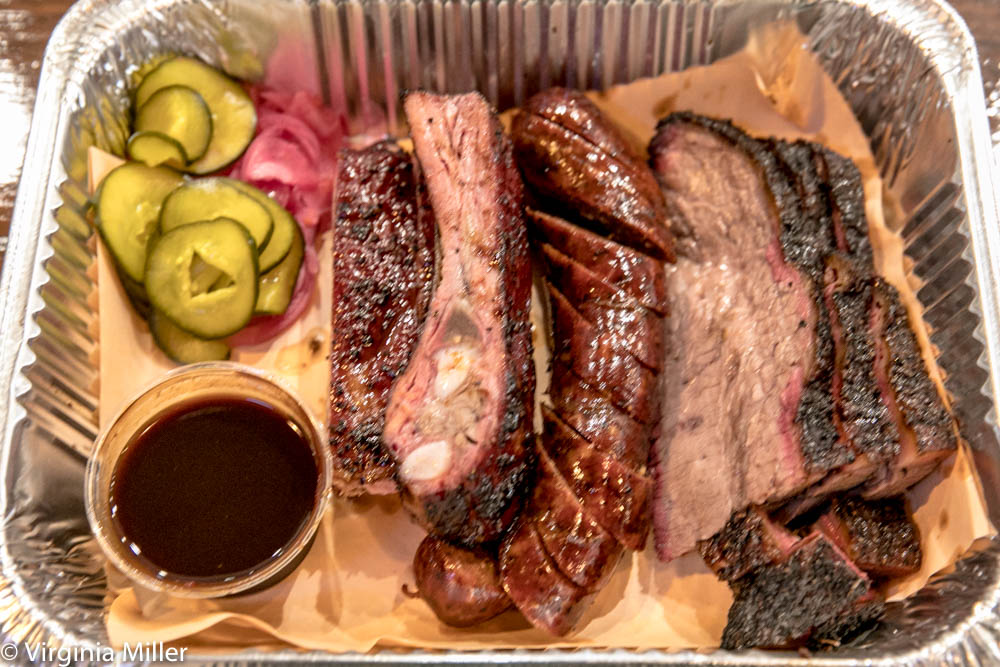 NEWCOMERS
Real Deal Barbecue: Horn Barbecue, Oakland
"Real deal" Southern or Texas barbecue is rarely found outside the South, as my numerous BBQ road trips in those regions —plus visiting all the Bay Area 'que spots— has confirmed. Enter Horn Barbecue. Pitmaster and chef-owner Matt Horn drew the kind of lines at his pop-ups that are typical in the biggest Southern BBQ joints. Barbecue lovers immediately knew this what we had been missing. Pandemic has put up lots of hurdles as he opened his first brick-and-mortar in West Oakland late July, only to have to start-and-stop with outdoor dining at their roomy picnic tables. The lines immediately came, as did the perfect brisket, links, ribs and sides. There is curbside pick-up and this Hill Country/Central Texas-influenced BBQ will create cravings you can only assuage by returning again. // 2534 Mandela Parkway, Oakland; www.hornbarbecue.com
Latin Caribbean Cheer: Chao Pescao!, Civic Center
Rene Denis (owner of longtime Soluna Cafe & Lounge) just opened Chao Pescao! Latin Caribbean Kitchen in December, a sunny Civic Center space focused on Denis' Cuban-Colombian heritage. He has been donating meals to front-line workers and kept most of his kitchen staff employed — and some front of the house — to launch this new concept in delivery/takeout mode with generous entrees $20 or less. The winning empanadas are Colombian-style, made from masa dough (I especially love the pork version), while Colombian pan de bono are subtle, comforting tapioca rolls. Cuban classics like ropa vieja (shredded flank steak, green olives, red bell peppers, tomatos, bacon) are on point, as is a not-too-sweet dessert of flan de coco (coconut flan) in mango coulis. Order their robust Daiquiri cocktail featuring Guyanase El Dorado 12 year rum, its molasses-distilled lushness enhanced by demerara sugar and, of course, lime. // 272 McAllister St., www.chaopescaosf.com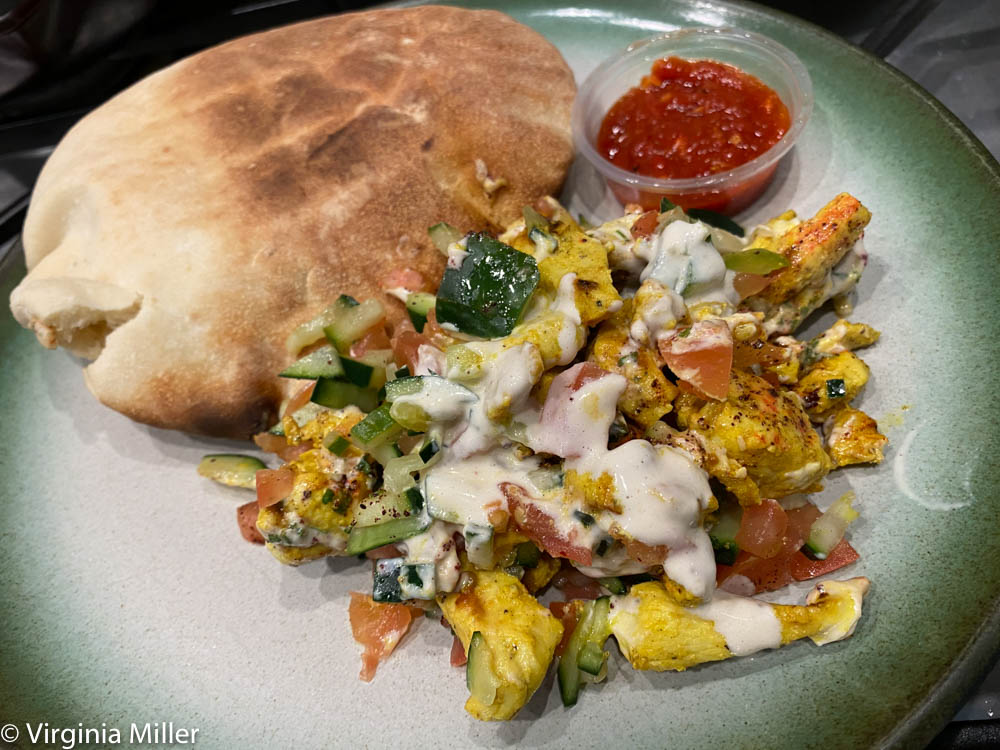 Middle Eastern Comfort: Abu Salim Middle Eastern Grill, Haight Ashbury
Saddened to hear of the fire this summer at Mission classic, Old Jerusalem Restaurant, I was delighted to gain the new Abu Salim Middle Eastern Grill in Upper Haight. Opened late October and run by the same gracious father-son duo, Ahmad and Salim Nasser, Middle Eastern standards are here but it's the off-the-beaten path dishes worth coming for. This includes musakhan sumac chicken (shredded and oh-so-good in wrap form), mosbaha (hummus with garlic, lemon, whole chickpeas), Ramallah-style falafel and… wait for it… loaded shawarma fries. // 1599 Haight St.
Uzbek Cuisine: Halal Dastarkhan, TenderNob 
In a city where rare cuisines like Burmese thrive (for decades), Uzbek cuisine is one you don't see in most U.S. cities. The central Asian country takes influence from the Middle East to Russia, as it was part of the Soviet Union. Ismoil Ochilov — from Bukara in central Uzbekistan — opened Halal Dastarkhan late July/early August in the former Yemeni Restaurant. Turloc for "great spread," Dastarkhan is true to its name with a range of foods, including a borsch soup that comforts on a chilly night, ideally paired with their kulcha flatbread with white and black sesame seeds. Plov (aka "sofi osh") is the dish to get schooled on Uzbek food, a hearty rice entree laden with lamb, beef, carrots, onions, raisins, chickpeas, garlic and spices like cumin. // 1098 Sutter St., https://halaldastarkhan.com
Burmese & Hemp: Herbal, Tenderloin
Oakland Burmese cult-favorite Grocery Cafe closed in Jack London Square late February due to a massive rent increase. Now SF's Tenderloin has gained owner William Lue's latest, Herbal, back in a space he had previously run as a supper club. Available for delivery via DoorDash, Lue's large portions and common use of hemp in numerous dishes, sets him apart from the rich wealth of family-run Burmese restaurants SF has excelled in since the 1980s. Indian influence appears in dishes like lamb shank, and though his gratifying tea leaf salad is not as delicate as some in town, it intrigues with hemp leaves. Highlights are a hearty mango chutney pork stew featuring tender, fall-apart pork, and his utterly comforting chicken potato masala curry. // 448 Larkin Street, www.herbalrestaurant.com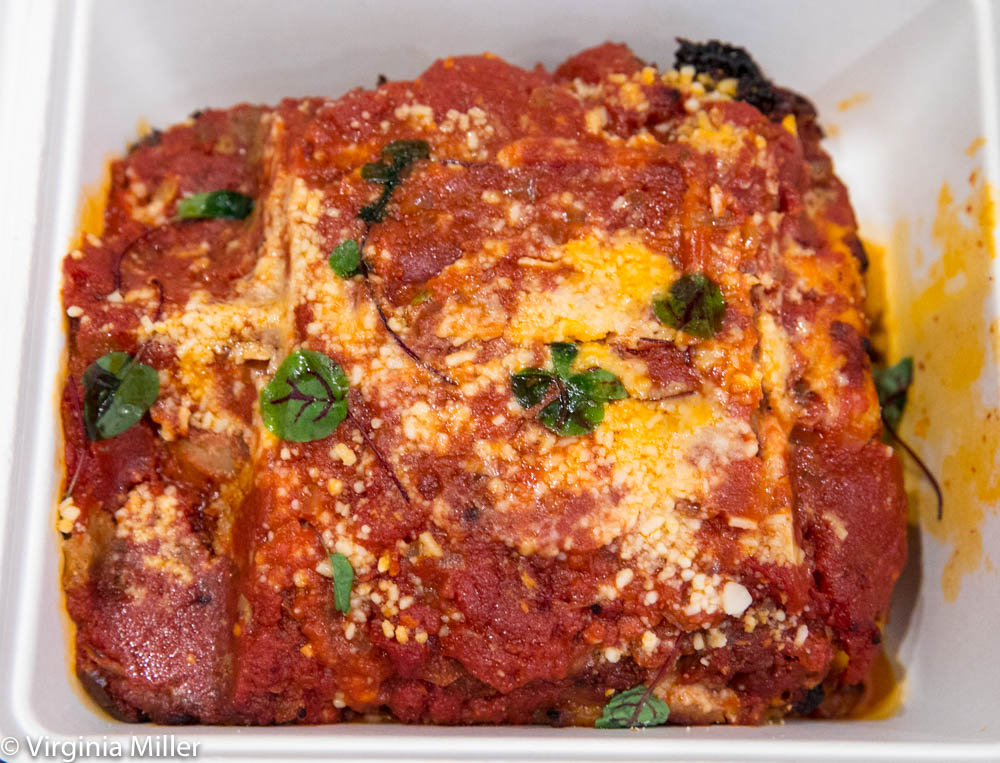 Vegan Italian: Baia, Hayes Valley
We aren't going to get over missing Traci des Jardins' iconic Jardinière and its 1930s-esque supperclub bar. But I guess better that those who took over the space bring in something completely different. LA's Matthew Kenney of Matthew Kenney Cuisine opened a vegan Italian restaurant, Baia, in keeping with his pioneering raw and vegan restaurants and plant based education. They also launched a vegan sushi pop-up, Woodblock, from the same space doing delivery/takeout, which is artful and solid vegan sushi, but does fall apart (and it's impossible to replicate the silky nuance of fish). Baia fares better as Kenney has perfected his vegan cheeses and sauces over the years. Though still no replacement for real cheese, his pastas — especially a hefty lasagne or "meatballs" — exude red sauce comfort and authentic Italian flavor profiles, a win for vegans and anyone wanting quality vegetarian Italian food. // 300 Grove Street, www.baiasf.com
LONGTIME FAVORITES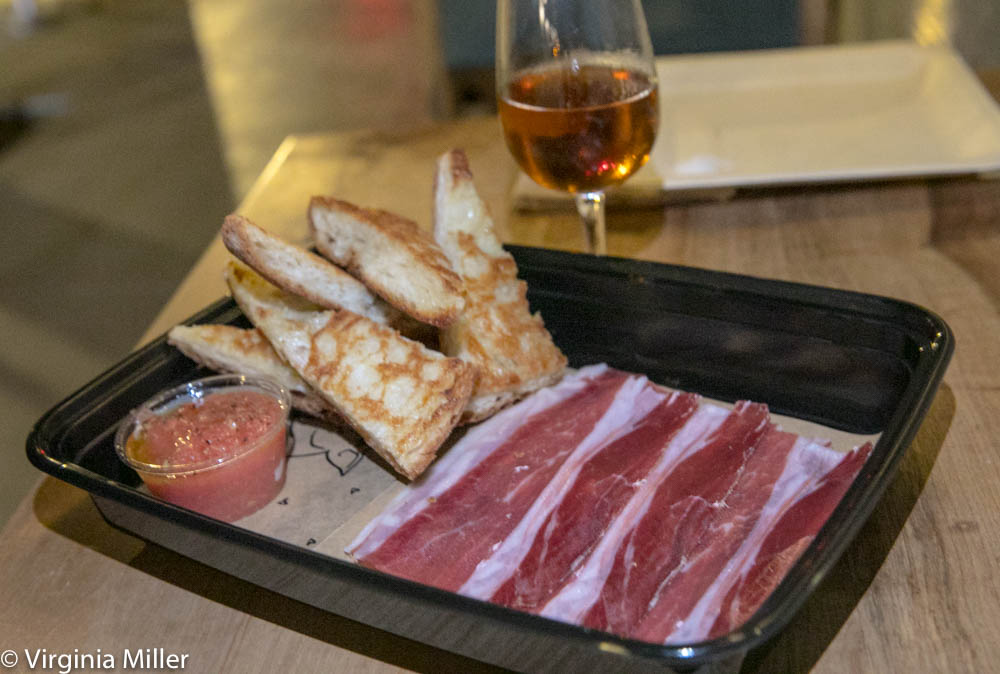 Escape to Spain: Bellota, SoMa 
The Absinthe Group's Bellota only lived a few short weeks with outdoor dining before being shut down again, but as one on a short list of "real deal," trip-to-Spain menus in town, it's well worth ordering takeout/delivery. You can go with paella (sized reasonably for two) or txakoli wine kits (pronounced chah-kuh-lee), to try the Basque region's slightly sparkling dry white wine. One kit even includes a porrón, or traditional txakoli glass wine pitcher. But blessedly, the whole run is here to-go: tapas, bocadillos (sandwiches), bite-sized pintxos, sherry, Spanish wines and sidras (cider). Until we can travel to Spain, this is the next best thing. // 888 Brannan St. #110, https://bellotasf.com 
Japanese-Influenced Surf & Turf: Roka Akor, Financial District
Yes, there are six locations nationally, but mini-chain aspect aside, Roka Akor has had a strong local team since opening in SF in 2013 with their robust "surf and turf" menu of sushi and robata grill, steak and fish, and striking subterranean basement bar. That's all closed right now, but takeout/delivery lives on, in addition to splurge-worthy celebration menus like their A5 Japanese Wagyu Meal, ideal for the holidays. Decadent entrees like 10 oz. of Alaskan king crab legs in lush chili lime butter or silky yuzu miso-marinated black cod wrapped in a Japanese magnolia leaf are achievable extravagances at home. // 801 Montgomery St., www.rokaakor.com/san-francisco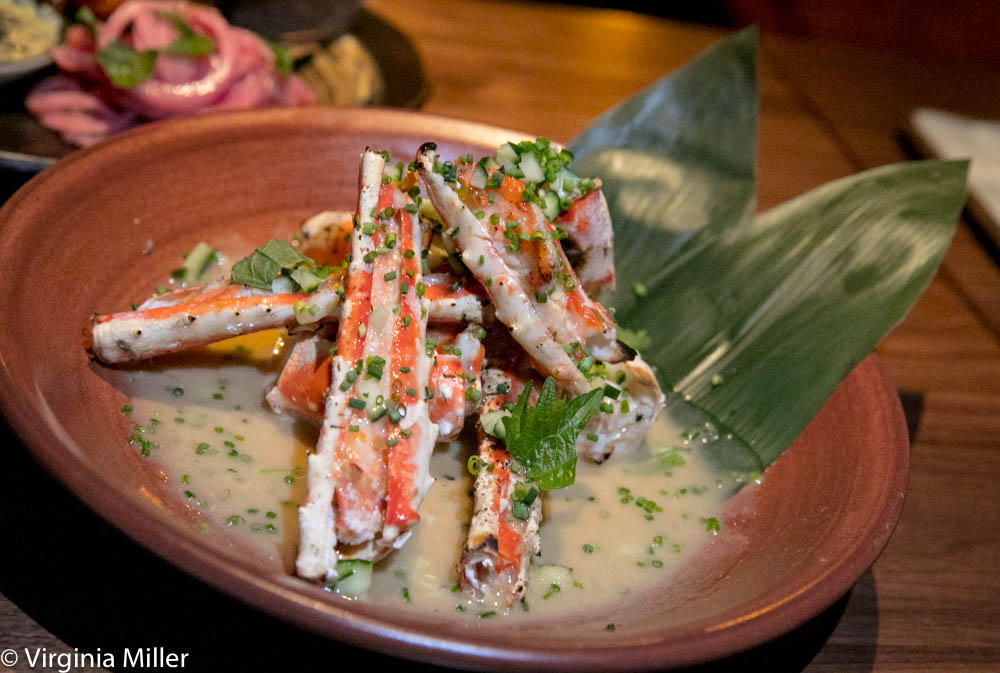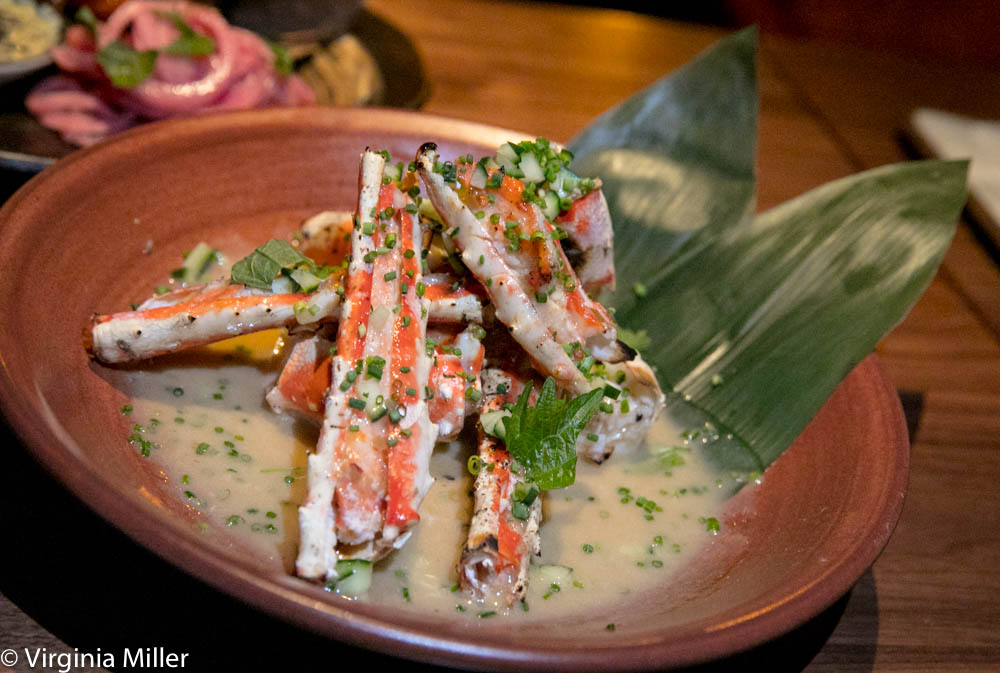 Neighborhood Eats & Cocktails: Horsefeather, NoPa/Western Addition
Horsefeather's cozy atrium was ideal for outdoor dining (with covering) in addition to their expansive Divisadero parklet. Takeout continues through Toast, while we look forward to returning to the retro-chic blues and woods of the space from Justin Lew and Ian Scalzo. The favorites are still here, from their unique poke bowl to duck fat fries. They also have chicken katsu sandos, Moroccan spiced carrots and pierogies filled with green apple kapusta, creamy potato and triple cream brie cheese. Given Lew and Scalzo's cocktail roots and GM Dzu Nguyen's skills, drinks are ever a standout here, ideal to take home, whether their signature California Cooler (Spring 44 gin, thyme sauvignon blanc syrup, celery juice, fresh lime, sparkling cremant wine) or complex-but-crushable joys like Sunset Overdrive (vodka, Lillet, melon cordial, pine tip tea, Nocino green walnut liqueur, aquavit, lemon). // 528 Divisadero St., www.horsefeatherbar.com

Brewpub Fun: Magnolia Haight, Haight Ashbury
It was hard to see Magnolia Brewing and its accompanying brewpubs/restaurants move from the hands of pioneering Dave McLean to Colorado-based New Belgium Brewing Company and Belgian Oud Beersel in 2018. But with a number of revamps the last couple years, the owners have kept the Magnolia legacy alive (along with that pitch-perfect Kolsch), while lightening up the historic Haight-Ashbury original brewpub space. Roque Mendoza's food comfort at home, paired with a crowler, growler or 6-pack of the beers (try the bright Cucumber Squeeze eclectic IPA, Rice Krispy Kolsch or balanced Cloud Cover IPA). A winter's night calls for Mendoza's grilled fontina/white cheddar cheese sandwich dipped in tomato bisque, while those Devils on Horseback (goat-cheese-stuffed dates wrapped in bacon) could be a savory-sweet dessert. // 1398 Haight St., magnoliabrewing.com/haight
BONUS LOCAL FOOD RECOMMENDS
— Gott's Sauces: Burger legend and Bay Area mini-chain Gott's Roadside just launched jarred sauces made in their historic, OG Saint Helena (Napa) location, fresh and ready to go on your sandwiches, salads, veggie dips, etc. Their ranch dressing is killer, as is their peanut lime vinaigrette. But try the "secret sauce" if you love Russian, Crab Louie or Thousand Island dressings (or In 'n Out's sauce).
— Fort Point Direct: Just in time for winter, local brewer Fort Point launched Fort Point Direct with one hour (or less) delivery in SF from their Presidio brewery, and next-day delivery anywhere in California. All their popular beers are here but keep an eye out for seasonal specials like Black is Beautiful Imperial Stout, benefitting local Bayview Hunters Point Foundation, an SF non-profit fighting for racial justice since 1971.
— Spice Tribe: Ethically-Sourced Spice Blends: SF chef Trent Blodgett founded Spice Tribe to create and offer ethically-sourced spices inspired off his global travels, admirably working directly with small farms around the world. You'll find spice blends from Morocco (Marrakesh Sitar) to Thailand (Long-Tail Sunset). For those who can handle intense heat, I like rare offerings like the Haitian Mama Manje blend of green bell pepper, onion, thyme, cinnamon, garlic, ginger, habanero and star anise.
*It is more crucial than ever to "save restaurants" by asking the government to pass the-still-stalled-in-the-White-House Restaurant Stabilization Act before we thousands more independent restaurants. You can help by signing this petition & ordering locally.