"Even without canals, Charleston is the Venice of America. It's an incredibly beautiful city on the sea, perfectly preserved, a living museum, but not at all Disneyfied like Colonial Williamsburg." – William Stadiem, "Everybody Eats There"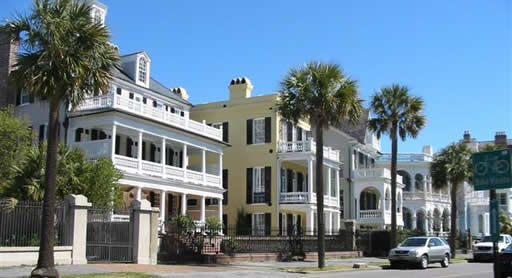 What a shock to come through the drab drive across South Carolina and Charleston's seedy outskirts to find a city so pristine, museum-like. It's small, walkable and Southern, with incredible architecture, seafood and balmy storms, Charleston envelops you in ethereal beauty.
So well-preserved you almost can't believe such a historical, colorful "city" (more like a village) exists in the US, it's by no means a relic, retaining a hip charm in its clean streets. The famed homes are stunning, and the harbor, a welcome outline for incoming boats. Wedged into alleys between sleek modern shops are cafes, unexpected gardens, overgrown graveyards. Palmetto trees add an exotic Southern island feel while the architecture ranges from New Orleans to colonial British. Pubs and seafood spots are plentiful. Mystique abounds.
The inequity of the rich, touristy vs. decrepit, poverty-stricken areas (both in Charleston and South Carolina, one of the poorest states in the US), is disturbing for any who venture beyond the tiny city center. But, again, unlike any other place in the US, the sheer, color-explosive beauty of Charleston enthralls…
(Stay tuned next month for Charleston bars and eats from surrounding islands).
CHARLESTON RESTAURANTS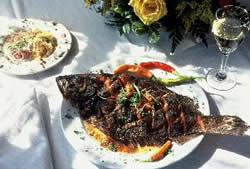 ANSON: Long known to be one of the best upscale Charleston restaurants, this elegant dining haven serves some of the Low Country's finest dishes with gourmet, delicate flair. One of Charleston's most renowned local dishes is She Crab Soup ($7), among my favorite foods of the South. A cross between a bisque and a chowder, it's made with Blue Crab… and the crème de la crème, Crab Roe (eggs), which dot the soup with brightly tantalizing orange. I had the soup in upscale restaurants like Anson as well as from shacks on nearby islands. Anson's version, laced with sherry, is superb. Other greats include Grilled Peaches ($11) with Benton's unparalleled Tennessee Ham, Spiced Pecans, Goat Cheese and Mosto Olive Oil (wow!) or addictively fine Shrimp & Country Ham Grits ($9), made from amazing house-ground hominy and sweet with Roasted Tomatoes. Entrees change seasonally, like Roasted Duck Breast ($22) with Duck Confit, Peaches and Blackberries or Seared Scallops ($25) in a Bacon-Brown Butter Sauce with Field Peas, Okra and Tomato.
COAST: It almost feels like a chain: cavernous, loud, but with a couple warm touches, escapes the TGI Friday's feel. It's like fabulously glorified bar eats – IF said bar was rich in shellfish and seafood. Since, to me, there is no meat better than crab (I also "heart" cream), the Coast Crab Dip ($8.95) got me all jazzed up. Once I downed Crispy Fried Lobster Tails (with Bacon Blue Cheese Slaw and Honey Mustard Sauce – yes!) and delicately prepared Halibut (check the chef's "fish of the day"), I was in a haze of contentment. The whole menu reads like one mouth-watering dream (Crab Stuffed Tilapia, Cashew Encrusted Grouper, Lobster Ceviche and Fried Green Tomatoes).
MAGNOLIA'S: A Charleston classic with famed chef and cookbook. I had to try their famous Fried Green Tomatoes ($8.95) with White Cheddar and Caramelized Onion Grits, Country Ham, Tomato Chutney – the best I've ever had! I wouldn't recommend it for more than lunch, though, as it's pricey for what you get, oddly 1980's and slightly stiff in spirit. But go for those FGTs! Brilliant.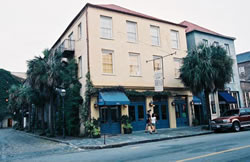 SLIGHTLY NORTH OF BROAD (lamely called SNOB): A charming environment for a Southern restaurant "empire" where I had only dessert – worth a stop if only for that Sour Cream Apple Pie ($6)!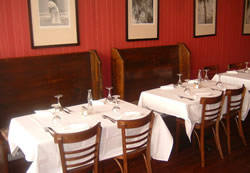 IL CORTILE del RE: A nice change of pace from the Southern food I love so… an authentic Italian trattoria, small, warm, with an artistic mix of staff and patrons creating the feel of being in an Italy with heartwarming classic dishes.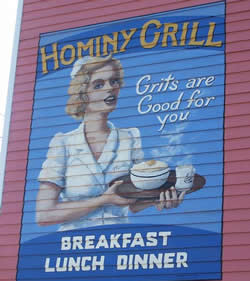 HOMINY GRILL: One of Charleston's most popular spots is this idyllic Low Country, neighborhood spot. You'll understand the hype after eating hearty Shrimp & Grits Casserole in the warmth of the country kitchen dining room or back patio. This is the kind of place that's gonna give you your biscuits, sausage, homefries, cornbread, fried chicken and, of course, hominy like mama made… but with gourmet flair (how about Grilled Soft Shell Crab with Baked Cheese Grits, Apricot Almond Slaw & Lemon Herb Butter?) In "Everybody Eats There", William Stadiem says: "Hominy Grill, with its glorification of the most traditional southern cooking with the finest, freshest, most artisanal southern ingredients, is the Chez Panisse of the Low Country… [it] looks straight out of Porgy and Bess."