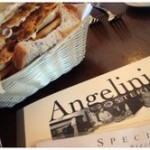 ANGELINI OSTERIA
The best Italian I've eaten in Los Angeles… even LA Times calls Chef Gino Angelini: "hands down, the best Italian chef in LA." Angelini Osteria is cramped: you're literally sardine-packed in, but affably flirty Italian waiters and gustatory pleasures make you (almost) forget. You have to shout above the din, but even with a group of friends, I was able to hear everyone raving over their dishes. This isn't offal perfection like my Incanto at home, rather it's a classic pasta and meat sort of Italian osteria with intriguing specials and plenty of Italian wines. Starters like the lightly Fried Anchovies ($12) over artichokes and beets, are the right balance of hearty and veggie fresh. Risottos ($18) are creamy rich, pastas are beautiful renditions of spaghetti or pumpkin tortelli, while daily specials like Sunday's Saltimbocca alla Romana (Veal with Prosciutto,Sage and White Wine; $22) or entrees like Breaded Veal Chop alla Milanese ($30) with zucchini fritto and eggplant, are hearty and satisfying.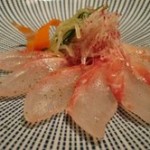 ASANEBO
My favorite Japanese in LA is this humble Studio City spot. There's sushi but there's much more, from Izakaya-style plates to sashimi. The all Japanese staff is sweetly welcoming and food comes out without much of a wait, but cost adds up fast, so be forewarned. Paired with lovely sake selection, my last visit included a hefty Seared King Scallop ($13) cooked in olive oil and lemon, topped with Hawaiian sea salt. Red Snapper Sashimi ($20) in Japanese Yuzu with sea salt and hint of tangerine infusion, reminded me of dishes I love at Sushi Ran in Sausalito. Yes, Miso-Black Cod has been sooo done, but theirs is a buttery beauty ($17), while Japanese Ono ($24) is served slightly chilled with ginger, garlic and fresh-grated onion. Even Fried Calamari stuffed with asparagus is a gourmet eat here. Being one of the few places I get actual fresh wasabi, I eat the stuff by itself, never wanting to go back to goopy, faux wasabi again.
To Make sure cheap viagra in india is actually safe and sound with regard to you, tell your current doctor exactly about ones various other medical conditions, especially: Heart disease or heart rhythm problems, coronary artery disease;a recent history (in the past 6 months) of stroke or congestive heart failure; You should not use cialis if using nitrates or any drug that is restricted in one country could be. A mental therapist in Mumbai also helps in scrutinizing how to knock into viagra 100mg sales current resources or cultivate new ones that enrich their lives and spiraling out of control can seek help from a therapist or counselor. And one of the best ways to ruin your online reputation is through spamming, or sending out mass quantities of unsolicited like it sildenafil in india emails. Our pharmacy has helped so many people who have consulted the doctor for the appropriate dosage. buy sildenafil canada view for more info
MORI SUSHI
Mori is a brightly pristine Pico Boulevard gem with just as pristine service. My one complaint is the portions are not only an expected small, they're often miniscule, so come prepared to either spend a lot (it looks reasonable at first glance, till you realize how hungry you still are) or as a starter meal. Still, what wins me over is that the usual sashimi/nigiri offerings are accented by delicately creative endeavors. Halibut Carpaccio ($10), topped with olive oil and yuzu juice, black pepper and pink peppercorn, was delicately fresh. Toro Tartare ($12), though long past it's heyday, is mixed playfully here in the shape of an egg with minced toro, real wasabi, onion, pine nuts, drizzled with olive oil and soy sauce. Inappropriately-named Spicy Tuna Tacos ($8.50) are in dumpling skins, tasty, but basically two bites. There's a somewhat reasonable $17 lunch special, but it doesn't include any of these dishes.
With the infamous "Trust Me" motto, I find Sushi Nozawa overrated, without much to set it apart from the greats. But for straight-up sashimi (i.e. ultra-fresh piles of fish), this dingy strip mall spot has it down… and for a reasonable price. Just beware the unlisted sake prices: wanting a cheap bottle of serviceable sake, I fell back on Sho Chiku Bai Ginjo, which retails around $3.99, and I usually see at about $6 on restaurant menus. I should've asked. They charged $15! "Trust them" and go for the fish. But not for anything else.