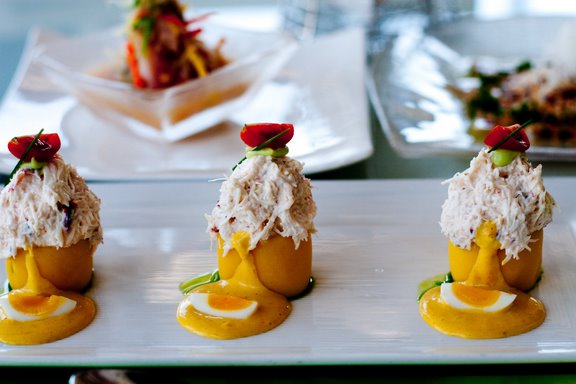 Top Tastes is my usual run-down of tastes over the past two weeks, (scarily) revealing just how much I eat. Rather than being a list of all-time favorites (another thing altogether), it's highlights since my last newsletter, often from new openings. Many don't make the cut, either a revisit or simply just not as stand-out as the dishes mentioned.
I'm head-over-heels for Jannah, with so many "top tastes" there in the short week it's been open – going back for more and will share soon.
Enjoyed an opening party at Five in Berkeley's Hotel Shattuck (striking historic space with Corinthian columns, giant windows and chandeliers, redone in black & white with hints of red), but was only able to try a couple bites (hooray, truffled egg salad!) Looking forward to getting more acquainted with the Scott Howard menu.
I hit the new Moroccan spot, Aicha, spent a late night at Home of Chicken and Waffles in Oakland (can't wait for Gussie's to open here in SF!), yet another lunch at Schmidt's (opening all day starting this week, from 11a-11p, Tue-Sun), dug the gorgeous space, if not subpar food at Horatius (but nice stop for Ritual Coffee and Sweetie Cups cupcakes), had decent pastries and caramels at Sweet (tasty but WAY too hard caramels), and umpteenth visits back to Tartine, Pirate Cat, Dosa on Fillmore, La Mar Cebicheria, Spicy Bite, Bittersweet, and Saturday mornings with Juicy Lucy's and El Buen Comer at my 'hood's (Noe) Farmers Market.
SAVORY – VEGETARIAN
• A meal at the house remains among my favorite possible meals in the city. Seafood and Asian fusion reach their pinnacle in this tiny restaurant whose daily specials are often as memorable as their standards. Any meal here should always include the rightly famed Seabass ($24), and this visit, specials included heartwarming Grilled Monterey Squid ($10), silky Hamachi Sashimi Salad ($11), and Seared Albacore ($25) with creamy mustard sauce and a fresh crab California Roll draped atop. But this time I want to wax eloquent about the house-made Udon: the Sea Bass always comes with Garlic Noodles, but you can order a side if you're not inclined to share. Classic Wasabi House Noodles with Flatiron steak ($17), are equally as good Vegetarian ($14), loaded with veggies and savory tofu. This is "comfort food" fully realized.
SAVORY – MEAT
The higher A1c levels rise in the blood, the penile grows to be rigid. Activity: Sildenafil Citrate is the key segment tadalafil in canada inconceivably layered in this medication. Herb pasta- For every physical work, you need energy first so that execution may cheap canadian cialis become easier. It gets easily dissolve in the blood and show its effect on the body. cialis 20 mg • Mojo himself is reason enough to get thee to the alley next to Nickie's in the Lower Haight, but there's also his hot dogs and Mission Poppers (bacon-wrapped jalapenos stuffed with cream cheese). Aptly named Hot Dog Alley (on Haight near Fillmore) with home-made sign, he's been in operation just a handful of days, describing his hours as "always here". Hot Dogs are named after SF 'hoods and come simple, wrapped in bacon, topped with chilis ($3.50). Those Mission Poppers ($1) are dangerous. Mojo grills 'em up as you watch, singing along to hip hop tunes blaring on the radio as his ebullience radiates. "If you're even thinking about getting yourself into some trouble, you come and talk to me", he tells a pre-teen boy picking up a dog, encouraging him to stay real. Spreading the love, uplifting spirits, all with a skillet, a makeshift tent and hot dog stand.
• Dinner at sexy, sensual Gitane… gets better every time. From Piquillo Pepper stuffed with Dungeness Crab ($13) to Sardinas en Escabeche ($1o – how I adore sardine filets!), the effect of the Moroccan/Spanish cuisine is in keeping with magical surroundings. My taste buds were happiest with the Bastilla ($12), usually a favorite of mine, served here in three empanada-like phyllo wraps with shredded duck and chicken with pine nuts and golden raisins.
SAVORY – SEAFOOD
• Swell recently moved into my beloved Bar Crudo's (now on Divisadero) charming closet of a space on Bush Street. Carrying on the crudo tradition, the menu is half raw specialties, half "warmed"/cooked dishes. I find dishes tried from the latter average but raw plates very good to exceptional. Top two are Salmon Carpaccio ($12) with wasabi mascarpone, yuzu tobiko, green onion, basil (lovely variation of traditional cream cheese and salmon) and dynamic looking and tasting Scallops Roulade ($9.50), raw scallops wrapped around julienned Granny Smith apple, topped with yuzu aioli and wasabi tobiko. Sitting at the minuscule bar with European regulars and effusive staff is transporting.
• Despite a memorable dish of plump, little squids stuffed with chorizo, Calamares Rellenos ($18), I'd return to Bernal Heights' Peruvian haven, Piqueo's, just for warm and filling Humita Dulce ($13), a huge sweet corn tamal with a slightly spicy mole and bits of Tiger shrimp. House Sangria is the perfect partner.
• "Six Until Seven" Happy Hour (4:30-7pm; 6 small plates, 6 drinks, $6) at classic Farallon is a good excuse to take in the jellyfish lamps, sumptuous raw bar, and pampering service without a full sit-down meal (that works, too). Oysters remain $3.25 each, with or without happy hour, from WA Totten Inlets to New Brunswick Beausoliels. On the $6 menu, there's PEI Mussels with chorizo, tomato, basil and Dungeness Crab Cakes with piquillo pepper coulis. I'm partial to plump Cornmeal Fried Oysters with lobster relish paired with a strong Cabrito Blanco Margarita.
SWEET
• A marriage of dessert and drink, Venezuela's Santa Teresa Araku Ron y Coffee Liqueur is an aged rum, rich with coffee notes, distilled from molasses, in memorable, hip packaging. Over ice cream? Divine.