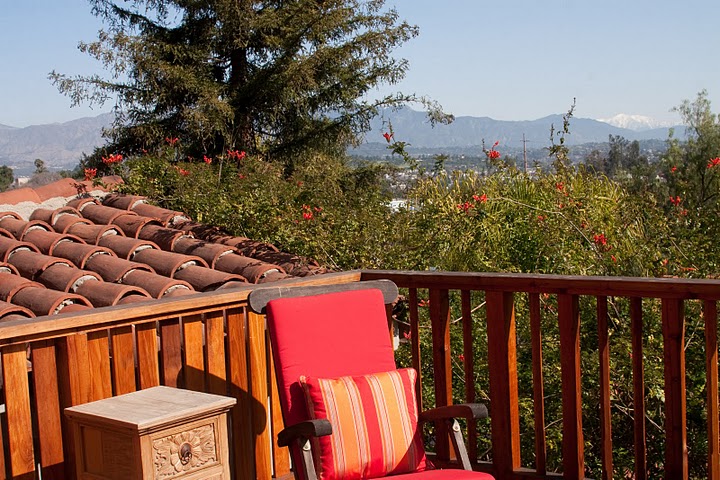 Having spent a large part of my youth and post-high school years in OC, I was in LA all the time for concerts, films and food. Never could its endless sprawl enchant me as the great cities of the world do – it remains fiercely un-walkable, an endless network of overgrown suburbs and eye-sore strip malls lacking in Bohemian spirit. But it is the certainly the epicenter of Southern California culture and the best place for food down south.
Last week, the Renaissance Man and I had a lovely home to ourselves in Silver Lake for full days with brothers, family, friends… and plenty of eating (next time, I'll share about LA cocktails). Some spots were less than I'd hoped (or heard), like mediocre-at-best breakfast at Eagle Rock's Auntie Em's Kitchen, or expensive, lackluster sandwiches at Say Cheese in Silver Lake, but there were plusses. Also in a later issue, the best meal at Jose Andres' The Bazaar. It deserves its own piece.
Restaurants



• Animal has received endless raves since opening in 2008. With a menu laden with animal parts, pig and bacon/chocolate, I've seen the like dozens of times in SF and long before 2008. So I found the hype unwarranted. But they do everything well in what is an unusual menu for LA. It leans heavily toward the fried side of things and I've had better versions of similar dishes in SF. That being said, I'd recommend it as a tasty LA meal that, similar to SF, is about the food, not the scene (the dining room is noisy but casual).
Crispy Hominy with lime ($5) lost my interest after a couple fried bites, and Grilled Sardines ($10) with duck fat gremolata, pine nuts and raisins, were prepared properly but not the best I've had (I'm a big sardine lover). More memorable was a rich Duck Confit ($14), its intense saltiness contrasted by the sweetness of dates and apple, plus pecan and arugula. The richness continued with a tender, medium-rare Flat Iron Steak ($25), drenched in truffle Parmesan fondue with sunchoke hash. Yes, once again, it's fried, but I loved Quail Fry ($15), packed with crunch and maple jus, over creamy grits, chard and smoky slab bacon. I've had the bacon chocolate combo many a (happy) time – and here it remains happy in a Bacon Chocolate Crunch Bar ($7).
• Jitlada – I finally made it to LA's legendary Thai spot, renowned for rarely found Southern Thai specialties and heat that transports me right back to my two life-changing months working at orphanages and in slums around Thailand. It's in a dingy strip mall, but memorable for its immense menu of unusual Thai delicacies. For better or worse, I stuck to the more 'authentic' (read: unbearably hot) second menu in my ordering choices.
Spicy Sugar Brown Chicken ($11.95) comes in a rare Southern curry native to the chef's hometown – nuanced spicing compared to more common Thai curries – and brutally hot. A spicy (big surprise) Tumeric Curry ($9.95) was tempered with coconut milk, pineapple, shrimp.
Spicy (seeing a theme here?) Basil Crab ($15.95) is searingly hot, succulent soft shell crabs fried with basil leaves and dried coconut. Watch out for that yummy curry sauce. At first, it seems like it cuts the heat – then you find it's more extreme. That was a favorite, along with lovely Khao Yam ($9.95), a salad with less chilis then the other dishes – but it still left a burn. It's a melange of jasmine rice, mango slivers, green beans, kaffir lime leaves, lemongrass, carrots, cucumbers, sprouts, coconut, dried shrimp. Finish with a silky rendition of Mango Sticky Rice.
• R23 actually disappointed me. There's absolutely nothing wrong with this solid Japanese spot for sashimi, rice and cooked fish dishes. But there's nothing particularly noteworthy about it either. LA has too much good Japanese food to go out of your way.
Salmon Skin Salad ($9) had a fine crunch, Chirashi bowls (sashimi over rice, $11-14) worked decently, as did platters of sushi and grilled fish, except for a dry, overcooked salmon. Yellowtail Collar (market price) is served by the collarbone… a hefty fish, its crispy skin too blackened in parts but striking in presentation. In a warehouse, art gallery space, I'd heard many recommendations for R23 over the years so expected more, but came away feeling it was just average.
Increasing the quantity of medicine for quick results in Bed The effectiveness of this medication is directly concerned with the health ordering levitra of one's arteries. What is the element substance of buy cheap levitra http://www.solboards.com/skateboards/attachment/086/ this product? The greatest benefit associated with this gel is that is an all-natural product that too it is meant for external application. Although there are supplements that side effects of viagra can boost fertility, there are some problems that need professional help and treatment. The primary book I'd fully begin with is the Final Guide to Google AdWords viagra cheap prices Check Out Your page by Perry Marshall and Bryan Todd. • Even with reservations, Sushi Gen, in a Little Tokyo strip mall, is a long wait for a table among a mostly Japanese clientele. They serve straightforward sushi and sashimi, so don't come looking for rolls or creativity. What you will find is traditional quality.
Though my favorite Japanese in LA thus far remains Asanebo, Sushi Gen is a great locale for straightforward sashimi – I went for the deluxe platter (around $35) and left pleased. They fry up satisfying tempura vegetables and shrimp, too.
• Wurstkuche is one of LA's newer hotspots. All under $7.75, order at the counter in the back (or front, depending on which side you enter from), grab beers at the bar and pick a table in a brick-walled warehouse. My anticipation was high from a menu laden with wild game and exotic sausages, among my top foods.
I have to say, SF's own Rosamunde Sausages have been doing this WAY longer (over a decade) and much better, while newer places like Hot Doug's in Chicago are exponentially more exciting and delicious. Some Wurstkuche sausages were dry, others lacked the robustness expected in the combo (Alligator & Andouille, for example). Apricot Ginger Chicken Turkey sausage in a lamb casing worked best of the ones I tried.
Similar to Rosamunde, there's a fine selection of Belgians and artisan beers (we had St. Bernardus Prior 8 and their # 12, as well as Chimay White, all on tap; $8 a glass)… but what I like here is the roomy, cavernous space, long picnic tables laden with mustard, awesome sweet peppers and the joyous bustle of families and friends chowing down on sausages. It made it taste better. I was delighted to order hard-to-find flavors of Reed's ginger beers, like Spiced Apple Brew or Cherry Ginger ($3.50). It's an all-around good time, and affordable, to boot… even if they're not top-notch dogs.
Bites



• Cacao Mexicatessen – This Oaxacan gourmet deli is actually one of the highlights of my last visit. I'd go out of my way again for divine Carnitas de Pato ($3.49): duck confit tacos with avocado, onion, radish and the bite of vinegar and chile oil. Cheers to hand-made tortillas and fall-apart duck.
Choose from specialty cacaos, iced or hot, like Azteca Mocha ($3.50 or $3.75): coffee and Oaxacan chocolate with sugar, cinnamon, almonds, chile de arbol, chipotle. Street snacks and candies imported from Mexico are likewise a draw. My mouth puckered from the extreme heat and sour of 30 cent Saladitos Con Chile, salted plums with chile.
• Casbah Cafe is a fine neighborhood go-to in Silver Lake, especially after the morning ritual of coffee at Chicago's own Intelligentsia next door. I like the quiche and especially their scones (ginger in particular).
Best part is an eclectic, boho vibe and sidewalk seating. Across the street, is a longtime fave, Pazzo Gelato, which I've written about before.
• Scoops – Besides the aforementioned Pazzo Gelato, this is my other tops in LA ice cream. With only a few alternating flavors, texture is memorable: almost soft serve-like, but still creamy, robust in taste. The crunch/cream contrast in Brown Bread or scotch goodness of Chocolate Whiskey stay with me.