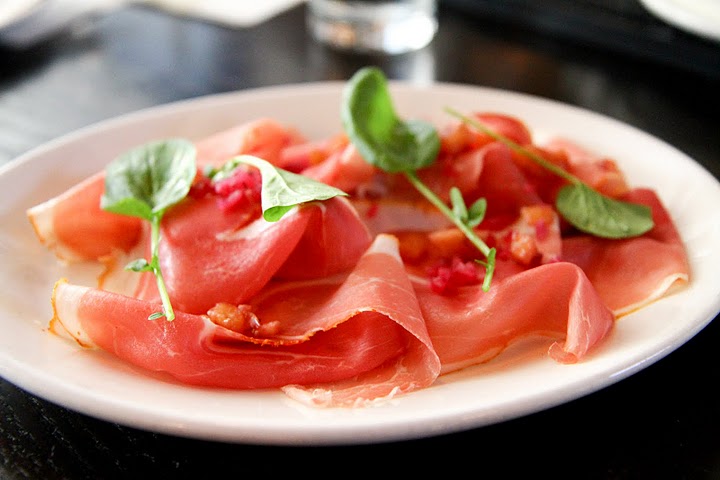 Top Tastes is not a list of all-time favorites, rather it's about the best tastes of the last two weeks (since my last newsletter), often from new openings. This issue, I return to three places I continue to find worth a visit…
MID-RANGE
LOLO, Mission (3230 22nd Street between Mission & Bartlett, 415-643-5656
Lolo remains a favorite since the early days… it's really one of our city's underrated gems. Any and all of these dishes are more inventive and satisfying than many a good restaurant surrounding it in the food-rich Mission. With a Lambrusco Sangria and Lolo's funky, eclectic decor, it's a perfect space to commune with friends over excellent Latin food fused with global influences.
Below are just a few of their one-of-a-kind dishes (price range $6-19):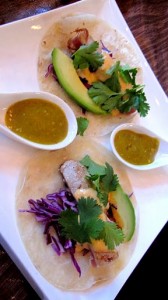 HOG & ROCKS, Mission (3431 19th Street between San Carlos & Mission, 415-550-8627)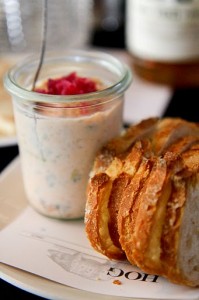 Another place I've appreciated since it opened last Summer, Hog & Rocks remains a hit for Southern-influenced bar food (they had me at that), a great American whiskey selection, oysters and platters of ham from "hog and rocks" menus.
Despite communal tables, my preferred spot is at the bar with Joe as my bartender making a mean Whiskey Sour ($8). It doesn't get a whole lot more satisfying than a jar of salty, smooth Steelhead Trout ($8) smeared on toasts, or Chicken & Cheddar Pie ($15) with oatmeal stout gravy. Don't forget a round of Spanish or Southern hams, like Col. Bill Newsom's 15 month-aged ham ($12) from Kentucky. Treat yourself to a pour of the rare Thomas Handy Rye, cask strength brilliance, a lovely finish after country ham.
CHEAP EATS
BUN MEE, Pacific Heights (2015 Fillmore Street between Pine & California, 415-800-7696)
My initial visit to Bun Mee yielded playful Vietnamese food on-the-go, exemplified by their darling Vespa sign (soon they'll have Vespa deliveries). It's pricier than hole-in-the-wall bahn mi found in the Tenderloin or the Sunset ($6-8 vs. $3-4) but sandwiches are filling, loaded with fresh ingredients (jalapeno, cilantro, cucumber, carrot, daikon). It's Vietnamese fast food for the urban dweller.
Chatting with young Vietnamese owner, Denise Tran (who also grew up in one of my most adored cities, New Orleans), I enjoyed hearing how her mom's inspired recipes or menu names. Tran fuses her homes of origin using du Monde's chicory coffee in Vietnamese coffees… hence Cafe du Monde cans as chopstick holders.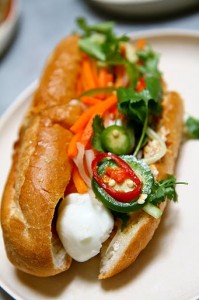 House-made Kaffir Limeade ($2.50) remains my preferred drink (nice and tart), while this time I sampled almost all banh mi on the menu.
You'll do fine with traditional Roast Pork, Five-Spice Chicken, or Bun Mee Combo (traditional pork pate) sandwiches I tried in past visits. But I find the Belly Bun more satisfying with tender pork belly.
I wanted to adore La Sardine as a sardine fan but found it a little dry. My top pick might be Crispy Catfish: fried tumeric catfish (a nice nod to both Vietnam and New Orleans, where catfish is plentiful) is lathered with red curry aioli.
Sloppy Bun is fun as a Sloppy Joe-style bahn mi with curry ground beef. Mango Sesame Salad ($3.99) makes a refreshing accompaniment. Sweet Potato fries are addictive. And I still love those Coconut Cookie Sandwiches ($1.50).
The rolls and low heat (despite that the menu notes they come spicy) may not exactly recall my days in Vietnam, but this is hip and approachable rather than for purists… and you can always ask for more jalapenos.