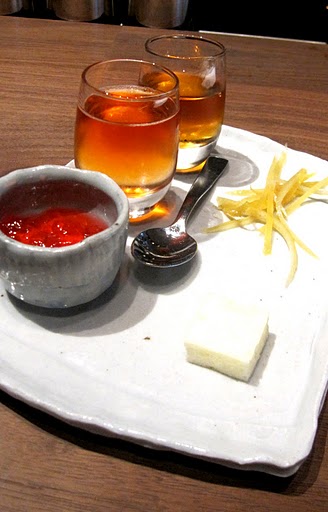 I concur with the Chronicle's choice of 2011 Bar Stars, calling out the maturity in the craft of these five. You've heard me talk about drinks from all five bartenders (like Kevin Diedrich and Alex Smith). This issue, I want to focus on Carlo Splendorini.
MICHAEL MINA, 252 California Street between Battery & Front, 415-397-9222

Carlo made beautiful drinks at Gitane. It's no surprise he continues the tradition as lead bartender at Michael Mina's flagship restaurant. Giving each creation Italian charm (by way of London from his Nobu London days), he's ably backed by a strong bartending crew, including Kate Bolton.
My latest visit was pre-Bar Stars. After sampling seven cocktails, I was duly impressed with the range, restraint and beauty of each.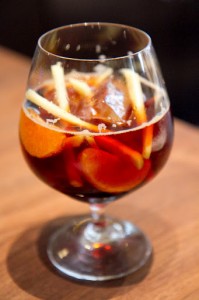 In keeping with this year's Bar Stars ethos, Splendorini's cocktails are a lesson in refinement.
He is certainly inventive yet manages to leave one with the lingering sensation of elegant balance. His drinks are as impressive, but not near as gimmicky, as the latest drink trend.
Using Zucca, a bittersweet Italian amaro/aperitif, as the base of Fraggle Cup ($11) is genius. It's particularly refreshing on the rocks with fresh tangerine wedges and stalks of ginger standing tall in the large glass like a mini-forest. I recommend this drink to anyone, especially for exposure to the range possible in amaro-based drinks.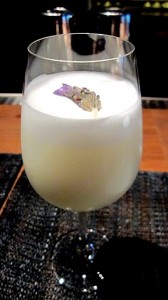 A Self-Serve Sazerac ($10) is as fun as it sounds: deconstructed and waiting for you to ingest any way you find desirable – mixed together or taken separately. A shot of Rittenhouse 100 Rye pairs with an absinthe marshmallow and lemon zest, while Peychaud's Bitters jelly is truly inspired.
Balanced layers are achieved in Carlo's gorgeous Schiedam Blossom ($12 – part of the Nolet Gin cocktail competition open through July 15). Nolet Gin and sake meld with a fennel-ginger cordial, silky with egg white.
I could go on, but instead, I urge you to sit down at the bar with a few orders of Mina's impeccable food, and let Splendorini and crew work their magic.