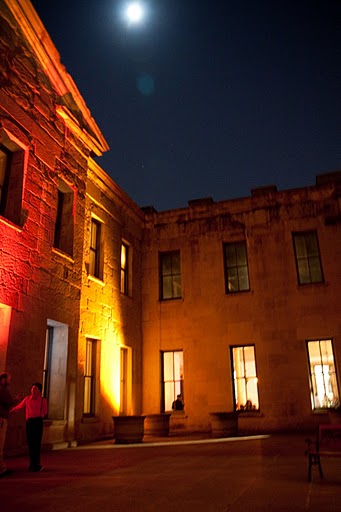 For those of you who attended last year's San Francisco Cocktail Week, you know it was jam-packed with some downright magical events, celebrating our city's rich cocktail heritage, bar talent and innovation. Monday begins the 5th annual Cocktail Week, bigger than ever, with numerous national and local brands represented, an extensive schedule of seminars, parties, events, and the first ever Legends Awards honoring key contributors in the field.
I'd recommend Cocktail Week certainly for aficionados (cocktail/spirits geeks), but equally for the curious or those who plain love classy, transporting events. To name a few, the enchanting Cocktail Carnival Gala and St. George's Cocktail Cookout last year were unforgettable for all of us lucky enough to attend. We basked in the glow of camaraderie and unparalleled settings like the historic Old Mint (where this year's Barbary Coast Bazaar will be held) or along the Bay in Alameda. I'm anticipating more memorable events this year.
MAIN EVENTS include the first ever Legends Awards Gala, showcasing some of our best talent in a multi-course dinner from chef Jen Biesty (of Top Chef fame), cocktails prepared by some of our best bartenders at stations throughout the room, awards announced, with live music and performance interspersed. The list of 5 award winners (including Lifetime Achievement and Renegade awards), along with the all-star bartender line-up, is here.
This is also the first year for an event like Best of the West, where top talent from cities of the West (LA, Victoria, San Diego, Portland, Seattle, Sacramento, Las Vegas) compete with local bartenders, showing off drink style in each of their cities.
SEMINARS are a new addition this year. The line-up is rich with around 15 seminars. Learn how to stock your own home bar, about the science of taste, or the history of cocktails in San Francisco. Seminars are all held at the Boothby Center for the Beverage Arts (1161 Mission St., Suite 120, San Francisco), the non-profit behind Cocktail Week.

DINING EVENTS are being thrown all week by restaurants and bars, with special cocktail guests and multi-course menus, at bar-star restaurants like Bar Agricole, Heaven's Dog, and Jasper's Corner Tap.
AFTERPARTIES include the big shindig at the newly revamped Starlight Room atop the Sir Francis Drake hotel following the Legends Awards Gala (afterparty included in Legends Award ticket price).
Tickets and schedule here. Hope to see you there!