The Renaissance Man surprised me recently with a quiet weekend away in Santa Cruz and unexpected meal off the slow, winding roads of the Santa Cruz Mountains. Though Santa Cruz is far from my favorite town, its laid back feel and beaches work for a quick getaway from SF, and its gourmet pleasures peak with ice cream and coffee.
Ice Cream, Coffee, Chocolate
THE PENNY ICE CREAMERY, 913 Cedar St., Santa Cruz 831-204-2523
The Penny Ice Creamery may not achieve the texture and flavor perfection of Humphry Slocombe, but it's in that family of gourmet, out-of-the-box creameries, with changing flavors and hip status that keeps lines out the door. They use grapes from nearby vineyards like Birichino for their sweet, bright Malvasia Grape Sorbet, or Dirty Girl berries in Strawberry Pink Peppercorn, one I particularly liked for its peppery creaminess. My top pick was Celery Raisin, which was both vegetal and sweet, almost healthy tasting. One thing's certain: I'd include a stop at the Penny every time I'm passing through Santa Cruz.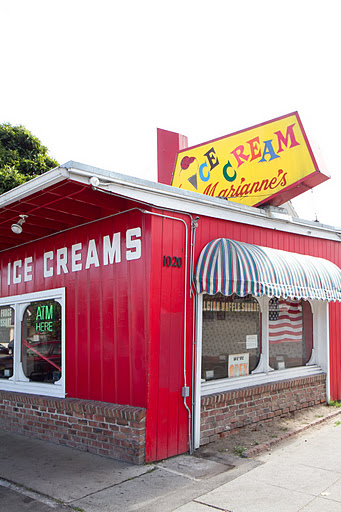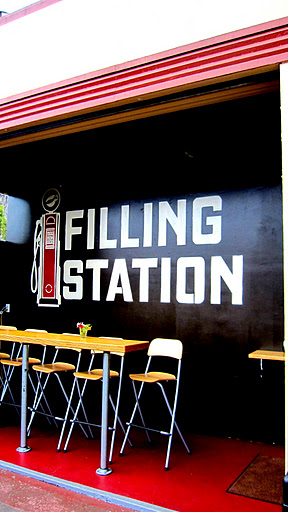 MARIANNE'S ICE CREAM, 1020 Ocean St., Santa Cruz 831-458-1447
I've been buying Marianne's Ice Cream at Faletti Foods market in SF for years, particularly the peppermint stick flavor. Their ice cream is made with butter fat, explaining it's dense texture. Also over 50 years old, Marianne's ice cream is old school yet satisfying like Mitchell's here in SF. Their shop evokes an America of decades ago in flavors like a creamy root beer or candied ginger.
FILLING STATION, 1500 Mission St., Santa Cruz 831-427-3455
Filling Station is an atmospheric spot for coffee in an old filling station. Retro gas station architecture meets third wave coffee as they serve SF's Four Barrel coffee, while permanent food truck, The Truck Stop, offers eats.
DONNELLY CHOCOLATES, 1509 Mission St., Santa Cruz 831-458-4214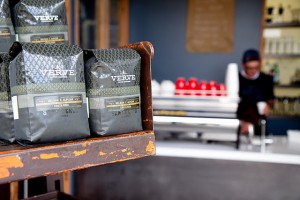 A humble looking shop across the street from Filling Station, Donnelly Fine Chocolates is obviously a chocolate lovers haven from the moment you walk in to witness the chocolate being made by hand.
Bars are elegant in flavors like cardamom, smoky spicy chipotle, or Chinese five spice, while truffles/chocolates come with a range of fillings, including a booze-filled series. I tried tequila (Patron Anejo), brandy (Germain-Robin), and Scotch-filled (brand changes) chocolates.
VERVE COFFEE, 104 Bronson St., Ste. 19, Santa Cruz 831–464-8141
To coffee fanatics, Verve needs no introduction. THE coffee of note to come out of Santa Cruz, its original shop has long been a staple in these parts.
Verve remains one of my top coffees, served to perfection at home in SF at Matching Half Cafe and farm: table. There's finally a brand new, second Verve shop in Santa Cruz. It's in an ultra-cool warehouse that shines in modern design and spaces for coffee roasting, cupping classes and tastings.
Restaurants
TYROLEAN INN RESTAURANT, Ben Lomond (9600 Highway 9, 831- 336 -5188)
Blink and you'll miss the "town" of Ben Lomond where the Tyrolean Inn welcomes with a red cabin accented by white shutters, white lights and hints of green. Surrounded by a biergarten, one imagines sunny idylls among redwoods sipping German beers. Alas, Sunday afternoon is the only lunch/daytime option (open 12-9pm, or 5-9pm Tu-Th, 4-10pm Fr-Sa).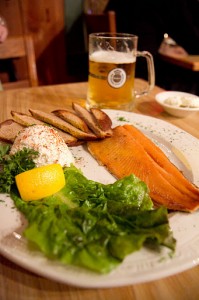 I fell in love with Tyrolean cuisine in the Italian Alps about three years ago, exploring mountain towns and roadside sausage stands on the Austria/Italy border.
I wouldn't exactly call Tyrolean Inn what I tasted there, rather it's German food with whispers of Austria.
Though in the middle of nowhere, locals are clued in about this convivial wood cabin where one is serenaded by live accordion throughout dinner.
Service was stressed out (and stretched thin) the night we dined and a reservation was crucial. Waiting for our reservation was helped by a small, sweet selection of Poire Williams (Germanic-style pear eaux de vie), particularly Williams Birne.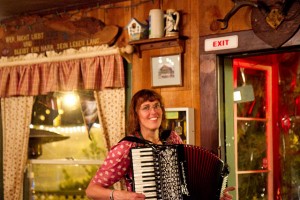 Steins, pretzels, gardening tools and Germanic phrases eclectically line the walls, creating convivial distraction. Though short-staffed, servers kept a sense of humor in their frazzled state.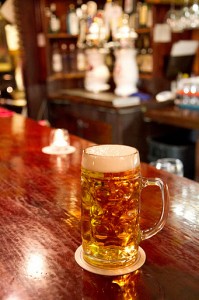 I wouldn't call the food gourmet, but portions are enough for a few. Tyrolean Schmeckerplatte ($21) is a mountain of meat, starting with a slice of smoked pork loin, Cordon Bleu (smoked ham and Swiss cheese layered between breaded pork cutlets), bockwurst sausage, sauerbraten beef over red cabbage in gravy, plus spatzle and sauerkraut.
The highlight was Cordon Bleu, reminiscent of Italian Milanese-style dishes, which you can thankfully order as its own dish. Zigeunerschnitzel ($18), pork cutlets in spicy red & green pepper onion sauce (with fried potatoes and a German salad), didn't quite work for me. Again, it could feed two, but tasted as if the pork and peppers were doused in seasoning powder, evoking quick-and-easy 1980's meals.
An enchanting woodside setting with flowing beers and hearty food, comforts as if your German mama was presiding over the kitchen herself.
BONNY DOON'S CELLAR DOOR in the winery, Santa Cruz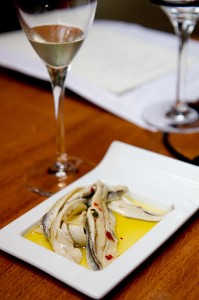 To wine fans, Bonny Doon Vineyard and its legendary founder Randall Grahm need no introduction. One look at their whimsical website, and you know this is a different kind of winery. Sitting right in the middle of suburban Santa Cruz, there's no vineyard setting, rather a funky warehouse with tasting room and Cellar Door restaurant.
I finally made it to the Cellar Door for an a la carte lunch (there's a $40 per person prix fixe at dinner). Burrata salads, anchovies, wood-fired pizzas, are all foods I've seen in excess and had in excellent form in San Francisco (and beyond) for years.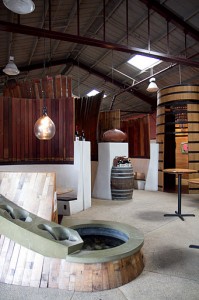 One could not honestly call the menu inventive, but for Santa Cruz, it stands out, and, in typical Northern California fashion, does so with exceptional ingredients. A simple plate of boquerones ($5) yields silky fresh anchovies in olive oil laced with slivers of garlic clove, thyme, a touch of red chili. Transported me straight back to Italy.
Di Stefano burrata with Heirloom tomatoes and rosemary toast ($12) is admittedly a small portion. But each bite was excellent, from luxurious burrata (mozzarella) to buttery toast. Roasted Early Girl tomato soup topped with sheep's milk ricotta was a special of the day, while 2/3 of the restaurant seemed to have ordered the El Salchicherro bacon pizza. I followed suite but added a fried farm egg ($16 without, $18 with). There are many "bests" in the Bay Area for Neapolitan pizza and this wasn't it, but it was quite satisfying on a grey October day in Santa Cruz.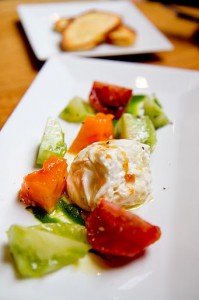 The highlight of eating here may be the choice of Bonny Doon sips to pair with your meal. My top was Querry apple/pear/quince cider ($7 glass/$26 bottle). Dry and tart, its effervescence made a gorgeous contrast to the satin sheen of the anchovies. 2008 Ca'Del Solo Grenache Blanc ($7 glass/$11 quartino/$25 bottle) is a creamy, round Grenache, clearly oaked but it works.
2007 Cuvee ET is a Mourvedre blend, exhibiting bright berry but with balanced acidity. Their 2000 Le Cigare Volant flagship Rhone blend ($10 glass/$15 quartino/$40 bottle) is, as our server said, right at its peak at 12 years with light tobacco notes, earthiness and a fine minerality.