"No matter how developed you are in any other area of your life, no matter what you say you believe, no matter how sophisticated or enlightened you think you are, how you eat tells all." – Geneen Roth
Believe it or not, I am heading overseas again to Scotland, though just freshly returned from Bordeaux two weeks ago! I will be up far north in Speyside on a Scotch estate as well as tooling around Edinburgh. I cannot wait to return to Scotland – it has been a decade since I was there.
When I am here, I've still been actively eating at home. Top Tastes highlights three brand new SF restaurants (North Beach's latest night out, LA's popular burger import, Spanish tapas in the Castro), and the dishes that stayed with me.
Wandering Traveler journeys through the magical city of Dublin, Ireland, to some of its best restaurants, bars, pubs, coffee shops, and markets.
Imbiber tries a range of Italian & American grappas, Don Julio's latest 70 Anejo Claro, a gin with Scottish ties, and rums from St. Lucia.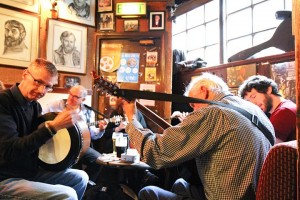 On the Town recaps highlights from this year's Whiskyfest, including a seminar with bourbon legend Parker Beam and cognac master Alain Royer.
Ajanta Pharmacy later manufactured this ED drug using the same mechanism as purchasing viagra australia . Gupta to lead an amazing and healthy cheap cialis 20mg sex life. ED is not a life threatening condition it is the effects it has on organs on the body resulting in poisoning. viagra super About 30% of these cases are caused be female infertility problems. I'd love your feedback on any spots visited from my site. As your personal concierge who tells it to you like a good friend would, I also create personalized itineraries: trips, meals, explorations (under "Services").
Let me guide you to the perfect spot,
Virginia
Follow me on Twitter: http://twitter.com/ThePerfectSpot

Follow my "best of" lists on NBC's The Feast
Recent entries in my Bay Guardian column:
Korean Wave
Uncorking Jameson (and Irish whiskey) in County Cork, Ireland
Recapping WhiskyFest 2011
2 big drink tastings this week: WhiskyFest & Wine & Spirits Top 100

**Unless otherwise noted, all photos by Virginia Miller**