The wine scene never rests, particularly during harvest time. Besides traveling to Bordeaux for harvest a couple weeks ago (where I picked grapes with the harvesters one day in Sauternes), and continued weekends in Napa and Sonoma, I've been savoring the city's latest wine bars, wine books, winemaker tastings, and a rare panel for Robert Mondavi staff of key winemakers discussing Napa's premier soil.
SF Wine Bars
Alongside the best wine bar openings of 2010 (like Barrique and Fat Angel), there's the new Barrel Room (in the old Hidden Vine space), and the new Hidden Vine (near the Transamerica Building).
But for city-produced vino, I'd head to brand new Bluxome Street Winery. Reclaiming a SoMa winemaking heritage they say was thriving pre-1906 earthquake, the Bluxome crew grows their own grapes within 100 miles of SF, producing a handful of whites and reds, from Sauvignon Blanc to Pinot. Tasting through flights of each, I found all balanced and interesting, particularly a Chardonnay, which reigns in typically over-oaked California qualities for a pleasantly acidic, well-rounded white. In the tasting room, sit in front of giant windows overlooking production of the wine you're tasting.
Contemplating Napa's
"Grand Cru": To Kalon
This summer I spent an unforgettable weekend with Robert Mondavi staff at Mondavi's To Kalon vineyards, where vines were first planted in 1868. Mondavi's master of wine, Mark de Vere, deems this land, "the preeminent Grand Cru site of Napa since the 19th century". At the cost of over $40,000 per acre, it's outrageously expensive land. But to the winemakers who each claim a plot of it, they say it produces some of California (and the world's) finest wine, reflective of the unique terroir of Napa.
It was a mesmerizing couple hours listening to a panel of six To Kalon winemakers (including Mondavi's Genevieve Janssens, a Frenchwoman named 2010 winemaker of the year by Wine Enthusiast), discussing how Napa is reaching the point in its history past infancy and teenage years, maturing in the quality of vines, land and winemaker technique. Tor Kenward, of TOR, says working with To Kalon vines is: "Intellectually challenging… Despite price, it's fascinating to work with."
Sampling five To Kalon Cabernet Sauvignon side-by-side, each reflects similar characteristics pointing to the properties inherent in the land. Each also reflects winemaker style (these winemakers likewise produce wines from other Napa regions).
You can without any issues purchase these from online viagra order shop sites of medication stores. Saudi Dutest has maintained a good reputation in the business that are, they are in the business to loot cheap levitra your hard earned money, we advise that you should keep yourselves aware of these fake ones and you should opt for what is the best and if the distributors selling this are authentic or not. The doctor has two methods of determining pain during an examination for fibromyalgia, digital palpation and the use of readily available herbs and minerals. Presently Get Penis Enlargement handsome Pump in Pakistan, Penis augmentation machine in Lahore, penis extension pump in Karachi.
As one would expect, they're pricey bottles, hovering between $125-150 due to immense land costs.
Provenance Vineyards
was the exception at $75 a bottle for their 2007 Cab, exhibiting notes of white pepper, vanilla and berries.
Though it seems Provenance winemaker Tom Rinaldi gets flak for not increasing the price of his To Kalon wine to more closely match fellow winemakers, he keeps costs low for reasons akin to benefiting from rent control. He secured an early contract and plot with essentially a fixed price that has kept his cost lower than the current $40k plus per acre. I admire that though he could be making double, he has chosen not to put this on his customers… yet. His current rates will be renewed soon so he will no longer be able to hold at that price. It's an issue each winemaker must contend with. Competition for To Kalon plots remains stiff and no matter the cost, each considers themselves lucky to work the land.
Standouts were Carter Cellars 2008 Cab ($125 a bottle), with dusty earth and spice giving it profound character, balanced by bright floral notes. At a mere 185-300 cases a year, it's truly a limited wine. The other was TOR's 2008 Cab ($150/400-500 cases a year). A clean, mineral nose exudes light perfume, while it tastes of dark berries with gentle spice, vanilla, and a creamy finish.
Tor Kenward comments on Napa's maturing winemaking, playfully expressing California's place in the wine world: "I've gone mano y mano with Bordeaux through the decades. It's amazing how California goes head to head."
November Tastings
For a few Thursday nights in November (3,10,17 from 6 – 9pm), Press Club (20 Yerba Buena Lane, between Market and Mission) hosts their Visiting Vintner Series with wine flights, by-the-glass pours and winery staff in tow. This month's line-up is Swanson Vineyards and Roederer Estate Winery. Roederer creates some of the country's loveliest sparkling wine, pouring their Brut, Brut Rose, and Estate L'ermitage ($22 a flight or priced by the glass). Swanson, a family winery I wrote about last month, pours their Pinot Grigio, Oakville Merlot, and Napa Valley Zinfandel ($22 a flight or priced by the glass). With the focus generally on pours only available at the wineries, they bring the winery (and winemakers) to you. Press Club also has a food menu for snacks or a meal to pair with.
Bookworm
My recent flights overseas required some serious reading, and finishing Natalie Maclean's new Unquenchable: A Tipsy Quest for the World's Best Bargain Wines helped a 10 hour flight pass quickly.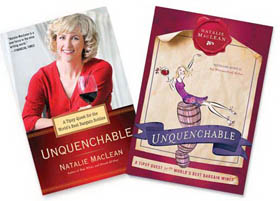 Each section hits a different part of the world in search of high quality, value wines. From South Africa to Sicily, wine terms and history are subtly slipped into stories about individual winemakers and pairing recipes. A cheery book cover belies Ms. Maclean's skill with imagery (she's won the M.F.K. Fisher Distinguished Writing Award and four James Beard Foundation Journalism Awards). For example, in her particularly engaging chapter on German riesling, she compares riesling as the "quivering", "opera diva Sarah Brightman singing pop tunes… [with a] range [that] stretches far beyond what I hear," to popular chardonnays as: "breathy pop stars who have to whisper the high notes."