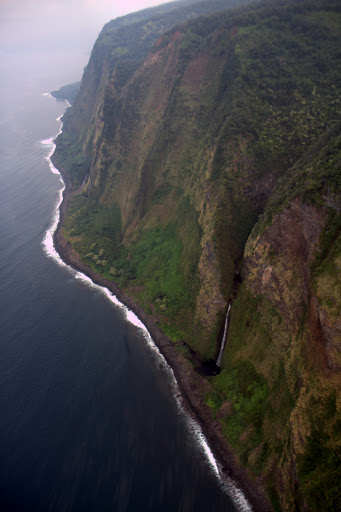 Volcanoes. Black rock expanses. Coffee berries growing on mountain foothills. Some of the best stargazing in the world. Rolling, green farmland. Waterfalls. Sandy beaches. Singing classic Hawaiian tunes to ukelele under the stars. These are but a few things I beheld and experienced on Hawaii, the Big Island.
Flying around the entire island via helicopter (I'd recommend Paradise Helicopters' circle island tour) is the best way to witness the vast range of Big Island landscape, more varied and vast than any of the islands – and thus it can take longer to drive than any other Hawaiian island.
Paradise Helicopters landed dramatically on the lawn of my Sheraton Kona Resort and Spa at Keahou Bay (they can arrange personalized pick-ups), flying from misty, green Hilo to the farmland of Wailea. The island's northern valleys, cliffs and canyons reminded me of the unforgettable Kauai helicopter ride I took in 2011.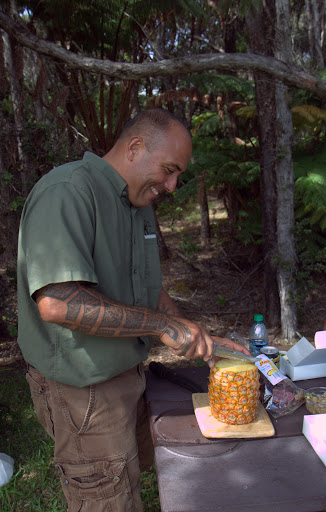 Circling over bubbling volcanoes as they release vapors and red lava is an unforgettable moment. Exploring Hawai'i Volcanoes National Park with Warren Costa, owner of Native Guide Hawaii, brought an insider's perspective of jungle growth, lava tubes, steam vents and volcanic rock shimmering in the sun, beholding craters and ocean views from lava-marked cliffs.
Stargazing atop Mauna Kea, a 13,000+ foot mountain, is another one of those only-on-Hawaii's-Big-Island experiences. Easily 40-60 degrees cooler up the mountain than it is below, I disappeared in scarves, gloves, coats and a hat, spotting shooting stars, constellations and planets through state-of-the-art telescopes.
My favorite hotel this visit was on the luxurious Kohala Coast: Mauna Lani Bay Hotel & Bungalows. My peaceful room was small but well-appointed, with a soothing king size bed, wood-paneled doors separating the bathrooms, and Japanese aesthetic. I especially loved my top floor deck overlooking the ocean and divine sunsets. Blue reclining chairs line the beach, the best spot for morning coffee and a book – there's even a hammock draped between tall palms. I was greeted with lei and tropical juice upon arrival. The nightly ritual of a figure moving around the expansive grounds at sunset with a torch, blowing the p? (conch shell) is a beautiful tradition I wish I could experience every night at home.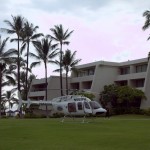 Being on a press trip, I wasn't able to venture off on my own as much to uncover and dig for gems to the level I prefer.
Nonetheless, I discovered numerous edible treasures (listed below), enveloped by the wild yet relaxed spirit and arresting nature of Hawaii's Big Island.
13 Edible Big Island Finds

KELLY BOY PEANUT BUTTER MILK BREAD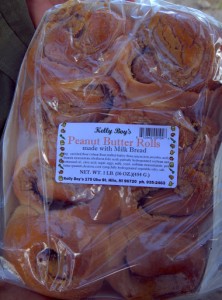 My single greatest local taste on the Big Island can be found at chain groceries, KTA Super Stores, on the rainy, lush Hilo side of the island: Kelly Boy Peanut Butter Milk Bread. This discovery is thanks to tour guide Warren Costa of Native Guide Hawaii who brought loaves of milk bread on our journeys through Hawai'i Volcanoes National Park (not to mention an array of local fruits and plate lunch treats). Versions of airy, malleable, comforting milk bread exist historically in Western and Eastern cultures. While I'd never complain about regular milk bread, it's the peanut butter version, swirled with streaks of sugary, nutty peanut butter, that elicited sighs of delight… and insatiable cravings ever since.
KONA COFFEE CULTURAL FESTIVAL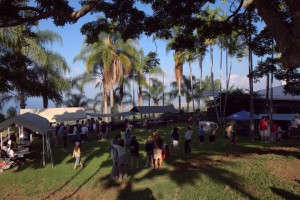 Visiting Hawaii, the Big Island, during the Kona Coffee Cultural Festival in November is a coffee fanatic's dream. Strolling the typically sleepy village of H?lualoa, the one-street town is packed with attendees buzzing on coffee samples from numerous Kona growers, exploring art galleries in cottages alongside historic Hawaiian churches.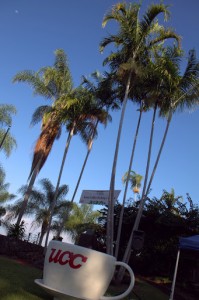 The Big Island's laid back ease permeates the pace of the entire festival, even UCC Hawaii Kona Coffee Picking Contest, which I competed in myself (in the amateur portion, naturally), picking as many berries (without stems and leaves) as possible in a timed couple minutes. It's much harder than you'd think.
The festival's good-natured president, Mel Morimoto, who grew up on his parents' coffee farm, exemplifies the lighthearted flow of the week. I also had the privilege of being a judge in a cooking competition utilizing Kona coffee, the Kona Coffee Recipe Contest & Big Island Showcase at Sheraton Kona Resort and Spa at Keahou Bay.
Fruit and Baked Goods at the KEAUHOU FARMERS MARKET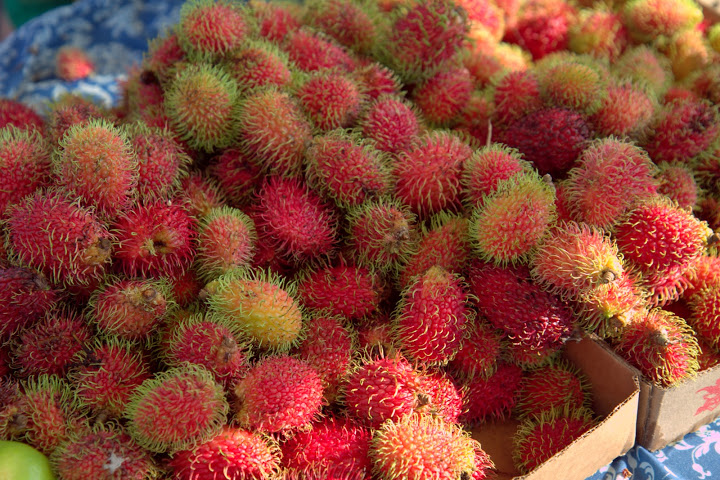 A tour with food writer Joan Namkoong included farmers market visits, as she's been instrumental in the growth of Oahu and Hawaii Island farmers markets. At the Keauhou Farmers Market in a Kailua-Kona strip mall parking lot, I consumed juicy rambutan (a cousin to the lychee with rosy pink, "hairy" skin) and succulent passion fruit. I find these fruits at home in Chinatown, Richmond or Sunset markets, devouring them regularly during my three months in Southeast Asia. Alongside tree tomatoes (tamarillo) and giant avocados, these locally grown fruits are exceptionally flavorful – a prime example of the array of foods and cultures that collide in Hawaii.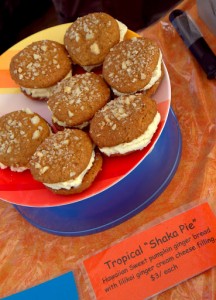 I love Kona's Earthly Delights baked goods, including tart lilikoi (passion fruit) bars and tropical "Shaka Pie", identical to whoopie pie: fluffy Hawaiian pumpkin gingerbread filled with lilikoi ginger cream cheese.
Another interesting purveyor is When Pigs Fly Island Charcuterie, where Southern BBQ meets Korean influence with house sausages thrown in for good measure. Cuisine mashup is apparent in their version of ubiquitous Korean pork tacos: Southern BBQ pulled pork on a corn tortilla, accented by kimchi, pickled daikon and carrots.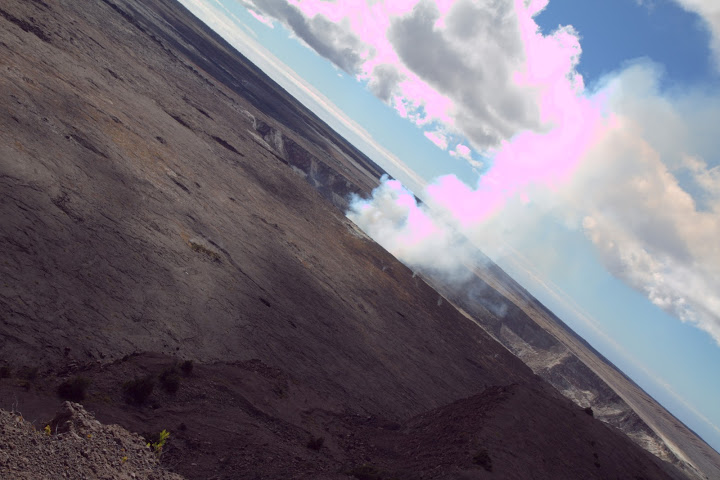 Sushi at MONSTERA
On my flight from Honolulu, I discovered Monstera by happenstance sitting next to a Big Island local who happened to be a notable person in the wine and spirits industry. Monstera's rather corporate-looking, upstairs location in an outdoor shopping mall near my Kohala Coast hotel, Mauna Lani, would not have appealed if I hadn't known Tokyo sushi master Norio Yamamoto had moved there not long before.
Norio's in the Fairmont Orchid was on my go-to list. Having heard Norio's sushi was the best on the island, I was hoping to visit while lodging nearby.
Sipping li hing mui (salty dried plum) margaritas on the sand at the Orchid was a pleasure, but I never made it to Norio's as my flight companion informed me that Norio was now at Monstera, which he co-owns and operates with the gracious Wes Monty.
It was among the best meals of my trip on multiple islands. Pristine fish, fresh sushi, Korean sweet and spicy chicken, bright calamari salad… there's not a bad dish in the lot. A solid sake selection helps it go down easily.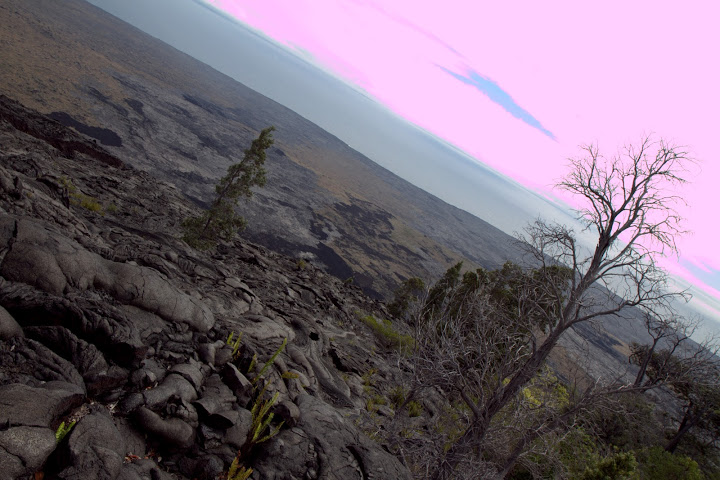 Smothered Pork Chops at the MANAGO HOTEL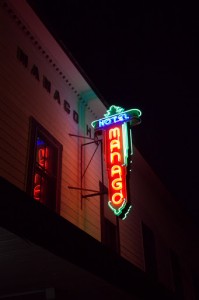 An authentic slice of Big Island history and damn good, cheap food (entrees under $15) make the Manago Hotel a must for dedicated foodies.
A historic, little roadside inn since 1917 on the sleepy mountain slopes of the town of Captain Cook, the hotel's restaurant features a dozen straightforward, unchanging dishes in a humble yet somehow heartwarming dining room.
This is down home cooking, from grilled butterfish squeezed with lemon to the justifiably famed fried pork chop smothered in gravy and grilled onions.
The pork chop is easily the best dish I had on the island.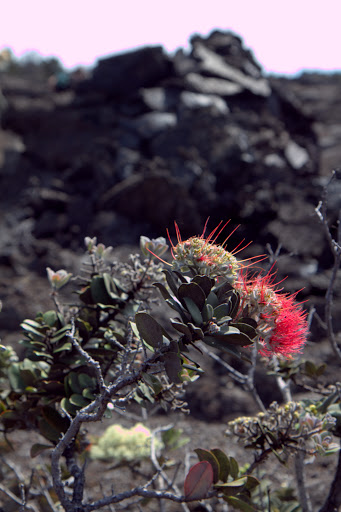 Banana Bread at COFFEES 'N EPICURES
A humble, little Honaunau coffee shop, Coffees 'N Epicures, looks like a '70's rock hut with dated signage. Inside there's robust local coffee, a charming back patio, sweet service and fresh baked goods, including soft banana bread and mango bread, scones, macadamia nut sticky buns. I couldn't resist hilarious, locally made greeting cards of geckos (actually posed, not computer generated, the cards brag) sewing clothes, baking food, etc… It's a fantastic local bakery with character.
Beer at KONA BREWING COMPANY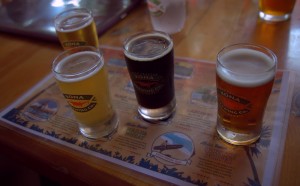 Among the best of Hawaiian beers are made by Kona Brewing Company, from father and son team Cameron Healy and Spoon Khalsa. A visit to the brewery is a must for beer lovers on the Big Island.
In an industrial part of Kailua-Kona away from the coast, the restaurant's outdoor patio is smartly enclosed by palms and greenery, it feels like an island escape though surrounded by concrete. Pub food is serviceable but you come for the beers, particularly special brews you can only find on draft here in their home setting.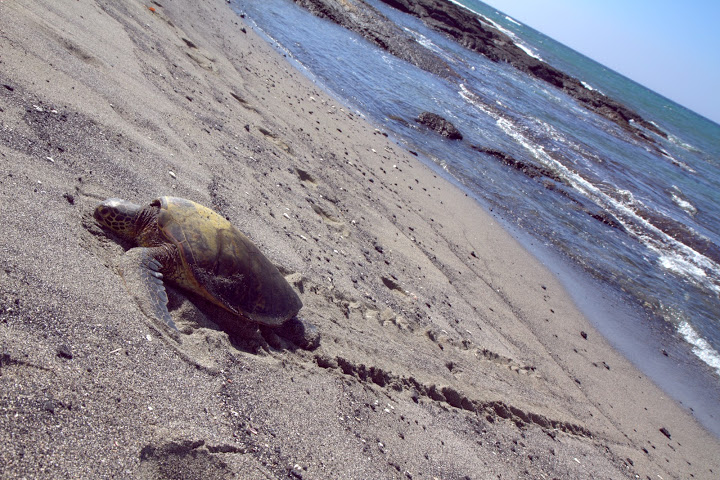 Historic General Store and Market: KEAUHOU STORE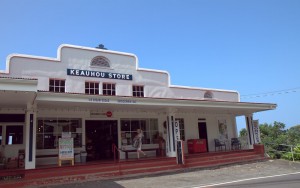 Perched on a cliff amidst the coffee plantations of H?lualoa is Keauhou Store, built in 1919 by Japanese immigrant Yoshisuke Sasaki who ran the store for decades, as did his son Rikio after him. They sold musical instruments, bikes (in the 1950's, Rikio sold the first Schwinn and Columbia bicycles in Kona), radios, shoes, Kona coffee. They even operated as a gas station for a time, while also farming and processing coffee and macadamia nuts.
Rikio passed away in 2009. Thankfully, the store was lovingly restored by Kurt and Thea Brown in 2011, retaining that "old timey" general store feel, showcasing Big Island memorabilia: vintage bikes, instruments, radios, a rare record collection of Hawaiian and Japanese artists from the 1950's and prior. Also, it's a mini-grocery, selling wine, beer, Kona coffee, Thea's homemade cookies, and more. A charming slice of island history worth a stop if anywhere near the area.
Honey & the Museum at BIG ISLAND BEES
What a surprise to head up the mountain in Captain Cook (near Kona) and find Big Island Bees tucked away, a honey farm and mini-museum designed by artists from New York (who showed at the Guggenheim Museum, no less), husband/wife Garnett and Whendi Puett.
Garnett is a fourth generation beekeeper and the couple's artistic background is apparent in the design of their tasting room/museum: hand pressed wallpaper, poetry about honey, antique tools, even a couple of Garnett's impressive beeswax sculptures which have shown internationally.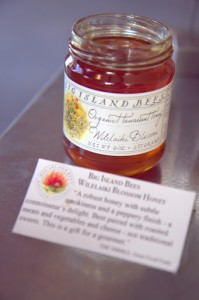 Their elegantly packaged honey comes in three varieties: 'Ohi'a Lehua (floral, light, creamy), Wilelaiki (my favorite with subtle spice and savory notes), and Macadamia Nut Blossom (dark, rich, sweet, velvety).
For art and food lovers, this is a unique stop.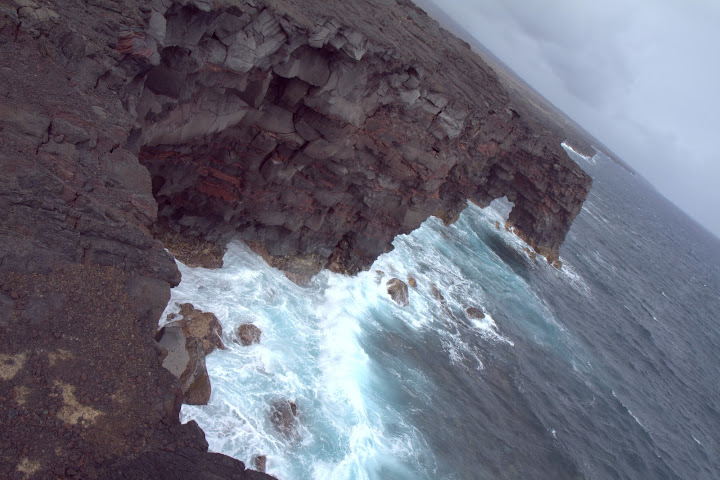 Dining by UKELELE & MOONLIGHT at CANOEHOUSE
A CanoeHouse dinner under the stars, wind sweeping the palms and inciting waves, is an unforgettable experience… especially when dining with Mauna Lani Bay Hotel & Bungalows' cultural historian on all things Hawai'i Island, Danny Akaka, and Hawaii Big Island Visitors Bureau Executive Director, George Applegate, who serenaded us by ukelele as Danny's wife, Anna, danced under the palms. Time stopped and the image remains the single, most iconic image of the Big Island captured in mind.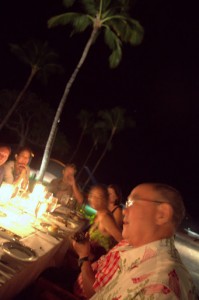 Food is almost irrelevant in such a moment, but thankfully CanoeHouse's Chef de Cuisine Allen Hess has a skilled hand with local ingredients. In keeping with the Kohala Coast and Hawaii in general, it's an expensive meal ($16-24 for appetizers, $36-48 entrees), although there is a bar if you wish to go for a lighter meal/bill.
The menu is grouped by sections (farmer, rancher, fisherman) with listed purveyors, a common practice of farm-to-table restaurants. Fine dining plates are tempered by Chef Hess' playful touches, particularly in dishes like Hawaiian hogs pasteles (a whopping $37 for a variation on the tamale) filled with chicken, pumpkin, coconut, or Korean-braised goat "tacos" ($18) on a bao bun, using local Waimea meat.
Local Ingredients at HOLUAKOA GARDENS CAFE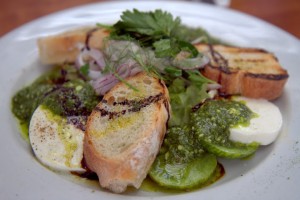 Lunch on the peaceful outdoor patio of Holuakoa Gardens Cafe in the foothills village of H?lualoa, yielded a few dishes ($7.50-$32) that unfortunately sounded (and looked) better than they tasted. Though "local, sustainable, organic" have long been norms, not exceptions, where I'm from, they are not many places, surprisingly including Hawaii. Thankfully, it continues to become more commonplace here as around the US. The strength of this cafe is that it adheres to all these principals, utilizing produce from farms within five miles and fish from local wild-caught purveyors, uncommon in Hawaii in general. "Local" works best in a lovely Capri salad ($12) with green Heirloom tomatoes, sweet onion, fresh mozzarella, house pesto and grilled wedges of ciabatta bread.
Poke at Sam Choy's KAI LANAI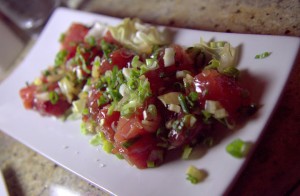 Hawaiian celebrity chef Sam Choy was easily the friendliest chef I met at Pebble Beach Food & Wine Classic last year. His good cheer doesn't exactly translate to the chain-like look of his casual newer restaurant in Kailua-Kona, Sam Choy's Kai Lanai, aided by ocean views from its cliff perch.
A Big Island native often credited as the "Godfather of poke", his classic poke ($12) is the thing to order. I equally like raw, silky shoyu (soy) marinated poke and seared, lightly fried poke. Having tried many an edamame hummus, Sam's version, mixed with spinach, garlic, and olive oil, scooped up by grilled pita wedges, is an exceptional one. Entrees were uneven and cocktails of the dated/'80's kind, but appetizers and an ocean view make it a pleasurable respite for those wanting to sample the influence of the most famous chef to hail from the Big Island.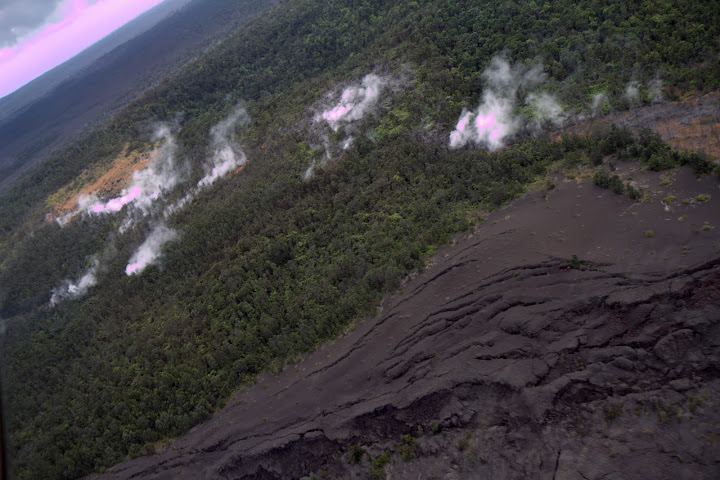 Watching Manta Rays at RAYS ON THE BAY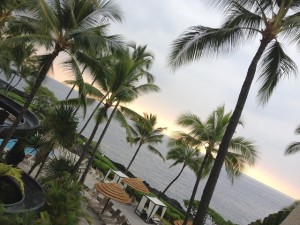 Though dinner was lackluster at Rays on the Bay, the open air restaurant with large patio and bar area overlooking a lit ocean cove where manta rays congregate is a rare and magical setting. Live Hawaiian music or pop tunes sung to soothing ukelele make it a transporting, romantic, setting for a drink or dessert. Watching manta rays feed is mesmerizing.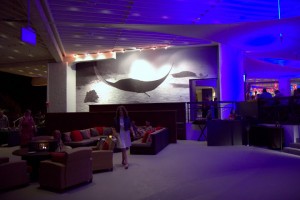 Ending the day here is a must if staying at Rays' hotel base, the recently renovated Sheraton Kona Resort and Spa at Keahou Bay. The hotel's strengths including striking ocean views and pools (though overrun with children screaming down the slide during the day – not exactly restful if your room happens to face the pool), warmly modern, comfortable rooms, dramatic coastal lava rock, and coffee downstairs at Keauhou Coffee Company, featuring Mama's Kona Coffee, a favorite of the many coffees I sampled during the Kona Coffee Festival. Mama and her daughters were there pouring coffee themselves on a Saturday morning.