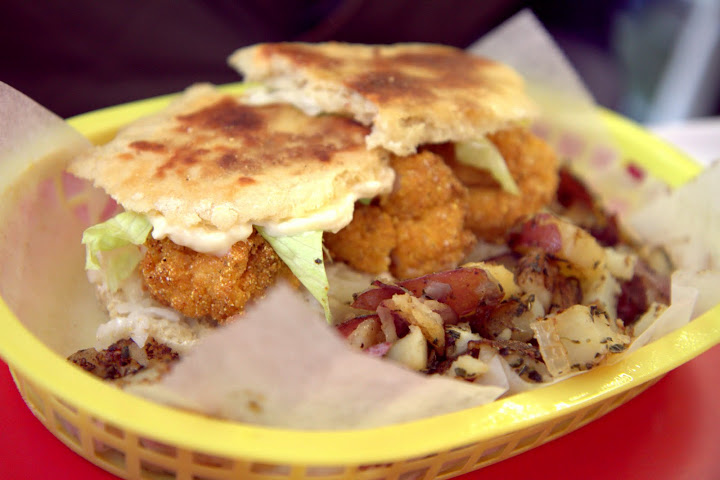 Back again in Bourbon Country, catching up on new restaurants and bars since my visit one year before. While visiting eight distilleries from Bardstown to Lexington, I particularly enjoyed a lunch in the historic town of Frankfort (home to Buffalo Trace Distillery) and fueled up on breakfast and coffee in Louisville before long days of spirits judging/tasting.
RICK'S WHITE LIGHT DINER
In the charming, historic town of Frankfort en route to nearby Buffalo Trace, I thankfully went with my instincts to eat at Rick's White Light Diner. Chef Rick Paul was a CIA (Culinary Institute of America) grad back in 1975 – unusual pedigree for a small town, KY diner.
His tiny, quirky restaurant, with red counter seats and hodgepodge signage (including a glaringly large photo of Guy Fieri who featured the diner in his show Diners, Drive-ins and Dives), reflects his fun-loving personality and care for local ingredients in New Orleans-influenced food and Southern BBQ. Eating here is a bit touristy – but plenty of locals packed the place, too. Most importantly, the food is heartwarmingly vibrant.
A special of the day converted me: fried shrimp po boy ($15), not so much classic New Orleans style with its crispy flatbread, and plump, juicy shrimp doused in creamy coconut sauce. It tasted like tropical island vacation in New Orleans.
Crawfish pie ($15) is one of Rick's specialties: a gratifying slice of crawfish and cream under flaky crust. A side of fried banana peppers crusted in cornmeal was one note – salty – but the pie is well worth ordering. Being a lifelong key lime pie fan, I had to try Rick's ($5), a lush version with perfect texture though I prefer more tart versions (my mouth-puckering favorites experienced in South Carolina and Florida).
All in all, Rick's is unique, special sort of place that should be a stop when one is near Frankfort. A spritz of bourbon in my mouth (Rick keeps a spray bottle behind the counter) was the ideal finish to lunch, sending me on my way to meet with the next bourbon distiller.
Breakfast (with coffee) in LOUISVILLE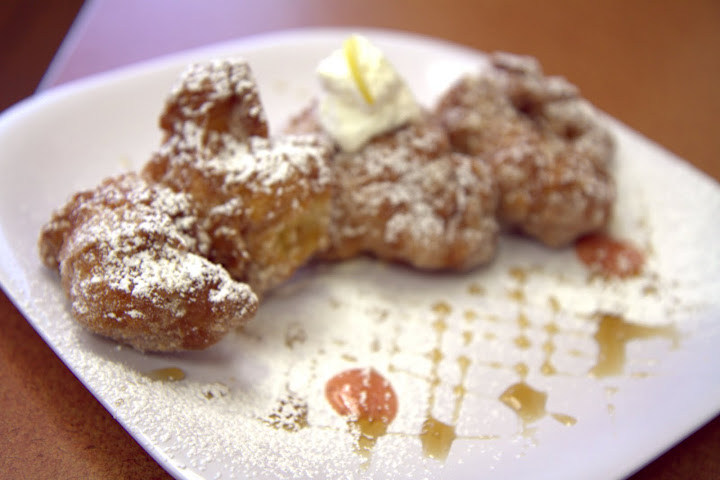 SUPERCHEFS
Superchefs, a divey breakfast-only joint that shares a space with Chicago Gyros (from 11am on) on lower Brownsboro Road and worth going out of your way for. Besides Hillbilly Tea (for cozy atmos and hipster-fied Southern food), Superchefs is my favorite Louisville breakfast spot. A pretzel croissant from beloved local German baker, Klaus Riedelsheimer, is packed with brown sugar candied bacon, egg and cheddar cheese and served with hash browns (8.50).
Other highlights are fluffy "soufflé doughnuts", or rather Beignets & Coffee (5.99), lighter than air yet crispy on the outside from generous butter and frying. Creamy, slow-cooked roasted red pepper Weisenberger grits ($5.99) are another must on the blissfully high-calorie breakfast menu.
WILD EGGS
With three locations in Louisville's suburban surroundings, Wild Eggs is bustling every day with breakfasts made from local farms in a cheery, elevated diner setting with close up wall hangings of eggs and farm fresh ingredients. Portions are massive, as is the case with a mountain of Maria's Chilaquiles, corn tortilla strips piled high with refried beans, salsa verde, queso blanco and a sunny side up egg. Their everything muffin, a biscuit-like muffin loaded with cracked pepper, garlic, onion, poppyseeds and the like, is justifiably popular.
SUNERGOS COFFEE
Sunergos (the Preston Street location) is a bustling, friendly locals coffee spot south of downtown Louisville serving bracing espresso and coffee.
Though not a third wave, artisan coffee shop with perfected microfoam and such, it's an ideal neighborhood hangout and they do take their in house roasting seriously. It's a laid back, friendly place to watch locals gather over a good book.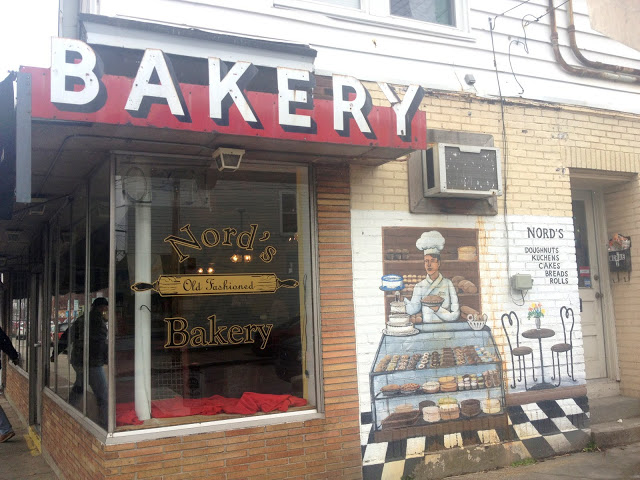 NORD'S BAKERY
Next door to Sunergos Coffees, Nord's Bakery is a Louisville institution since 2002. Old school donuts are the name of the game, sugary and fluffy. The maple bacon bar is beloved, though I prefer some of the straightforward classics which dissolve, pillowy and soft in the mouth. They do a mean apple fritter or donuts like peanut coconut crunch.
CAKE FLOUR
Tiny, little Cake Flour is one of Louisville's more artisan bakeries, a haven for daily-changing baked goods, including their popular schmuffin: nutmeg-laced "muffins" brushed with butter and rolled in cinnamon sugar. It's easy to down one (or more) with a bracing cup of coffee.