Peruvian cuisine first captivated me over a decade ago. As with many, ceviche was the starting point, but it was raw, sashimi-esque tiradito, fish doused in bright lime or passion fruit, that hooked me. I drew parallels to Japanese sushi with South American spirit.
San Francisco has long had strong Peruvian ties, from being the first place in the US to import pisco in the 1800s, to Italian Domenico Ghirardelli taking his chocolate from his business in Lima, Peru, to San Francisco, opening a shop in 1852. It's no surprise that a strong Peruvian contingency and collection of businesses, restaurants, pisco bars, Pisco distillers and importers, and dedicated Peruvian locals have taught me much of the country's cuisine, drink and hospitality in the past 13 years.
When Peru's most famous chef Gaston Acurio opened his first restaurant in the US in 2008, La Mar Cebicheria, he choose San Francisco's Embarcadero. At La Mar, I gained an even deeper appreciation for the range and depth of Peruvian cuisine.
Here I fell in love with causas, those delicate whipped potato mounds topped with crab and all manner of goodness, with anticuchos, and more varieties of tiradito.
In early 2011, I met and interviewed Acurio at La Mar when he flew up to commemorate the restaurant becoming 100% sustainable in their seafood selection. Acurio returns to SF later this month for a street food celebration for La Mar's 5th anniversary on 9/26.
I finally made it to Peru this spring with the annual apprentice program for my favorite pisco: elegant, fantastic Encanto (more on pisco and cocktails in Peru next issue). We traveled from Lima to Ica, the heart of Peru's wine and pisco production with its dry, dusty climate, staying at Hosteria Suiza in the deserts of Huacachina, an oasis tucked amidst sand dunes.
Lima is an oceanside, port city – historically a melting pot for Japanese, Portuguese, Chinese, Italian immigrants and beyond, each influencing the country's cuisine, forming complex categories from Chifa (Chinese Peruvian) to Nikkei (Japanese Peruvian). For numerous reasons, Peruvian is my favorite South American cuisine – the most vibrant, exciting, complex cuisine south of Mexico.
Poverty wracks the country, visible in countless ways. Even the coastline is often scattered with trash and thick smog. Driving South to Ica, roadside food can wow, whether from a hut, Paulina, for unforgettable tamales steamed in a giant pot and shredded pork chicharrones (the hunky, meaty version not the chip-like version), or a slick grifa (gas station) with airy, sitdown restaurant serving Chifa and Nikkei.
Though Lima isn't exactly a beautiful city, it's one rich in gastronomic perfection, accompanied by warm hospitality… a fantastic place to eat. Limeños (residents of Lima) love their malls and there are a few massive complexes, like Larcomar, dramatically perched on coastal cliffs, lined with chain stores and restaurants (sadly, there's even a Chili's and TGI Fridays). But Peruvian chain, Mangos, can be worthwhile for a crazy lunch buffet that is essentially a crash course in Peruvian cuisine, offering all you can eat cuy (guinea pig), tiradito, stir fry, causas, ceviche tossed with your preference of ingredients. All this and open air dining cooled by ocean breezes.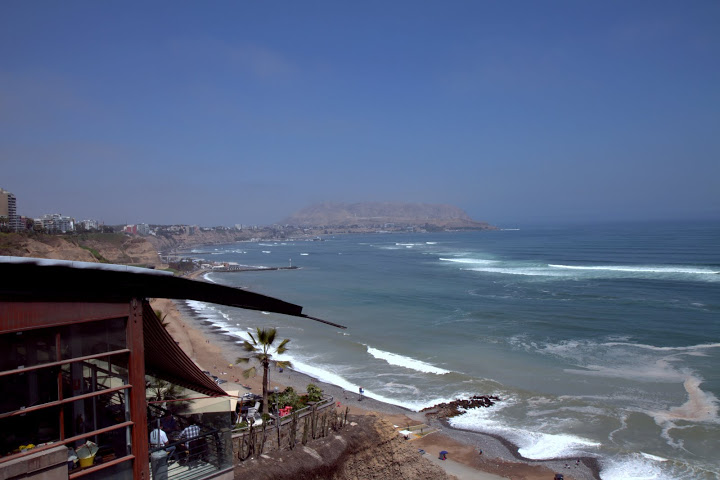 Here are four standout restaurants in Lima:
CHEZ WONG, San Isidro, Lima
Dining in Javier Wong's home, a humble restaurant in a residential area marked by graffiti and grit, was simply one of the best meals of my life. There's no menu or signage outside, and it's lunch only. Unlisted prices for family style dishes sized to accommodate your table do add up but are miniscule compared to expensive, popular restaurants in Miraflores – and it's worth every penny.
Wong, a badass chef in tinted glasses and a white cap, enters with his assistant from a side door, pulls out an entire fish and a series of knives, and begins fileting away. He tosses bits of raw, fresh fish and possibly octopus with lime and red onion, making a simple, pristine ceviche. Then he might move on to tiradito. The sashimi of Peruvian food, tiradito is my favorite type of Peruvian dish. Chef Wong's is unreal: raw, silky fish of the day is splayed out, gently doused in Peruvian limes with accompanying shallots, and covered in a crumbled crust of pecans. While I've eaten any number of nut-encrusted fish dishes, never have I had raw fish prepared this way. It's a revelation.
After the fish courses, comes the Chifa – we savored two different stir=fries. Chef Wong's Chinese dishes will forever haunt my dreams. I'm not sure if it's strictly Chinese-Peruvian fusion or heavily drawing on a specific region of China, but his sweet and sour chicken is transcendental… and so far from sweet and sour in the States as to be unrecognizable. I even trekked to a Chifa hole-in-the-wall in SF hoping for a sweet and sour remotely in this vein, but to no avail. A goopy, Americanized version awaited instead of the complex, stunning, dark red sauce of Wong's sweet and sour, dusted with sesame seeds.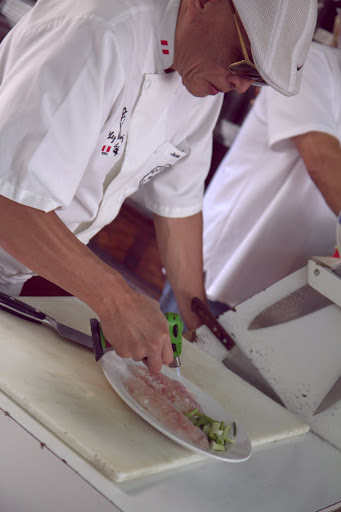 Flames shoot up from Chef Wong's wok, sweet and savory aromas arising from a stir fry that puts shames stir fries everywhere.
I was with a Peruvian distiller friend who could translate, and we lingered after the meal, chatting, talking about Chef Wong's upcoming tour through the US with none other than
Anthony Bourdain, sharing a smoke together over the produce (I don't smoke but couldn't resist the opportunity). The aromas, flavors and images of this meal stay with me, beyond what I dared expect walking in that humble doorway, exemplifying the pinnacle of Peruvian cuisine.
Reservations: chezwong7@hotmail.com; 511-470-6217.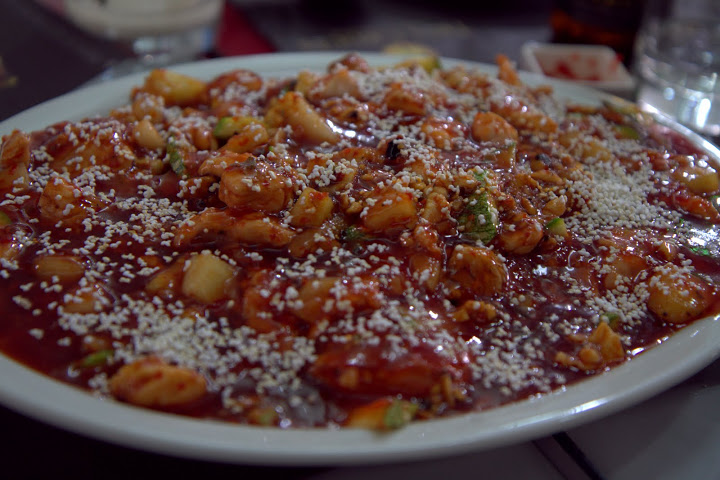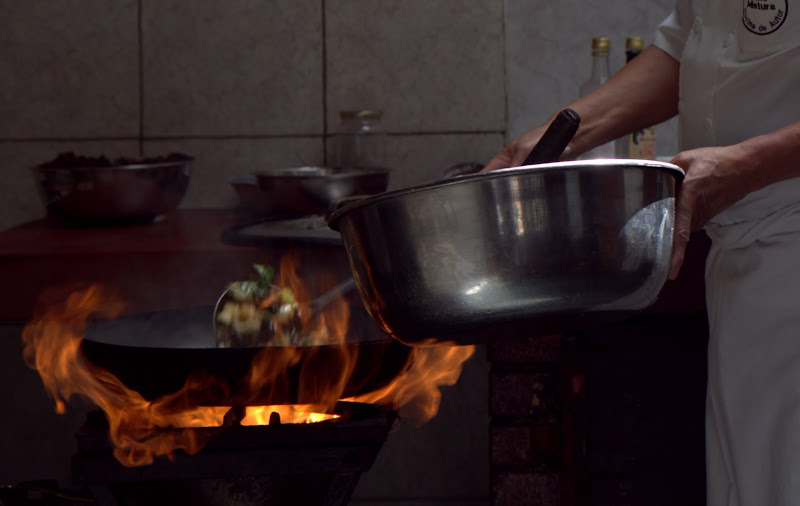 ASTRID Y GASTON, Miraflores, Lima
The global star of Peru, Gastón Acurio, has arguably done more than any chef to promote Peruvian cuisine internationally. With many restaurants around the world (his first in the US was La Mar Cebicheria, opening in San Francisco in 2008; more recently, he opened a NY location of La Mar). In his home country of Peru, he has multiple restaurants, but none more lauded than Astrid y Gastón, just named #1 in World's 50 Best Restaurants Latin America and #14 in the World's 50 Best, with the kitchen run by Chef Diego Munoz.
The exterior is humble, in a colonial building near Lima's Parque Kennedy. Similarly, the dining room and bar are chic but lowkey, belying the elegant dishes and cocktails that flow from the kitchen and bar.
Astrid opened in 1994, Acurio's first restaurant, and is set to relocate to a new space in 2014. Dishes like Peking guinea pig (yes, you heard right), take the ubiquitous Peruvian meat, cuy, surprising with completely different presentation. Arriving in lettuce cups, it's served with steamed, mini purple corn crêpes.
How I wish I could return for their forward-thinking, new multi-sensory dining experience: El Viaje – The Journey. The experience expresses Italian immigrants settling in Peru with 16 courses, music, fashion, décor.
CENTRAL, Miraflores, Lima
Central, which was just named #4 in World's 50 Best Restaurants Latin America and #50 in the World's 50 Best), was the most impressive presentation of any of my meals in Peru. From tableware to plating, each dish was a work of art – a visual as well as edible experience. The multi-room space maintains an intimacy alongside a cosmopolitan chic in a space designed by the chef's mother, near Lima's Playa La Estrella.
Chef Virgilio Martinez (who was executive chef at Astrid y Gastón) combines international cuisines with Peruvian, in popular dishes like a leg of goat cooked sous-vide for 20 hours, or charred octopus scented with purple corn.
Desserts are a visual wonder and should not be missed, while the bar offers some of the best cocktails in the city (as at Astrid y Gastón, you can dine on appetizers and drinks at the bar as an alternative to a full meal).
MAYTA, San Isidro, Lima
Bright and sunny, with clean white walls and black accents, Mayta boasts an impressive bar of over 90 infused piscos, steeped with Peruvian fruits, vegetables and herbs, like ubiquitous coca leaves, but also litchi, camu camu, yucca, eucalyptus.
They make Chilcanos and Pisco Sours from any of these infusions, and plenty of other cocktails beyond. While not every dish wows, a number of them do. Chef Jaime Pesaque does some amazing things with braised alpaca on sweet corn cakes (yes, alpaca), or cuy (guinea pig) butterflied over a tamale.