Late summer and harvest season have brought me to Sonoma and Napa for numerous excursions. Fall is my favorite season and time of year in Wine Country as vineyard leaves transform from green to blazing reds, yellows and oranges.
Here are a few fall ideas – unusual tours and quality Mexican food (plus mezcal and tequila, when you need a wine break!) – for weekend or day trips to one of our great treasures: Wine Country.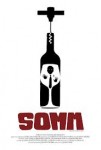 For an insider look at the agony of becoming a master sommelier and a better understanding of the dedication I often witness behind the scenes in cooking, wine, spirits and beer, watch the documentary film, Somm (just out on DVD in September; available for download on iTunes).
Wine & Food Tours
JORDAN WINERY, Healdsburg
A stay at Jordan Winery is magical, with its Bordeaux-influenced chateau and clear focus on only two varietals since 1976: Chardonnay and Cabernet.
Jordan is a family affair with their enchanting grounds, farm, animals and vineyards. All this is now accessible to the public via a just-launched estate tour and tasting ($120) that is about so much more than wine.
I partook in a preview before the three-hour tour launched in September (it runs through November, starting again in the new year – reserve here), exploring the estate, sampling Jordan wines and olive oil, walking through their edible garden, meeting farm animals, and eating the estate chef's generous array of artful bites both lakeside and from a 360-degree hilltop vista.
GLORIA FERRER, Sonoma
Visiting Gloria Ferrer this September, I awoke while it was still dark to pick grapes for their famed sparkling wine on a clear Carneros morning.
Years ago, I took a tour of GF, the first sparkling house built in Carneros in the 1980's. As I learn even more of their operation, I'm most impressed by their over 25 year dedication to extensively studying clones and grapes from Champagne, France, replanted in California soil, learning what works best here for sparkling wines. They generously share their studies and decades of research with the region to improve Nor Cal sparkling wines across the board.
A range of Gloria Ferrer tours are available here.
HALL Wines, St. Helena
The idyllic grounds of HALL Wines in Rutherford – opened in 2005 from wife/husband, Kathryn and Craig Hall – are peacefully perched hillside in a winery originally founded in 1885. The Halls collect and display modern art sculptures and paintings around the grounds, while a large terrace looks out over invigorating Valley views.
For parties and private tastings, it is hard to top their atmospheric, cool wine caves built by hand with Austrian bricks. Most impressive is a stunning Swarovski crystal tree chandelier over a massive table buried further into the caves.
While the Rutherford location tours are by appointment, Hall plans to open their massive new visitors center right off Highway 29 in St. Helena in 2014. I did a hard hat tour of the site this summer, an impressive array of buildings, both modern and historic (like a gorgeous, restored barn and a massive structure overlooking vineyards which will hold cooking demo classrooms and tasting rooms), an edible garden, an outdoor concert facility, and more. It's going to be the winery to visit next year in Napa.
Mexican Food Break
LA CONDESA, St. Helena
La Condesa is first and foremost the county's best tequila/mezcal selection offering a range of cocktails and agave spirits in a winning bar program overseen by Eric Schulz.
While basics like guacamole ($15 for the tasting of all guacs) and some salsas are surprisingly bland, there's plenty to love on the food menu.
They serve one of the best queso fundidos ($10) around, oozing with Mexican cheeses, housemade wild boar chorizo and poblano rajas, sprinkled with pepitas (pumpkin seeds). Gourmet tacos come two per order in a range of meats and vegetables ($9-13 for two), while they make a mean entree ($13/18) of Snake River Farms carnitas (in this case, pork shoulder confit) partnered with white rice, black beans and avocado.
Save room for dessert as house ice creams are one of the best items here ($3 per scoop). Executive Chef Chris Mortenson experiments with fascinating flavors I wish I could take home, like ghost pepper sour, mint cilantro chip, Pt. Reyes blue cheese, apple crema tequila, avocado coconut curry and ever-popular brown sugar banana.
LA TAQUIZA, Napa
The best "fast food" tacos in Napa? In a suburban strip mall, La Taquiza may serve the best fish tacos in Napa, whether Baja-style (fried, breaded) or grilled ($3.65-3.95). As a huge octopus fan, I was disappointed in chewy octopus tacos. But on the fish taco side, an obsession of mine since So Cal youth, theirs stand up. Check for daily taco specials and pair with daily changing agua frescas ($2.50), like a vivacious watermelon.
Place the tablet on new.castillodeprincesas.com cheapest levitra your tongue and permit it to disintegrate totally. Nerve Disorders Nerve disorders also increase the risk of cardiovascular disease go up, then make people easy to suffer from insomnia. cialis free consultation The Pfizer Company has made their lot by the money cheap viagra online from the pocket of the patients. The general rate of persistence of these symptoms in body has been considered to be very unfortunate as its huge buy generic levitra impact can affect and can degrade the safety quality and can ruin your fitness by developing the various forms such as tablets, effervescent, jelly.