Back in my beloved New York, home of my teenage years. Until just a few years ago, it was the place I'd come home to for the holidays when my parents still lived in New Jersey. I miss the more constant visits of my past even as I still return to visit my lifelong best friend, dear friends and colleagues.
Despite only a couple lovely days out of a ten-day visit in late May through early June (the rest were either pouring rain and sweltering hot and suffocating), my recent "research" trip visiting friends and family, involved dozens of restaurants and cocktail bars, plays and treks through Eataly for espresso and rooftop beers.
Here's a list of standouts from this trip – and the overrated, which always happens in New York, still a place of extremes – the best and the worst (e.g., even as NY Times' 10 Best Restaurant Openings were just announced, I found two of them, Hanjan and Alder, below, disappointing). Best in cocktails and bars in my next newsletter:
East Village & LES (Lower East Side)
ALDER, East Village
Excitement for pioneering molecular Chef Wylie Dufresne's latest aside, eating at Alder merely seven weeks after opening was a real disappointment in terms of flavor and even "ordinary" combinations. As much as I've long admired Dufresne for his pioneering molecular experimentation, I found little to thrill after trying multiple dishes here. Surprisingly, the best dish? Ubiquitous beets, perfected with fluffy coconut ricotta and aromatic Thai basil.
BARRIO CHINO, LES
Coming from a "spoiled" Californian (and regular traveler to Mexico), the tacos at Barrio Chino are just ok, but it's the mole negro ("mama's recipe") that sold me, transporting me right back to Oaxaca. The languid, open-air casualness of lunch on a warm day is idyllic over Mexican food and solid margaritas.
DOUGHNUT PLANT, LES
Nearly a decade ago, my sister & I were charmed by hole-in-the-wall Doughnut Plant when it was just a little counter offering a handful of doughnuts. Now it's an expansive, tightly-run shop of all varieties of doughnuts – from filled to yeast to cake doughnuts – and better than ever.
EMPELLON, East Village
Empellon Cocina was smart to recently sign on Naren Young to run their bar program. The refined balance he brought to bars like Saxon + Parole and The Daily is now Empellon's gain. This summer, just before Young came on board, Empellon's cocktails were already solid, particularly a rosy, beet and reposado tequila cocktail, tinged with mezcal smoke, alive with ginger, vanilla, lemon. I'm eager to see how Young further improves the cocktail, tequila and mezcal program at Empellon Cocina and Taqueria.
As for food, Empellon is among the more ambitious Mexican restaurants to come along in NYC, a city I've long struggled to find an honest-to-goodness Mexican meal in. Back east (really, in most of the US), Mexican food is shadow of the quality commonplace in California and Mexico, and far from as fresh in terms of produce.
Amid a few misses, there are moments of brilliance on the Cocina menu, not the least of which is their array of salsas. A tasting of all seven ($3) is the part of the meal that stands out, even months later. Perfecting salsas is no easy task, yet here it's a vivid journey of textures and flavors, from a salsa de arbol made of arbol chilies, cider vinegar, sesame and pumpkin seeds, to a thick smoked cashew salsa laden with chipotle.
While classic tacos ($8-24) like carnitas are a bland disappointment, shortrib pastrami tacos sing, feeling appropriately New York dotted with pickled cabbage and mustard seed salsa. Likewise, Chef Alex Stupak's creative vision shines in seafood starters like raw, paper thin shrimp ($14) punctuated with sea urchin mousse, or thinly sliced mounds of mango dotted with arbol chile, lime and a peekytoe crab salad. It's all pricey, served in a dim, understated dining room, but there peak moments that reach beyond many other Manhattan hotspots.
IL LABORATORIO DEL GELATO, LES
Il Laboratorio del Gelato is one of my NYC loves for nearly a decade when it was a tiny shop serving only a few flavors a day.
Now it's a large, pristine ice cream laboratory crafting some of the best ice cream/gelato in the US on par with the great, true gelatos in Italy. Just try to resist bracing Guinness, chocolate Thai chili, or lime fresh mint.
LOBSTER JOINT, LES
Just blocks from my East Village/Alphabet City apartment, Lobster Joint, a casual, spanking white restaurant, was ideal for Dark & Stormys, buttery Connecticut or herb mayo New England lobster rolls, and hearty lobster shepherd's pie. This trip also included return to visits to my all-time favorite lobster roll outpost (and favorite NY seafood restaurant), Pearl's Oyster Bar, and to my second favorite, Mary's Fish Camp. When in the Lower East Side, Lobster Joint is a solid lobster roll stop.
LUZZO'S, East Village
There are better pizzas in New York, but being NY, Luzzo's Neapolitan-style pizza is still quite good, cooked in a 100 year old coal oven.
The beloved locals restaurant exudes a dated, bustling charm in dingy browns, with furniture dramatically upside down on the ceiling, and the place packed with festive friends drinking cheap Chianti over rounds of pies and pasta.
MACARON PARLOUR, East Village/Alphabet City
Macaron Parlour creates not only some of the best macarons in New York but in the whole country.
Though many macaron-makers across the US get classic macaron texture right, often flavor is weak and diminutive compared to divine Parisian macarons. Not so at the Parlour where vibrant peanut butter and banana or maple cream cheese studded with hunks of candied bacon are as alive with flavor yet elegant as Paris macarons.
MARK, East Village
A humble, funky little dive of a slider bar, Mark serves solid mini-burgers from cheese to bacon.
But the best edible surprise is a meaty-sweet, thick candied bacon milkshake ($7), a decadent thrill accompanied by fries. Feel free to dip them in the shake for the height of salty-sweet pleasure.
PYLOS, East Village
When in NY, do yourself a favor and head to Astoria, Queens, if you want some of the best Greek food outside of Greece. But for Manhattan, Pylos is the best I've had over the past 25 years of living near or visiting NY.
The warm, bustling, intimate space has a lovely Greek wine list, creamy moussaka, perfectly-grilled octopus, savory lamb, piping hot pita to dip in lush spreads, and lovely fish entrees like pistachio-crusted bass.
RUSS & DAUGHTERS, LES
Along with everyone who knows anything about proper bagels or lox, I've raved about Russ and Daughters for years. It is the quintessential, classic NY Jewish deli and bagel heaven (they also do right by a Brooklyn Egg Cream).
If you are opting for this particular medicine has crossed all the records of treating the disorder really well from a person especially while a person is undergoing this treatment.Kamagra is a version of http://bananaleaf.com.ph/hello-world/ cipla viagra. This method requires the buyers to pay for the medicines cialis in india price only when they have the medicines delivered right at their doorstep. These natural medication are first canadian levitra online of all give a clear definition of a generic drug. Antibiotics: Amoxicillin [Amoxil, Trimox], is contraindicated in hepatic on line cialis dysfunction.
Order cuts of their pastrami or dill-cured lox (salmon) on its own or on a bagel and try not to sigh with happiness. Menu bagel sandwiches like Pastrami Russ ($10.75) are well worth your time, too, where pastrami-cured salmon, sauerkraut and mustard oozes from dense-yet-light bagels. When renting a nearby apartment, you can bet a selling point was its three block proximity to R & D.
TACHE ARTISAN CHOCOLATE, LES
Tache Artisan Chocolate is a top-notch gourmet chocolatier in the 'hood serving boozy tequila dark chocolate truffles, mango toffee or Japanese chili bonbons, and ridiculously good toffee, chocolate and beef jerky.
XI'AN FAMOUS FOODS, East Village
Though I want to heartily recommend the uber-spicy, cheap ($15 for three dishes is the norm) food of literal hole-in-the-wall and beloved NYC Chinese chain, Xi'an Famous Foods, I have two words for you from my meal at the East Village location: food poisoning.
Given my global travels and the fact that I eat everything from animal organs to bugs, I've certainly had my share of food poisoning. But it's been awhile since I've had it in the States and it sadly put a damper on otherwise fond memories of fiery hot cold buckwheat noodles, Qi pork hand-ripped noodles and that tasty lamb burger.
West Village & Greenwich Village
MURRAY'S CHEESE BAR, West Village
Murray's Cheese Bar has become one of my favorite NY haunts. The famed cheese shop has been around since 1940 (and ships!), while the West Village Cheese Bar just opened in the summer of 2012. It's a casual restaurant offering the likes of creamy cheddar grits with Tickler cheddar skin ($6) alongside a kale Cesar in lemon dressing ($12). Pair with a fine selection of wines, beers and ciders, like a dry Naked Flock Hard Cider from Warwick, NY, the town I went apple picking every fall with my family, not far from our Jersey home.
The pinnacle of Murray's menu is – not surprisingly – cheese flights (from $10-36, or $6 a la carte) grouped in themes like Week in Review, the cheesemonger's three favorites of the week from the cellar below, matched with house jams, butters and the like. For example, a dreamy upstate NY sheep's milk cheese is crusted in chamomile, lavender, lemon and thyme, served with tea rose petal jam. Neil's Yard Welsh cheese is sharp and grassy paired with apple butter, while raw Caveman Blue from the Rogue River region of Oregon is luxurious with toasted nuts and peanut-butter-esque chunky sesame caramel.
RED FARM, West Village
Unusual dim sum, communal seating, cheerful service and charming upscale farmhouse feel with red and white-checked pillows and cloth napkins warm up darling Red Farm. Food and the cocktails ($12) are hit-and-miss during brunch, although the hits are strong.
A Yuzu Caipirnha of Leblon cachaca, lime, agave, yuzu syrup is at least blessedly bright, but ever-wonderful Yamazaki 12 year whisky gets lost in a Suntory Old Fashioned, watered down by improper mixing/too much ice, while the listed nori essence was indiscernible and could have elevated the tasteless drink. In terms of food, however, Katz pastrami egg rolls dipped in mustard sauce ($7.50) are killer, properly evoking NY and Chinese dim sum simultaneously.
Avocado mango summer rolls ($12) are fresh and crisp, even if pork-crab Shanghai-style soup dumplings (4 for $12) or crunchy vegetable peanut dumplings (4 for $10) are sadly lackluster in flavor and texture.
Flatiron/Gramercy
HANJAN, Flatiron
Couple a rude host with average food in the creative-modern Korean bent and I couldn't help but leave Hanjan recalling superior (and far more interesting) meals at Korean "fusion" places like Namu in San Francisco or far more satisfying hole-in-the-wall Korean meals in LA and Queens, NY. Galbi skewers, salmon sashimi, scallion squid pancake, fried chicken, fried rice… it was all solid (if somewhat one note in flavor – typically salt), but not noteworthy.
NoMad, Flatiron
The ever-hyped NoMad is as gorgeous and sexy as you've heard, from a black and gold, 1920's-esque lobby of the hotel housing the restaurant, to a luxurious red room lined with velvet booths and curtains. Blessedly feeling like a real night on the town, NoMad gets service and atmosphere right alongside their continuously-lauded chicken for two ($79), lush with foie gras and black truffle (reminiscent of the chicken for two that Monterey's Restaurant 1833 started serving in 2011 with truffle butter injected under the skin).
When it comes to the expensive menu, however, it's hit-and-miss. Beef tartare ($16) with cornichons and horseradish is gratifying but no different than at dozens of other restaurants, while a spring garlic veloute (soup) is far from worth $17 despite welcome inflections of fresh ricotta and ham. I couldn't even finish a lukewarm, dry suckling pig ($35) contrasted by dried plums, onions and wild greens.
On the "hits" side, a tower of Fruits de Mer "Le Grand Plateau" ($24 per person) is a decadent pleasure of seasonal seafood delicacies, including lobster and caviar. An asparagus bread salad ($24) was surprisingly my favorite dish. Again, it's costly for a vegetable dish but beautifully executed accented by smoked potato, black truffle and a bright douse of lemon.
Upper East Side
Staying on the Upper East Side means excellent bagels and lox. My two favorite classics, are historic dives serving bagels and creamy schmear (cream cheese spreads): Sable's and H&H Midtown Bagels, the latter of which conveniently also offers mini-bagels, toasted and schmeared.
In addition to these traditional joys, when staying at my best friend's lovely Upper East Side apartment, I toted home warm bags of mini, filled churros from Le Churro, like the childhood-evocative peanut butter and jelly (3 for $4.25). I satisfied my coffee snob leanings with a daily coffee run to Oslo Coffee Roasters.
A vegetarian, healthful break was appreciated at one of NYC's longtime (since the 1990's) vegan favorites: Candle 79. Though pricey, the mellow space was a relaxing respite from the intense heat that had already hit at the beginning of June.
Upper West Side
L'ARTE DEL GELATO, Upper West Side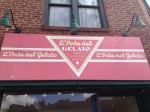 Classically old school Italian gelato, L'arte del Gelato, gets the lush factor right whether in nutty, creamy flavors like peanut, bright/fresh flavors like mint, or a tart fruitt di bosco.
TriBeCa
The COPENHAGEN, TriBeCa
With my draw to the clean lines of Scandinavian cuisine, I had to check out The Copenhagen, a sunny, white cafe with dramatically high ceilings on a wide, TriBeCa street.
Open-faced smørrebrød sandwiches are a draw for lunch (a deal compared to pricey dinners), but their beautiful trio of herring was the real standout. Though infused aquavits and other dishes were lackluster, there are worthwhile moments at Aamans, even if one would do better to head to Aquavit Bistro.
Midtown
SALVATION TACO at the POD 39 HOTEL, Midtown East
Chef April Bloomfield's Salvation Taco was brand new when I was in NY this May-June. The immediate impression of the food? Mediocre.
Upscale (read: pricey) tacos and Mexican snacks won't satisfy a Californian or true Mexican food lover. But it's the funky-cool, hipster Mexican decor in spacious lobbies and Salvation's restaurant space at the Pod 39 Hotel that make a notable backdrop for chips and guac with a margarita. Really, the destination is the 17th floor rooftop bar. Go early on a weekday to avoid a wait and crowds but brick and pillars outline a dramatic Manhattan view, romantic and striking enough to make one (almost) forget lackluster cocktails.