The notable restaurant openings of August were Roma Antica (friendly with almost all staff from Italy), Madcap in Marin, Ardiana in Noe Valley (love their brown butter heirloom tomato salad), Khamsa (below), Kitchen 335 in Healdsburg, Mamanoko (formerly Mamacita), Kuma Sushi & Sake (sunny, straightforward sushi spot), Perle Wine Bar in Oakland, another Proposition Chicken in Oakland, Top Round Roast Beef and Bandit (below).
I have yet to visit the further afield spots from Marin to Healdsburg, but among the rest, here are my top newcomers of the month… and why they stand out.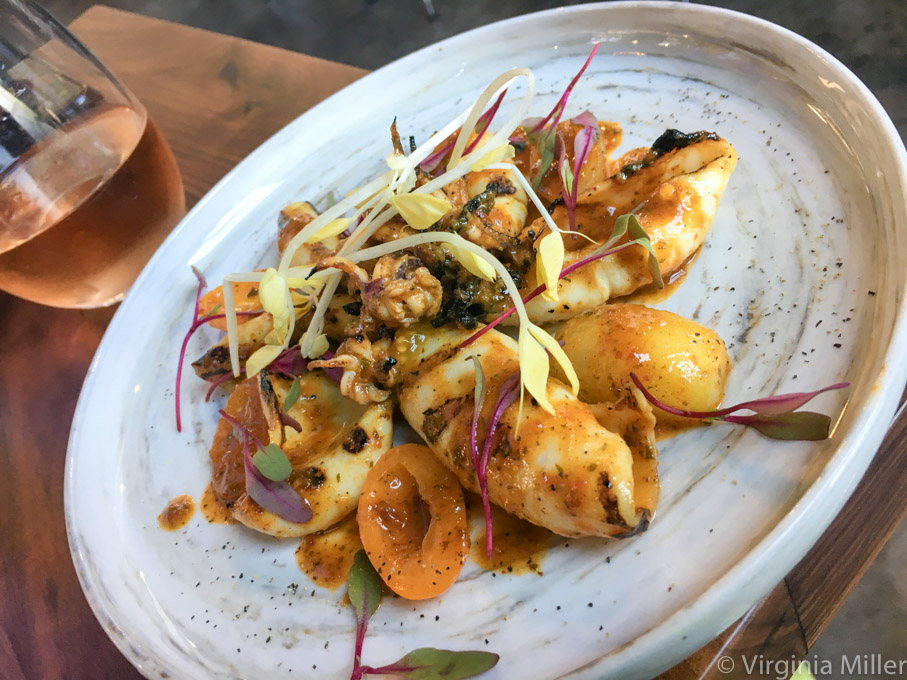 1. KHAMSA, Mission
Open early August in yet another new condo building in the Mission, Khamsa is a lofty, sunny Moroccan restaurant, blessedly bright in cool blues, graced with Moroccan lamps and tiles, a white light-strewn patio and a laid back vibe.
Best of all, food is fresh and vibrant, whether a garlic-heavy dish of zaalouk ($10) — pureed eggplant, onions and tomatoes — or grilled calamari ($11), bright with tomatoes, lemon and olive oil.

Sipping Moroccan rosé wine with my favorite Moroccan dish, basteeya ($15) — shredded chicken, almonds, onions, eggs in phyllo pastry, dusted with powdered sugar and cinnamon — I find Khamsa particularly a lovely lunch spot. Tagines (not served in tagine pots but on a plate) are generous and range from vegetarian to fish.
2. BANDIT, TenderNob
Like many of you, I have a weakness for great breakfast sandwiches. And brand new Bandit, in soft opening mode since around August 25th, is about to kick into grand opening mode with six different breakfast sandwiches, American Wagyu burgers on brioche buns, a few salads and non-alcoholic bottles/cans, including ever-trendy Topo Chico and LaCroix sparkling water.
Two friendly owners welcome customers in the sunny, tiny space, serving a menu affordably around $6.95-12.
I am happy to confirm the sandwiches and burgers are good… those brioche buns almost melt, while The Bandit ($7.95) wins as a classic breakfast sandwich layered with perfectly fried egg, fatty-good butcher's cut bacon, muenster cheese, avocado and chives.