Covering the 11 hottest cocktails of the month around the US at Liquor.com, you'll find my bar and drink recommends this month at these bars/restaurants (click on each for the featured cocktail):
As we enter October, some cities are facing crisp, invigorating fall weather, while others are still in the thick of the balmy days that signify late summer. This just means all drink styles are a "go", whether a cool mix of gin, Greek yogurt and ouzo or a warming, spirituous sipper of Japanese whisky and Oloroso sherry. From Phoenix to Charlotte, here are 11 cocktails worth drinking at bars now.
Can't make it to any of the bars this month? Try making the drinkable The Monastery from BABA in Arlington, VA, at home.
Kung Fu Pandan (Pacific Cocktail Haven, San Francisco, CA)
In just a year, Kevin Diedrich and crew have ensured P.C.H. (Pacific Cocktail Haven) is one of SF's best bars for inspired drinks in all spirit categories — in fact, longtime barman Diedrich has been one of the country's great bartenders for over a decade, honing on in balance and flavor while forging his own style. If you're not ordering from the hidden menu of hip hop-named drinks like Rump Shaker, you'll do right with any regular menu cocktail. The silky Leeward Negroni with coconut-washed Campari and pandan cordial is as good as it gets. But pandan leaves show up again in Kung Fu Pandan. Those buttery marzipan pandan notes are amplified when salted and combined with Kikori Japanese whisky and lemon, given subtly sweet and earthy notes from Enter.Saké Black and a dusting of dried candy cap mushroom.
King Coco (The Gin Joint, Charleston, SC)
We've long been a fan of The Gin Joint, which turns out some of Charleston's most creative cocktails in a candlelit space, thanks to barman-recently-turned owner James Bolt. His latest cocktail menu continues to show off what happens when a skilled hand plays with a range of ingredients. More than five ingredients in a cocktail can get fussy but Bolt weaves a range of aspects together seamlessly, paired with snacks like pad Thai popcorn. Take the King Coco cocktail, a vibrant combination of curry-infused Clement Rhum Agricole, undergirded by the anise notes of Batavia Arrack, crisp dry vermouth, lemon, coconut, Yellow Chartreuse and for a Southern twist, charred okra and chili oil. It's simultaneously savory and tropical.
It Happened in Athens (The Diamond, Vancouver, B.C.)
Hidden upstairs overlooking Maple Tree Square in Vancouver's lively Gastown neighborhood, The Diamond is a local favorite since opening in 2009. Rolling out nigiri, sushi and teriyaki in their dim, seductive space, the cocktails are the real draw here. It Happened in Athens happens to be a looker, too, thanks to a whisper of blue curaçao, imparting an almost soft sky blue to gin, Greek yogurt, coconut and lime. It goes down silky with echos of the Mediterranean, leaning specifically Greek, thanks to the yogurt and a splash of ouzo.

Best Friend (The Fat Lamb, Louisville, KY)
Besides being one of Louisville's great restaurants for New American food — with dishes like mushroom onion risotto fritters and Sriracha fried chicken breast from chef/owner Dallas McGarity — The Fat Lamb is an unexpected cocktail haven, thanks to cocktail curator Brennon Staples. The Best Friend cocktail showcases local distillery great, Copper & Kings Brandy, subtly infused with strawberry rhubarb, balanced by Amaro Nonino, lemon, Carpano Bianco vermouth and a touch of absinthe. It's bracing yet sings of summer with tart fruit and the aromatics of a lush garden.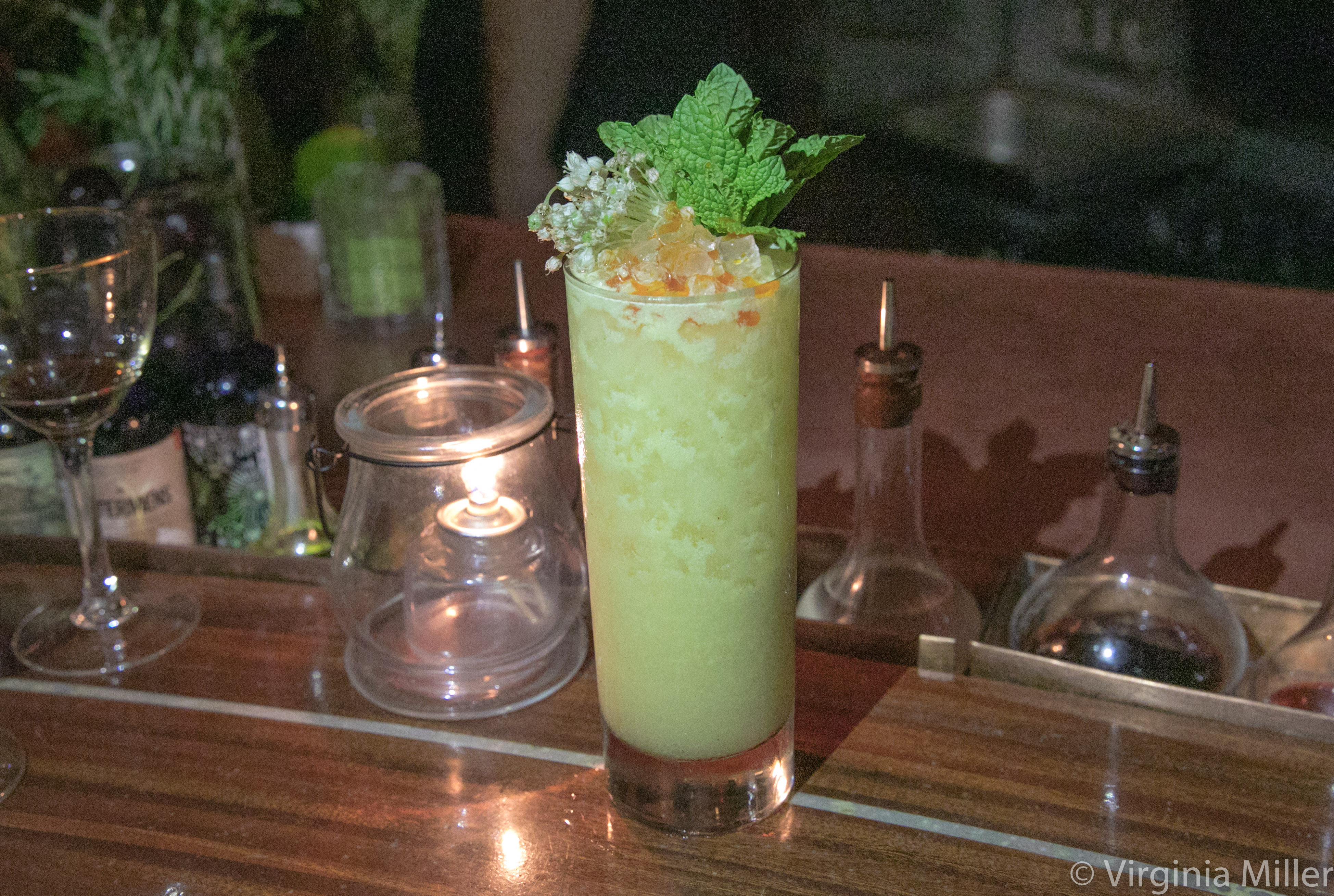 Fokker G.I (Grant Grill, San Diego, CA)
In San Diego's US Grant Hotel, Grant Grill is an upscale restaurant classic since 1951 in the historic, Art Deco hotel. With a lounge for those just wanting to stop in for a drink (including a cicerone-curated cask ale of the week and bottle conditioned cocktails), "Chef de Bar" Cory Alberto goes seasonal and creative with his fall Aviation menu, a tribute to San Diego's flight history dating back to 1927 when Charles Lindbergh departed SD for his nonstop transatlantic flight. Fokker G.I is a Bols Genever-based cocktail, pink with a strawberry rhubarb shrub, laced with liquid cream cheese, whole grain mustard seed syrup, pepper and oak essence, served from a light bulb glass (referencing Dutch Genever and WWII Dutch planes landing in Amsterdam's Red Light District). The drink is tart and lively with the shrub's vinegar, silky with cream cheese, given savory, woody notes from the pepper, oak and mustard seed.
Gainsbourg (La Moule, Portland, OR)
With its cozy bistro setting, sidewalk seating and chic mussel-shell wallpaper, La Moule is a welcoming neighborhood mussels-and-beer kind of brasserie that feels as appropriate for a family meal as it does a romantic date. Bar manager Anna Ross ensures elegant but easy drinking cocktails to complement the joys of Korean mussels and frites or irresistible poutines in Reuben or Po Boy form. The Gainsbourg cocktail is named after the great French singer, Serge. It makes a briny, crisp aperitif or food pairing with Beefeater gin, Dolin dry vermouth, lemon zest and bracing cornichon brine.
Stan (Vina Enoteca, Palo Alto, CA)
As we recently highlighted Milan expat Massimo Stronati's destination-worthy menu in Palo Alto at Vina Enoteca, one of the most surprising, booze-forward drinks on the menu is a drink where he shows off Nikka Taketsuru Japanese whisky and Oloroso sherry in the deliciously complex Stan cocktail. Noilly Pratt dry vermouth and Dr. Adam Elmegirab's Aphrodite bring bitters add textural layers, while olives marinated in salt, fino sherry and Cocchi vermouth impart a briny, green taste of the sea to the elegant sipper.
The Monastery (BABA, Arlington, VA)
Arlington's lively BABA opened this spring as the The Ambar Clarendon's basement, Balkan-inspired, all-day cafe. Lined with cushy leather chairs, fireplace and a black-and-white tiled floor, Danilo Simic — a native of Belgrade, Serbia — crafts cocktails that occasionally showcase Eastern European spirits like rakia (fruit brandies popular throughout the Balkans) — he also opened Rakia Bar and oversees Ambar's bar. The Monastery cocktail features another Eastern European spirit, Slivovitz (plum brandy), highlighting the intense plum flavors of Maraska Slivovitz and plum jam with the herbaceous green of fresh basil.
Boba Tea (Blue Hound Kitchen & Cocktails, Phoenix, AZ)
Phoenix's restaurant/bar tribute to man's best friend, Blue Hound Kitchen & Cocktails, turns out brisket sliders and fried green tomatoes alongside a playful cocktail menu from head bartender Phil Clark, who recently took over the bar coming from greats like Mockingbird Hill in Washington D.C. Clark's Boba Tea is a boozy tribute to Taiwanese bubble tea with a bracing base of chai-infused Carpano Antica vermouth, black tea-infused Tito's Vodka and cinnamon syrup, creamy with coconut milk, dusted with nutmeg. Slurp up those tapioca pearls, contrasted by dry, tannic black tea and luxurious coconut.
South by Southwest (Stoke, Charlotte, NC)
Charlotte's Stoke draws in diners for its hearth-fired meats and regional country hams. Director of Eat and Drink Sean Potter riffs off a classic margarita — and then some — with his South by Southwest, served in a French coffee press. This allows guests to control the infusion or steeping of the coffee-free cocktail. Luna Azul reposado tequila shines, illumined by lime and agave nectar, given summery life with muddled fresh blueberries, basil, grapefruit bitters and habanero shrub bitters. The longer you steep, the spicier the habanero bitters get. You decide.
OTORO Tea (OTORO at The Mirage Las Vegas, Las Vegas, NV)
Set to the aroma of meats sizzling on the robata grill and rounds of sushi, OTORO at The Mirage Las Vegas is a sleek lounge where a spin off a Long Island Iced Tea goes elegant (yes, elegant) served in a Japanese tea pot with dry ice. First, the base is a spirituous mix of Atlantico Rum, Tequila Fortaleza, Lejay Cassis (blackcurrant liqueur), Deep Eddy Sweet Tea Vodka, all brightened by lemon. The Mirage's director of beverage Robert Conlon wanted to make a LI iced tea that actually tasted like tea, infusing black tea with the sweet tea vodka, incorporating dry ice as it pours from the pot for a little drama.