Covering the 11 hottest cocktails of the month around the US at Liquor.com, you'll find my top national drinks now at these bars/restaurants: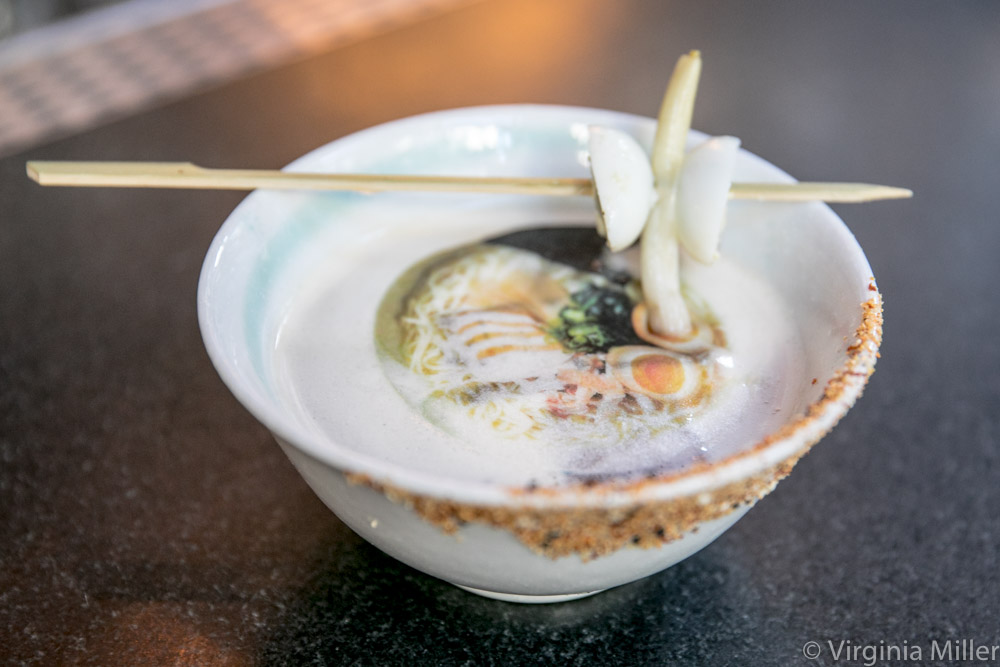 While fall is around the corner, many of us are still experiencing hot summer days in needs of refreshing drinks, like a Smash that brings on the tomatillo and green pepper. Others are drinking savory, umami-rich cocktails (how about in the form of Japanese ramen?) Or maybe its about a classic Gin Fizz pink with raspberry and topped with a French meringue? These 11 national bars and restaurants are serving unique cocktails worth drinking on menus now.

Can't make it to any of the bars this month? Try making Sea of Confusion from The Esquire Tavern at home.

Southern Highlands Smash (Lonesome Rose, Daisies, Chicago, IL)
Breezy, fun and blessedly open all day, Lonesome Rose serves Tex-Mex tacos and fresh juices in the morning, then the likes of black bean-and-queso Truck Stop nachos and cocktails at night. Opening late 2017 from Land & Sea Dept. — behind spots like Lost Lake and Parson's Chicken & Fish — refreshing cocktails line their menu set to classic country tunes and friendly service. Southern Highlands Smash kicks in with the slate-y, smoky, vegetal green tart of mezcal, tomatillo, lime and Ancho Verde, then gains a dry, saline backbone from fino sherry, served tall and topped with soda.

Tasetful Noodz (PABU, San Francisco, CA)
Whether dining on chef Ken Tominaga's exquisite sushi (try the nigiri tasting menu) or opting for robatayaki, izakaya small plates or juicy steaks, Michael Mina's PABU delivers upscale Japanese food in a lofty, FiDi setting. Kaitlin Ryan's cocktails sing with the food, whether a refreshing Highball bright with cherry, fennel and aquavit, or a rosy pink but earthy radish, gin and strawberry sipper. The showstopper is Tasteful Noodz, a Mars Iwai Japanese Whisky and Cynar-based cocktail served in a bowl, cool with a mix of chicken ramen, Mirin rice wine and citrus. A paper thin sheet of rice paper over the liquid is painted with edible ink made of vegetable coloring mimicking ramen ingredients. This is ramen in cocktail form.

Fancy Key (The Up & Up, New York, NY)
Since opening in 2015, The Up & Up, one of Manhattan's best bars, has mainly featured innovative, drinkable cocktails from Matt Piacentini and Chaim Dauermann (they just opened a Kips Bay bar, Stay Gold, this summer). The latest Up & Up menu is a collaborative one, containing ten new creations from their tight team of bartenders. Head bartender Ali Martin deftly mixes the malty and vegetal notes of Old Duff Genever and Novo Fogo Silver Cachaça with the bitter, piney goodness of Braulio Amaro, a touch of funk from Smith & Cross Rum, all balanced by creamy coconut.

First Caress (Lola, Louisville, KY)
Chef/owner Bobby Benjamin's upscale comfort food is draw enough at Butchertown Grocery, but then there is the hidden, enticing upstairs bar, the romantic Lola (where you can also dine) serving beverage director Nic Christiansen and team's well-balanced cocktails. Local Jeptha Creed Vodka and honey go an unexpected direction in First Caress, where fruity whispers of apricot mingle with a light tough of allspice dram, given dry, nutty structure from East India sherry, garnished with two olives.

Limoni (Le Sirenuse Champagne Bar at The Four Seasons Hotel at The Surf Club, Miami, FL)
Jacopo Rosito and Valentino Longo bring a sunny slice of Positano, Italy, to (also) sunny Miami in 1930's-era Four Seasons Hotel at The Surf Club, with its beachside setting and traditional Italian aperitivo "hour" (4-6pm daily). Amalfi Coast elements of sun, lemons, flowers, soil, sea, coffee all play into the drinks, especially in Limoni where a bright kick of citrus represents the lemon trees that proliferate along the famed Italian coast. A blanco tequila base and citrus-infused Cocchi Torino gain texture from charcoal banana liqueur and coconut oil-infused Martini Riserva Speciale Bitter.

Raspberry Fizz (The Snug, San Francisco, CA)
Since opening late 2017, The Snug has become a packed, beloved neighborhood fixture, serving chef Brian Shin's exceptional, oh-so-SF bar food, from a stellar everything bagel-spiced naan paired with cauliflower trout roe schmear to caviar potato crisps. A brunch gem from bar manager Jacob Racusin is his play on a Ramos Gin Fizz — but think pink. Gin, raspberry, cream, citrus, egg white and rose water result in a soft, tart, creamy Gin Fizz feel, crowned with a meringue punctured with a straw.

Sea of Confusion (The Esquire Tavern, San Antonio, TX)
As the oldest bar along San Antonio's famed River Walk, The Esquire Tavern opened in 1933 celebrating the end of Prohibition, boasting the longest wooden bartop in Texas under a pressed tin ceiling with comfy booths and leather bar chairs. Also housing the intimate Downstairs at The Esquire, beverage director Houston Eaves oversees both menus, crafting visually appealing sippers like Sea of Confusion, served tall over crushed ice with a layered effect from a float of Angostura bitters and Lemonhart 151 Rum. The funky goodness of Hamilton Jamaican Gold Rum gets fruity-floral-herbal-bitter nuance from Clear Creek Pear Brandy, Yellow Chartreuse and Amaro Sfumato, tarted up with passionfruit syrup and lemon juice.

SEA OF CONFUSION
1 oz. Hamilton Jamaican Gold Rum
½ oz. Clear Creek Pear Brandy
¼ oz. Yellow Chartreuse
¼ oz. Amaro Sfumato
¾ oz. Passionfruit Syrup
½ oz Lemon Juice
5-6 dashes Angostura bitters and Lemonhart 151 Rum
—Build in footed Pilsner glass, then swizzle over crushed ice and garnish with an abundant bouquet of mint.
Mauresque (The Benevolent King, Maplewood, MO)
On the outskirts of St. Louis in the town of Maplewood, acclaimed, James Beard-nominated chef Ben Poremba opened The Benevolent King, calling on his Moroccan heritage and foods of his childhood. Beverage director Tony Saputo (formerly at Atomic Cowboy, The Moonrise Hotel, Layla) makes magic with Henri Bardouin Pastis and orgeat in the Mauresque cocktail. He plays off the French classic with unfolding layers of flavor from apricot liqueur, golden falernum, grapefruit, orange, lime, black lemon bitters and orange flower water, refreshingly topped with soda.

Too Many Chiefs (Three Dots & a Dash, Chicago, IL)
Since 2013, Three Dots and a Dash has been Chicago's downtown (Near North Side, to be exact) Tiki haven, currently helmed by beverage director Kevin Beary, who was was named a Star Chef Rising Bar Star in 2018 and has won multiple Tiki and rum cocktail competitions. While rum generally steers the ship at Three Dots, Too Many Chiefs is a standout that just happens to be conveniently low proof. Silky-fresh strawberry water, lime and pineapple are undergirded with the off-dry layers of Mosel Valley Riesling and floral whispers from pisco, dry and refreshing with a splash of club soda.

Mignonette Martini (Hog Island Oyster Co., San Francisco, CA)
The great Hog Island Oyster Co. serves their beautiful oysters in raw, grilled and fried form straight from Tomales Bay just north of San Francisco. Here in their Bay-side, Ferry Building restaurant they continue to draw lines for fresh seafood of the day. While cocktails featuring avocado or fortified jalapeno and Pilsner beer all sing with seafood, none may be a more ideal pairing than the Mignonette Martini, recalling the shallot-heavy sauce typically paired with oysters. Bartender Saul Ranella combines Kikori Japanese rice whisky and local Lo-Fi dry vermouth, then mixes a house Hogwash tonic reduction — a blend of seeded jalapeños, shallots, cilantro, black pepper and lime in a quinine tonic syrup. The result is savory and mouthwatering, sparking an appetite for oysters.

The Wrong Turn at Albuquerque (Bible Club, Portland, OR)
In Portland's chill Sellwood neighborhood, Bible Club hides in a yellow, 1922 Craftsman home, a respite where everything from barware to decor all pre-dates the 1930s. It's dark, inviting and mellow with 1920s jazz adding to the ambience… but this is no stuffy speakeasy. Friendly staff keep it laid back, while Jessica Braasch's changing cocktails draw back regulars. The Wrong Turn at Albuquerque is a crowd pleaser, appealing to the Bloody Mary crowd as it does those who like their drinks savory and vegetal. Braasch mixes the soft, slightly floral Banhez Mezcal with carrot juice, Ancho Verde, lemon and cherrywood smoked honey (sourced from PDX's Bee Local), garnished with dehydrated lime.