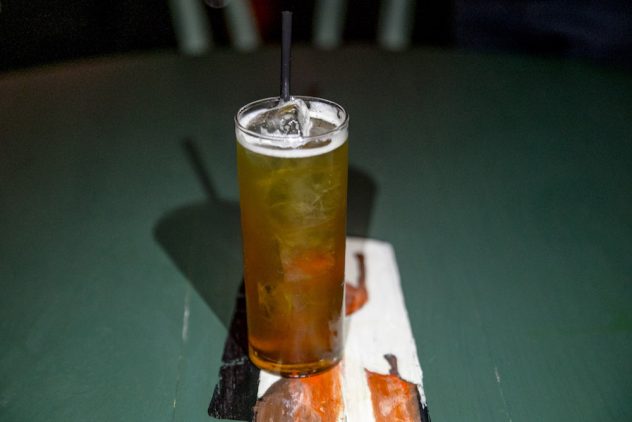 Covering the 10 top American whiskey (bourbon, rye) cocktails of the month around the country at Liquor.com, you'll find my top national drinks now at these bars/restaurants:
American Whiskey… whether you prefer the spice of rye, the smooth corn sweetness of bourbon or the array of American single malts, wheat or alternate grain whiskies produced around the US, there is a cocktail to showcase it. These 10 national bars and restaurants are serving inspired American whiskey cocktails worth drinking now.
Can't make it to any of the bars this month? Try making The White Summer Sazerac from The Fat Radish at home.
Snow Shoes (White Cap, San Francisco, CA)
One of the West side's coolest cocktail bars, White Cap lies within view of Ocean Beach, windswept and driftwood lined, serving quality cocktails and a robust sherry collection, thanks to owner Matt Lopez and cocktail pioneer, Carlos Yturria. Their latest menu is garage sale-themed, illustrated by local artist Lauren Linagen, featuring drinks named after sundresses and fly rods. Snow Shoes starts with George Dickel rye whisky mixed with smoked pineapple, pecan orgeat, lime and bitters. Served over crushed ice and dusted with lime zest, it's robust, zesty, smoky and bright all at once.
The White Summer Sazerac (The Fat Radish, New York, NY)
Run by Phil Winser and Natalie Freihon, The Fat Radish is a rustic-chic restaurant serving healthy, locally-sourced food — like Thai green vegetable curry or chicken kiev with charred broccoli — from chef Nick Wilber. The cocktail menu likewise runs vegetal and fresh featuring house juices and tinctures with small batch spirits. NY's own K.C.D. (King's County Distillery) produces bourbon, moonshine and other American whiskies. The White Summer Sazerac features a blend of their corn and rye with a touch of Bolivian Singani 63 brandy, Italicus Italian aperitivo, celery and fennel bitters and celery salt, finished with a few spritzes of absinthe.
Kentucky Michelada (Whiskey Dry, Louisville, KY)
While Mind of a Chef star Edward Lee's new Whiskey Dry feels surprisingly corporate on Louisville's touristy, chain-lined strip of 4th Street Live!, bar director Stacie Stewart (also of Lee's Milkwood, which feels more local, more Louisville) is playing with ingredients from grilled shishito peppers to the caraway-cumin-dill savoriness of kummel liqueur. Her Kentucky Michelada is served tall, a generous Michelada featuring bourbon barrel ale given nutty-citrus-herbal layers from oranges, hazelnut and a botanical digestif, all balanced by salt.
Broadway Circa 1985 (The Rum House, New York, NY)
The one true cocktail oasis near painfully touristy Times Square and the Theater District, The Rum House has been a respite for jazz, rum and classic cocktails for decades, thankfully brought back to life — with improved cocktails — in 2011 by the Ward III crew. With its old school NYC vibe and piano bar sultriness, you can slip away from the noise outside for a dram or well-made drink. But they don't just do right by rum. American whiskey plays prominent in the classics, as it does in their Broadway Circa 1985 cocktail, "chief creative officer" Kenneth McCoy's robust homage to the Manhattan cocktail combines Old Overholt rye whiskey and funky Plantation OFTD rum with a mix of Cinzano Sweet Vermouth, Zucca, demerara sugar and a couple dashes of Angostura bitters.
Melody & Harmony (Proxi, Chicago, IL)
From the owners of longtime West Loop favorite Sepia, Proxi serves "global street food" in a lofty, elegant space. Head bartender Josh Relkin utilizes his culinary school background and stints at iconic restaurants and bars like Per Se, Alinea, The Violet Hour and The Aviary to hone his culinary cocktails. At Proxi, he plays with the restaurant's hearthfire, matching the bold flavors of Proxi's food. Melody & Harmony features Evan Williams Bonded Bourbon, complementing the whiskey's vanilla notes with more vanilla, tart with kumquat and lemon, minty-cool with fresh mint and Giffard White Cacao liqueur.
Rosemary (Che Fico, San Francisco, CA)
One of the most hyped restaurants (and toughest reservations) in the country right now is Che Fico, a modern taverna with unique pizzas, pastas and only-in-SF magic from chef David Nayfeld. Equally worth the hype are Christopher Longoria's impeccably balanced drinks pulling on the herbs and produce-driven focus he's long been known for but with a spirit-forward (read: very little citrus) angle. Rosemary is one of the few drinks since they opened in March with citrus, a tall refresher of rye whiskey and cabernet wine, gaining depth from Cappelletti sfumato rabarbaro amaro and Angostura bitters, bright with lemon.
What the Doctor Ordered (The Happiest Hour, New York, NY) Surrounded by the green palms and soothing pinks of NY's The Happiest Hour — inspired by L.A. retro classic Beverly Hills Hotel — one feels transported to another era with 1950's tunes and friendly service. Their elevated "fast food" is an ode to Southern California where burgers and fast food first went mainstream — and their classic-style cheeseburger is arguably one of the best in NYC. The cocktails, though straightforward soda sippers, are well-balanced and refreshing. What the Doctor Ordered is a house standard for a reason: house sarsaparilla, vanilla and wintergreen soda is amped up with your choice of rye whiskey, aged rum or Scotch. You might guess: we're going to recommend the American rye whiskey.
Big Bubba (Swig & Swine, Charleston, SC)
The drinks may be basic at Charleston's Swig & Swine, but you come first and foremost for gifted pitmaster/chef Anthony DiBernardo's stellar barbecue. Whether pulled pork, brisket, ribs or sausage (get a platter of all of the above), his is some of the best barbecue in Charleston. Bourbon makes the obvious pairing and their bar and cocktails are heavy with it, including Charleston's own Virgil Kaine Ginger Bourbon. Big Bubba is a simple but refreshing mix of this local bourbon with ginger beer, pineapple and fresh basil, crisp, sweet and spiced, washing down all that delicious meat.
Elmer T. Lee Old Fashioned (Quince, San Francisco, CA)
Ever since Michael Kudra came on board, three Michelin-starred Quince has become destination-worthy for its cocktails as well as chef Michael Tusk's brilliant food and pastas. Kudra crafts creative cocktails and plays with vintage spirits in cocktails from Quince's robust selection of rare whiskies, amari and grappa. Though classic, his Elmer T. Lee Old Fashioned is not to be passed over. With notes of vanilla, clove and leather, Elmer T. Lee is one of Buffalo Trace's cult whiskies and as the base of this Old Fashioned, is deftly mixed with orange bitters. Kudra's attention to oft-overlooked details — like exact ratios and stirring with different ices — result in silky texture and balance, a perfect Old Fashioned.
The Cinema Manhattan (Baba, Washington D.C.)
Just outside of D.C., Arlington's Baba serves a range of snacks and set-price brunches on weekends with cocktails that occasionally feature Eastern European spirits like rakia (fruit brandies popular throughout the Balkans) or slivovitz (plum brandy). Serbian-born beverage director Danilo Simic infuses bourbon with caramel popcorn in The Cinema Manhattan, mixed with cherry bitters and a port-Coca Cola reduction instead of sweet vermouth, paired with sweet and spicy popcorn for a salty-sweet combo.