In my latest feature at Blackboard Eats, I cover 7 exceptional neighborhood markets in San Francisco — & one classic in Oakland — selling well-curated selections of gourmet foods and drink (article here):
— Dolores Outpost, Mission
— The Epicurean Trader, Bernal Heights & Cow Hollow
— Merchant Roots, Lower Fillmore
— Lucca Ravioli Co., Mission
— Say Cheese, Cole Valley
— Rockridge Market Hall, Oakland
— Bi-Rite Market, Mission & Western Addition/Nopa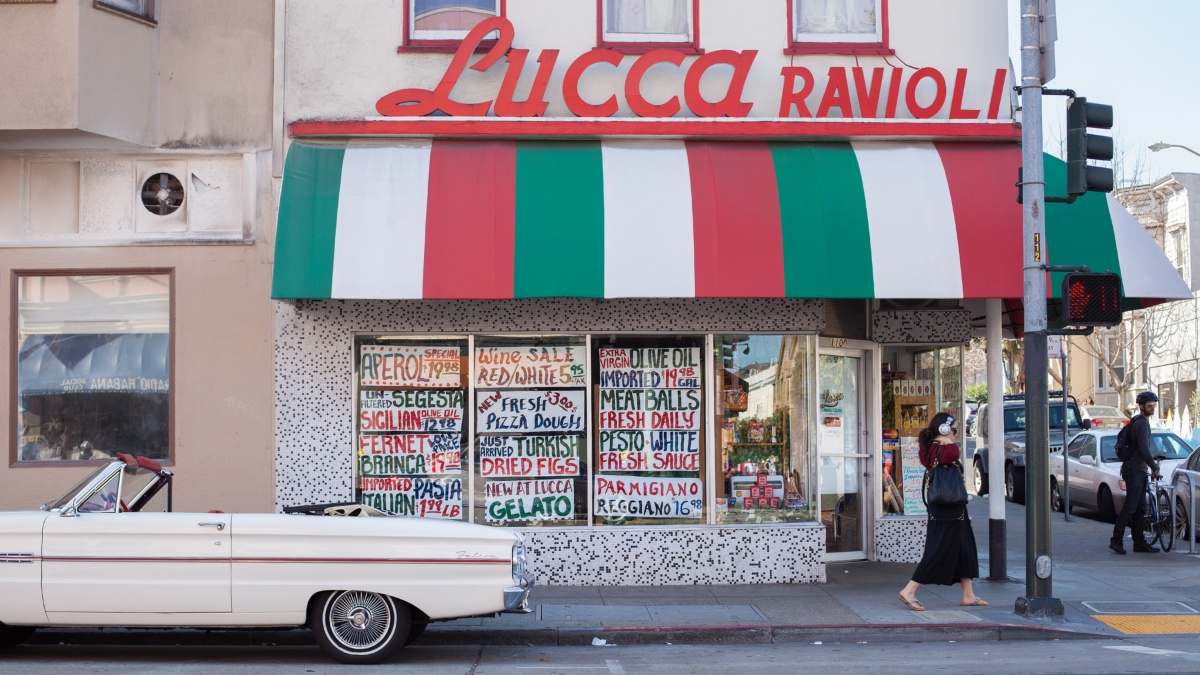 San Francisco is lined with neighborhood markets, from charming corner grocers selling an array of gourmet goods to family-run, "mom and pop shops" that have been around for decades. The best shops make good use of small spaces with thoughtfully curated selections of the best cooking ingredients, condiments, breads, wine, craft beer, seasonal produce, imported products, coffee and the like. Here are 8 of our best.
Bi-Rite Market, Western Addition/NoPa
The original, the great Bi-Rite Market set the standard for all neighborhood markets with its highly curated picks of the best in everything from chocolate to pastas, cheese to produce, crackers to pickles. An iconic, family-run shop since 1940 — still with its original neon sign — the Mogannam family has owned it since 1964 with brothers Sam and Raph taking over the store from their father and uncle in 1997. As famed for their Bi-Rite Creamery ice cream as their on-staff wine experts curating superb bottle selections, no inch of space is wasted in the ever bustling original market or its Nopa sister, which opened in 2011.
Nopa: https://goo.gl/maps/qGB7hy7Q8vp
Mission: https://goo.gl/maps/h6AqX8y63RE2

The Epicurean Trader, Bernal Heights & Cow Hollow
Launching its original Bernal Heights location in 2015, The Epicurean Trader opened a second Cow Hollow shop in 2017, bringing their killer artisanal spirits selection — everything from vermouths and amari to cocktail recipe books — to both neighborhoods. Both stores offer highly curated "bests" in everything: chocolates, cheeses, jams, sauces, olive oils and fresh loaves of bread from Tartine Bakery. In a city full of excellent neighborhood markets, Epicurean's stores offer some of the finest selections of all things edible and drinkable in SF.
Bernal Heights: https://goo.gl/maps/7dmsL6irT8u
Cow Hollow: https://goo.gl/maps/FZAuawh7sAu
Lucca Ravioli Co, Mission
A slice of Italy and an old school American-Italian market, Lucca Ravioli Co. has been an SF institution since 1925. Grab a number, then browse under a ceiling map of Italy for Italian goods, like sauces, peppers, olives, cookies, breads, sardines and anchovies, olive oil and vinegars, as well as an extensive meat and cheese counter. Best of all, they sell their housemade pastas, sauces and ravioli in five styles (traditional meat, spinach, cheese, pumpkin and a rotating special) served in the same classic flat box for nearly a century.
https://goo.gl/maps/KrVsgn4fun12

Merchant Roots, Lower Fillmore
Opening May 2018 on Lower Fillmore Street, Merchant Roots is that ideal kind of neighborhood shop and café serving daily changing pastas, sandwiches and pastries alongside housemade jams, soaps, sauces and a thoughtfully curated wine selection. Their delicious handmade pastas and sauces are conveniently packaged fresh to take home and cook yourself. A chef's table features intimate, after-hours tasting menus in the café covering literary, historic or culture themes.
https://goo.gl/maps/2197gsEFKou  
Little Vine, North Beach
This tiny North Beach charmer has made use of every inch of shelf space since opening in 2011. Little Vine is an idyllic neighborhood store where gourmet cheeses and thoughtful wines mingle with handpicked sauces, olive oils, chips and legendary Acme bread loaves to take home. With daily sandwich specials (served until sold out), you have all the elements needed to pack a picnic lunch for nearby Washington Square Park for a true Europe-meets-SF afternoon at the park.
https://goo.gl/maps/c3gZUq2etbt
Dolores Outpost, Mission
With its hip signage, Dolores Outpost is not only the ultimate Dolores Park picnic supply stop, it's a cool neighborhood market offering fun, thoughtful options to create a meal. In addition to Highwire nitro coffee on draft and small production wines, there are Japanese beers and canned sakes, canned gin & tonics and foods to go like bahn mi sandwiches, bento boxes poke bombs and sushi rolls. For dessert, stock up on Hawaiian candies, Frozen Kuhsterd popsicles or chewy-crispy mochi muffins from Third Culture Bakery.
https://goo.gl/maps/SJh84gYbCuv
Say Cheese, Upper Haight
A neighborhood staple in cozy Cole Valley since 1976, Say Cheese is your OG European-style cheese shop and gourmet grocer. International wines, cheeses and charcuterie dominate the tiny shop, but you'll also find olives, chips, jams (think Calvados apple brandy jam from France) and chocolates, both local and European. There's an array of options for picnicking in nearby Golden Gate Park or for a take-home spread. Their generous sandwich menu and catered cheese and charcuterie boards expand your party options.
https://goo.gl/maps/frkw2DNtQeE2
Rockridge Market Hall, Oakland
The ultimate food hall, Oakland's historic Rockridge Market Hall celebrated its 30th anniversary in 2017. A shining example for gourmet markets everywhere, the sprawling shop includes a deep wine selection, fish and meat counters, cheese section, a bakery and handmade pastas from The Pasta Shop. You'll find everything from gourmet peanut butters and popcorns to honey and ice cream. An extensive takeout foods counter and foods to cook at home make it easy to plan a gourmand's meal with little effort.
https://goo.gl/maps/WmW1yQgdGdH2