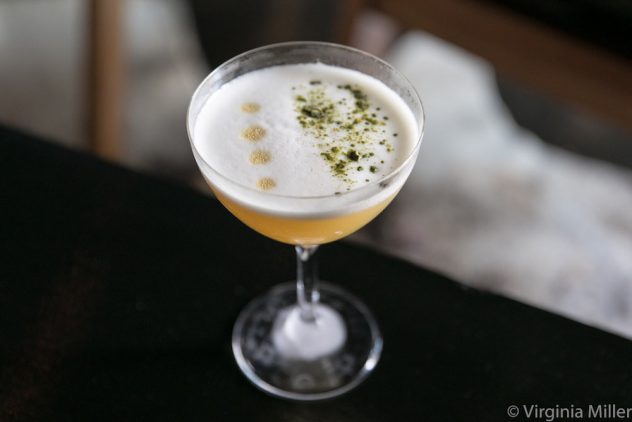 After you drink yet another Blood & Sand, Whisky Highball or classic Scotch cocktail, you might be ready for a different kind of whisky imbibement. These 8 national bars and restaurants are serving inspired whisky cocktails worth drinking now, whether infusing grilled artichokes from the kitchen, rounding out other spirits with Scotch's peaty smoke or going refreshing with Cuban coconut soda.
Can't make it to any of the bars this month? Try making Spanish Armada from Vol.39 at home.
In my Liquor.com coverage, here are 8 top Scotch cocktails on national menus at these bars/restaurants:
Blooming Thistle (The Ash Bar at Nomad.PDX, Portland OR)
No, it's not that Nomad (in NYC and LA). Nomad.PDX is a tasting menu-only restaurant from chef Ryan Fox, both creative and upscale in a town short on fine dining. When the intimate, sleek Ash Bar opened inside the restaurant in 2017, it brought a rare molecular culinary cocktail experience to Portland. Pull up to their horseshoe bar for Estanislado Orona and Cameron Holck's refined drinks, paired with only-at-the-bar bites (think cucumber with spot prawn or koji ice cream). Blooming Thistle begins by your bartender smoking the glass with palo santo (tree bark used in folk medicine). The savory, dry yet silky drink is a blend of Famous Grouse Smoky Black Scotch, house cacao liqueur infused in Havana Club Anejo and Lustau manzanilla sherry infused with grilled artichokes from the kitchen.

Rob Royce (Violet's, San Francisco, CA) Out in San Francisco's sleepy "Avenues" near the Pacific Ocean, Outer Richmond favorite Fiorella opened a sister restaurant/bar in June 2018: Violet's. The bustling, stylish bar goes the elevated-yet-playful American food route, like killer house chips with roasted onion dip and duck liver mousse. Patrick Poelvoorde's cocktails go down easy, while even a hot Suntory Toki whisky toddy is thoughtful and layered. A play on a classic Rob Roy, the Rob Royce, is for Scotch lovers. Great King Street Blended Scotch and George Dickle Tennessee Whiskey gain bittersweet, herbal, woodsy character from La Quintinye Pineau des Charentes Rouge Vermouth and Sfumato Amaro… perfect when the fog rolls in.

Ginger Tincture (Campo at Los Poblanos Inn, Albuquerque, NM)
Down a tree-lined dirt road on the edge of a lavender field, Los Poblanos Inn is a dreamy inn and organic farm on the northern side of Albuquerque. The restaurant captures that ideal balance of rustic and worldly-minded, sourcing from their own farm and locally while employing trends common in other US cities. Their lofty, wood-lined Campo restaurant gazes out at the mountains and surrounding farmland while the bar is a cocktail respite in a city where the cocktail renaissance has yet really to hit. Bracing and bold, Ginger Tincture is straightforward: the typical, winning combo of ginger and Scotch. The peat of Laphroiag 10 year Scotch sings with lively house ginger syrup and Crabbies Ginger Beer, while Elisir Novasalus' beautifully bitter salty, pine notes are the drink's secret "weapon."
Long Lost Pal (The Cottonmouth Club, Houston, TX)
One of Houston's most exciting bar openings of the year, The Cottonmouth Club, came from NY and LA bar vet Michael Neff (of NYC's Holiday Cocktail Lounge) and Reserve 101's Mike Raymond. At the intimate upstairs bar, choose your own glassware while you're asked a series of quirky questions to customize your drink. Downstairs, there's a menu of house drinks and classics. Some of us have long considered the classic Old Pal cocktail even better than a Boulevardier (same ingredients but dry vermouth replaces sweet vermouth). Cottonmouth does a proper Old Pal tribute in Long Lost Pal, combining Jack Rye Whiskey and Shackleton Blended Scotch. Both get a brightly, crisp bitter boost from St. George Bruto Americano, Dolin Dry Vermouth and a house Sprite syrup.

Spanish Armada (Vol. 39, Chicago, IL)
Hidden on the second floor of Kimpton's Gray Hotel, Chicago's sleek Vol. 39 bar is a spirit-forward bar where a menu of Old Fashioned variations and a six-martini flight are de rigueur, alongside grower Champagnes and champagne and caviar table service via a silver cart. Beverage director Josh Relkin keeps it spirituous and elegant, while former head bartender Jessica Lambert created the Spanish Armada, layering Lustau Spanish brandy, El Dorado 12 year rum, Lustau PX sherry and bitter China-China Amer. The drink's peaty, nuanced secret? Black Grouse Blended Scotch. Then savory spice layers unfold with Bittercube Jamaican #1, Angostura and Bitter End Curry bitters.

Spanish Armada, created by Jessica Lambert
1 oz Lustau Brandy de Jerez
1 oz El Dorado 12 year Rum
1/4 oz Black Grouse Blended Scotch
1/4 oz Lustau PX Sherry
1/4 oz China China Amer
1 dash Bittercube Jamaican #1 bitters
1 dash Angostura bitters
3 drops Bitter End Curry Bitters
Stir all ingredients and pour into a Nick & Nora glass. Express and garnish with an orange peel.

Birds & Bees (Jack Rose Saloon, Washington D.C.)
D.C.'s Jack Rose is easily a top bar in Washington but it's also one of the best whisk(e)y bars in the world with a massive collection of nearly 3000 whiskies, whether rare Scotch vintages, limited edition American whiskies or Japanese whiskys no longer produced. From cellar to its hidden cocktail bar Dram and Grain, Jack Rose is the kind of place that is like Christmas for whisk(e)y fanatics. Bar manager Andy Bixby works with a collaborative bar team that creates the ever-changing cocktails. Alison Hillard created Birds & Bees, a play off a classic Whiskey Sour featuring Glenmorangie Single Malt Scotch, given floral-citrus-bitter layers from Italicus Bergamot and Aperol, balanced by honey, lemon, orange bitters and a soft layer of egg white.
Scotch & Solo (Palomar, Portland, OR)
Portland's sunny spring arrival of Palomar added a welcome tropical island "escape" in PDX. Here, Cuban dishes flow — like jackfruit ropa vieja or Miami-style media noche Cubano sandwiches — and absinthe can be added to any cocktail for 25 cents (yes!) Bar vets Ricky Gomez and Brandon Josie get the welcoming vibe right as they also perfect rum-and-beyond cocktails, from classics and Havana heyday greats, to easy drinking house cocktails. Scotch & Solo is as easy as it gets, without sacrificing flavor. Johnnie Walker Red Label Scotch plays quite nicely with Coco Solo soda, a dry Cuban coconut soda, given an extra layer of spice from Scrappy's cardamom bitters.

New Neighbors (Laureate, San Francisco, CA)
Going retro at the cool Laurel Inn with their new bar, Laureate, feels like entering a friend's comfy midcentury living room down to the plush carpet, sleek couches, brass accents and dramatic 1960's fireplace. Welcoming bar manager Sam McGinnis stepped up the cocktail offerings, paired with house dips (think Southwest chicken or jalapeno bacon). With Japanese whisky's roots in Scotch, many of the flavor qualities of Scotch correlate, and in fact, there's a direct Scotland relation in Nikka Coffey Grain Whisky, distilled at Japan's Miyagikyo distillery on Coffey stills imported from Scotland in 1963. Bartender Aika Young helped create New Neighbors, a cocktail featuring this whisky, balanced by lemon, maple, egg white and Angostura bitters, surprising with floral, grassy-green notes from St. Germain infused in matcha tea.