In my latest feature at Blackboard Eats, I cover 8 exceptional historic San Francisco restaurants where the food is good and the tourist crowds aren't crazy, if they are there at all (article here):
— Cafe Jacqueline, North Beach
— Bix, Financial District
— Tadich Grill, Financial District
— Anchor Oyster Bar, Castro
— Pacific Cafe, Outer Richmond
— Ristorante Marcello, Outer Sunset/Parkside
— House of Prime Rib, Nob Hill
— Yank Sing, SoMa/Financial District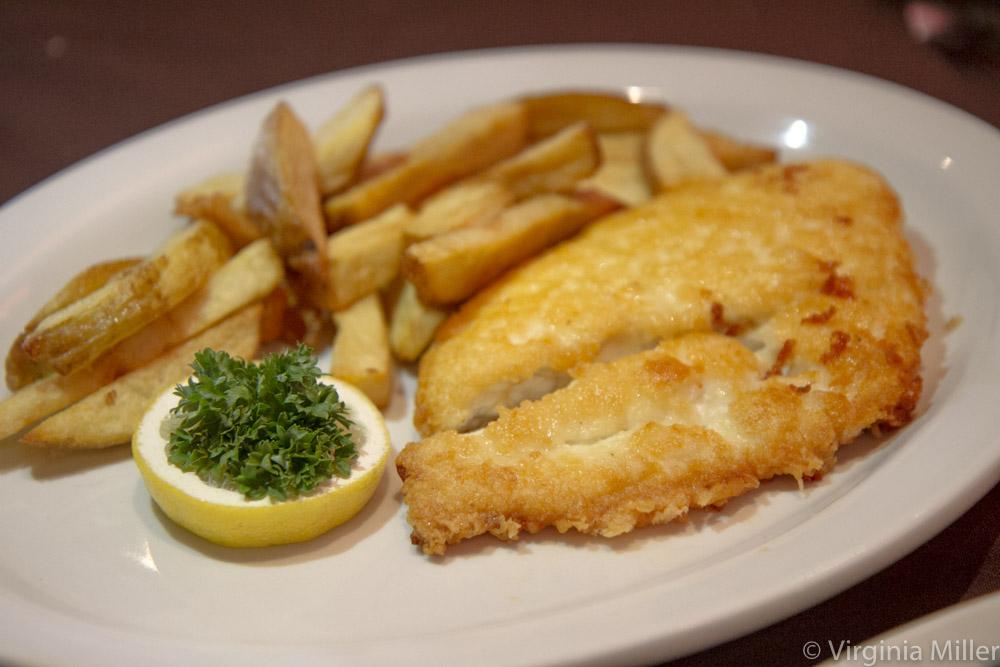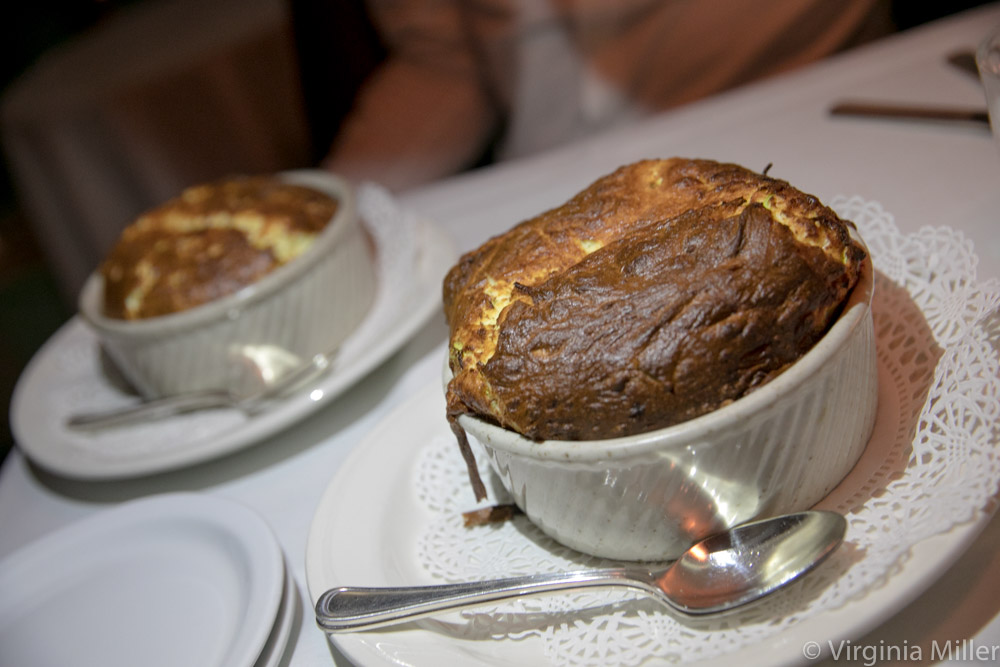 In a city so rich with culinary history, San Francisco boasts a deep well of restaurants that have been around for decades, or on occasion, a century or more. A city with deep Asian and European roots, these restaurants cover the gamut, with seafood a crucial part of our history given our peninsula geography. Here are 8 of our historic best that generally remain under the tourist radar.
Cafe Jacqueline
You could start by calling these the best soufflés in North America. Even better? They've been made by one woman since 1979. Jacqueline Margulis, now in her 80s, is what makes North Beach's legendary Cafe Jacqueline an SF treasure. The tiny, dated space retains an Old World romance with gruff servers and interminable waits for a soufflé. But as you pass the tiny kitchen on the way to the restroom, you see Margulis behind a mountain of eggs prepping each soufflé by hand and you know it's always worth the wait. Her textbook perfect soufflés offer decadence in lobster or crab versions but often simple — leek or white corn-ginger-garlic — are the best, letting that eggy perfection shine.
Neighborhood: North Beach
https://goo.gl/maps/KSt9rgdqSLq

Bix
If you want to feel like you stepped into a 1930s/40's supperclub, complete with live piano jazz and expansive booths atop a sweeping staircase, Bix is your place. Look for the neon sign down a Jackson Square alley, then pass through Bix's sweeping curtains into a lofty dining room for an escape in time, thankfully with consistently good food helmed by chef Emmanuel Eng and chef/partner Bruce Hill. Doug "Bix" Biederbeck founded the restaurant in 1988, letting his passion for jazz, art and a well made martini (shaken tableside) define this gem. Dine on old school dishes with fresh, local ingredients like their beloved chicken hash in mascarpone vodka sauce or caviar and buckwheat blini. Don't miss the Summer tomato cart during tomato season.
Neighborhood: Financial District
https://goo.gl/maps/gWaLfuxbYwA2
Anchor Oyster Bar
There is only one Swan Oyster Depot, SF's Sicilian shellfish/oyster bar legend since 1912. But with its incessant daily lines, it's helpful to have less tourist-trod options. We love North Beach gem Sotto Mare and the Castro's oyster bar treasure, Anchor Oyster Bar. Since 1977, Anchor's tiny space has remained a haven for mountains of local Dungeness crab, oysters and some of the best garlic bread anywhere. Their Crab Louie is exemplary, as is their clam chowder. Watch the board for daily changing seafood specials. The lines have gotten longer over the years but they are mostly locals who know this is SF's other best oyster bar.
Neighborhood: Castro
https://goo.gl/maps/jXmZkFE9WFS2

Ristorante Marcello
A Parkside/Outer Sunset institution since the 1970s, Marcello has long answered the phone himself for the still only-by-phone reservations at Ristorante Marcello. A dated rock wall exterior gives way to an also blessedly dated rock bar packed with locals, many of whom have been coming here for decades. Start with a stiff Martini, then order house wine to pair with generous platters of veal parmigiana, saltimboca or our favorite: garlic-heavy spaghetti alla matriaciana. Faded carpet and waiters in 70s-era tuxes only make this old school gem even more special.
Neighborhood: Outer Sunset/Parkside 
https://goo.gl/maps/oZbPv52buZJ2
Pacific Cafe
Lines of locals gather outside Pacific Café, just as they have since it opened in 1974. Staff come out pouring cheap white and red wines (for free) as you wait. The vibe is convivial and neighborly. The wood-paneled, classic old fish house, is a patchwork of wood booths and small tables, unchanged for decades. As you sit down, peruse the board for pan-fried, sautéed, grilled or baked fish specials. Regular dishes like sole Newburg or turbot stuffed with shrimp and crab hearken to a long-forgotten era but the always delightful Parmesan-crusted fish of the day is the dish to get.
Neighborhood: Outer Richmond
https://goo.gl/maps/J53gLcKMBK62
House of Prime Rib
The last of the great prime-rib houses of its kind in America, House of Prime Rib is not only quintessential SF but is like stepping back in history, virtually unchanged since 1949. Packed with families and local sports teams mingling with travelers, Prime Rib's multi-course meal is still a steal — more than enough food for one person. 21-day aged prime rib is carved tableside from a massive silver cart (choose your level of rare-ness), while salads are spun and tossed tableside. Yorkshire pudding and your choice of a side, like creamed spinach, are blissfully satisfying.
Neighborhood: Nob Hill
https://goo.gl/maps/yrWpHeiVLdD2
Tadich Grill
There is arguably no better place to have to cioppino in the city that invented the Italian-influenced, San Francisco seafood stew, then at Tadich Grill. The restaurant's roots date all the way back to 1849 — in the heart of the 49ers Gold Rush days — as a seafood and coffee tent on the Wharf, started by three immigrants from Croatia. The restaurant's storied history owes much to John Tadich, a fellow Croatian immigrant, who established the restaurant in the 1880s. With an all-male waitstaff dressed as they have been for decades, classic seafood and steaks are served around the long, center bar or in individual-walled booths. And whatever you do, don't miss that cioppino.
Neighborhood: Financial District
https://goo.gl/maps/Vgj2BUVbPoC2
Yank Sing
There may be better dim sum houses at a much cheaper cost around SF (heavy in the Richmond and Sunset districts) and the Bay Area, but none has the legendary history of Yang Sing, founded by Alice Chan in 1958. With a restaurant and more casual outpost in SoMa at the edge of the Financial District, Yank Sing recalls the Michelin-starred dim sum houses of Hong Kong, more upscale and leisurely, inviting families to linger over rounds of dumplings, noodles and Peking duck. In the city that brought Chinese food to North America, Yank Sing is one of the few remnants of the early glory days of upscale Chinese dining in the US.
Neighborhood: Financial District, SoMa
Stevenson St.: https://goo.gl/maps/d2SEMjejHsM2
Spear St.: https://goo.gl/maps/ERi8HJfALzK2