Published by Where Traveler (my other Where articles here) in October 2019, my article on 7 top brunch spots of all styles:

— Inspired Cocktails & Food: TRUE LAUREL
— Champagne Flights & Indian Food: TAJ CAMPTON PLACE
— Burgers, International Influence & Beer: BLACK SANDS BREWERY
— Vintage Spirits & Jenga-esque Tater Tots Towers: The SARATOGA
— Modern Dim Sum: PALETTE TEA HOUSE
— Local Beers & Quality Comfort Food (and a Patio): SEVEN STILLS MISSION TAPROOM
— Austin Tacos & Breakfast Burgers: WES BURGER
Article here: www.wheretraveler.com/san-francisco/eat/top-7-san-francisco-brunches-now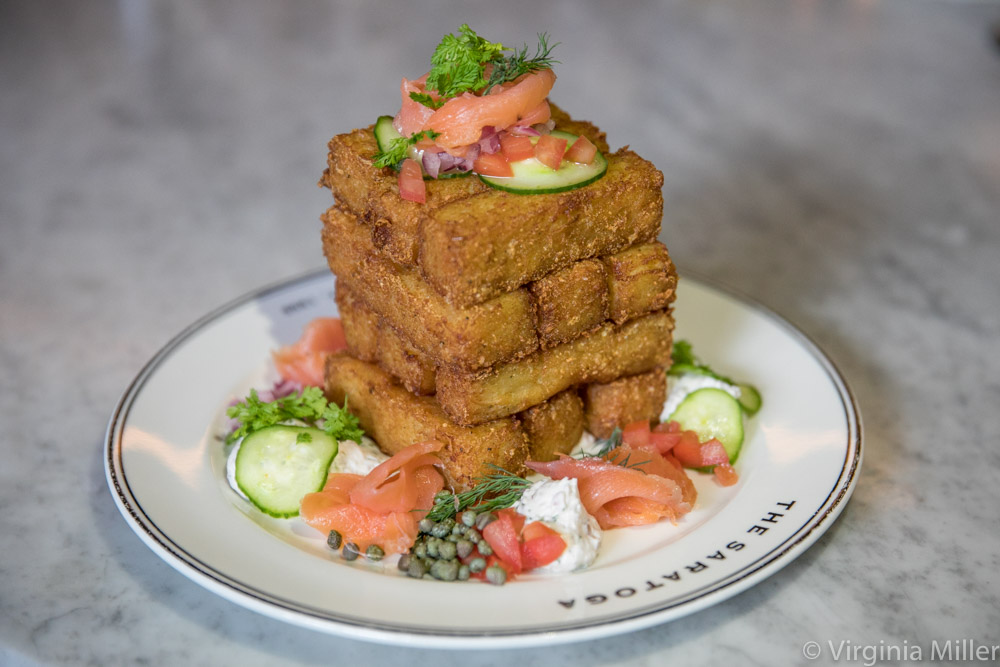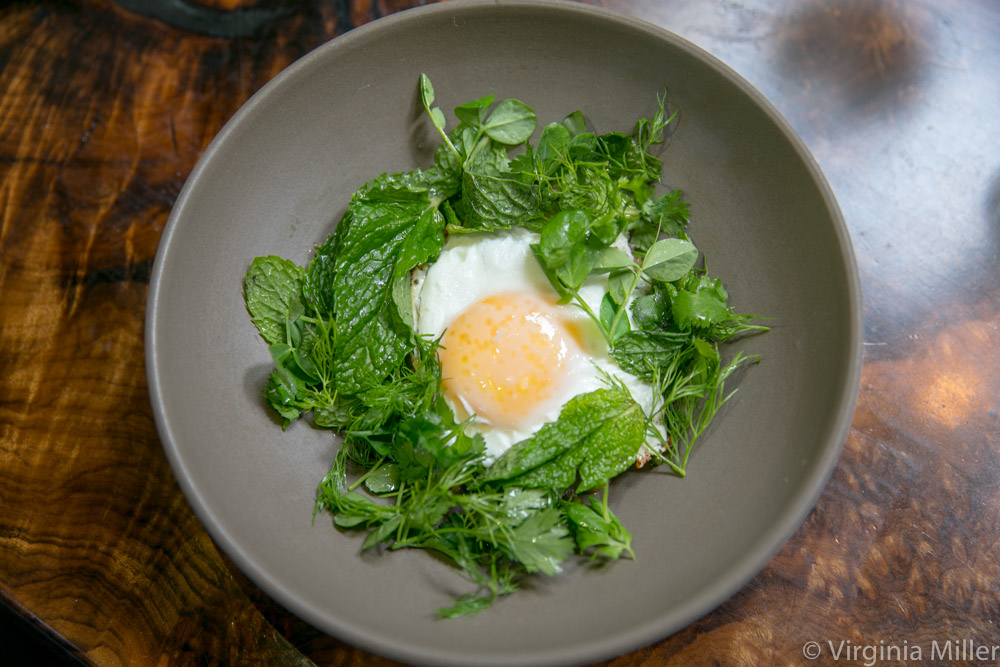 Brunch is near religion in San Francisco and there are literally a few hundred places where you can have an exceptional breakfast. From breakfast tacos to champagne and caviar service, high to low, here are 7 of our favorite brunch spots now:
Inspired Cocktails & Food: TRUE LAUREL
When a two Michelin-starred chef — David Barzelay of the great Lazy Bear — and former Lazy Bear bar manager Nicolas Torres opened True Laurel in 2017, it immediately was one of the most exciting bars in the world (receiving press raves and awards nominations). When they launched brunch summer 2019, quality was equally high. The skylit space is sunny and chill during the day.
Unique to brunch: Excellent dishes like mezcal and sangrita oysters, lamb carnitas, russet potato hashbrown in raisin ketchup. Drinks like a Backyard Spritz featuring pét-nat wine, Meyer lemon, feijoa fruit and cinnamon, or the superb (and more memorable than it sounds) Sparkling Garibaldi: carbonated orange juice and strawberry-infused red bitters.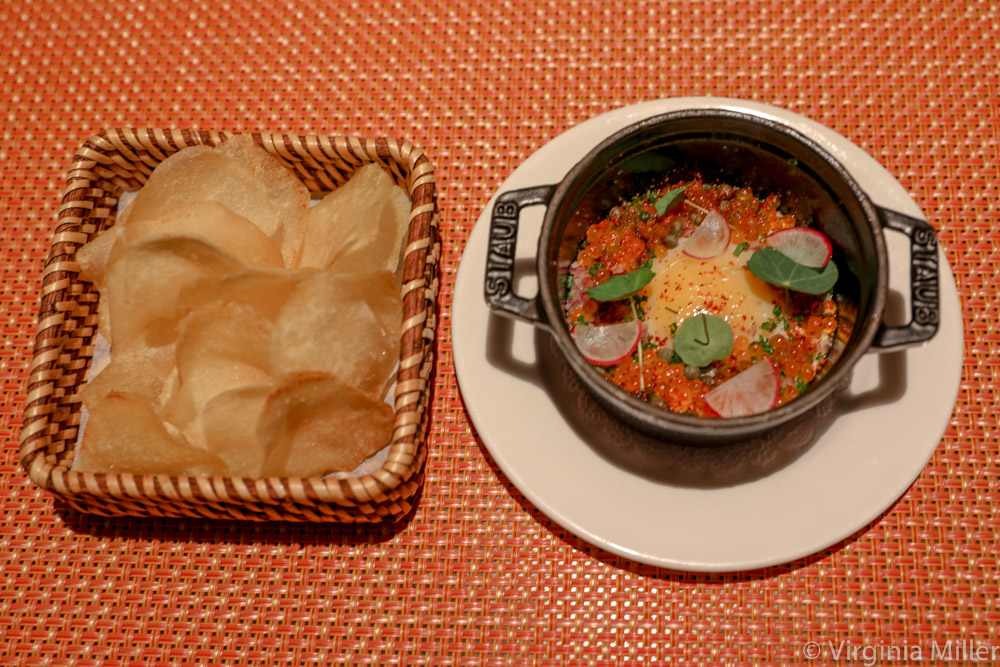 Champagne Flights & Indian Food: CAMPTON PLACE
Campton Place is well worth its two Michelin stars, with chef Srijith Gopinathan's refined, modern Indian cooking equivalent with the best in London. Whether his signature naan buns or Gulf prawns coconut curry, chef Sri's cooking expands your vision of Indian food with fine dining elegance and attentive service.
Unique to brunch: Maine lobster rolls in coconut curry; "Chips and Eggs," Kennebec chips dotted with Greek yoghurt aioli and smoked trout roe; Champagne flights served in vintage coupe glasses.
Burgers, International Influence & Beer: BLACK SANDS BREWERY
The opening chef for Black Sands Brewery is back as of this summer, and the food is better than ever. Eric Ehler is also Exec Chef over local Fort Point Beer Company, whose beers they serve at Black Sands alongside their own house-brewed offerings.
Unique to brunch: The fantastic Black Sands smashburger (one of the best in a city lined with excellent burgers) is certainly ideal at brunch, while chef Ehler infuses his international cooking experience and Korean roots in brunch dishes like hot chicken & masa waffle, or a unique avocado tartine loaded with summer squash, corn, asparagus, sunflower seeds, Korean chiles and salsa verde.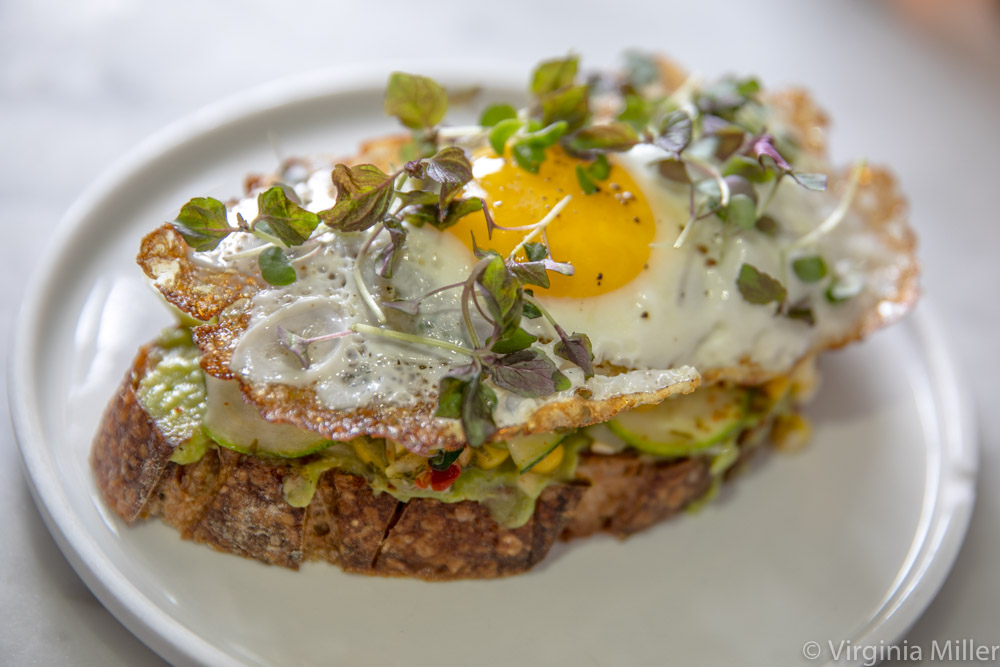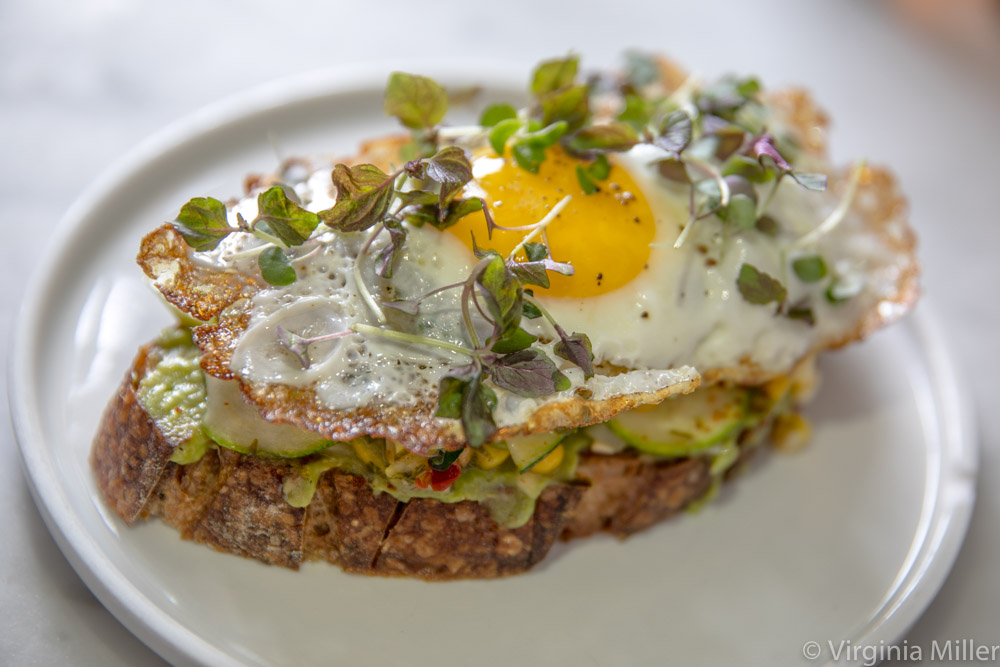 Vintage Spirits & Jenga Tator Tots Towers: The SARATOGA
The Saratoga's two-story space is destination-worthy alone for Brandon Clements' rare schnaps and vintage Chartreuse, Madeira, Benedictine and Fernet bottle selection dating back decades. On Sundays, Saratoga is also home to one of the city's top brunches.
Unique to brunch: Try pop-rocks-laden mimosa donuts; sweet-savory Billionaire's bacon; Texas French toast and insanely fun Jenga tots, a Jenga-like tower of tater tots with smoked salmon and cream cheese. On the drink side, choose from the menu's Bloody Mary section or order the Hail Mary, a Bloody that's a dish on its own, garnished with fried pickles, bacon, quail eggs, jerky, jalapeño poppers, fried chicken and poached shrimp skewers.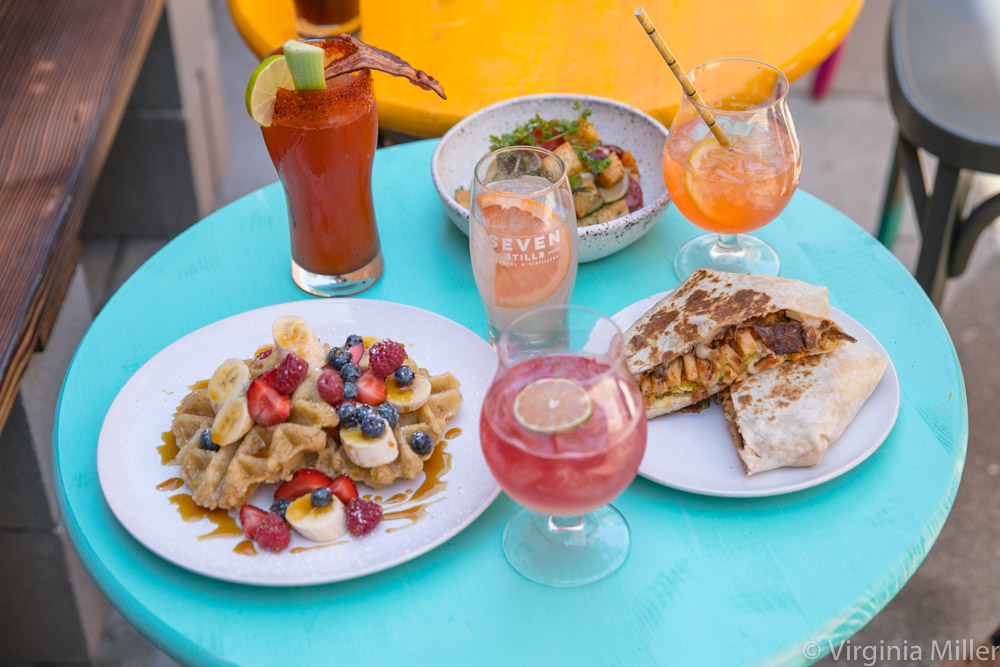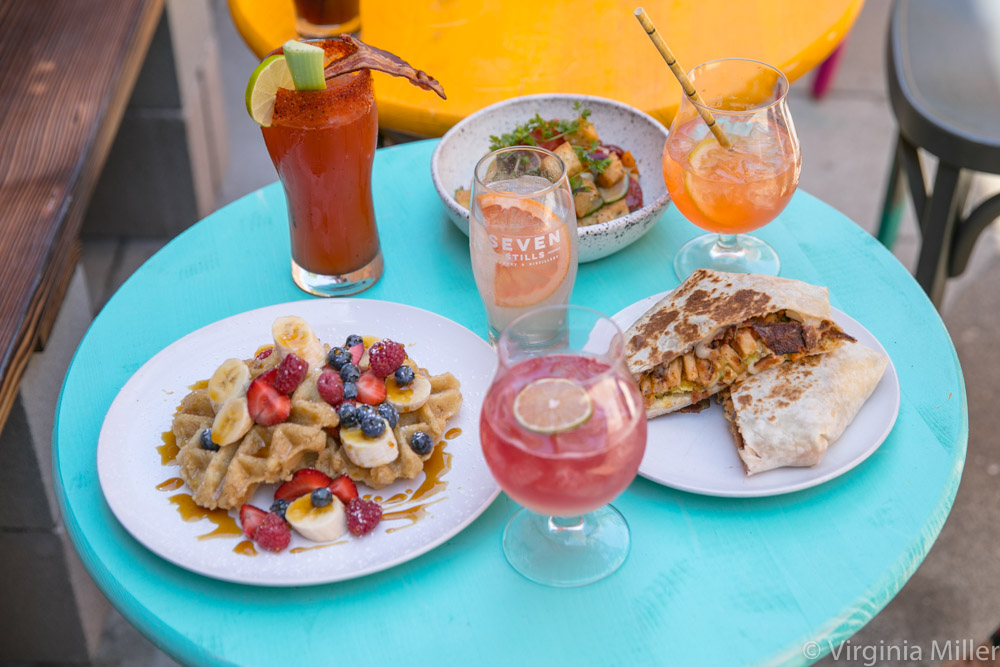 Modern Dim Sum: PALETTE TEA HOUSE
Open in March 2019, Palette Tea House is one of the stronger restaurants in touristy Ghirardelli Square — and a rare dim sum option in the Wharf area. The spacious, hip dining rooms gaze off to the Bay and Alcatraz, while the food is akin to owner Willy Ng's famed Koi Palace and hip Dragon Beaux.
Unique to brunch: You'll find Koi Palace classics, the colorful soup dumplings from Dragon Beaux, and unique-to-Palette items like pastry chef Lyn Manangan's purple yam almond custard bao or chef Stephen Nguyen's photo-worthy black swan taro puffs.
Local Beers & Quality Comfort Food (and a Patio): SEVEN STILLS MISSION TAPROOM
Just open in July 2019 in the former Almanac brewpub space, Seven Stills brings their spirits and beers brewed and distilled at their Bayview facility to their new Mission restaurant, complete with quality comfort food, cocktails and an intimate back patio. You can buy bottles, cans or six-packs of their beer and whiskey to go.
Unique to brunch: Try gourmet loco moco; heirloom tomato panzanella salad; poke bowl; fried chicken sandwich in spicy slaw. Besides their rotating beers (like Five Pounds New England-style IPA or low-ABV No Grisettes grisette), sip well-made Spritzes, low-ABV Margaritas and Palomas, or vibrant Micheladas made with their savory house mix.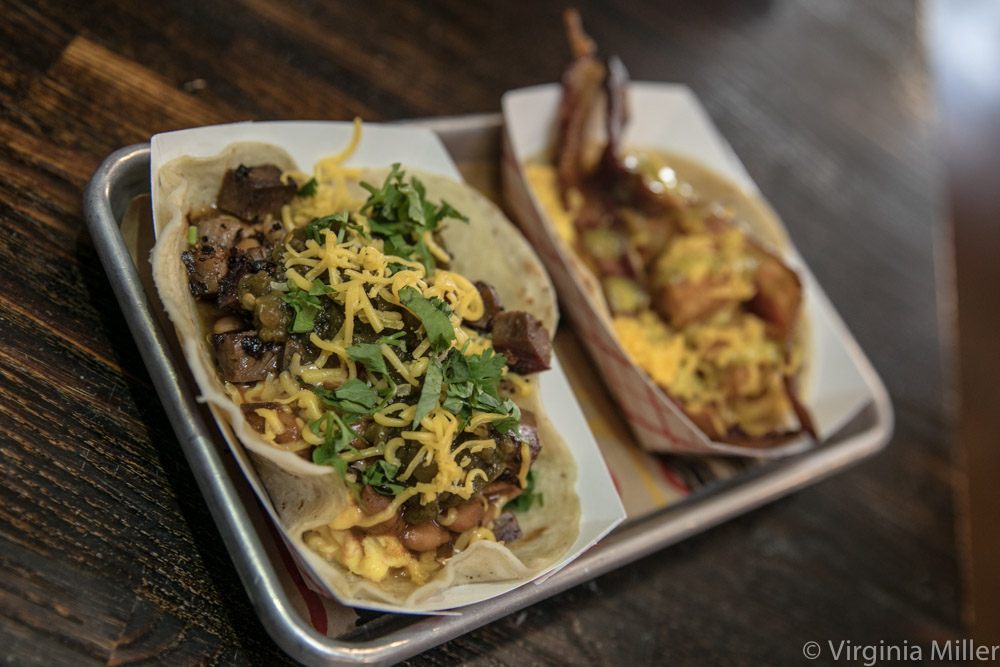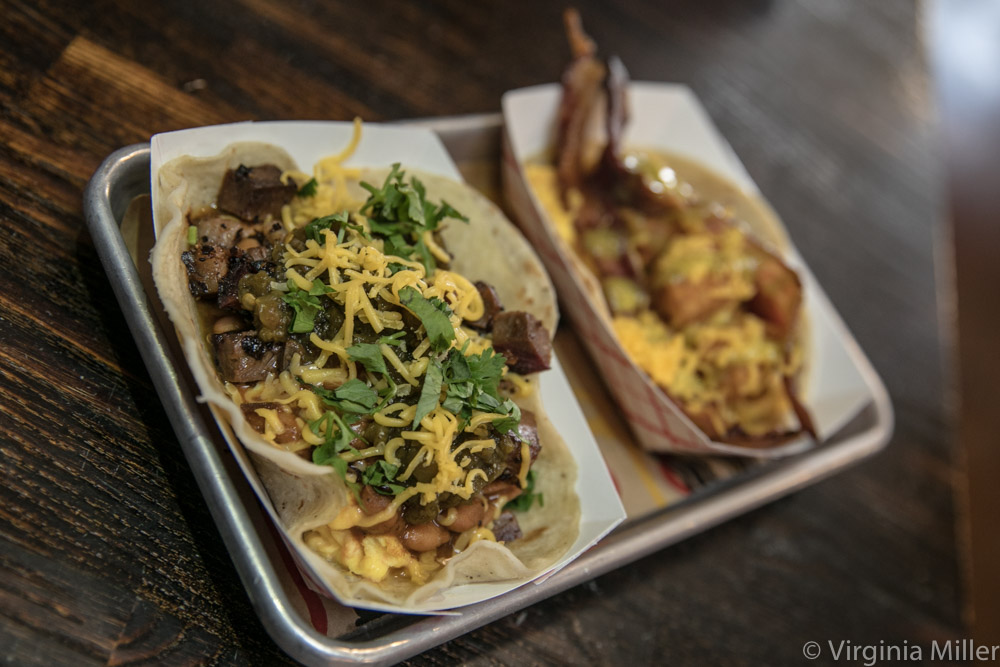 Okie Burgers & Retro Fun: WES BURGER
That onion-laden Okie Burger and animal-style tator tots (an ode to In 'n Out) are draw enough at Wes Rowe's WesBurger n' More, with its welcoming old-school 1970's diner vibe and vintage jukebox. This May, Wes launched breakfast items.
Unique to brunch: Three breakfast taco variations — an ode to Wes' native Texas — include an Austin-style migas taco filled with scrambled eggs cooked with tortilla chips, tomato, onion, jalapeño and cilantro, doused in house serrano tomatillo hot sauce and sour cream; breakfast smashburger; PB&J French toast made with Texas toast.