My dining column in print and online magazine, Bob Cut (column details and my philosophy here; last month's column here) covers standout (delicious) newcomers and longtimers worth supporting.
During pandemic, our beloved dining and drink communities continue to struggle to survive, so my dining column includes takeout/delivery and outdoor dining standouts, alongside our increasing indoor dining as we move from red to orange tiers. I have vetted, visited and/or ordered directly from each place and all working hard adhering safety guidelines:
www.bobcutmag.com/stories/2021/3/31/marchs-best-newcomers-and-og-classic-eateries-around-the-bay-to-check-out
NEWCOMERS
Kona's Street Market (Downtown/SoMa)
In the wake of a devastating fire at one of the world's best bars, PCH, owner Kevin Diedrich and team still managed to open Kona's Street Market, the same week, a project years in the works. The spacious, hip interior, lined with red bar stools and film posters (think films of SF native Bruce Lee or John Waters' Female Trouble) should be open soon, but sidewalk tables are available only by Tock reservation. Running the bar with Brian Means (and third partner Andy Chun) means a powerhouse lineup of cocktails from the gifted Diedrich and Means, inspired by global street markets in the Middle East, Africa, Europe, the Americas and Asia-Pacific. The Boracay Old Fashioned (Sapphire East Gin, pandan, bay leaf, coconut water, blanc vermouth, calamansi lime) already feels iconic and is classic Diedrich, turning expected flavor profiles on their head with balanced perfection. Fun drinks like Red+Blue (Appleton Estate Rum, Smith & Cross Rum, ube-coconut cream, citrus, salted jackfruit whip) make you feel like a kid again — one with a savvy taste for funky rums and tropical fruits. The couple food options are minimal for now, but Thai curry beef hand pies with coconut milk aioli are filling and comforting. // 32 3rd Street, https://konastreetmarket.com
Lazy Susan (Hayes Valley)
If you're the kind of regional food lover who seeks out Hakka vs. Xian, Sichuan vs. Cantonese Chinese food, Americanized Chinese food gets the least respect, if acknowledged at all. But American Chinese food done well is a delight indeed, recalling my NJ and SoCal youth with heartwarming clarity. This is exactly what brand new Lazy Susan delivers, open February 2021 in the temporarily closed B-Side at SFJAZZ. Consider it your new delivery/takeout crush from Hanson Li and Tiffany Yam of Salt Partners (Crenn Dining Group, Horsefeather, etc.) and chef Eric Ehler (Fort Point Beer, Mister Jiu's). Expect killer General Tso's chicken and crab rangoon, arguably the show-stealers. But also try chow mein, pot stickers, garlic broccoli and sweet-savory orange chicken. Upping the game, try house condiments like their house sriracha and irresistible umami crunch (crispy garlic, fermented black beans and mushroom extract). // 208 Fell Street, www.lazysusanchinese.com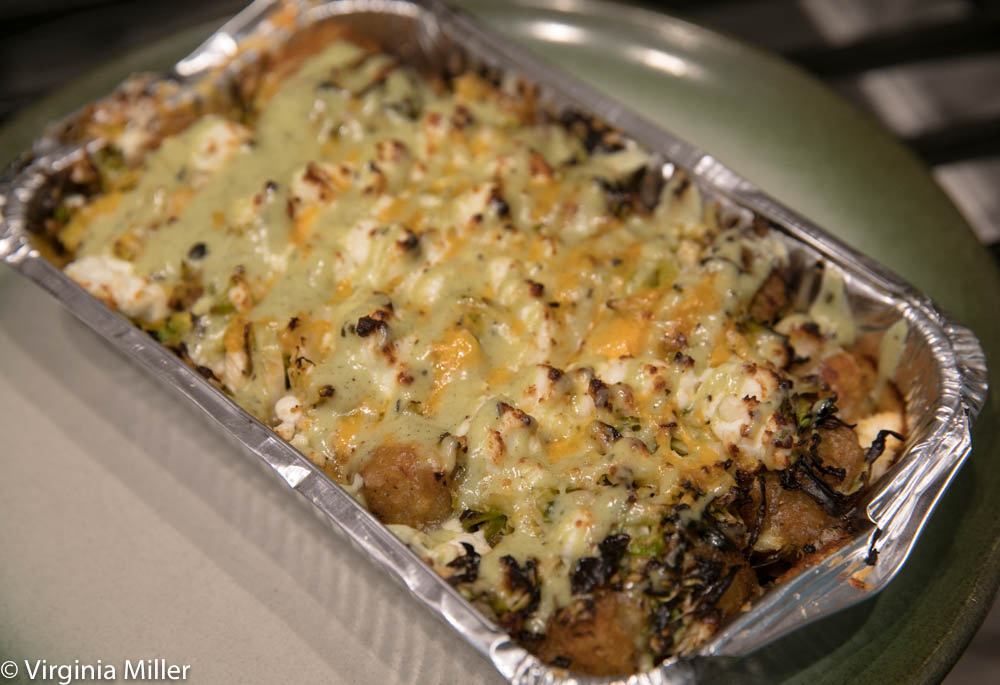 Total Meltdown at Mission Picnic (The Mission)
Hitting the Mission (out of Mission Picnic on Valencia) six nights a week since February 2021, Total Meltdown is childhood comfort: gourmet versions of grilled cheese sandwiches, mac 'n cheese and "fancy" tater tots. Akop, Francisco, & Mo — or, rather, Mohamed Abdelmeguid and Francisco Bastidas (of healthy food truck Ruru Kitchen) with Akop Jacob Paronyan (formerly operations director at LB Steak in San Jose) — took pandemic layoffs by storm, launching this business and bringing "the people" what we wanted. I'm all about a Cubano or Green Thumb tots laden with brussels sprouts, parsley, green goddess drizzle and goat cheese. In fact, all toppings/groupings are interchangeable between grilled cheese, mac 'n cheese or tots. But the The Millionaire —with gochujang-maple glazed, thick-cut bacon and gouda — and the Seoul Food (Korean gochujang braised beef, kimchi, gruyere) stole the show as grilled cheese sandos. Especially with a side of their tomato soup to dip them in. // 983 Valencia Street, www.totalmeltdownsf.com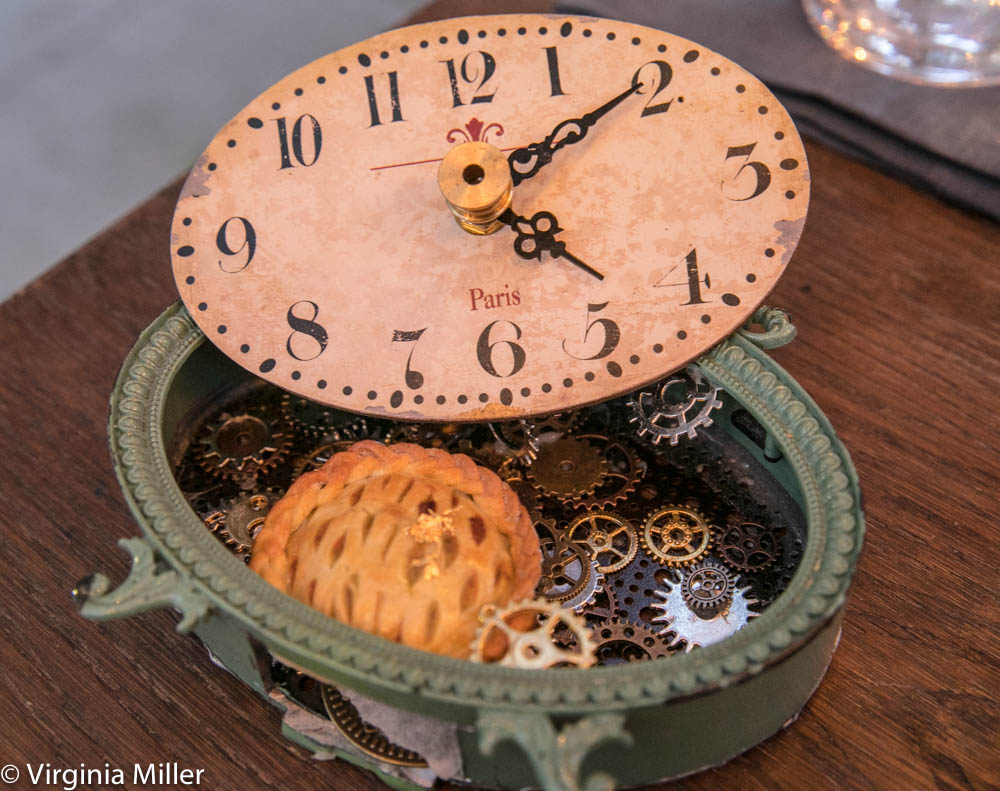 Merchant Roots Mad Hatter & In Bloom Dinners (Lower Fillmore)
Last year I talked of gourmet groceries, wine and food from Merchant Roots' "pandemic pivot" to The Roost and killer to-go cookie lineup. I hope the cookies remain but am much happier that chef/owner Ryan Shelton's one-of-a-kind themed dinners are back. Sidewalk seating is just two tables for now (reminiscent of their shop's single table group dining), whimsically decorated and transporting. The late winter into spring theme is The Mad Tea Party, inspired, yes, by Lewis Carroll's Alice in Wonderland. Without giving too much away, clocks and tea pots are balanced on top of each other (or hiding food inside) in a feast that recalls English Afternoon Tea and classic prime rib dinners if hosted by the Mad Hatter — and paired with small production, cult wines, including some of my longtime favorite producers like Calaveras County's Forlorn Hope or NY's Finger Lakes' Ravines. Whether exquisite tea sandwiches (cucumber-dill-cream cheese-caviar), "pourable" fish & chips or beet-cured gravlax accented by tea gelee, fennel, cedar smoke, wasabi and tarragon, this feast employs all the senses. Sure to do the same, their In Bloom tribute to the arrival of spring dinner kicks off April 21 so jump on the Mad Hatter dinner now and book ahead for Spring. // 1365 Fillmore Street, www.merchantroots.com
Kantine (Castro)
Scandinavian restaurants are too few and far between (we miss Plaj, currently doing some pop-up tasting menus to-go), so when casual cafe/restaurant Kantine opened in 2018, it filled a much-needed niche. They nail Scandinavian pastries, including cardamom rolls and pitch-perfect loaves of rye, porridge and other dense, traditional breads. With their killer spreads (the smoked trout salad!) and breads, you can make proper smørrebrød (Danish open-faced sandwiches) at home or order them ready-to-eat. Their cured trout flatbread, customizable breakfast/brunch boxes or proper pickled herring have been sheer comfort in pandemic. Their sunny location on Market Street in the Castro offers plenty of sidewalk seating at this treasure of a café, heavy on Swedish and Danish delights. // 1906 Market Street, www.kantinesf.com
Pacific Catch (Inner Sunset)
I know what you're thinking: Pacific Catch is a chain. But I remember when Aaron Noveshen and Keith Cox first opened it as one, tiny location only in the Marina in 2003, a mini-slice of Hawaii by way of California. It slowly kept growing the past 15+ years into a local Bay Area mini-chain, bringing its self-proclaimed "modern, comfortable, Westcoast Fish House" to multiple locations. Though the Inner Sunset location is a walkable distance from my neighborhood, I hadn't bothered going back in years as the chain grew. But there are a couple reasons to revisit it. One, 9th Street's extensive outdoor Tiki patio built in their mini-parking lot, which feels like a party with individualized sections for each table. Second is the expanded menu that imparts that Hawaii vibe with Oahu North Shore-style coconut shrimp, a range of poke and ceviche, fish tacos, lobster roll on King's Hawaiian rolls and a seriously gratifying Viet Hot Fish cod fish "burger" in sambal glaze, inspired by banh mi. Pair with tiki cocktails or margaritas and you've got yourself a breezy island meal, but one on a Peninsula with the ocean a few minutes drive away [Note: for their 18th anniversary this year, they're giving away a "Golden Ticket" to 10 winners to eat free at all Pacific Catch locations for a year — enter here]. // 1200 9th Avenue, https://pacificcatch.com/locations/sf-9th-avenue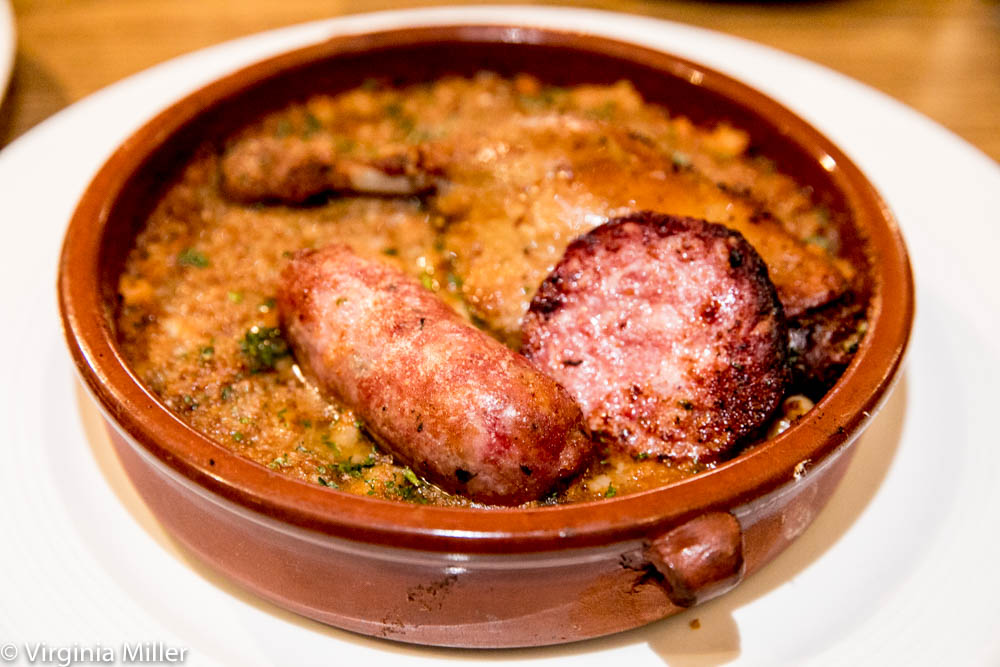 Chapeau! (Inner Richmond )
Much as I thrive on exciting and new, I crave and desire the unchanging, the classic, too. It's the yin-yang that imbues the best dining cities with balance and depth. Philippe Gardelle has ensured Chapeau! remains one of SF's best French restaurants since 1996. I've been dining there 20 years and other than the location change in the Inner Richmond years back, the spirit and quality of the food remain consistent. In COVID times, Gardelle can no longer greet or say au revoir with a kiss on the cheek as he used to, but he comes out to thank each table, knock elbows and share that same warm greeting he's always given. His French bistro fare — from pitch perfect escargot (buttery snails) to cassoulet — are as heartwarming as ever, including what are always stellar soups and a three course prix fixe that remains at a reasonable $60. Recent joys included a flavor-packed bacon-wrapped pork tenderloin over parsnip puree and brussels sprouts in apple calvados sauce. // 126 Clement Street, www.chapeausf.com
Sobre Mesa (Oakland)
Though I can only speak for Sobre Mesa brunch since I haven't dined at night, the colorful restaurant is a lively communal hang, blessedly vibrant with live music at nights and on Sundays from Nilo Ayele & Guests (they deftly weave Cuban rhythms, rap and more), set against murals with plenty of outdoor seating and standing tables. Chef Nelson German —also helming Oakland seafood gem, alaMar Kitchen & Bar— was recently announced to be on season 18 of Top Chef, the only Bay Area chef this season. At Sobre Mesa, he calls on his roots with Afro-Latino cuisine pulling influence from southern American/soul food, Cuba, the Dominican Republic, Puerto Rico and around Latin America. At brunch, this shines in a chicken and waffles spin of coconut chicken wings in piri piri sauce with cornbread waffles and pineapple honey maple dressing. The playfulness also works in bar manager Sade Stamps' cocktails like Spice Me Down, using Berkeley-based Mosswood day rum, overproof rum, spiced pear liqueur, soursop puree, lemon and pepper jerk, and their own house rum blend from Mosswood Distiller (featured in the Sobre Mesa cocktail). // 1618 Franklin Street, Oakland; www.sobremesaoak.com
Tacos Oscar (Oakland)
With a walk-up window going strong in pandemic, Tacos Oscar was first a pop-up, then opened in a colorful shipping container with outdoor seating in 2018, since garnering everything from a Michelin Bib Gourmand to local food awards. Founders Oscar Michel and Jake Weiss have mastered not only quality tortillas and pork chili verde, but a vegan/vegetarian-dominant menu with creative tacos like mushroom mole coloradito. Changing board items include other delights like a vegan chicory caésar tostada laden with radicchio, roasted scarlet turnips, Mayocoba beans and purple daikon radishes, doused in Caesar dressing. // 420 40th Street, Oakland; www.tacososcar.com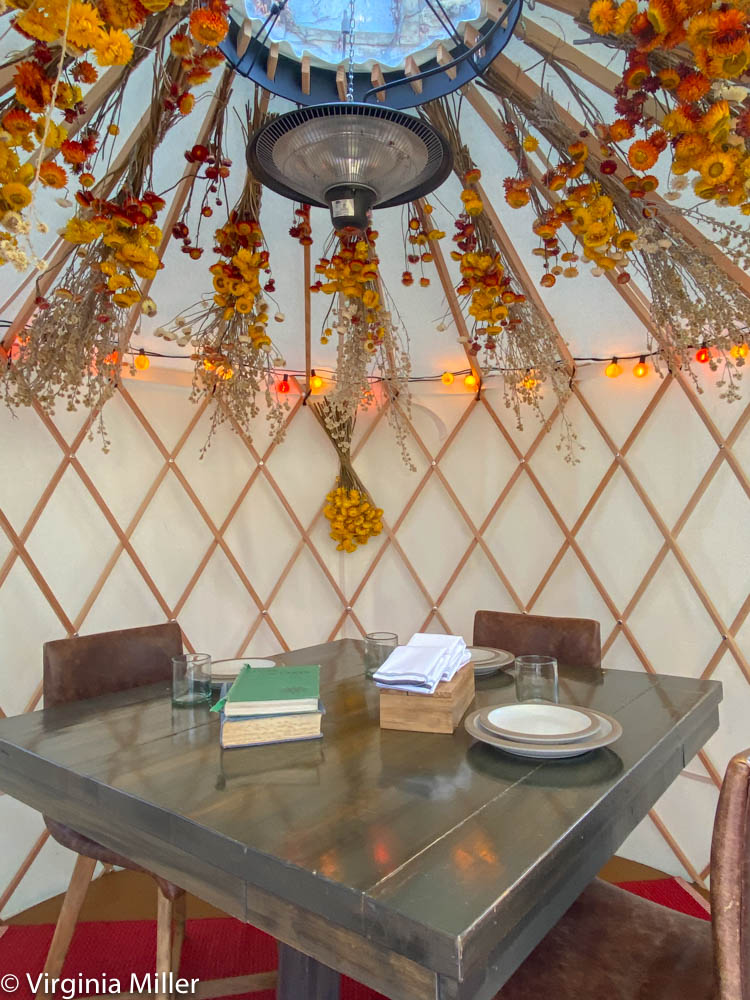 The Charter Oak (St. Helena)
The tragic Napa fires that took down much of Meadowood resort and one of the world's best restaurants, three Michelin-starred Restaurant at Meadowood last year, were a blow to the Valley and food lovers. But chef Christopher Kostow and team are still going strong at their more casual (but still mid-range upscale) sister restaurant, The Charter Oak. The mini-yurts lining their historic, brick-walled patio are downright magical, reserved for tasting menus, each themed differently, decorated with old vines or yellow flowers and old books. But you can always order a la carte on the patio, whether irresistible house bread or wood-fired meats and vegetables they're known for. Recently, a winter special of sous chef Yan's mother's Singapore chili crab was impossible to say "no" to, a rarity of a dish even in SF. Cocktails are also among the best in the valley, whether they're infusing botanicals to make their own house aquavit, or going for refined tiki with Cashew Punch, blessed with a touch of funk from Jamaican and agricole r(h)ums, roasted cashew milk, lime and zest. // 1050 Charter Oak Avenue, St. Helena; www.thecharteroak.com
BONUS FOOD & DRINK RECOMMENDS

—Nomadica Wine: The cans are beautiful, featuring female artists, a song pairing on each can and best of all, the wines are curated by female sommelier and founder, Kristin Olzewski. Nomadica is an LA-based company, our neighbor to the south, but as you might guess, features small California winemakers, including some in our backyard. Club Nomadica memberships get you regular shipments of these artful cans of quality wines from cult winemakers, many of them very small production (100 cases or less), as well as access to text-a-somm for wine-related questions.

—Triple Coffee Co.: Launched in 2019 by Tim Melano in the Marina district, Triple Coffee Co. was initially an in-person (often at parks) coffee club where Tim would connect us with small-farm coffee producers in Honduras he has visited personally. In pandemic, Melano has morphed his in-person brews and video chats to virtual tastings. They've just won a Good Food Award for their Pacamara Natural coffee from Honduras produced by Abel Giron, and offer steeping bags for individual cups. As he seeks to go above and beyond fair trade in his support of Central America, this is an admirable business model. Of the three samples I tried, each was well-rounded, gentle, but not lacking in personality. I especially appreciated the Japanese exclusive Catuai coffee from Honduras, and see they have Gesha-washed coffee, recalling my deep research and travels around Panama's Gesha coffee plantations.

*It is more crucial than ever to "save restaurants" by asking the government to pass the-still-stalled-in-the-White-House Restaurant Stabilization Act before we thousands more independent restaurants. You can help by signing this petition & ordering locally.